Citizen Eco-drive dive watches for men have been prevalent in the US market for a long time. Citizen holds the upper hand in solar-powered wristwatches. Even Seiko – The No.1 watchmaker in Japan, is ranked second to them in this field.
What makes the Citizen Eco-drive dive watches so successful? The following are the reasons:
No battery change is needed
The reserve battery consists of non-toxic elements
High accuracy – be off about 4 seconds per month
ISO6425-certified, 300-meter water resistance (Seiko pieces only have a 200-meter water resistance rating)
Rock-solid finish & superior reliability
Aesthetically distinct
Shortly, these Eco-Drive dive watches are fully featured diving tools, true quartz beaters with unique designs. As the Citizen's maze of Eco pieces can get you lost, I listed here three bestselling Eco-drive dive watches in the US for you to consider:
Citizen Eco-Drive Men's Analog Diver's Watch BN0085-01E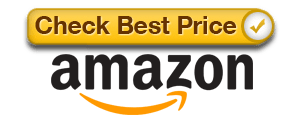 Sized at 46.6mm, this is not a small watch by any means, so its suiting ordinary men's wrist is out of the question. However, the case is well-constructed, and its hexagonal shape is aesthetically distinct from many existing round-dial diver's watches.
The watch has a rock-solid body but is not chunky. Its robust design makes it a good choice for sporty guys. The case rides on a comfortable 23mm rubber strap that tapers from the lugs to the buckle.
The luminescent keystone and shield-like hour markings contrast nicely with the sunburst dial, making for superior legibility. The whole face looks clean and clear, the sky blue and the white colors highlight each other. The beveled coin-edge bezel is incisive, adding much to the watch's boisterous look.
The slightly curved crystal magnifies the dial underwater. There's room for improvement here. The glass is too vulnerable to direct hits, unlike those of the Seiko dive watches, which are better protected by the bezel placed a tad higher.
Since the BN0085-01E features a light-driven quartz movement, it doesn't need battery changing and can keep trucking for over four months in total darkness after fully charging. Still, the watch rarely runs out of battery due to your frequent outdoor use.
Citizen Men's BN0000-04H Stainless Steel Eco-Drive Dive Watch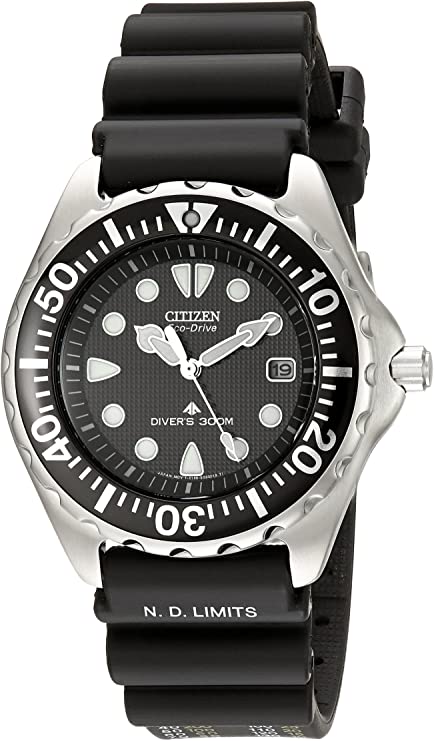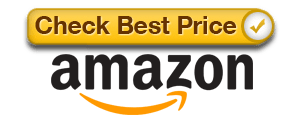 Well, after looking at the picture, do you agree with me that this BN0000-04H opposes the BN0085-01E above in terms of design? The BN0000-04H features:
Modest-size 43mm case
Molded rubber strap
Three Lit-candle hands
Grey checkerboard dial's background
Circle-dot and roundish-triangle hour markings
Keystone lumed pip occupies the 60 position on the bezel
Shortly, all the details on this watch contrast with those of the BN0085-01E. One is chubby-looking, and the other is angled.
Despite being visually contrary, these two watches are both Citizen Eco-drive dive watches, which have a 300m water resistance rating and feature highly accurate solar-powered quartz movements.
Citizen Men's BJ8050-08E Eco-Drive Professional Diver Black Sport Watch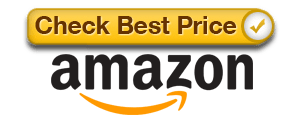 This giant 48mm wristwatch is unmistakably a heavy-duty diving piece. You'll hardly find a chance to use it for casual wear due to its exceptional 18mm thickness. This oversized wristwatch can't sit under your shirt cuff.
It's a downright sports watch. Despite being so massive, it looks much better on a stainless steel bracelet than on a rubber strap, but the metal band will inevitably add much to its already-heavy weight.
Unlike most existing dive watches, you will notice that the guarded crown is positioned on the left. This kind of design seems out of the way, but it's a reasoned disposition. The crown is better protected on the left because the right side suffers most external physical abuse.
The knurled bezel makes for a good grip. It's relatively thin compared to the overall thickness of the case. The dial is small, and so is the date window. They make the watch looks a tad disproportionate. However, the watch's readability is superior thanks to the contrast between the hands, the hour markings, and the matte black background.
As the BJ8050-08E is also an Eco-Drive dive watch, it shares the same mechanical properties as the abovementioned watches. Due to its fierce-looking, the watch has such a "lovely" nickname – Ecozilla, which means "the Godzilla Monster of the Eco-Drive series."
Citizen BN0151_09L Promaster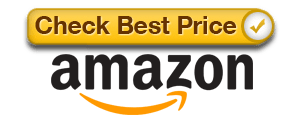 If you want a watch with a Navy blue tone, this diving piece is for you. It caught my eyes at first sight with its lovely dark blue color.
Sized at 42mm, this is a robust watch but not too big! Because of its polyurethane strap, the watch might not look so dressy. But you can easily replace the stock band with a textile, leather, or metal one. Your watch would look much more formal and fit in with almost any apparel.
The radiant dial is what I love most about this watch. Its sunburst patterns make for a beautiful look under sunshine. The painted bezel's blue is slightly lighter than the dial's, but they blend in very well.
The watch would look very monotonous with just blue and white. The Citizen knows that, so they added an orange accent to the minute hand. The hour hand remains stacked white. The chrome borders around the markers also add exciting flares to the dial. To me, this is a big plus!
What's not to love about this watch? Well, it's the date aperture at 4 o'clock. The dial is not too crowded. Why did Citizen cut the marker in half to make room for a tiny square window? The date aperture looks like a beauty spot on the watch face, and I'm not too fond of it.
Fortunately, the dial's overall appearance is not affected much!
One more thing I don't like! The mineral glass is anti-reflective! Is it a must? The hands & markers contrast very well with the dark background, providing clear legibility. Some reflection surely doesn't make the watch difficult to read. That being said, you can replace Citizen's glass with another mineral crystal that can twinkle under sunshine, just a few bucks, no big deal!
Regarding functionality, this piece is as reliable & accurate as other Eco-Drive dive watches in this list. However, its water-resistant depth is just 200m (660 feet), inferior to the three diving pieces above, which can operate 300m underwater. How deep do you often dive?
With just over $200, the Citizen BN0151_09L Promaster is worth your money because it's a reliable diving tool and an eye-catching Navy-blue timepiece that can be dressed up or down easily, depending on the occasion!
BN0090-01E Scuba Fin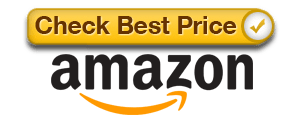 This watch features a 45mm case. There are better choices than this watch for small-wrist users. Its sporty design makes for a beautiful look, but indeed not for everyone. If you want an elegant timepiece, choose some other one.
What makes this watch so eye-catching? It's a two-tone resin strap with citron-yellow accents. Imagine what this watch would look like in black and white. Too monotonous. The two-tone strap is what I love most about this watch!
The dial is also well-designed with beehive patterns. Its background appears radiant under light, not matte-black. As I said, my taste runs into watches that sparkle in the sunshine, so I love this piece's dial.
All the markers, hour & second hands are stacked white, but the minute hand is bordered in green, the same color as the first quarter of the chapter ring. Together with the citron yellow accents on the strap, these green parts make the watch look more youthful and sporty. From the start, Citizen didn't aim to produce "elegant" dive watches like Invicta or Orient. It was how they managed to differentiate themselves from competitors.
The bezel is beveled to make the watch look pretty thick. Its brushed surface is naked, with no paint, so you don't have to worry about its accumulating scratches over time. You can easily polish the metal but can't do that with a painted bezel. This bezel is a little stiff out of the box but will loosen up soon. No big deal!
The Scuba Fin has the same water-resistant depth as the Citizen BN0151_09L Promaster above – 200m (660 feet), but as you can read on its dial – "WR200", this piece is not ISO6425 certified. For me, the ISO certification is not so important. Citizen watches themselves are reliable enough!
The two-tone band brushed silver case and charming radiant beehive dial are perfect for those who love active & sporty-looking diving watches. This Scuba Fin is not the type of "elegant dive watch," but it's attractively dressy and not too rugged.
Verdict
Regarding functional performance, I have no complaints about these Citizen Eco-Drive dive watches for men. They exceed users' expectations. However, these timepieces are not ideal for anyone when it comes to styling.
Their unique designs are a plus. But their first and foremost role is to be fully featured diving tools, not to be versatile watches that suit casual wear. So before making the purchase, you should rethink your ultimate purpose of use.
Related reviews:
Best dive watches for men under $300