Shopping for a good watch that's worth your hard earned money can be intimidating because of the hundreds, or even thousands of models that are available in the market today.
There are so many brands with a variety of style, design, usability, and benefits that you can choose from. Big brands like Citizen, Seiko, Casio, Bulova, or Fossil, are coming up with the best watches that they can think of. Choosing the best out of these brands can be mind-boggling. Among them, Orient is best known for their high quality but affordable automatic watches. If you are a fan of auto watches, this article is for you!
So here is a list of the "best Orient automatic watches" that can definitely help you decide. These are the best picks based on personal experiences, customer reviews, and opinions of watch enthusiasts and users that you can find from the most prestigious watch forums and communities.
Best Orient Automatic Dive Watches
Orient Ray II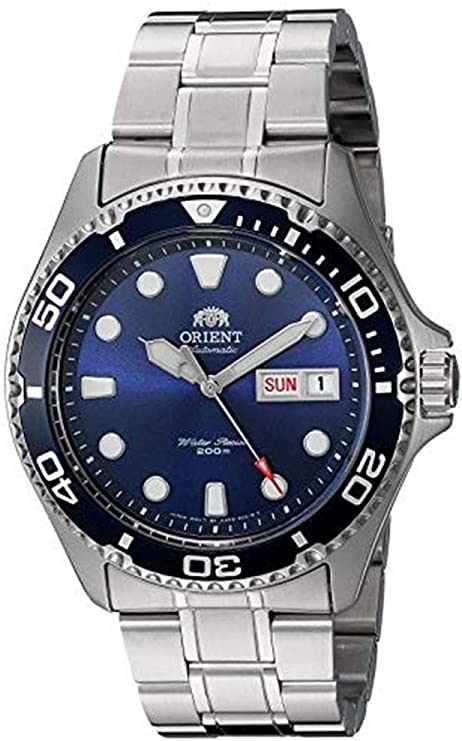 Pros
Classy looking with a classic design
Attractive Stainless steel bracelet
Water resistance up to 660 feet as a dive watch
A good price for a versatile design
Can use for any event; dress up or dress down
Cons
The bracelet has hollow end links
Spring bars are damaged easily
Review
Orient Ray II is the best seller of the Japanese manufacturer, Orient Watch. It has 3 different variations; Black Dial, Blue Dial and Black Ray Raven II. The Oriental Ray II Blue is the most popular because of its glowing sunburst dial.
It is powered by a 22-jewel, Caliber F6922 automatic movement. It can self-wind, hand-wind with an accuracy of +-15s/day. New unidirectional bezel with 120 clicks, and the second-hand stops when you pull out the crown. This has a new case design to make it look simpler and trimmer.
Its date and day window is the same and the adjustment of both would be through a screw-down crown.
Features
| | |
| --- | --- |
| Case Size | 41 milliliters |
| Case Thickness | 12 milliliters |
| Dial | Mineral |
| Bezel Material | Stainless Steel |
| Band Material | Stainless Steel |
| Movement | Japanese Automatic Caliber F6922 |
| Bezel | 120-click unidirectional |
| Water Resistance | 660 Feet |
Why Choose Orient Ray II?
If you need a watch that looks simple but elegant, the Orient Ray II is the best option for you. This should be your choice if you want to look classy even in a casual attire. It is a good dive watch, but can also be used for formal and semi-formal events. Its elegance will definitely stand out.
Orient Mako II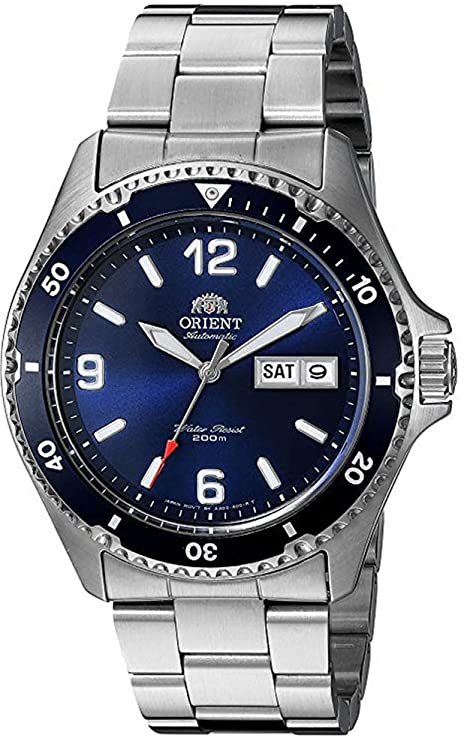 Pros
Elegant and stylish
Easy to read
Good diver's watch for a fair price
Cons
The dial window is prone to scratches
The bracelet spring ends are not durable
Review
The Orient Mako II is a good news for Orient Mako fans. This is now powered by a 22-jewel and beats 6 times per second, with Caliber F6922 automatic movement. It has self-winding, hand-winding, and can hack with a unidirectional bezel with 120 clicks. The new Mako does not have a pusher at 2 o'clock. Its reported accuracy is +-15s/day with 40 hours power reserve.
Nothing changed with the stainless steel case of the Mako II the dimensions are 41.5 mm diameter, 13 mm thickness, 22mm lug width, and 46mm lug to lug distance. The bracelet is stainless steel. You can choose from three versions; Pepsi, Matte Black and Sunburst Blue. The Sunburst Blue is much preferred by interested buyers.
Now you might wonder how different Mako II is compared to Ray II. The differences are mainly on the appearance of the watches. Both have different fonts on the bezel as well as on the day and date. The Mako II has "12, 6, 9" on the dial where Ray II does not have any numbers. Mako II has smaller hands and its second hand has a red tip. The Ray II hands and the white hour markers are glow in the dark.
Features
| | |
| --- | --- |
| Case Material | Stainless steel |
| Strap | Stainless Steel |
| Bezel Material | Stainless Steel |
| Bezel Function | Diving |
| Movement | Japanese Automatic, Caliber F6922 |
| Water Resistant Depth | 660 Feet |
Why Choose Orient Mako II?
Mako II is a beautiful diver watch. With the upgraded version, this is the new generation of men's watches. If you are looking for elegance, this is the best choice for you. The case is perfect for a man's wrist. When you are looking for a perfect diver watch that will not hurt your budget, Orient Mako II is the best choice for you.
Best Orient Automatic Dress Watches
Orient Bambino
Pros
Classy and professional looking
Form and function coverage is flawless
Best quality for mechanical movement
Suitable for daily office dress
Best quality and price for a mechanical watch
Cons
Date needs to be manually adjusted for months that do not have 30 days
Would need to wind it before wearing it if the watch is not worn most of the time
Audible ticking sound
Review
With Orient Bambino, the 1st generation has three versions and the 1st generation is an extra version. These versions may have similar watch cases with domed crystal but the dial colors of the Version 4 sunburst and Version 2 in cream are the most popular.
Version 1 has a thicker, pointed hour markings with triangular hands.
Version 2 has Roman Numerals for hour markings and train-track chapter rings on the outside.
Version 3 is Bauhaus-style. No numbers. Just clean lines with squared-off hands.
Version 4 is similar to Version 1 but the hour markings and hands are refined. The second hand has a red tip and sunburst colors on the dials.
All Orient Bambino watches have domed crystal and domed dial. The 2nd generation Bambino stands out because of the upgrade to F6724 movement. This is automatic, hand-winding, and hacking. The date-only caliber is perfect with its design. The Orient Bambino has an accuracy of +-11 seconds per day.
Features
| | |
| --- | --- |
| Case Material | Stainless Steel |
| Bezel Material | Stainless Steel |
| Bezel Function | Stationary |
| Special Features | 40 hours power reserve |
| Weight | 8 ounces |
| Movement | Japanese Automatic, Caliber F6724 |
| Water Resistant | 100 Feet |
Why Choose Orient Bambino?
Orient Bambino is the best affordable dress watch on the market today. The Bambino styles are clean and suit any look. You can dress up or down, it will look amazing. It looks great with different leather straps; exotic or basic leathers. Or you can go for the simple look with a fabric or textured straps, best for dress downs
Orient Bambino Open Heart
Pros
Stylish and amazing quality
Charge can last for days
Elegant looking dress watch
Finish is world class quality
Cons
Might have problems with the self-winding movement
The quality of the leather brand is not satisfactory
Review
The design of this model is sleek but clean. It offers to watch lovers a different experience from thick, masculine watches. The small window showing the inner working gives this watch a different look. A domed crystal slightly magnifies the dial and the watch's features. It is automatic, with self-winding movement. 50 mm water resistance is a plus to its classic open heart design.
This is powered by a 21-jewel Orient automatic movement Caliber 46A40 with an accuracy of +-10s a day even when watch is used for more than 10 hours. The open heart feature is at 8:00 with a maximum operating time of more than 40 hours. It has a black-colored dial with hard crystal and silver hour and minute hand markers.
Features
| | |
| --- | --- |
| Display Type | Analog |
| Clasp | Buckle |
| Case Material | Stainless Steel |
| Case Size | 42.5 mm |
| Case Thickness | 12mm |
| Band | Patent Leather |
| Bezel Function | Stationary |
| Special Feature | Open Heart Dial |
| Water Resistant | 165 Feet |
| Movement | Automatic Movement, Caliber 46A40 |
| Model Year | 2015 |
Why Choose Orient Bambino Open Heart?
If you prefer a smaller watch for men that is wearable at any occasion, Orient Bambino Open Heart is the best choice. This is a good everyday watch. The look and feel are amazing. This is very affordable for a dress watch. A sophisticated timepiece that has definitely a "wow" factor.
Orient Classic "Sun & Moon"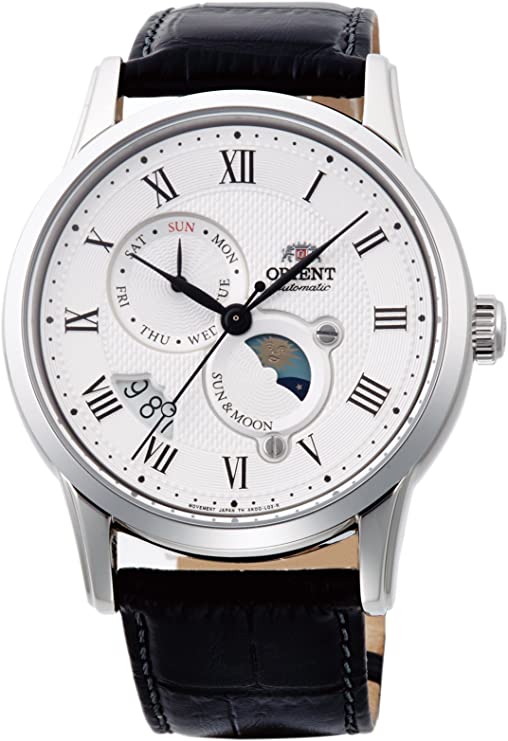 Pros
Excellent quality and fit
Keeps accurate time
Easy to read and very accurate
Suits best for the office
Cons
No hand-wind capability
A bit thick for others
Strap is a bit long
Review
This watch is perfect when you always wear your cuffs rolled up. Perfect for a dress-casual event. This is not a typical dress watch but would be perfect for people who prefer bulkier watches. This watch is too elegant for you to ignore because of its classic design and high functionality. The day indicated is embossed but the sun and moon indicator is raised.
The case measures 14.1 mm thick. It has hands and Roman numerals that are colored black, perfect for its white dial. It is powered by Orient 21-jewel automatic movement Caliber F6B24. With the new release, the accuracy is at +-15 seconds a day. This is encased in 42.5mm stainless steel. You can also find sapphire crystals to prevent scratches. The strap is classic with alligator grained leather with a buckle.
Features
| | |
| --- | --- |
| Dial Window | Synthetic Sapphire |
| Clasp | Deployant |
| Band Material | Leather Calfskin |
| Calendar | Day and Date |
| Special Feature | Transparent back case |
| Movement | Japanese Automatic, Caliber F6B24 |
| Water Resistant | 165 Feet |
Why Choose Orient Classic "Sun & Moon"?
This versatile watch is the best choice for days in the office, and suitable for any special occasions. This is the one of the best Orient Watches creation for watch lovers who opt for the bulkier designs. This is very accurate despite the fact that it has no hand-winding and hacking capabilities. But all in all, gents would want to wear a watch that would feel like a real watch.
FAQs
Who owns Orient Watch?
Orient and Seiko are both watchmakers from Tokyo Japan. In 1985, they built a joint factory but remained separated regarding lines of production. By 2001, Orient had mainly been consumed by Seiko Epson shareholders.
Seiko later took over Orient in 2009. However, that isn't the end of Orient. The company still an independent sub-company, owned by Seiko.
Who made Orient watches? Are Orient watches made by Seiko?
In 1901, a young entrepreneur named Shogoro Yoshida opened a watch shop in Tokyo Japan. He quickly specialized in manufacturing gold clock cases, and later established a factory called Toyo Tokei Manufacturing by 1920.
10 years later, they launched their wristwatches and established another factory at Hino the years thereafter. After World War II, the factory was forced to shut down. However, the company quickly returned to its watch production under the name Tama Keiki Co.Ltd.
In 1951, Tama Keiki adopted the name Orient Watch Company and released their Orient star watches. It took Orient 10 years to expand their sales internationally. The rapid growth of Orient posed a threat to Seiko's Lord Marvel.
In the early 2000s, Seiko Epson had become a significant shareholder in Orient and later took over the company in 2009.
Seiko Epson owns Even Orient; it still functions as an independent company. Orient has its factory and sometimes even produces some of Seiko-brand watches.
Are Orient watches made in Japan?
Orient is known for their unusual when they insist on producing their movements, and most watch elements in-house. You can differentiate the origin of Orient watches by looking at the label.
Watches with the label "Japan" have their parts and movements made in Japan, while those with "Japan movt" only have their movements made in Japan.
What does in-house movement mean?
Orient company often produces watches with in-house movements. So what does that mean? A watch with an in-house movement usually means that the movement is manufactured by the same company who produces the watch.
Sound complicated? Let me break it down for you.
Take mechanical watch movements for example. It is hard to create in-house mechanical movement because it is comprised of many different small parts. Watch manufacturers can easily find those small parts from outside suppliers.
ETA is a phenomenal watch movement marker from Switzerland. Owned by Swatch, they can produce a significant quantity of both quartz and mechanical movements. So many watchmakers have decided to entrust companies like ETA with their watch movements.
However, there are companies like Orient prefer to produce their watch movements. Since they manufacture movements in their factory, the name "in-house" appeared and is widely used.
What does hackable watch mean?
Hackable watch or hacking watch refers to a type of watches. It is also known as stop seconds. A hackable watch can stop the second hand once the crown is pulled out. The mechanism behind "hacking watch" is quite simple.
When the crown reaches the time-setting position, the brake will eventually touch the rim in the balance wheel. This will stop the edge from moving and held it in that position. To reverse the spell, push the crown to release the brake.
Hackable watches are useful for astronomical sights in the navigation or synchronize the actions of people in indirect communication. Therefore, this type of watches is frequently used on ships or for military purpose.
Why are orient watches inexpensive?
Orient has always been an independent manufacturer even after they were taken over by Seiko in 2009. The company has built its reputation for reliable and affordable watches. There are many reasons to explain why Orient can produce such inexpensive products.
Orient's lower-end watches adopt mineral crystal and movements without handwinding and hacking. This is a great way to save manufacturing cost.
What's more, Orient produces in-house movements and owns essential equipment for watchmaking. Since no 3rd party contractors involved in the process, Oriental can provide inexpensive and hi-quality as we know.
Most of Orient production is in Japan or equipped with Japanese automated and efficient manufacturing. It is also a bonus point that helps Orient reduce the overall cost.
Verdict
Orient Watches has been manufacturing the best mechanical timepieces since 1901. And up until today, these Orient Watches are the kind of guilt-free luxury that you can enjoy with its elegance and world-class functionality. They may not be that perfect and might have some flaws, but these are definitely the best watch choices that you can fit in the budget. Every style is elegant, durable, and reliable.