Automatic watches are not only the great time timekeepers but also fashion accessories that would complement your style.
We have put together a list of 20 best automatic watches under $300 for men with various styles catering to different tastes. These are also bestselling models chosen from hundreds of customer feedback through watch blogs and forums, making sure that the best is presented.
Without further ado lets check the 20 best automatic watches under $300.
Best Automatic Field Watches Under $300
Field watches are the watches that were used on battlefields. However, nowadays people wear field watches because of its practicality, toughness, lightness, and manliness.
The most important details that make a field watch different from other watches are the stainless steel/titanium/PVD coated rugged design, the readability under low-light conditions, the canvas or leather bands for easily swapped out if damaged, no polished parts to avoid undesirable glare under sunlight.
Seiko SNZG15 – The Best Entry-level Field Watch
Seiko Men's SNZG15 is a simple and affordable field watch. Despite the low price, Seiko Men's SNZG15 doesn't look cheap.
The militarily styled dial has a black matte face and big white numeral markers. The lime on hands and markers look great in dark environment. The day date display at 3 o'clock makes the watch less appealing but more functional, which is the purpose of a field watch.
The exhibition caseback makes Seiko Men's SNZG15 more classic and luxurious. The 22mm width nylon strap looks okay and can be easily replaced with a cooler leather strap. Seiko Men's SNZG15 can be mixed with various types of clothes.
The self-winding movement mechanism use wearer's arm movement to wind the watch, which doesn't need manual winding or batteries. Seiko Men's SNZG15 also has an impressive waterproofing standard of 100 m (330 ft) under the water. The watch is suitable for swimming and snorkeling, but not scuba diving.
Seiko Men's SNZG15 is an affordable entry level automatic field watch.
Features
Orient Defender – The Elegant Military Style Watch
Every watch has its own personality, and Orient Men's Defender has a very special style. It is a classic military hand watch, which is sporty robust but still elegant in all four colors – Gray, Creme, Blue, and Black.
The dial is very symmetrical and the lume on top of the markers make the watch appealing in any environment. 22 mm width leather strap looks elegant, making Orient Men's Defender a perfect watch for formal events – it'll flatter the wearer's manly.
Orient Men's Defender has two sub-dials that show 24-hour time and days in a week, and a date display at 6 o'clock. The Orient's in-house movement is a Japanese style self-winding mechanism, which is accurate and affordable.
The only drawback I can point out is that the time setting is quite inconvenient. You'll have to turn the time around and around to get the right day as you can't set the day and the time separately.
Orient Men's Defender is an elegant field watch, which is also perfect for formal events.
Features
Vostok Komandirskie Automatic Russian Military watch
What can I say about this watch? This is a solid, rugged looking Russian military watch. It is a very functional watch with some dubious characteristics and quirks. If you want to dress it up, change the band. If you want a rugged military look, then get a NATO strap.
It has a brushed case and brushed bracelet, with "polished" center links.
It has a 24-hour dial, which is fun. The date switches instantly just a few minutes before midnight, unlike other watches where the date takes hours to increment to the next date.
The bi-directional bezel has no detents (it is a friction-rotation,) but the action is very tight and is not likely to slip from a few knocks. The bezel numbers and other markings on this watch are engraved.
This Russian Military Automatic watch is reliable, durable, accurate, easy to read, wears very comfortably, and has a 31-hour power reserve. It is shockproof and waterproof to 200 meters. The bracelet is very comfortable, and the dual deployment clasps add extra safety.
If you are a big fan of military watches, then you must have this watch in your collections.
Features
Best Automatic Dive Watches Under $300
Dive watches are very popular among the people who often go swimming and especially go diving. The crucial features of a dive watch are superior water resistance and the ability to withstand great pressure hundreds of feet underwater.
A true five watch will conform to the ISO 6425 standard, which is the series of tests designed to ensure a device withstand diving in water at depths of at least 100 m and possess a system to control the time.
Case and band material must be corrosion resistant as well. And bands are typically longer than usual in order to fit over bulky dive equipment.
Seiko SKX007K – The Best Entry-level Dive Watch
Seiko Men's SKX007K is the most popular ISO-certified dive hand watch of Seiko. The watch has the water resistant to 660 feet (200 m), along with the Seiko's famous Caliber 7S26 automatic movement, making the watch suitable for recreational scuba diving.
The dial and the rubber strap don't look so delicate as you can't expect something superior at this price. But, the overall design of Seiko Men's SKX007K is good-looking enough. It's versatile, which is easy for you to match with all kinds of outfits, either when you dress up or dress down. And the big markers with lume on top are easy to read in dark environments.
Seiko Men's SKX007K is the most popular entry-level dive watch.
Features
Seiko SNZF17 – The Rolex Submariner Homage
People call Seiko Men's SNZF17 the poor man's Rolex Submariner, however, this is not just a cheap copycat of the reputable watch. It does look pretty alike the Rolex Submariner with less delicate details. Seiko Men's SNZF17 looks great with casual clothes.
Seiko Men's SNZF17 has all the features that a basic dive watch has – Index markers, unidirectional rotating bezel with minutes on it, easy to read numbers, lume on the hands and markers.
The watch meets the ISO diver's watch standard. However, it's quite low compared with other dive watches – 100m vs 200m.
Seiko Men's SNZF17 is a good affordable dive watch for beginners.
Features
Orient Ray II – The Dressiest Dive Watch
Orient Men's 'Ray II' is a beautiful dive watch. With the 660 feet (200 m) waterproofing standard, the watch suitable for professional marine activities, serious surface water sports, but not diving. In general, there's no watch for professional diving at this price.
However, for most of us, a decent dive watch with an appealing design will meet the need. And it's the Orient Men's 'Ray II'. Orient Men's 'Ray II' has the same design language as typical normal diver watches, but they made Orient Men's 'Ray II' catchy on every detail. Especially, in blue color, it has a majestic sunburst metallic effect.
Orient Men's 'Ray II' will match all styles of dressing, making the wearer look sporty and energetic.
Orient Men's 'Ray II' is a fashionable dive watch.
Features
Citizen Promaster Automatic Watch NY0040
Citizen Promaster Automatic NY0040 is probably the best value diver watch under $300. This is a watch that I personally love and cherish. It is something quite unique and certainly punches way above its weight.
This particular model was first released in 1997 and was adopted by the Italian Navy for 10 years. It is also an ISO certified diver watch.
This is a watch that grows on you. If you are into diver watch, then I will highly recommend you to get this watch for your collection. Citizen NY0040 is an excellent entry-level diver watch to have at this price range.
Features
Invicta Men's 8926OB Pro Diver Automatic Watch
The size and the design of this watch is very familiar to the 90s Rolex submariner. The size of this diver watch will fit all wrists. It has the Seiko movement inside caliber NH358 (automatic 24-jewel movement).
There are hundreds of "homage" Submariners out in the market, but undoubtly Invicta Pro Diver is the least expensive and easily the best. So, its great value for money and half the price of the average fashion watches you are getting an automatic Japanese movement. It's a very versatile watch, and you can wear it with pretty much anything. You can go swimming or diving with it and enjoy it for what it is.
Don't let the price full you. Invicta has an astonishing history. They were very respected watchmakers and founded all the way back in 1839. The company was sold in 1991, and now the Invicta that we all know and love today exists.
Features
NEYMAR 1000m Diver Japanese Automatic Watch
Neymar Datejust is a homage to Rolex Sea-Dweller. Great watch for the value. The finish and features of this attractive watch is awe-inspiring. The Ceramic bezel is beautifully crafted. The Super Luminova markers are bright in the dark. The automatic movement with Seiko SN35 caliber keeps accurate time with hacking ability. Imported sapphire crystal is 5mm thick. The case is solid with an auto helium release valve that resists heavy pressure in the deep sea.
This watch offers all the features of a diving watch, without costing you an arm and a leg. There are many diver watches from well-known big brands, but this watch is really impressive for its value and top quality, and it looks great as well.
Features
Best Automatic Dress Watches Under $300
The only purpose of dress watches is to compliment a business suit or formal wear. So a dress watch must be elegant and simple.
A dress watch should be thin and properly proportioned to the wearer's wrist, or it'll draw all the attention of the dress. A dress watch should have no complications, the presentation should be simple, and the hour indexes should be small and minimal as well.
Orient Bambino Ver. 2 – The Best Vintage Dress Watch
Orient Men's '2nd Gen. Bambino Ver. 2' is just simply a hand watch for the intellectuals from the early 20th century. All the details on this aesthetic and vintage-styled watch are consistently harmony. Every angle is attractive. Small, simple, and elegant.
The domed glass, the neutral color, and the thin faux croc strap make Orient Men's Bambino humble that suitable for all kinds of formal dresses, but still catchy when it needs to be.
The watch doesn't have lume for dark environments, doesn't show day or 24-hour time. But that's what a classical watch is. The Japanese automatic movement keeps the watch running precisely without any concern of manual winding.
Orient Bambino is the the best automatic vintage dress watch under $300.
Features
FEICE FM121 Automatic Watch
It is a homage to Junghans Max Bill Chronoscope. It is a very Bauhaus design with all the thin hands and texts.
It has a self-winding movement, so the watch doesn't need a battery. It's powered by your wrist movement and has a 35-hour power reserve. You can also manually wind the watch.
Its 2.5D Domed Mirror has a double coating that prevents the mirror from scratches, and 99.6% high transparency increases the clarity of dial. With the transparent back design, you can see the movements very clear.
Two sub-dials display 12 months and 24 hours. The date and week calendar window is at 3 o'clock.
The quality and overall feel of it, it's hard to believe that this watch is selling for under $300.
Features
Best Automatic Skeleton Watches Under $300
Bulova 96A135 BVA-SERIES 120
Gears, bearings, and winders are sometimes really attractive if you really love watches. The skeleton dial on BVA-Series 120 Bulova is not so impressive compared with thousands-of-dollar skeleton watches but is the best one under $300 you can find on the market.
The strap is made of black leather. The backcase is openly designed. The self-winding 21 jewel movement is visible through double dial aperture. All make Bulova BVA-Series 120 an interesting watch that can be mixed with any kinds of dresses, and suitable for any types of situations.
The watch has a sub-dial for 24-hour time display and a sub-dial for second display. The hour marks are luminous so that they're easy to read in the dark environment.
Features
Stührling Anatol 371 Automatic Watch
This is a stunning watch. The skeleton dial, the blue accents, bright shining silver, and ornate embellishments and the polished bezel make this a truly unique piece. The Krysterna Crystal is unique to Stuhrling. On the front and back of the watch is brilliantly clear. You can see every slight movement of the gears and even the movement of the self-winding mechanism weight on the back of the watch. Krysterna crystals are more shatter-resistant than sapphire crystals, but it is the clearest compare to the other crystals in the market. The genuine leather calfskin band is very comfortable, and the stainless-steel casing adds just enough weight to give it a sturdy feel without making it too heavy.
This automatic dual time comes handy when you are traveling. With a second time zone sub dial and rotating AM/PM indicator built to keep you on time, no matter the time.
Under $300, the quality, craftsmanship, and design of this skeleton watch is unmatched.
Features
Fossil Men's ME3098 Automatic Watch
It is a subtle but striking watch that will attract a lot of attention. Fossil is famous for its fashion watches, and Fossil ME3098 Townsman Automatic is one of their top men's watches.
The top-of-the-hour Townsman automatic takes its cues from vintage designs. It has a refined black case houses an amber crystal lens with a see-through skeleton dial.
The automatic movement features a built-in rotor that's powered by the motion of your wrist, so no battery required.
It is an excellent fashion watch, and the automatic movement at this price is a steal.
Features
Best Automatic Pilot Watches Under $300
Citizen BJ7000-52E Nighthawk
I am going to sneak in Citizen BJ7000-52E Eco-Drive Nighthawk into this list of automatic watches under $300. Instead of body motion, this watch is powered by light, and that would be any light.
Citizen Nighthawk is a pilot watch that looks like a retro or vintage pilot watch from world war 2 or 50s or 60s era. The overall look of this watch is very mechanical and industrial.
The slide rule bezel and the GMT hand features were inspired by the real needs of pilots. The slide rule bezel is a very functional complication. Pilots used it for multiplications, divisions, conversion between units, calculating fuel consumption, etc. Which you may not be using, but it's still a cool feature to have.
If you are into pilot or aviator watches, then Citizen Nighthawk is probably the coolest pilot watch with all the essential features under $300.
Features
Best Automatic Sports Watches Under $300
Tissot Men's V8 Swissmatic Automatic Watch
I fell in love with Tissot Men's V8 Swissmatic as soon as I took it out of the box. It is an automotive-inspired watch by Tissot. The watch comes in a variety of dial and bezel configuration, and the finishing of the case is very polished. It is more of a sports watch than a formal watch. Perfect for any outdoor activity, from rock climbing to snorkeling and downhill skiing. It is powered by a Swiss automatic movement with a 72-hour power reserve.
So, if you like mechanical watches but dislike bling and plastic, and want a single watch, that you can wear to work, to the beach, the cliff, and the evening theatre performance, then Tissot V8 Swissmatic is the perfect watch for you.
Features
Best Automatic Vintage Style Watches Under $300
Stauer 1930 Dashtronic Automatic Watch
This unique looking watch will take you back in time. Stauer is an American jewelry brand that produces premium quality jewelry and watches at an affordable price. Stauer designs all sorts of things, from hunting knives to walking sticks as well as the jewelry and watches.
The Stauer 1930 Dashtronic looks different from a regular wristwatch. This watch has a look that you will either like it or hate it straightaway. But if you are a fan of vintage watches, then you will love the design of this watch.
Despite its vintage look, the watch blends the modern functionality of a 21-jewel automatic movement and 30 meters water resistance. True to "Machine Art" aesthetics, the sleek brushed stainless-steel case has a display window at the back to allow you to a peek at its inner workings.
The watch is manufactured in China to keep the cost low. Overall, finishing is pretty decent for the price. It comes with a black alligator-embossed leather band. But, if you replace the original strap and replace it with a leather NATO strap, then it will be perfect for regular use.
Features
Seiko Men's SNKM97 Automatic Watch
The green-faced Seiko SNKM97 is a great, stylish watch reminiscent of vintage Seiko designs from the 70's. This watch will take you back to the summer days during the 1970s. During the day, this watch glows. The face is easy to read, and the movement keeps time wonderfully accurate. The watch has some weight to it but never feels heavy. On the wrist, the watch sits superbly. This watch will be a great addition to any Seiko enthusiasts' collection.
Features
Best Automatic Fashion Watches Under $300
ROCOS Automatic Mechanical Watch
If you like the look of Patek Philippe Nautilus, then you will love this watch. Even Rocos R0139 is a homage to Patek Philippe Nautilus. It is still a very solid, good looking watch and not just any quartz-powered knock off.
The watch is very reliable and keeps accurate time. It has a transparent exhibition caseback to see the mechanical movement and the gears inside. There are so many cheap quartz knockoffs that a watch with mechanical movement at this price is a rarity in the wristwatch market.
Once you get over the fact that this is a blatant copy of the Patek Philippe, it is a quality wristwatch.
The quality, artistry, and finish of this watch are imposing. It feels like a much more expensive watch, thereby making it an incredible value for money. Under $300, I would say you are getting a great deal of watch for the money.
Let's be real, many of us, including myself, will never be able to afford a Patek Philippe. Still, ROCOS gives us a tremendous amount of personal satisfaction of owning and wearing a fine mechanical timepiece that looks and feels as good as a luxury watch.
Features
What Is An Automatic Watch?
An automatic watch is also known as a self-winding watch. Unlike the cheap quartz watches, automatic watches get their power from the body motion of the wearer. You don't need a battery to power it up. Most automatic watches are self-winding, so you won't need to wind it neither.
The watch will keep ticking as long as you wear it. It does it by using an off center-weighted rotor which spins as you move throughout the day, and as it turns, it activates a ratchet system that keeps the watch wound. Automatic watches come with a power reserve option. It means that if its fully wound, it will keep ticking for a certain amount of time. So, if you see an automatic watch that says it has a 48-hour power reserve, that means if it is fully wound and you take it off, it will still be ticking for 48 hours.
As long as you look after your automatic watch, it can last for a very long time, like generations.
How Does An Automatic Watch Work?
How To Choose A Good Automatic Watch?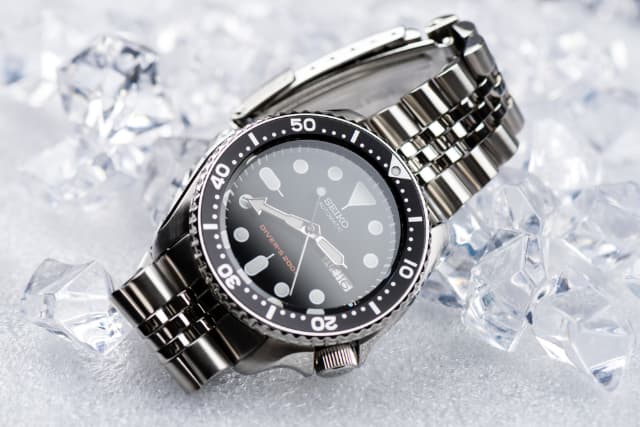 Choose the type of your automatic watch
If you want a watch that would flatter your suits, you should choose a dress watch.
If you want an enduring and functional watch, a field watch is suitable for you.
If you often go diving, just go for a dive watch.
Consider these features
Easy to read dial
Lume on top of the hour makers
Appealing design
Exhibition caseback
ISO-certified dive ability
Things To Know About Automatic Watches
If you are new to collecting automatic watches or thinking about buying one for the first time, then you should know the following five things about mechanical watches. I am not trying to discourage you here from buying automatic watches. I wish I knew them when I started my collection.
Maintenance
First thing that you need to keep in mind or understand that mechanical watches or automatic watches do require maintenance. And maintenance does cost money. Most people have this idea that a mechanical watch lasts forever, and they can pass on to their grandchildren as a heirloom item. Automatic watches do last forever, but they require maintenance every five or ten years, depending on a lot of factors. The mechanical watches do not have batteries, so you don't need to worry about changing them, but they do have all kinds of gears, springs that wear down and lubricants or oil that needs to be replenished. If you ignore these, then the watch won't function very well after a while and won't be keeping good time. Eventually, it will stop working altogether.
Accuracy
The second thing to remember that mechanical watches are not very accurate. A lot of people complain after buying a mechanical watch that their watch is losing 2/3 seconds every day, which is typical for an automatic or mechanical watch. Unlike a digital or battery-powered watch you will need to reset the time of your mechanical watch quiet frequently.
Winding
Another thing to keep in mind that even though mechanical watches don't have batteries, they still need to be powered by something. For mechanical watches, it is typically the spring inside that needs to be wind up tightly. There are a couple of ways to do that. Some automatic watches are self-winding, while some are hand-winding where you wind the watch with your hands by rotating the crown. Self-winding watches can get power from your body movement. Generally, most entry-level automatic watches last about 40 hours if they are fully wound. After that, it is just going to stop and not work anymore. So next time, when you pick it up, you will need to set it up and wind it.
Resetting Time and Date
Actual ownership of a mechanical watch means that you will be resetting the time and the date fairly frequently unless you invest in watch winders and spend some money. Even if you wind your watch regularly, once in a while, you will need to reset the time for accuracy.
Hacking and Hand-Winding
Two of the most common features of mechanical watches are hacking and self-winding. Hacking means that when you pull the crown out, the second-hand stops. It allows you to set the watch very accurately down to the second. Commonly used in the military to set the watch to a reference time accurately.
The Hand-winding feature allows you to wind your watch manually. You spin the crown, and it will wind the spring inside that will power the watch.
Now, remember that some mechanical watches can be self-winding but do not have hacking. Some automatic watches offer neither hacking nor self-winding. The mechanical watch that does not have the self-winding feature you can simply pick it up and give it a shake for about 10/15 seconds to bring up the power. Once you put it on your wrist, it will start generating power from your body movement.
Best Affordable Automatic Watch Brands Under $300
There are hundreds of watchmakers. Among them, Seiko, Orient, and Bulova are my three favorite makers of the best automatic watches under $300.
Seiko
Seiko is a Japanese holding company that has subsidiaries which manufacture and sells watches, clocks, electronic devices, semiconductors, jewelry, and optical products.
Since being established in 1881, Seiko has been developing their brand as one of the most trusted watchmakers. Seiko's watches have good quality and affordable price, which are suitable for all the segments.
Orient
Orient Watch is another Japanese watchmaker, which was founded in 1950. They are famous for their mechanical watches (self-winding & hand-winding). When it comes to the under-300 segment, Orient has a bulk of great automatic watches that you should have a look at.
Bulova
In 1875, a young Czech immigrant named Joseph Bulova set up shop in New York City, and this legendary American watch brand was born. Bulova introduced its first line of wristwatches in 1919. So every Bulova wrist watches carry a piece of history.
Frequently Asked Questions (FAQs)
Are automatic watches accurate?
An accuracy of +- 25 seconds per day is acceptable when it comes to automatic watches. Common automatic watches will meet this standard. If you seek an absolutely accurate watch, you have to spend more on a Chronometer-certificated watch.
Does an automatic watch need a winder?
No. A winder is not necessary. You arm's movements are anything an automatic watch needs.
How long can an automatic watch run without being worn?
The self-winding movement mechanism use wearer's arm movement to wind the watch. If you don't wear the watch for a period of time, it won't be winded and stop running. A common automatic watch will stop after 24 to 48 hours being unworn.
How often should you wind an automatic watch?
Your normal activities are enough to keep the watch running. If you wear the watch every day, you don't have to think about winding it.
Is quartz or automatic more accurate?
Quartz movements are far more accurate than Self-winding movements of automatic watches. However, a normal automatic watch is precise enough that you won't notice the differences.
Summary
Above are my full review of the best automatic watches under $300. Hope that the information in this article will help you find the suitable watch for you.