If you are a collector of automatic watches, you would know well that they stop working if you don't wear these watches for periods extending a day or two. And each time you have to wear them again, you need to set the date and time again, which is a hassle more often than not.
The solution? Watch winders – small machines fixed with tiny motors which rotate them in circular patterns to imitate the movement of your hand so you don't have to pick from where you left off.
Whether you have one, two, or even four automatic watches, the following reviews of the best watch winders will make it easier to pick one, keep your watches up, and run at all times.
My Picks of the Best Watch Winders
Best Single Watch Winders
WOLF 270002 Heritage Single Watch Winder (Black)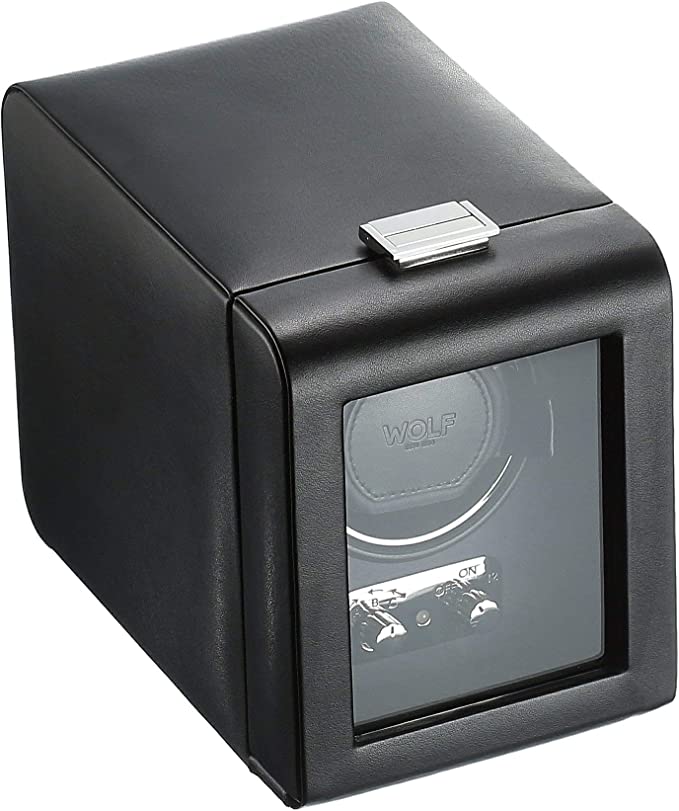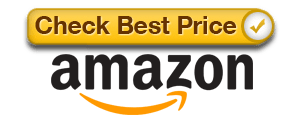 Review
When first released in the market, the Heritage 270002 single watch winder from WOLF was designed to offer quality performance with silent operation. However, the European luxury leather goods company, WOLF, only stops innovating if it has perfected its products. Hence, WOLF 270002 has new features and options that make this single-watch winder one of a kind.
Following suit of other winders from the Heritage collection, the WOLF 270002 has an eye-catching design. Now it also comes with a watch cuff to easily accommodate larger and heavier watches that may have a wristband measuring up to ten inches.
The exterior is made from high-quality faux leather for a sleek, classy look, while the tempered glass cover lets you glance inside the box. The interior is covered with smooth faux suede with a chrome finish on the closing clasps and knobs.
The rotation program is another noticeable feature added to this single-watch winder. Instead of winding constantly, the rotation is intermittent with integrated pause and sleep phases for a natural and superior winding experience.
The watch winder is powered by a Mabuchi motor with three winding options – clockwise, counterclockwise, and bi-directional. Read more here to choose the best winding option for your watch!
I noticed that the cuff in the watch winder is too big for some watches, and even the box is slightly bulky. But for many people, these issues might be ignorable.
Although the WOLF single-watch winder might be in the higher price range, it is worth every penny.
Since this leather watch winder has such a classy look, it would make the best watch winder for Rolex, Breitling, Tag Heuer, Omega, and other luxury timepieces!
Pros
Classy & expensive look
Extremely quiet
Well-built
Cons
The cuff is too big for some watches (but it's not a huge issue)
Versa Automatic Single Watch Winder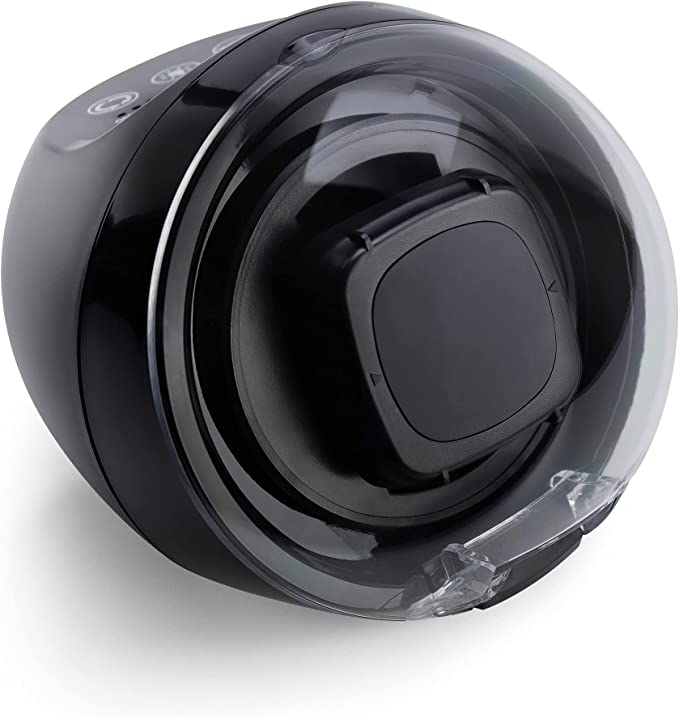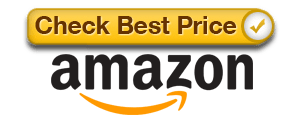 Review
Another watch winder fitted with the Japanese Mabuchi motor is a great product that is very affordable.
However, do not judge the product by its price – the Versa single watch winder meets the highest performance standards without making a sound. It has a compact plastic design with a black body and a transparent cover.
The built-in smart timer turns the watch winder for approximately 5 minutes and then rests depending on the 4 Turns Per Day setting you to choose – 350, 650, 850, and 1050. This cycle continues for as long as the watch winder is on.
A blue LED indicates when the watch winder is in motion, but some have complained that the light is distracting. The good thing is that you can turn it off with a few tweaks. The winder motor has three direction settings – clockwise, counter-clockwise and bi-directional.
If you wish to use the Versa watch winder for larger watches, it comes with a watch pillow that is spring-loaded to fit varying watch band lengths. But that's not all; the Versa has an extender for watches with longer bands.
So if you want to keep your watches ticking without going over budget, the Versa single watch winder is a great choice.
Pros
Cons
The motor is not strong enough for heavy watches
CHIYODA Handmade Wood Single Watch Winder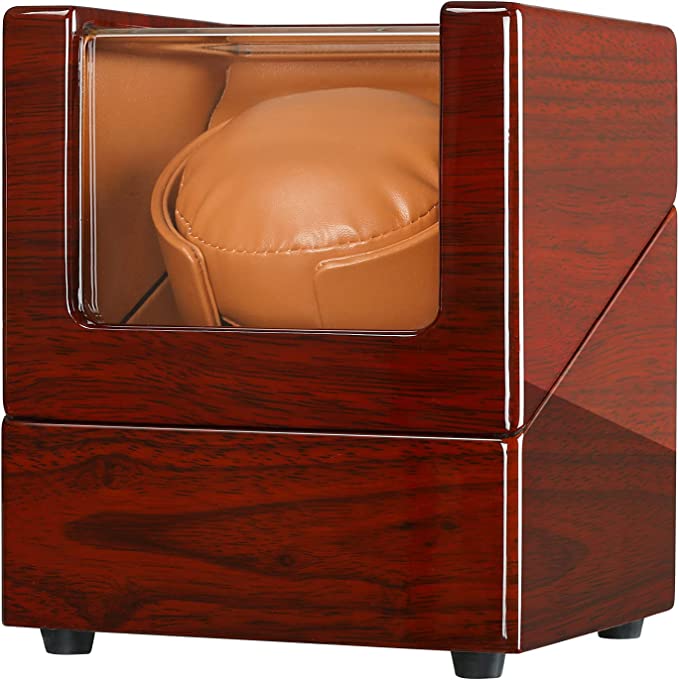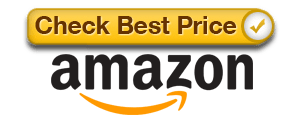 Review
For those who appreciate uniqueness and quality, the word 'handmade' should be enough to urge them to buy CHIYODA Handmade Wood Single Watch Winder. This watch winder undergoes 21 processes of 100% handmade work to emerge as a beautiful piece with a striking appearance.
Once you experience the feel of the Deluxe piano baking varnished box, you won't stop raving about its beauty. The high-gloss lacquer finish and organic glass display combine to make this single-watch winder a piece of art. The glass is highly transparent and scratch break free as well.
The MABUCHI Belt Driven motor runs the CHIYODA watch winder for super quiet and long-lasting performance. There are 4 Turn Per Day settings to choose from – 1440 CW, 1440 CCW, 5760, and 2152. The watch winder runs for a specific number of minutes for each set before it rests.
There are three winding modes – clockwise, counter-clockwise, and bi-directional.
The CHIYODA watch winder has an adjustable watch pillow to accommodate longer watch bands easily. The interior is lined with Insulated velvet to eliminate magnetization and prevent harm to valuable watches.
Due to its intricate design, superior quality, and affordable price, the CHIYODA Handmade Single Watch Winder can also be the perfect choice for business gifts. It's the best watch winder under $100 right now!
Just know it will take up much real estate on the dresser or desk.
Pros
100% handmade
Well-built wooden case makes for a classic look
Low-priced
Cons
The space inside is a little too small for some large watches
Lack of instructions from the manufacturer
Best Double Watch Winders
WOLF 270402 Heritage Double Watch Winder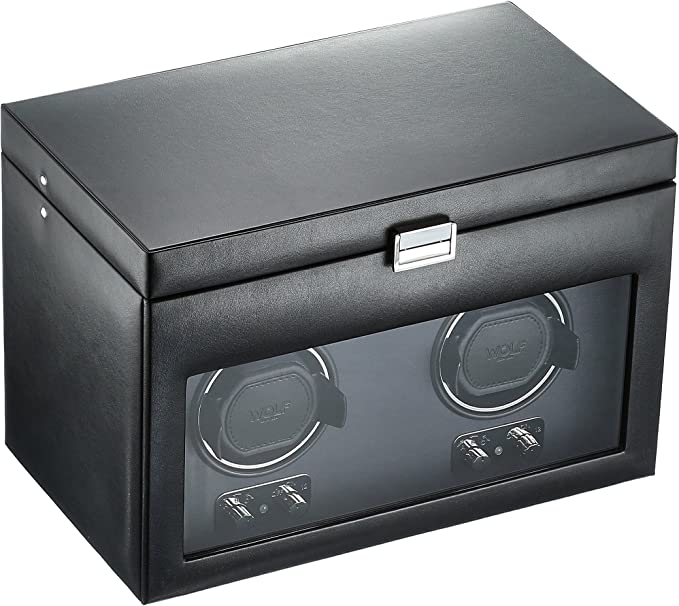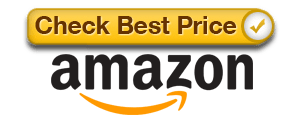 Review
WOLF is a reputable brand for leather watch winders, and this model 270402 is one of their best-selling products now!
You can expect a highly classy look with the black color tone of the winder and its pebbled faux leather exterior, all combined and presented in this modular box.
It features a chrome clasp closure and control turn knobs. You can also see your timepiece being wound with its glass cover.
To accommodate other watch sizes, the WOLF Double Watch Winder features a newly-designed watch cuff that addresses this need to carry larger sizes.
The winder offers a patented rotation program, performing 900 turns per day with a 10-second start delay. It has intermittent rotation, pre-programmed pause and sleep phases, and an optional 12-hour delay.
Depending on your preference, you can choose rotation modes from clockwise, counterclockwise, or bi-directional.
For its space, it can easily fit two timepieces that vary in size with its provided space. Even cases reaching 52mm can fit inside. A grosgrain-lined interior can hold both of them comfortably while accommodating a travel case.
It can operate on a 3.3V adapter for electrical power or through D-cell alkaline or lithium batteries, giving you the option of choosing a power source for the winder.
Like its Single Winder counterparts, this WOLF Double Winder rests in the higher price range for watch winders. But the technology, sleek look, and reputable company make it worth every penny and fit for any luxury timepiece.
Pros
Classy & expensive look
Sleek feel and design through its black faux leather
Assurance of quality from a reputable watch winder company – WOLF
Very quiet and well-built
Option to choose charging option
Patented rotation program to ensure accuracy
Cons
The price is a little high (but it's worth every penny)
The cuff size is considerably large for some watches(but it's not a huge issue)
CHIYODA Handmade Wood Double Watch Winder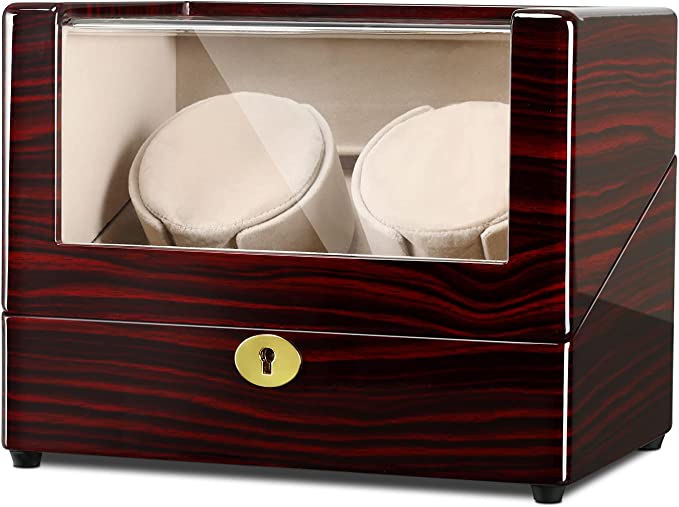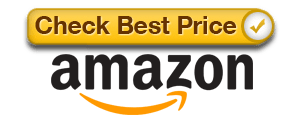 Review
The appeal of handmade products is evident with CHIYODA's Double Watch Winder. Like its Single counterpart, it boasts 21 unique procedures offering a 100% handmade craft to create this artistic and classy winder.
Besides its looks, this winder is environment-friendly. The watch winder is made from wood and finished with Piano Baking Varnish, a high-gloss lacquer. It has a transparent window to show your timepieces as they are being wound.
Compared to the Single Winder, CHIYODA's Double Watch Winder is an upgraded version that can accommodate two timepieces utilizing the same MABUCHI belt-driven motors.
You can rest assured of its quality, as this Double Watch Winder is extremely quiet, long-lasting, and reliable, capable of winding two watches simultaneously. Spaced adequately, you can use both without the fear of damaging any of your beloved timepieces.
As with its Single counterpart, there are 12 winding combinations. You can opt for two lines. There are 4 Turns Per Day options: 650, 900, 1350, and 1800. These are three directions, clockwise, counterclockwise, or bi-directional.
You can monitor and change these settings through an LCD screen that is simple and quick to operate for better control of each of your timepieces.
It fits large watch sizes and can even accommodate up to 50mm. With this flexibility, there won't be any misfits. The pillow is adjustable, providing a comfortable bed for your watch as it is being wound.
You don't have to worry about the price of the elegant CHIYODA Double Watch Winder. It is an exceptional budget-friendly tool despite its quality craftsmanship. For its looks, it is a perfect companion for desks as it adds a touch of sophistication through its style.
The only problem is the need for more instructions from the manufacturer, but this product is not difficult to use, so this is not a huge issue.
Pros
100% handmade through 21 procedures
Elegant wooden and glossy look with glass for viewing
Accommodates large timepieces
Quiet and accurate winding
Budget-friendly
Cons
Manufacturer instructions are lacking
Versa Automatic Double Watch Winder (Black)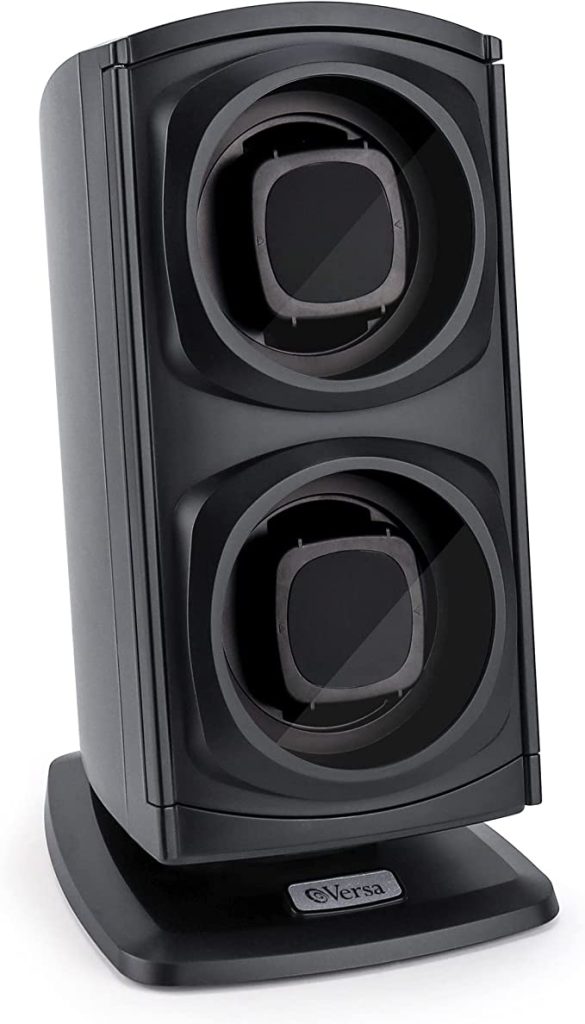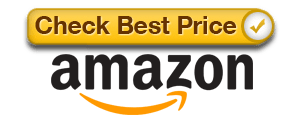 Review
So Versa understands that many of you watch enthusiasts will most likely have more than one timepiece – one for casual day wear and another for formal evening wear. Hence, instead of purchasing two watch winders to keep the juice running in your watches, Versa has a double watch winder.
Like its single counterpart, the double watch winder by Versa is versatile enough to accommodate a wide range of automatic watches. It comes with a watch pillow to hold larger watches. It is also made of matte black plastic with a glossy finish and with a transparent cover both watches for easy viewing.
Despite being a double-watch winder, Versa has ensured that it does not make any noise, so you can conveniently keep it in your room without being disturbed.
It has three options for direction settings – clockwise, counter-clockwise, and bi-directional and four settings for Turns Per Day – 350, 650, 850, and 1050. Depending on the settings, the watch winder runs for a few minutes before pausing, and the cycle repeats.
Running on a single Japanese motor means that both watches are wound at the same settings, but that is usually okay for most people.
A few people have mentioned that it needs a little manual labor before it can work perfectly like the plastic pillows need some cushioning with tape to make them thick enough to fit into the slots. Otherwise, they make noise.
That's the cost you pay to get such a versatile product at a reasonable price.
Pros
Appealingly low price
Quiet
Cons
The plastic body doesn't look expensive. But…you get what you pay for!
Get a little louder after about one month. But it's not noticeable!
Diplomat 31-568 Roadster Wood Watch Winder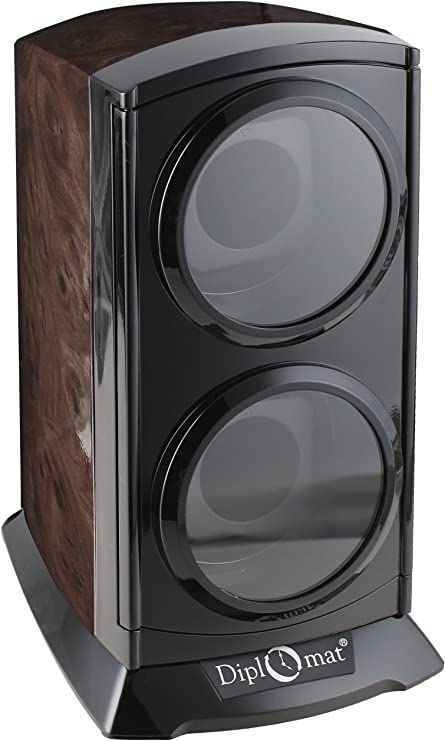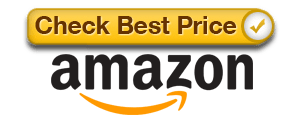 Review
Diplomat has been active in the watch accessory industry for over four decades. The company aims to provide quality products at an affordable price and has always lived up to its motto.
From watch cases to watch winders, Diplomat has always been up-to-date with innovation in watch accessories and has used its industry experience and expertise to introduce the highest quality products.
From its collection of versatile products emerges the Roadster Double Watch Winder – a fusion of beauty and functionality. The double watch winder has a high gloss burl wood finish; it is not made of wood, as some people have found the description misleading. Both watches have a black plastic door and clear glass top.
The vertical design of the watch winder is a great space saver and can be easily kept on your dresser or office desk.
The double watch winder has a smart built-in bi-directional timer control with three winding modes – clockwise, counter-clockwise, or alternate. The four settings for Turns Per Day make the winder operate for 33 seconds, 10 minutes, 30 minutes, or 1 hour, with pre-determined pauses in between.
For the fantastic price at which this double watch winder is available, it will make for an incredible holiday gift for yourself or a loved one.
Pros
Affordable price
Plastic body but with wood effect, makes for an expensive classic look
Cons
Best Quad Watch Winders
WOLF 270602 Heritage Four Piece Watch Winder with Cover (Black)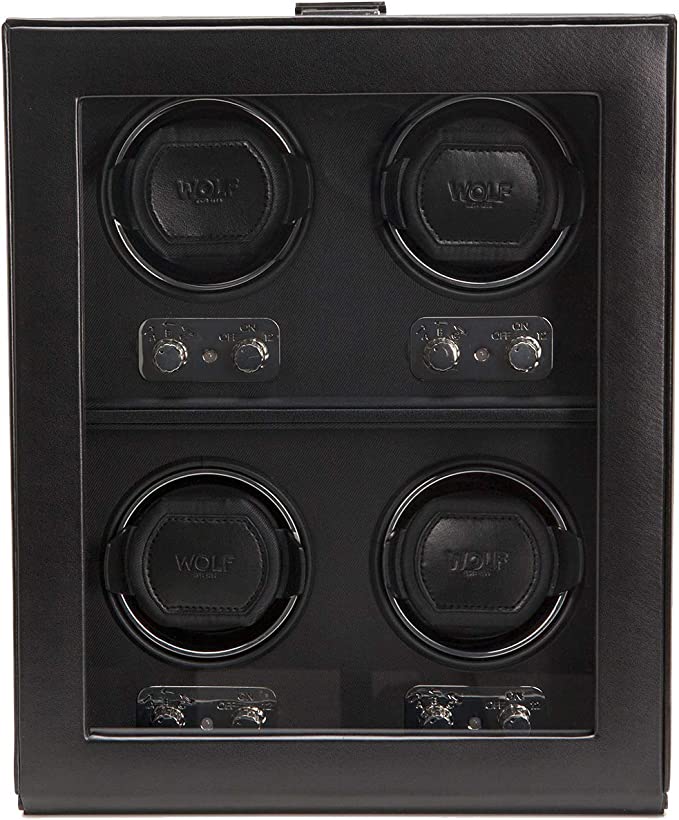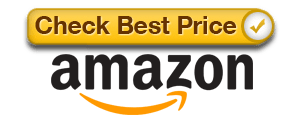 Review
WOLF continues innovating through elegance and technology with the 270602 Heritage Four Piece watch winder. It features the usual classy and elegant faux leather purposefully designed to showcase the look and prominence of the timepieces it winds.
Knowing that it came from WOLF, the 270602 is a high-end product with a beautiful design and top-notch quality. Aside from their differences in function, it shares the same quality and prestige with the 270002 and the 270402.
The WOLF 270602 is different from the 270002 and the 270402 regarding their capacities, with this one capable of winding four timepieces.
The exterior of the WOLF 270602 is embraced by sleek black faux leather, a transparent glass cover, and a chrome clasp closure for protecting its interiors. Altogether, the set exudes class and gives you a great view of your timepieces while being wound up.
Four separate motors quietly & smoothly operate to keep your watches moving. It is also good to note that the motors are shielded to ensure they won't magnetize your watches, saving you from inaccuracies in time readings.
You can freely program each motor for your timepieces. Because of using four separate motors, when one gets a problem, it won't affect the other three.
The interior movements feature their patented rotation program. It has pre-programmed intermittent rotation with pause and sleep phases. An optional 12-hour delay setting is also available for your preference.
It is soundless when operating and can go up to 900 turns per day. Its movement is customizable from clockwise, counterclockwise, or bi-directional movements.
These advanced features may explain why the WOLF 270602 is more expensive than usual winders.
The watch cuff design can accommodate larger and heavier timepieces of up to 52mm with up to 10" wrist size, keeping them locked securely to maximize winding. Ideally, watch sizes of 40mm to 52mm will be suitable for this watch winder.
The price range for the WOLF 270602 is on the higher end of the scale. However, it matches the quality, including its sleek personality, the multiple timepieces it can cater to at a time, and the functionality, which makes it a good choice.
Pros
Classy and elegant look
Sleek and expensive feeling for its design utilizing black faux leather
Silent when operating
Patented rotation programming ensures quality
Assurance of watch winder quality as a product of WOLF
Cons
Cuff size may be a bit big for some users
Price for the winder is in the upper range
Heiden Vantage Quad Watch Winder with LCD in Burlwood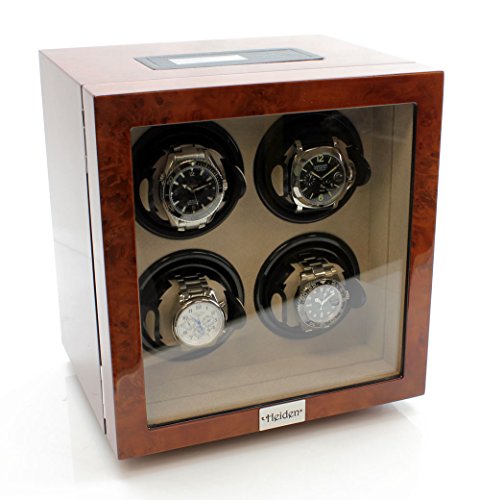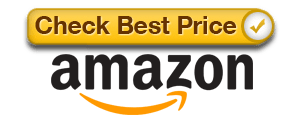 Review
Heiden's Vantage Quad watch winder exudes elegance through its color and design. The Burlwood veneer finish gives it an impressive wooden look that is a welcome decoration for many surfaces.
Burlwood veneer finish gives Heiden Vantage winder a classy look. This gives the wooden look and feel of the winder, making it seem more expensive than it actually is.
It showcases the timepieces being wound up through its clear glass display. There is an LCD controller on top of the winder for easy access.
It features a beige interior, so it makes any timepiece inside stand out when looked at from afar. Its watch pillow ensures soft and safe movement for the watches when wound up.
For its internal works, the winder is designed to accommodate most automatic timepieces. It can run both on batteries and on an AC adapter.
It has multiple turns per day, operating at 650-950-1250-1850.
Four separate Japanese Mabuchi motors power the Heiden Vantage Quad winder. These ensure reliable and quiet independent movement. The winder has three direction settings, clockwise, counter-clockwise, and bi-directional.
As a quad watch winder, it can accommodate several timepieces at once. This offering from Heiden also boasts being a quiet watch winder, thus removing any unnecessary noise when used.
The Heiden Vantage Quad Watch Winder is reasonably moderately priced. It is a great option to get if you like the elegance brought by its wooden look. As it can fit with most surfaces, it also makes a great decoration that keeps your automatic watches in check.
Pros
Burlwood veneer provides elegance to the look of the watch winder, looks and feels expensive than it actually costs
Style and design makes it easier to operate and pleasing to look at
Can run on batteries or AC adapter
Quiet
Budget-friendly
LCD screen makes programming the winder easier
Cons
Some doesn't prefer the Burlwood veneer look as people either love it or hate it
Versa Quad Watch Winder in Black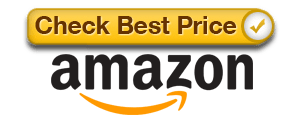 Review
The Versa Quad winder is a very price-friendly and functional watch winder that can accommodate four timepieces of any size. Aside from the capacity, it is similar to the single and double winders in its family.
It exudes a bulky look yet emphasizes each timepiece's glory as they are wound in different places.
The Versa Quad winder is competitive with its functions and its uniqueness. The neutral color of the winder makes the timepieces stand out. The design also emphasizes each watch in its room.
The winder is programmed so as not to overwind the watches. It turns for about 5 minutes, rests for a while, depending on how you initially set it up, and then returns to repeat the cycle.
Motor settings are clockwise, counter-clockwise, and bi-directional. It also features different settings for the turns per day ranging from 350-650-850-1050. The operation for the Versa Quad winder is relatively quiet as it turns with ease.
You can control the different settings for each winder so they are wound independently depending on the timepieces. The Versa Quad utilizes Japanese Mabuchi motors and gear design, proving its commitment to quality movement.
The price range for the Versa Quad watch winder is budget-friendly, considering it is built to cater to a diverse selection of watches. It's one of the most affordable quad-watch winders with four separate motors.
It has a unique design that exudes a bulky look. It could be more classy, but it has its charm.
If you opt for other wooden or leather finish alternatives, there are several options you may choose from within this price range. But usually, these alternatives only have two motors for four watches!
Pros
Design emphasizes the individuality of each timepiece it winds
Programmed winding controllable for every different timepiece
Four separate motors provide reliable movement independently
Very price-friendly as an automatic watch winder
Cons
It may not be as quiet as its other single and double variants
Some may not prefer that it's made of mostly plastic
JQUEEN Automatic Quad Watch Winder with Double Quiet Mabuchi Motors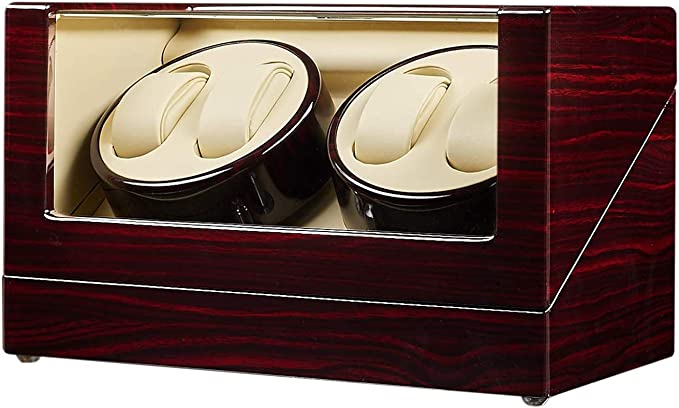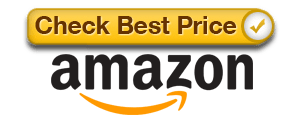 Review
JQueen's Automatic Quad watch winder is elegantly handmade and exudes class. Providing an open design, you can look at your timepiece as they are wound even from afar.
The JQueen Quad winder is 100% handmade. It uses acrylic glass along the front and top side of the winder to provide a better view of the watches being wound. Environmental protection piano lacquer is also used, giving a piano-baked varnish look.
The interior look is also elegant. Two motors separate the four timepieces into two segments. Polyurethane beige pillows support the watches to protect them adequately while looking very elegant.
Double Mabuchi motors provide movement for the timepieces. There are four modes for the rotation of the winder, with three directions available: clockwise, counter-clockwise, and alternating.
There are two modes available for powering up the watch winder. You can use an AC adapter or the watch winder can run on batteries. This allows you to choose, which may be necessary when you need portability.
The price range for the JQueen Automatic Quad watch winder is also very budget-friendly.
Considering its elegant design and varnish finish, it is on par with other winders when it comes to looks. The functions are also made with excellent quality and care, so you won't have to worry too much about its capabilities.
The main drawback is the need for more space for large watches and having only two motors to handle four timepieces.
Its wooden finish makes it look elegant & classy, but the number of motors must be reduced to maintain the low cost. However, it's still very reliable & can smoothly wind four watches with just two motors.
Pros
The elegant design of the watch winder makes it easy to fit as decoration as well
Clear glass makes the timepieces inside visible and prominent even from afar
Dual power supply makes it portable
Budget-friendly
Cons
Movement may be barely audible
Not enough room for large timepieces
There are only two motors for the four timepieces
How to choose a good watch winder?
Design
The first question you must ask yourself is where you intend to use the watch winder. There are those with adapters and those without (use batteries instead), and if your designated place is in your living room or bedside, then you are safe with the cable ones. For example, if it is in your car, you obviously need one that operates on batteries.
Second, watch winders come in various shapes, most notably covered or open. This is a question of safety. Say you've got a brand new, pricey watch, and it's time to wind it, but the winder has no cover.
You let something slip or accidentally push it over, and we both know that bursts of infuriation come next. Naturally, you don't want that to happen, so the prudent choice is to pick one with cover.
However, if it is in a hard-to-reach place and perfectly matches your ambient, go for the coverless design.
Material
Speaking of ambient, feng-shuing your apartment with a matching winder is another thing to consider. And for that, the choice of material does matter. So, there's the oldy but goldy wood watch winder, giving it a somewhat classy look and feel. Wooden retro themes are still chic, so don't be afraid to go for that touch, especially if you own a house. CHIYODA (single & dual), JQUEEN, Heiden & Kendal (quad) are my favorite brands for wooden watch winders. Their products are budget-friendly but high-quality!
Then, there's the plastic watch winder. Typically relatively cheaper yet very practical because it's lightweight, and some designs look nice. Metal winder, on the other hand, is the modern approach, and don't be surprised if you see these types overflowing the market nowadays.
Finally, leather watch winders – usually applied on wood, plastic, or metal base – offer excellent protection from scratching.
Noise
Don't expect your watch winder to be completely silent. That's just not how it works. The motor and gearing produce sounds as part of the mechanical process, and typically high-profile brands offer the lowest amount of noise to be used in bedrooms, but don't think you can get away with placing them 2 feet from your head.
A tip to reduce the intensity is to use it correctly by stopping and pausing when placing watches inside, and the ones with lids, covers, or drawers tend to quitter and hush the sound when closed.
Some Inside Scoops
Lastly, this goes for any watch winder you intend to use: always wind up your watch manually when you first put it in the winder. This ensures maximum spring tension, which is critical if you want your watch and winder to last.
Also, find a suitable TPD (turns per day) that doesn't put the watch under too much pressure (around 3/4 of its main spring ), saving the clutch from wearing after longer use. That's that and remember: weigh in all options before typing in your credit card.
FAQs
What kind of watches need a Winder? Is a watch winder necessary?
Watch winders aren't a strange name for those who own automatic watches. A mechanical watch with a self-winding mechanism can keep itself up and running as long as it is on your wrist. However, you probably need a watch winder if you don't wear your watch for a few days.
A watch winder is a necessary device to wind automatic watches, especially when they are unused. Of course, you can always wind the watch manually; however, this idea sounds exhausting for some wearers.
Moreover, a watch winder could be a watch storage place for luxury watch owners. Keeping your expensive timepiece in a watch winder rather than in a drawer would be better. Some people even use watch winders to show off their collections or decorate their personal space.
Depending on your preference, watch winders could or could not be necessary. However, a watch winder is a must for those who own Rolex or other luxury watches.
Typically, watch winders aren't for battery-operated quartz models. If your watch adopts Seiko Kinetic or similar movement, it can go well with a watch winder.
Is it bad to leave Automatic watch unwound?
If your automatic watch is your dress watch, chances are that you only wear it occasionally. Most mechanical watches nowadays have a self-winding mechanism, allowing them to align their winding with owners' movement.
However, as you leave the watch to rest, without the movement, your timepiece will soon be fully unwound. The question is, "is it bad to leave an automatic watch unwound?"
My answer is not necessary.
If your watch has been made within the last 15 years, don't worry too much about leaving it unwound for a while. This is because constant winding also doesn't make any significant difference in the durability and performance of the watch.
However, if you own an ancient watch, then preservation of the movement should be your top concern. In this case, you shouldn't leave it unwound for too long. Ideally, wind it once every two months.
If you have a dress watch that you use occasionally, wind it each month to prevent the lubricating oil from drying up.
How long can Automatic watch last?
It depends on different models; however, a thoroughly wound watch could last up to 40 to 50 hours. Some can run smoothly for weeks. The minimum time is around 38 hours for any watches in good condition.
Does Rolex need a watch winder?
Owning a Rolex is already a luxury investment. More than that, a Rolex needs proper care, maintenance, and preservation. If you don't want to waste your initial investment, you should ensure your Rolex function properly by having a watch winder.
When it comes to the watch winders, convenience is the first thing to consider. An unwound watch will need either a watch winder or your hand to come alive. Most Rolex watch owners who want to save time and energy choose the watch winders.
A watch winder is a must-have item if you own more than one Rolex. Would you rather keep your expensive timepieces in a drawer? A watch winder offers you a safe space to store the watches and, at the same time, acts as a decorative element for your house.
Most watch winders for Rolex adopt durable materials with excellent finishes, which elevate the value of Rolex watches.
How do you wind a Rolex?
There are two ways to wind a Rolex. You can either use a watch winder or wind your Rolex manually.
If you use a watch winder, merely put your watch into the winder and let it do the job.
If you decide to wind the watch manually, here is the detailed instruction:
Find a flat surface and place your watch on
Unscrew the crown by turning it counterclockwise. When it releases the crown will pop out the case.
Use your thumb and index finger to wind the crown clockwise about 30 to 40 times. Don't worry if you ever overwind the watch since Rolex has a mechanism to prevent it from happening.
Screw the crown back to its place.
Should you wind your watch every day?
The answer to this question depends on the watch you use. If you use automatic chronographs, you must wind them more often as the Chrono feature requires more power. In the case of most modern Rolex watches, they come with a self-winding mechanism.
In short, the watch winds itself automatically based on your hand movement. Modern automatic watches often feature a power reserve that lasts up to 30 hours. That being said, winding your watch daily isn't necessary.
Do watch winders work on Seiko Kinetic watches?
Unfortunately, you need to find specific watch winders for Seiko Kinetic watches since standard winders don't work on Seiko automatic models. Standard watch winders offer low rotations to prevent overwinding.
That doesn't match the robust requirement from Kinetics. When you need to charge up your Kinetic watch, it is better to use an induction charger. Some people even use their electric toothbrush charger to power their Kinetics.
Verdict
Now you can save that precious time by fixing your automatic watches into a watch winder, which will do the trick. Watch winders are a great way to keep your automatic watches up with the date and time and provide a dust-free and scratch-proof environment for your cherished watches. Hence, all the more reason to get your hands on one of these fantastic watch winders so your watch stays safe and never stops working even if you don't wear it for a few days.
Related reviews: