Welcome to another watch reviews. In this article, we will review the top ten best Chronograph watches under five hundred dollars. These latest design chronograph watches are in the market right now.
I should mention that I have had personal first-hand experience with all these watches, and I've owned many of them. There seems to be this awful ghastly trend on the internet of reviewing or recommending watches people have never seen for real or had extensive experience with. The worse is they often speak badly about watches without knowing anything about them.
Let's crack on with our top 10 chronograph watches, shall we?
Best Chronograph Watches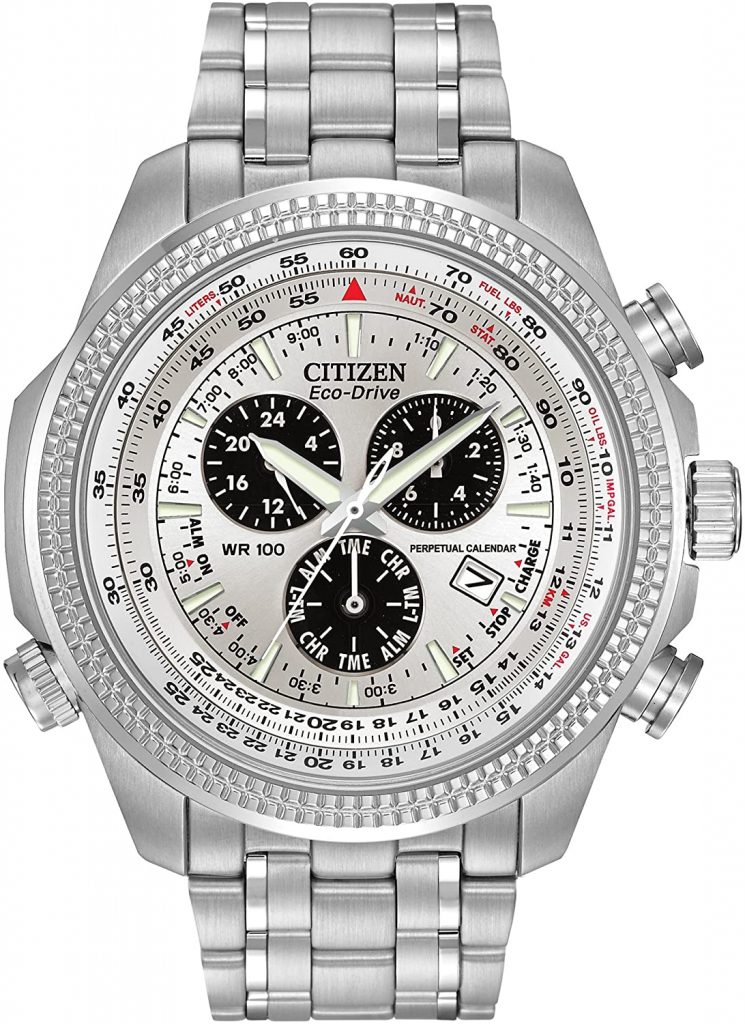 At number 10, we have Citizen BL540052A. Considering the size, it is a big 47 millimetres watch, and it has Citizen's legendary Eco-drive technology. Citizen is a very famous brand, and they are Japan's second-largest watch manufacturer. The company was founded 100 years ago in 1918.
Despite the large size, this watch does wear a little bit smaller on the wrist.
It has a beautiful v-shaped layout to the sub-dials, hobnail raised fixed bezel, but inside it has an internal pilot's rotating slide rule dial ring.
You can get this in a choice of dial colors. This watch also features a chronograph that measures up to 60 minutes, a perpetual calendar, dual time zone, a 12-hour and 24-hour time, water resistance 100 meters, and a one-twentieth of a second accuracy on the chronograph.
The watch looks very sporty. It has that brightening Breitling aesthetic, and accessing all those features is quite intuitive. The only downfall is that it has a mineral crystal.
In my opinion, Citizen's Eco-drive is the best solar-power technology out there. For example, on a full charge, it can go up to six months powering the watch. A typical solar power watch usually lasts only 30 days before it requires charging. Its hibernation mode kicks in when you don't use it for a while. It also has an internal secondary quartz clock that makes sure that the accuracy is deadly even when you've had it in a drawer for several months. Very cool indeed!
The quality of this watch is quite incredible for the price. I highly recommend it, but only if you've got the wrist for it.
At number nine, we have is another very impressive bit of technology from Casio. Casio needs no introduction. They were founded in 1946, colossal tour de force, and many iconic watches under their belt.
Casio started an offshoot line of watches focusing on analog watches in the early 2000s with the Edifice line, and this is the Casio Edifice EQS500DB-1A1.
I had to include this watch because Edifice is one of the most underrated when it comes to cutting-edge quartz technology. It has very complex functionalities.
First of all, it is solar-powered, 100 meters water resistance, world time (29 time zones + UTC), daylight saving on and off, beeper alarm, 1/100 of a second chronograph, and you can also see the seconds spinning around.
It also has a day-date display, pre-programmed auto-calendar until the year 2099, 12/24 hour formats, power-saving functions, and low battery warning.
The watch comes with four pushers and comes with a massive manual because it takes a while to get to know how it works.
The only downfall is it has a mineral crystal, but the most impressive thing about this watch is that the accuracy is deadly. The watch readjusts itself when it detects the time is not accurate, which is just insanely cool.
It got that sporting racing chronograph look. The Edifice also sponsored the Red Bull racing team once. So it got that tie to racing. It is a 42 millimetres watch, and it wears wonderfully well. You can get it on a bracelet, but I recommend the rubber straps. The Edifice has all that Casio's innovation in an analog form.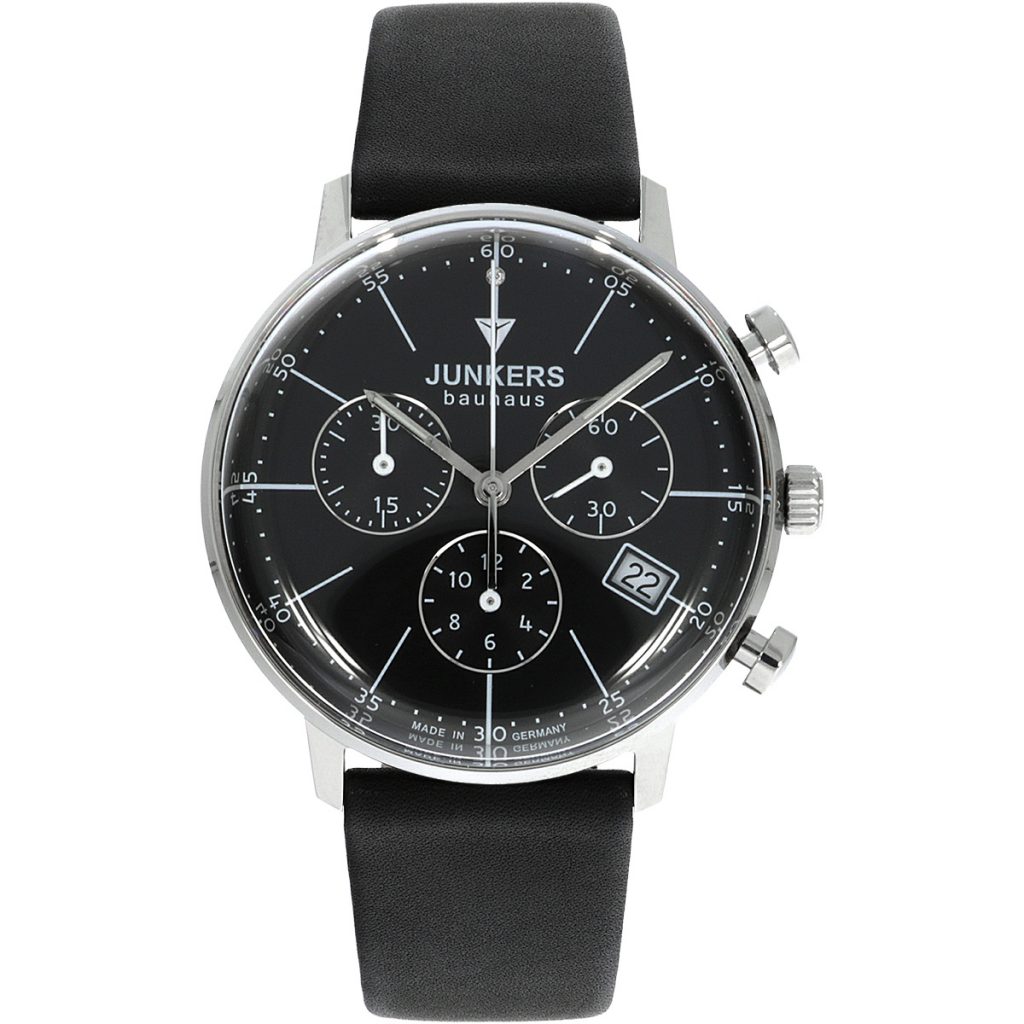 Junkers 6089-2 Series Bauhaus Chronograph watch is close to the famous Junghans Max Bill, but it doesn't have that pure historically correct Max Bill signature.
The watch has a nice clean aesthetic and a perfect dress watch kind of chronograph with piston head pushers. You can get this watch in both cream and black dial.
It also comes on the leather strap, with domed Hesalite glass, which gives the watch that wonderful vintage distortion. The best thing and probably why I had to include it in this list is that it is made in Germany with Swiss quartz. The Ronda movements are fantastic, and I can't recommend them highly enough.
Junkers is owned by PointTec, which also owns other famous watch brands like the Graf Zeppelin etc.
The watch has a 12-hour chronograph, very clean, very tastefully done, classic Bauhaus. This is an excellent alternative to Daniel Wellington's fashion watches, but you're getting something German-made, and far better quality.
We talked about the sister brand, here we have Graf Zeppelin at number six, and this is the 86803 model. It is also available in the black dial, but I prefer the cream dial because the entire dial lumes up in the dark.
As the name suggests, Graf Zeppelin refers to those beautiful flying aircraft of the 1920s and 30s. So the watch has that decor period aesthetic, a telemeter, and a tachometer, hardened mineral this time, 50 meters water resistance, an alarm, and very 1920/1930's style hour and minute hands.
It looks very stylish and formal. Like the Junkers, it also uses a Ronda 50130D movement, but it has an additional alarm. Eleven millimetres thickness makes it a perfect dressy chronograph watch.
The only downfall and probably a good thing that it is a 42 millimetres watch, but it really gives that period look wonderfully, and with an expensive crocodile strap, it looks the kipper's knickers.
With Graf Zeppelin, you get that fantastic German quality, a great affordable price, distinctive look, and name brands that reference an incredible history of aviation heritage and functionality and reliability. What more could you ask for in a watch?
At number six, we have HEMEL, which is a micro brand. This is the HFT20/ VK64 configuration.
There are two versions of this watch. The more expensive version is around one thousand dollars with the column wheel, automatic chronograph, etc. This is the 42 mm Quartz version with the VK64 meca-quartz.
What I love about this watch is the style. It has a rugged look with a classic and beautiful layout. You can get a choice over the GMT bezel or a 60-minute timing bezel (120 clicks) with a selection of either ceramic or the brushed stainless steel. It has a lovely onion style crown referencing the classic aviation pieces, super-luminova, flat sapphire glass, and 100 meters water-resistant.
The watch feels very solid, and it comes on a riveted strap like the classic fliegers. A lot of thought has gone into the design. It is a beautiful design piece with orange second hand and a red triangle on the bezel.
In my opinion, HEMEL is one of the best affordable micro brands out there.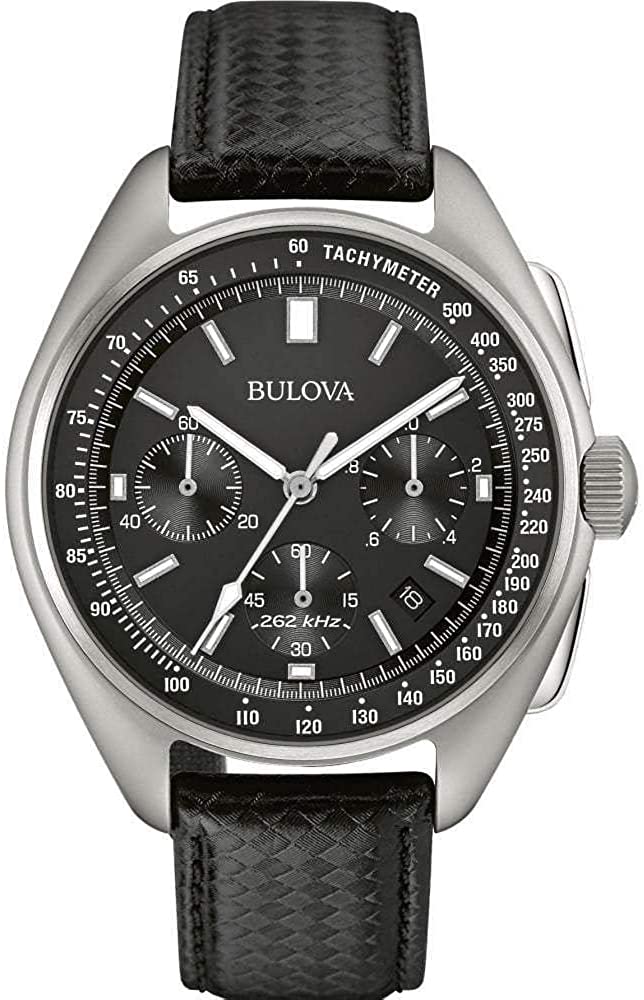 At number five, we have Bulova Lunar Pilot Chronograph watch, and it is probably the most historically important watch that we're going to talk about today.
Bulova was founded in New York back in 1875. Now it is part of Citizen.
Bulova's history with NASA and spaceflight goes back to the very early days of space exploration. The original lunar pilot chronograph was worn on the Apollo 15 mission by mission commander David Scott. We all know about the Omega Speedmaster Moonwatch, but when the crystal of David Scott's Speedmaster popped off, he had to use his backup watch, which was the Bulova. The watch was sold at the auction for a million dollars.
So Bulova decided to re-release it almost identical to the original.
It has a beautiful matte finish, very distinctive sapphire glass, 13.5 thick, water resistance is 50 meters. I like the raised section for the tachymeter and extremely legible super-luminova.

The Arrow seconds hand is very reminiscent to the Speedmaster. It has a high-performance, high-frequency quartz movement at 262 kHz that allows it to have incredible accuracy. It was built for the ultimate task, unparalleled accuracy, and endurance.
I have to say it wears a lot smaller and has a retro sci-fi look. It is very 70s, but very cool.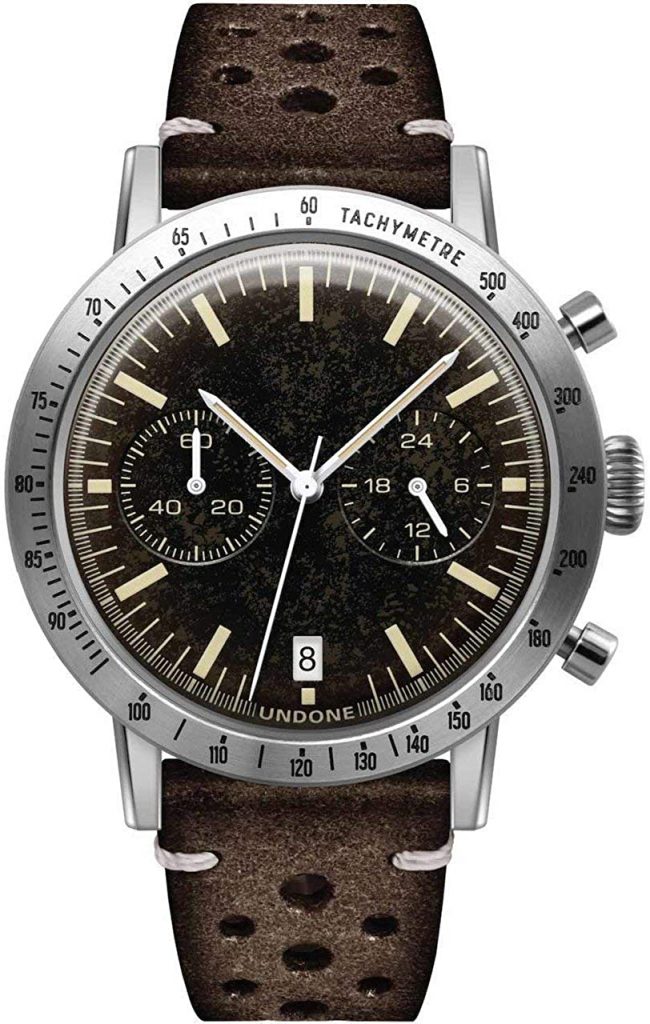 I am a big fan of UNDONE watches. I think what they've achieved in a short time is quite remarkable and unlike anything in the market. My pick of the bunch is the Tropical because I like the choices you can get with different dial types. The whole concept was they have a kind of faux-aged look.
Tropical's dials are so highly desired, but with their offering, you don't have the risk, the high price tag, the performance issues, or any of that.
I included this watch on the list because they offer bespoke customization that nobody else can compete, especially at this level. They use an in-house movement. If you've been or visited any watch factories, you should know the costs involved in the machinery, renting, training of staff, the upkeep costs, the amount of investment needed in infrastructure to offer something like this is very admirable.
The watch is 41 millimetres in diameter and 13.5 in thickness. You get a Hardened Domed K1 Crystal, a very classic Speedmaster inspired look, and you can also specify to have your initials or something on the dial, or custom printing on the case back.
These are 30 meters water-resistant, and ultimately I think they provide a great gift option. Adding that personal touch to a watch is such a class, and nobody else does that unless you go super high-end, but that comes with a big price tag.
Inside, it has the VK64 Mechanical-Quartz. It is also a Hybrid Flyback Chronograph, deadly accurate, It has that slightly mechanical suite to it, so you get a little bit of that feeling of the mechanical soul. They do vary in price depending on the customization. But in my opinion, this watch is an incredible value for money.
Dan Henry 1964 Gran Turismo Chronograph watch comes with four choices. You can get it with no date, date, 38-millimeter, or other sizes.
The watch is 12.9 millimeters thick, has a Sapphire coated double domed mineral glass with anti-reflective coating. Some models come with a beautiful blue second hand.
The quality of these watches is awe-inspiring. They only cost $250, which is insanely affordable, and I think excellent value for money. It has that beautiful Ashton Martin DB5 graving on the back, a little nod to the film that came out in 1964, water resistance is 50 meters. Inside the watch, it has the VK63 Mecanichal quartz made by Seiko and also features a 24-hour indicator and a 60-minute chronograph.
The look is very kind of Breitling Top Time and slightly Omega Seamaster 321 chronograph looking as well. It also has a striking resemblance to some of the classic Hauer and Zeniths of the 60s. Its enticing elegant look is desirable, and you don't have the high price tag or the risk of these costly vintage watches.
At number two, we have the Seagull 1963. They are a Chinese manufacturer; in fact, the largest manufacturer of mechanical movements in the world. They started in 1955 and made movements for many big brands that we all know and love.
I had to add this watch to the list because it has a mechanical manual wind column-wheel chronograph inside. The watches with mechanical manual wind column-wheel chronograph are really expensive and cost over a thousand dollar. In the sixties, they bought the equipment from Switzerland, took it over to China, and started producing it themselves. The Swiss movement was incredibly expensive, and it takes a lot of skill to build these correctly. So you have to respect what they've achieved here.
The watch comes with a 42 millimetre and a 38-millimetre version, st19 movement, a scratch-resistant sapphire, blue hands. They have decorated the movement with blue screws, and you can see that through the display back.
The beautiful cream color wonderfully dial has that red Chinese star and comes on an olive NATO strap. It has elegant gold applied indices, operates at 21600 vibrations an hour, 45-hours power reserve. The case is very minimal. It is an endearing little watch, and the name 1963 references the originals made for the Chinese Air Force way back in 1963.
The only criticism with Seagull is their quality control leaves it a little bit to be desired. However, at this price range, you would be insane not to add it to your chronograph collection.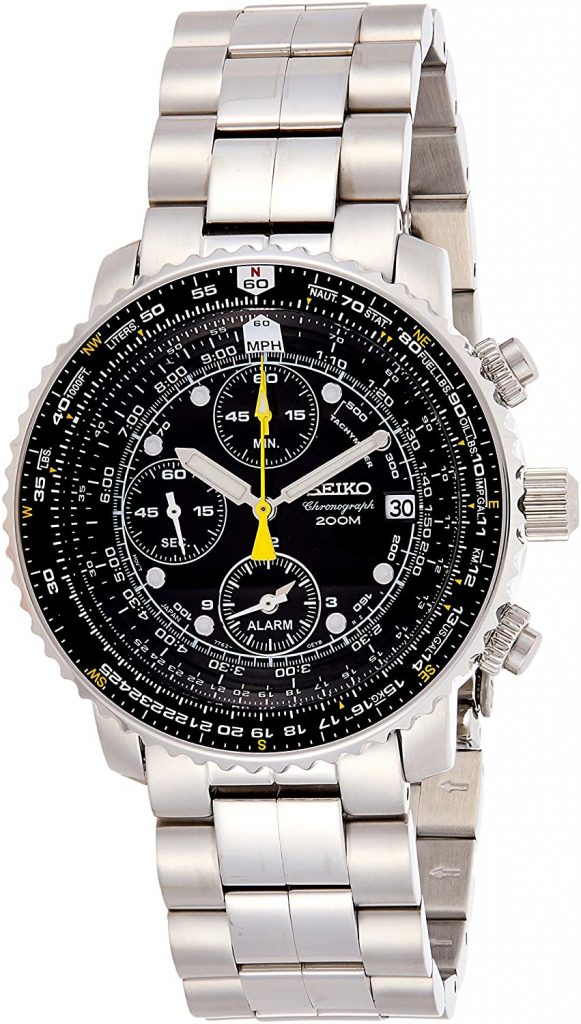 There are many fantastic chronograph watches at this price range from Seiko. The Flighmaster is still under $500, and its prices are rising. It has the Quartz Seiko caliber 7T62, 1/5 second chronograph, hardlex domed mineral, Seiko's proprietary crystal.
The watch is 200 meters water-resistant and has screwed down pushers and crowns. You can use the little sub-dial with the two hands at six o'clock for a second timezone and an alarm.
It has a very complex look, which may not be everybody's cup of tea. With its bi-directional scales, you can do all kinds of calculations, such as calculating ground speed, distance, fuel burn, basic division and multiplication, unit conversions, etc.
The watch is 13 millimetres thick, 41 millimetres in diameter, and a great crowd-pleaser. The amount of complexity in detail in the dial from the applied logo to the very precise printing is just pure class, and it always has been. I also like the playful yellow of the second hand.
The white and blue version is extremely rare, and there is the gold-tone version. It does come on the bracelet, but I'm not a fan of the bracelet. I'm not too fond of the look of it, but it does have a reliable double push-button deployment and fold over.
The watch is very dependable and rugged, great for traveling because of the complications. The alarm isn't loud but works well as a kind of reminder. Despite its large size, it is quite slender about 12 millimetres. Seiko is a brand that needs no introduction, so I'm not going to waste any time getting into it. Seiko is one of the most important watch brands of all time, and the level of innovation and historical importance is undeniable
What Is A Chronograph Watch?
A chronograph is a specific type of watch that has as a stopwatch combined with a display watch. Different chronograph watches have different layouts, but a basic chronograph has an independent sweep second hand that can be started, stopped, and returned to zero by pressing the pushers on the side of the watch.
More complex chronographs use additional complications and can have multiple independent hands to measure seconds, minutes, hours, and even tenths of a second.
Also, many modern chronographs use moveable bezels as tachymeters for rapid calculations of speed or distance. Louis Moinet invented the chronograph in 1816 for use in tracking astronomical objects.
Chronographs were also used heavily in artillery fire in the mid to late 1800s. More common uses of chronographs involve piloting airplanes, car racing, diving and submarine maneuvering.
How To Use A Chronograph Watch?
Watches often do more than tell time, and these extras are called complications. They can be as simple as a date or as complex as a perpetual calendar, but let's talk about the chronograph.
Not to be mistaken for a chronometer, which refers to the accuracy of your watch, the chronograph is basically a stopwatch built into your timepiece.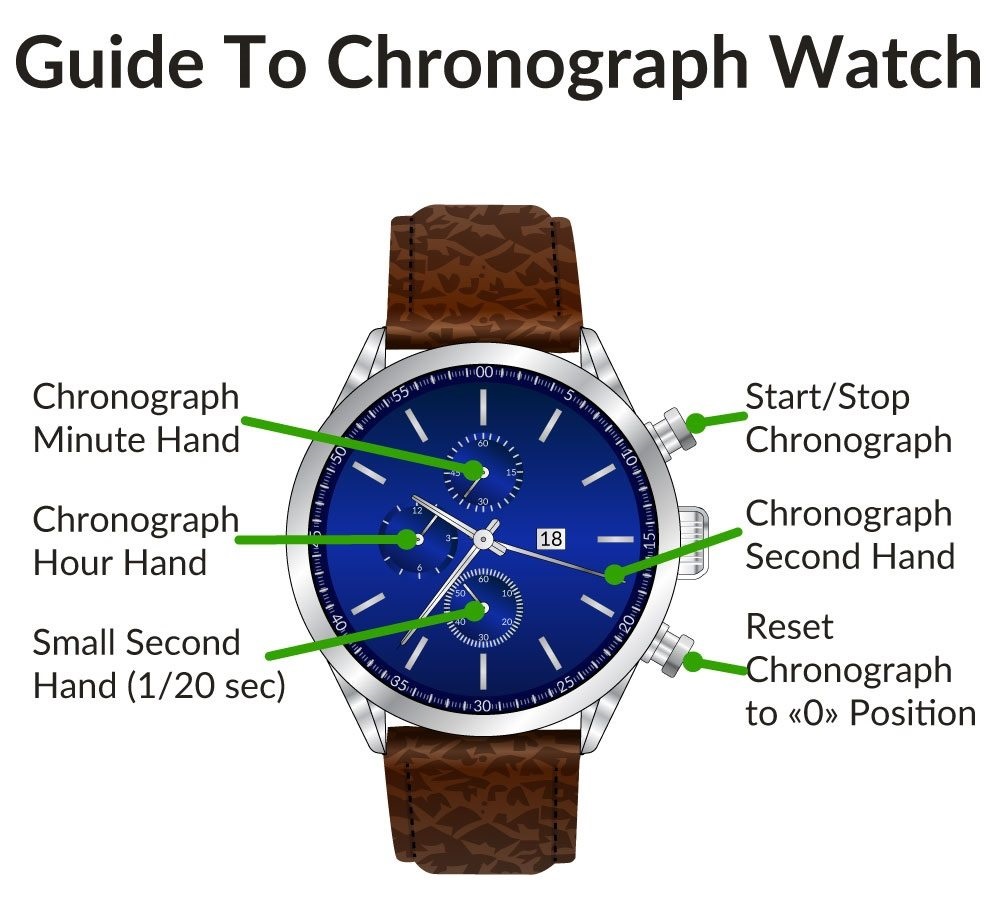 Chronographs are recognizable for their additional pushers and sub dials. Some of the most iconic chronographs are the Omega Speedmaster, the Rolex Daytona, and the Breitling Navitimer.
To start the chronograph, press the top pusher firmly until you feel it click.
The stationary second's hand, or chronograph hand, will start moving around the dial. You will notice it is running simultaneously as the actual second hand located in the sub-dial at 6 o'clock.
As the chronograph hand completes one revolution, the minute counter sub-dial at 3 o'clock will indicate the elapsed minute. This allows the chronograph hand to keep precise timing.
Now to stop your chronograph, you will press the top pusher again.
The bottom pusher is used to reset the chronograph, and in most cases, should only be used if the chronograph is not running. It prevents unnecessary damage to the watch.
On many chronograph watches, there are additional numbers on the bezel that provide more information.