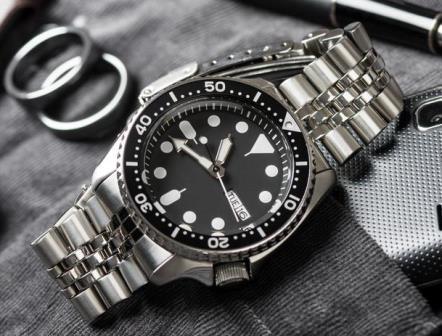 Do you want a quality, budget-friendly dive watch that is very reliable with a good design? Initially you might say yes then suddenly stop in disbelief because they usually come with a high price tag.
Don't worry! In this article, we'll be discussing great examples of the best dive watches under $500! These budget-friendly timepieces enjoy quality design, functionality, and looks that are too good to miss.
Best Automatic Dive Watches under $500
The Seiko SKX007 is a very popular choice for dive watches under the brand. This is mostly because of its versatile and matching look which can fit almost any style.
It features the LumiBrite technology, a safe illumination innovation that gathers light and can glow for long periods of time in darkness.
It also has the famous 7s26 movement, launched in the 90s which brought Seiko's technology to greater accuracies.
Features
Pros
Versatility in design makes it fitting for most outfits and personal style
Hardlex crystal is tougher than normal mineral crystals
High accuracy with 7S26 automatic caliber
LumiBrite technology makes the lume bright and long-lasting
ISO 6425 certified
Cons
Some users dislike the crown that is placed at 4 o'clock
Seiko jubilee bracelet is just so-so, not top quality
Is it for you?
If you want an all-fitting design on a dive watch with a moderate-sized case diameter, then this is a perfect choice. The black and silver color tone of the Seiko SKX007 fits most outfits ranging from everyday use to semi-formal occasions where you want a simple, yet fitting timepiece to don.
It has the basic features of a timepiece and is well-equipped for recreational diving, proven by its ISO6425 certification. Its materials are also of great quality considering its price, making it very popular for many fans of dive watches.
Notable improvements are its movement and lume. The 7s26 movement makes the timepiece a great find with its highly accurate movement that is time-tested (just runs off about 10 seconds per day, more than acceptable for an entry-level automatic watch).
Its LumiBrite technology takes watch lume to the next level by providing safe, bright, long-lasting illumination and efficient light collection.

Boasting an elegant-looking design that has been a popular choice for years, Orient's Ray II is also a popular diving watch from the brand.
This timepiece improves from its predecessor, all while maintaining its budget-friendliness. Notably, it has a simpler design, removing the 2 o'clock pusher, a better lume, and the F6922 movement.
There are actually 2 variations for the dial of the Orient Ray II, both of which are popular. The first is the black matte dial and the second one is the blue radiant dial. This two colors offer variation for those who prefer one dial over another. The band is stainless steel or rubber for both types.
Features
| | |
| --- | --- |
| Orient Ray II | Features |
| Crystal | Mineral |
| Movement | Orient F6922 22j caliber |
| Band Material | Stainless Steel |
| Case Diameter | 40mm (Stainless Steel) |
| Case Thickness | 13mm |
| Bezel | Uni-directional |
|  Water Resistance | 200m (660ft) |
Pros
A solid finish
Suitable to any other watch band you may prefer
Push button at 2 o'clock has been removed
New F6922 movement ensures more accurate time
Cons
The painted bezel may accumulate scratches through use
The stainless steel bracelet is not very impressive
The lume is not so good, better than the version I, but still weak
Is it for you?
If your style is flexible that changes from time to time and needs a versatile yet elegant-looking timepiece, then the Ray II is a great choice.
It is an improved version from its predecessor that improves on its new movement & simpler design.
The timepiece is also flexible to any type of band you may like to use, whether it's triple row metal bracelet, a Nato/Zulu strap, or a traditional leather strap with buckle.
As a budget-friendly offering from Orient, it definitely is a great choice for an affordable dive watch. You could choose the design on the dial, either matte black or radiant blue.
The design can go with any style and the functions are sufficient that even if it isn't ISO certified, users have no complaints when diving.

Interestingly, the Hamilton Khaki Navy Scuba is a Submariner homage that also maintains lots of unique traits from Hamilton, such an impressive combination!
Take note that this timepiece is a waterproof diver-style watch and not an actual diver's watch, which are both very different classifications.
Features
| | |
| --- | --- |
| Hamilton Khaki Navy Scuba | Features |
| Crystal | Sapphire Crystal |
| Movement | ETA 2834 (25j) |
| Band Material | Stainless Steel |
| Case Diameter | 41mm (Stainless Steel) |
| Case Thickness | 14mm |
| Bezel | Uni-directional |
| Resistance | 100m (330ft) |
Pros
It fits most styles ranging from casual to formal
Sapphire crystal is one of the toughest and most sturdy materials
Can function and retain its look for a long time
Swiss made ETA Automatic movement provides excellent accuracy
Cons
100m resistance makes it unsuitable for scuba diving, just snorkeling and light water sports
Dial design may seem full and crowded for some users
The lume lacks brightness
Is it for you?
If you opt for a diver-style timepiece for its looks, then the Hamilton Khaki Navy Scuba is a good choice for you. It is a "desk-diver" watch, designed to look like one but is not fit for actual diving. However, the design is in and of itself a great reason to buy this timepiece.
The silver color tone and the black dial can go with a lot of style preferences. It is a good Submariner homage besides being a functional watch on its own. Users who choose this usually go for its look and design.
Best Quartz Dive Watches under $500
Seiko SSC017 Prospex is a dive watch that boasts a great timepiece with a solar charging feature. Its design fits most styles that you won't have a hard time pairing this up for whatever you'd wear for the day.
The V175 movement offers chronograph functions that are basic but sufficient with up to 60 minutes measurement. Its accuracy and performance is definitely something you can look forward to.
The SSC017 Prospex features solar charging that lets you store up power for your timepiece.
It also features the LumiBrite technology, allowing the watch to maximize light storage and illumination during night use.  This charge may roughly equate to 5 hours of brightness from a 10 minute light exposure.
Features
| | |
| --- | --- |
| Seiko SSC017 Prospex | Features |
| Crystal | Hardlex |
| Movement | V175 Solar Powered Quartz Caliber Movement |
| Band Material | Stainless Steel |
| Case Diameter | 44mm (Stainless Steel) |
| Case Thickness | 14mm |
| Bezel | Uni-directional |
| Water Resistance | 200m (660ft) |
Pros
A dressy timepiece that fits any look and style you want
Hardlex crystal is a tougher material compared to usual mineral crystals
Chronograph for recording time
LumiBrite technology efficiently utilizes light to its functions
ISO certified
Cons
The buttons may initially be hard to push
The metal bracelet is small and thin in proportion to its case
Is it for you?
The Seiko SSC017 Prospexis a beautiful solar powered quartz dive watch that offers more than the basic functions.
Its LumiBrite technology makes the timepiece a great companion in the dark as this feature also aims to help prolong the life and convenience of the watch for any use.
The dressy look of the timepiece makes it easy to pair up with almost any personal style you want and its performance as a dive watch is not compromised.
It goes with a lot of outfits given its simple design with silver and black color tones. The touch of blue on its bezel makes it different from the usual neutral tones and adds character to the timepiece. The look and features truly make this an affordable treasure.

Citizen's Eco-Drive series is very famous in North America and all over the world. It brings with it the technology and innovation that has made its series a popular choice for wristwatches.
The Eco-Drive Promaster is solar-powered and does not need replacement batteries to keep moving. This technology is a perfect fit as it makes the dive watch a great choice for outdoor adventures and can be recharged with every trip.  It can even stay up for 6 months in total darkness after a full charge.
An Eco Drive watch can convert any light no matter how dim into power, so you don't have to worry about the power source!
Features
| | |
| --- | --- |
| Citizen Eco-Drive Promaster | Features |
| Crystal | Mineral |
| Movement | Citizen Eco Drive Solar Powered Quartz |
| Band Material | Molded Polyurethane |
| Case Diameter | 43mm (Stainless Steel) |
| Case Thickness | 12mm |
| Bezel | Uni-directional |
|  Water Resistance | 200m (660ft) |
Pros
Fits with informal styles with its sporty look without the bulkiness
Eco-Drive feature that maximizes light conversion to power
Super Luminova technology is non-toxic and bright, long lasting, perfect for diving
Option for charming dark blue or matte black dial
ISO certified
Cons
Band may be uncomfortable for users because of stiffness
The crown at 4 o'clock may be off and not preferred by some users
Is it for you?
If you opt for a sporty or informal look for your style preference, and would like a strong lume, then this is a great dive watch for you.
The Citizen Eco-Drive Promaster is a pretty straight-forward timepiece that focuses on its Eco-Drive technology that utilizes light efficiently.
The look of the timepiece is more fitting for people who have an active lifestyle and is best used for casual events or for your everyday routine. The blue and silver color tones evoke a fun and informal feeling for the usual watch user.

As far as dive watches go, the Citizen EcoZilla is a beast in this list as it boasts a large size with a higher water resistance rating while still under $500.
This timepiece has a unique "armored" look and feel to it, making it a suitable companion for the great outdoor adventures you may have along the way.
A notable feature is the crown placed on the left than the usual right, meant to provide more protection.
As part of Citizen's Eco-Drive series, the EcoZilla features the ability to take up light from any source and convert it to power. The watch's lume is also very strong and can light up brightly after a good amount of exposure to light.
Features
| | |
| --- | --- |
| Citizen EcoZilla BJ8050-08E | Features |
| Crystal | Mineral |
| Movement | Citizen Eco Drive Solar Powered Quartz |
| Band Material | Reinforced Urethane |
| Case Diameter | 48mm (Stainless Steel) |
| Case Thickness | 19mm |
| Bezel | Uni-directional |
| Water Resistance | 300m (990ft) |
Pros
A beast in this list and has a large size fit for people who like large watches
Has a bold look that increases its rugged and manliness for users who opt for the style
Eco-Drive feature that maximizes light conversion to power
Super Luminova technology provides a bright lume that is non-toxic
ISO certified
Very high water resistance at 300m
Cons
Not for everyone as it is a large dive watch
Some users feel that the dial is too small compared to the large bezel and case
May be too thick and heavy for some
Is it for you?
The Citizen EcoZilla exudes ruggedness, a cool dive watch that fits people who love large timepieces and those who love to dive.
As it is called, EcoZilla is a word play from Godzilla, referring to the timepiece as a monster of boldness and largeness. It fits large people, those with an active lifestyle, and people who like to travel a lot. Its 300m water resistance makes it capable of withstanding pressure from dives.
It is very rugged-looking and fits its functional use for diving. Its black and silver color tones and large size make it more fitting for specific people. This offering from Citizen proves that functionality can come from simplicity through innovative technologies.
Verdict
Trusted brands such as Seiko, Hamilton, Citizen, and Orient are the usual places to go for guaranteed great quality watches. The prices are affordable and the features are varied. Their style compatibilities depend whether you are active or not, or would use them on formal or informal events.
In this article, we've listed 6 of the best dive watches under $500. There are 3 from automatic dive watches, and another 3 for quartz timepieces. Each of these timepieces has their own specialties where they excel and certain limitations where they can fall.
As with any timepiece, it depends on your preferences which you'd rather have and not have, or whether it fits your daily routine ultimately.
Related Reviews:
Best Winders For Your Auto Watches