Unquestionably, divers need a reliable watch to go underwater with. In the environment in which we need to calculate the length of stay, having a piece of time telling device is priceless. At the same time, we all want to spend our money wisely, hoping that the invested dive watch could use for other occasions rather than just diving.
Dive watches are intendedly designed to endure extreme conditions under water such as water leaks and pressure. As a result, those who want to own a dive watch must invest a reasonable sum of money for this item. Fortunately, the dive watch market is segmented to match with consumers' budget and preferences.
So if you are looking for a high-quality dive watch that won't break your bank, this article is for you.
I have drawn up a list of the best dive watches under $1000 based on my own experience as well as hundreds of customers' feedback from prestigious watch forums. At the end of the list, there are several questions regarding dive watches' functions and dress code. Let's dwell on!
Image
Product
Details

My Favorite Choice

Davosa Ternos Dark Blue 16155940

Excellent craftsmanship for the price, a hi-end Swiss made Rolex Submariner's homage, you either love it or hate it!
Movement: Automatic, DAV2824

View on Amazon

Best Choice For Seiko's Fans

Seiko PROSPEX SBDC029

Classic auto watch with practical features and high-quality titanium body
Movement: Auto, Seiko 6R15

View on Amazon

Simple Classy Vintage Looks

Marathon WW194026

Ideal choice for small-wrist folks & vintage watch enthusiasts
Movement: Auto, Swiss Sellita SW200

View on Amazon

Best Solar Dive Watch

Citizen Eco-Drive BN2029-01E

Sporty looking watch for rugged guys with lots of advanced features
Movement: Citizen Eco-Drive Solar Powered Quartz

View on Amazon

Versatile Dive Watch With Dressy-Looking

SEIKO Prospex SSC618P1

Attractive rose gold tone makes the watch easy to dress up or down depending on occasions
Movement: V175 Seiko Solar Quartz

View on Amazon

Best Quartz Swiss Made Watch

Victorinox Swiss Army 241781

Cool sharp-looking all-metal body, a stylish watch for pro-divers
Movement: Swiss Ronda Quartz

View on Amazon

Best Digital Dive Watch

Casio G-Shock Frogman GWF1000-1

Made for professional use under deep water, it offers much more value that what it costs
Movemen: Japanese Quartz

View on Amazon
Best Automatic Dive Watches under $1000
Davosa Ternos Professional Dark Blue 16155940
Features
| | |
| --- | --- |
| Case diameter | 42 millimeters |
| Band width | 22 milimeters |
| Glass Material | Mineral glass |
| Case Material | Stainless steel |
| Band Material | Stainless steel |
| Movement | Automatic,DAV2824 |
| Water Resistance | 1650 ft |
Pros
High level of water resistance (500m – 1650ft)
Ensure absolute safety underwater with automatic helium escape valve and secured case back and crown.
Look like the legendary Rolex Submariner
Cons
Face and case size is quite aesthetically unbalanced
Some people would prefer a larger crown
Rolex Submariner look alike (Yeah, you either love it or hate it)
Swiss watches have earned its prestige throughout the world thanks to their durability and reliability. Davosa, with its 200-year-old experience in watch-making, isn't an exception. Their ternos professional watch for divers reflects their utmost attempt to preserve their reputation.
The design is deliberately made to draw attention to the luxury and flawless detail. If you look at the stainless steel strap and two-tone ceramic bezel, you will quickly notice that this watch is designed for outstanding flexibility, which is suitable for any occasion.
Under the water, ordinary high-end watches will suddenly lose their validity. As for a diver, the most important thing to bring is an excellent and reliable watch with him in each and every diving session.
The ternos professional watch is famous among divers for being an exceedingly functional time-teller, even under water. This model offers an exceptional level of water resistance: 1650 ft with ISO 6425 cerfification.
With the ternos professional watch, not only recreational divers, professional ones – who enjoy deep diving – can now enjoy its full functionality and sheer readability under water.
Davosa ensures that this timepiece is the trusted companion for any divers. For that reason, they built this model with the best features. Automatic Helium Escape Valve releases helium accumulated under pressure automatically, making sure your watch won't blow up under water. Both caseback and crown are secured, protecting the interior mechanism from pressure.
What I think could be a drawback for this watch is the fact that it looks like the iconic Rolex Submariner. This is the most successful design for classic auto dive watches up to now, so no wonder why lots of watch brands try to remake the Submariner. This Davosa is indeed a Rolex Submariner's homage, you either love it or hate it!
What's more, some people would prefer a larger crown since it offers the ease of use. Even so, this depends on personal taste. All in all, I still believe that this timepiece deserves consideration since it does offer top-notch features for diving.
Seiko PROSPEX SBDC029
Features
| | |
| --- | --- |
| Case diameter | 42 millimeters |
| Band width | 22 millimeters |
| Glass Material | Mineral Glass |
| Case Material | Titanium |
| Band Material | Titanium |
| Movement | 23-jewel Seiko Caliber 6R15 |
| Water Resistance | 660 ft |
Pros
Seiko Shogun's design maximises the readability and functionality underwater
Lightweight thanks to titanium
LumiBrite technology offers outstanding lume
Cons
May not be suitable for formal events
Seiko PROSPEX SBDC029 is often known as Seiko Shogun among watch users (along with Seiko Sumo, Samurai,etc. The Shogun, as its name says, belongs to a higher segment).
Besides reliability, Seiko also emphasises on the stylish design. The black matte dial is suitable for watches under water since it offers its best readability and functionality. The oversized hands and markers add the strength of Seiko Shogun underwater, coming with Seiko's LumiBrite for optimised readability. The gear-like bezel shapes the rough sporty look for this model.
One thing that makes Seiko Shogun so much loved by watch users is the fact that it is utterly lightweight. Both case and band are made of titanium, reducing the overall weight of the watch tremendously.
Titanium is one of the lightest and toughest materials, which is suitable for a diving watch since it needs to confront both water and pressure. Depending on different tastes, some people may prefer a slightly heavier watch to feel solid. At least they will notice they are wearing a watch sometimes.
Seiko Shogun adopts Cal. 6R15 automatic self-wind movement. This movement includes 23 jewels and oscillates 6 beats per second.  This accuracy rate is within a range of +25/-15 seconds per day. That means you have to adjust the time after about 3 weeks of using. But don't worry, it just takes a few seconds to complete.
Seiko Shogun meets the standard for a true diving watch – the ISO 6425 certification. As you can see, the watch can stand up to 660 ft under water. The caseback and crown are sturdily designed so that the interior part is well protected.
What could be the downside of this watch is its limited application on occasions. If you want to wear it to formal events, the watch may not be the best accessory.
So if you are looking for a classic automatic dive watch under $1000 with best features and sturdy built, Seiko Shogun is the best option for you.
Marathon WW194026
Features
| | |
| --- | --- |
| Case diameter | 36 millimeters |
| Band width | 18 millimeters |
| Glass Material | Sapphire |
| Case Material | Stainless Steel |
| Band Material | Vulcanized black rubber |
| Movement | Swiss 26 Jewel  Sellita SW200 Automatic |
| Water Resistance | 1000 feet |
Pros
Welt-built to withstand harsh condition under water.
Suitable for casual wear and those who love the stylish yet masculine look.
High level of water resistance (300m – 1000ft)
Classic military style design
Cons
Quite heavy compared to other watches with the same size (but it feels solid, too)
Small size is not trendy
Founded in 1904, Marathon has built up their reputation through their utmost attention, quality control standards and customer services. The model WW194026 has lived up to the expectation of Marathon's fans by adopting ISO 6425 – the International Standard for divers' watches.
This model is able to withstand water pressure at the depth of 1000 feet, which means it provides the highest reliability under water.
What's more, Marathon makes sure that the design is well-matched divers' expectancy. Stainless steel is a typical material for cases to confirm the durability of this watch under water. The glass is thick and impenetrable, which is ideal to withstand pressure and scratching.
Tritium gas is included in the process of making the dial so that divers can keep track of time even when it's dark. This old-style lume is loved my many vintage watch enthusiasts.
The model WW194026 uses Swiss Sellita SW200 Automatic movement. Swiss Sellita SW200 offers accurate time-telling and requires less frequent adjustment.
The rubber band is another feature that makes it compatible with diving equipment; though, for some people, this means they can't wear it on various occasions. But don't worry, you can replace it with a leather or fabric NATO strap easily, the watch would have a different look.
This model is suitable for those who don't look for a showy accessory. Good news is Marathon offers different colors for rubber wristbands, which you can freely choose the most suitable one. But the black version is still the bestseller.
If I have to point out one thing I don't like about this model, that could be its weigh. The watch is 92 grams – more than the usual standard for a watch at the same size. Though some people may feel comfortable with it, others won't. If you don't see it as an issue, then the Marathon WW194026 is undoubtedly a good watch for you.
Best Quartz Dive Watches under $1000
Citizen Eco-Drive BN2029-01E
Features
| | |
| --- | --- |
| Case diameter | 53 millimeters |
| Band width | 27 millimeters |
| Glass Material | Minaral glass |
| Case Material | Stainless Steel |
| Band Material | Polyurethane |
| Movement | Citizen Eco-Drive Solar Powered Quartz |
| Water Resistance | 660 feet |
Pros
Great sporty design and easy to use
Offer best features with affordable price
Eco-drive technology is environmental-friendly, providing durable battery life, powered by solar energy
Cons
Case diameter is quite big for small-wrist folks
Citizen, a well-known Japanese watch-manufacturer on the North America market, has presented a watch for divers that not only brings excellent values but also includes some up-to-date technologies.
It's the look of this watch that is worth to be mentioned. Unlike other watches for divers, Citizen BN2029-01E offers 3 crowns on both sides of the watch. Some people may find this design is a bit overwhelming and bulky at first, but once they get to know how this works, it turns out that operating this watch is a lot easier than others.
Citizen adopts a system called Promaster, which grants each crown a separate function. It will take a couple of minutes to read the manual to get to use the crowns, but afterwards, you will find it easy to handle the mechanism.
Important features for a dive watch is incorporated into this watch. The visibility in the dark is enhanced thanks to outstanding illumination. When you dive, it is essential that you can read you watch when it is completely dark outside.
Citizen BN2029-01E offers a standard water resistant level of 660 ft, and this watch is ISO-certified, too. The case material is sturdy to withstand pressure under the water. The polyurethane wristband is perfect for under-water use since it holds firm around your wrist and brings a comfortable feel as well.
What makes Citizen famous is their Eco-drive technology. Basically, your watch will get the energy from the sun and can maintain battery life for quite a long time(up to 6 months after a full charge and not exposed to light). Once it is charged, Citizen BN2029-01E can stay without light in an extended period.
Plus, this model includes unidirectional bezel to prevent the watch from revolving back and ensure the accurate ability to keep track of time.
Compared to other watches, Citizen BN2029-01E's case diameter are a bit large for some watch users. What's more, the polyurethane wristband & dial design would be suitable for only casual wear. However, these downsides are quite trivial. If you don't mind them at all, then this watch really is a product of value for you.
SEIKO Prospex SSC618P1
Features
| | |
| --- | --- |
| Case diameter | 44 millimeters |
| Band width | 20 millimeters |
| Glass Material | Hardlex glass |
| Case Material | Stainless Steel |
| Band Material | Silicone |
| Movement | V175 Seiko Solar Quartz |
| Water Resistance | 660 feet |
Pros
Sporty design that is compatible with many social circumstances
Great value with competitive price
Attractive rose-gold tone
Though joining late in the market compared to their Swiss counterparts, Seiko has built up their empire based on throughout watch-making standard and elegant design. That say, their watches are compatible with different clothes and social events. This model SSC618P1 continues to spread Seiko's motto on watchmaking. This is clearly a watch that you can wear both under and out of the water. You can dress it up or dress it down depending on occasions.
Like Citizen BN2029-01E, Seiko SSC618P1 offers three separate crowns, each with a different function. This will save you a lot of time adjusting the time and other purposes of the watch.
I especially love the rose gold-tone. It looks perfectly shiny and suitable with suits for meetings and the like. The case size is standard – 44mm; therefore it would look fit on most men's wrists. The silicone band wraps gently around the wrist, making you feel more comfortable under water. In case you need the watch for formal occasions, consider replacing the band with a black leather strap. Flawless, I promise!
As for diving, this watch bestows must-have features with complete functionality under water. Seiko SSC618P1 meets ISO 6425 standard for a pro diving watch. It can endure high-pressure underwater thanks to the substantial material for case and glass. The watch would be a great assistant at up to 660 ft under the water. Hands and markers are luminous in the dark, enabling divers to keep track of time.
Seiko uses V175 solar powered quartz movement for this model. Undoubtedly Seiko movements are well-known for their accuracy, so you don't have to worry about time adjustment, the watch just runs off a few seconds per month.
So far this is a watch that offers best functions & flawless design with competitive price. If you look for a watch with a sporty but dressy look that can be used underwater, you should really need to put Seiko SSC618P1 into consideration.
Victorinox Swiss Army Men 241781
Features
| | |
| --- | --- |
| Case diameter | 45 millimeters |
| Band width | 22 millimeters |
| Glass Material | |
| Case Material | Stainless Steel |
| Band Material | Stainless Steel |
| Movement | Swiss-Quartz |
| Water Resistance | 660 feet |
Pros
Great design for many uses
Sharp metal bezel adds some personalities to the watch
Good price for a Swiss made watch
Renowned for its durability
Lots of different versions to choose from
Cons
The deployant clasp looks a bit out of place.
Victorinox is another renowned watch brand coming from Switzerland. Most watches from Victorinox are handsomely designed that allows users to mix-match with different styles of clothes.
This Victorinox Swiss Army 241781 is a great example of how attentive and careful Victorinox is toward their design. You can choose your favorite dial's color from their collections, from grey, yellow, blue, red and silver. As for me, I prefer the silver dial since it keeps a neutral tone, which can be worn with different clothes.
Victorinox creates a perfectly balanced model with the 241781. The dial contrast is stylish. Both case and band are at the right size. The watch simply looks great on your wrist.
Swiss Ronda quartz is used for this model to maximise functionality and accuracy when it comes to tracking time. What's more, Victorinox adds an authentic touch to this design by offering a cool rotating bezel.
The only flaw in the design is perhaps the old-school clasp. The deployant clasp makes some people hesitate since it conveys a feeling of obsolescence.
However, the features and functions for diving will completely compensate for this problem. It is an ISO 6425 certified watch for diving, offering both durability and readability under water. All in all, given the price and features of this watch, I think it's a stylish and suitable watch for pro divers.
Best Digital Dive Watches $1000
Casio G-Shock Frogman GWF1000-1
Features
| | |
| --- | --- |
| Case diameter | 53 millimeters |
| Band width | 28 millimeters |
| Glass Material | Mineral Glass |
| Case Material | Black IP Stainless Steel |
| Band Material | Resin |
| Movement | Japanese Solar Powered Quartz |
| Water Resistance | 660 feet |
Pros
Extreme shock resistance
Sturdily built for diving
Has lots of advanced features
Cons
Requires time to adapt because it has so many hi-end features
Needless to say, dive watches must be among the most durable ones on the market. The toughness of a digital dive watch must transcend normal benchmarks. Casio G-Shock GWF1000-1 proves it to be true.
This model offers a WR depth of 660 ft, which is enough for frequent divers. If you are fond of deep diving, this level of water resistance may not be adequate, but this one works flawlessly for recreational and most pro divers. The deeper you dive, the darker it becomes. Casio G-Shock GWF1000-1 offers a digital display that enhances the readability with a background light.
Case material is quite essential for dive watches. Suitable materials will prevent the watch from corroding or rusting. Casio G-Shock GWF1000-1 is made of stainless steel with resin wristband to extend shock and water resistance under water. The mineral glass is also scratch-resist, which can preserve its fresh look for an extended period.
When scuba diving, you need to calculate the air left in your tank and make sure you leave some for the journey back to the surface. ISO 200M WR Dive Timer will help you record the period you are underwater, so that you can keep track of your diving time.
At first, you may find it hard to master the digital watch. However, if you spend time reading the manual and practice, there will be no problem with operating it. Casio G-Shock GWF1000-1 is truly a great selection for those who want to have a sturdy digital diving watch under $1000.
FAQs
How To Dress Up Dive Watches?
While many people live with a philosophy that allows them to wear whatever they like and however they want regardless of what others may think, the rest of us just can't do that. Oftentimes, watches are considered accessories for clothes, and you should always choose a watch accordingly to what you wear.
So can you wear a dive watch with a suit?  Traditionally, dive watches were seen as unfit to suits due to its sporty design. Over the past few years, the style of dive watches isn't an indicator of inappropriacy any longer. In fact, wearing a dive watch with a suit has become a trend lately. Yet, my personal thought is not every single dive watch is matched with suits. In the list above, you probably notice that some dive watches are made for all-purposes events, whereas some are only for casual wear. If you want to find a dive watch to wear in formal events, choose it wisely.
Why Are Dive Watches So Popular?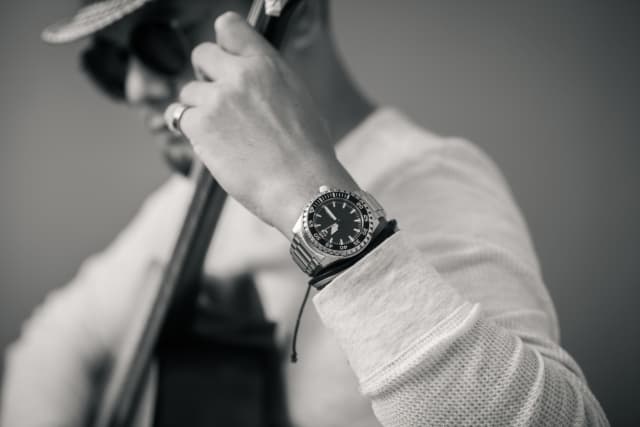 It isn't hard to notice the popularity of dive watches nowadays. So what are the reasons?
First, I would want to mention the design, most dive watches are bold-looking to some extent. Dive watches have become an equivalent symbol of elegance and boldness, which grants men strength and power when wearing them. Second, dive watches' durability and functionality are all we have been asked for. Dive watches fit our active lifestyle and allow us to enjoy comfort and numerous benefits far more than just time tracking.
Why Do Dive Watches Have Rotating Bezels?
Most dive watches feature rotating bezels. Most of dive watches adopt unidirectional bezel that revolves counter-clockwise so that divers can track time. Under water, this is an essential feature since it allows divers to trace either elapsed time or remaining time. Most divers use this feature to alert them the remaining oxygen and know when it is time to float up.
Verdict
To wrap up, I want to remind you that buying a watch; especially a dive watch needs careful consideration. If you have a favourite watch band, then find your dive watch in their collection. If not, you should always start with reputable watchmakers. After that, features, functions and budgets come later. I hope that this list of best dive watches under $1000 will help you make the right decision.