The misconception that only expensive watches are nice and worth the buck is usually why many men hesitate and doubt when shopping for dress watches.
However, it is possible to find durable and stylish dress watches that won't cost you an arm and a leg. Despite that, we acknowledge that the quest to find a good and affordable dress watch is much easier said than done.
Especially when thousands of models are available on the market, you obviously don't have the time and effort to browse through every single one to find a hidden gem.
To spare you the trouble, we have compiled a list of the "Best affordable dress watches for men" at three different price points: under $300, under $500, and $1000.
The list was developed based on my experience and customer reviews from popular shopping sites and prestigious online communities.
Best dress watches under $300
Orient Bambino Gen 2
PROS:
Eye-catching domed mineral crystal
Intricate yet neat-looking dial
Great price for such a timeless piece
Vintage-inspired design with onion crown, domed crystal, thin hands and Roman numeral markers
Orient automatic in-house movement with hand-winding and hacking
Works well with both casual and formal attire
CONS:
Glossy and stiff leather bands
Orient Bambino II Specifications
Review
If you are looking for a high-quality dress watch with a classic vintage feel, this watch is a strong contender.
Orient Bambino Gen 2 Ver. 2 has a stunning design that pays tribute to the watches from the past with elegant details such as an onion crown, domed mineral crystal, Roman numeral markers, thin hands, and a train track chapter ring. The watch has an average case size of 40.5 millimeters and a case thickness of 11.8 millimeters.
The dial remains sleek and polished despite carrying many details, thanks to Orient's exquisite craftsmanship and smart arrangement. This model is powered by an excellent 24-jewel Orient automatic movement, caliber F6724, with an accuracy of +/-10s to +/-15s daily and a 40-hour power reserve.
This watch has been one of the top fan favorites from the Bambino line for a while, and judging by the design, quality, and functionality; it's here to stay. However, many are not fans of the glossy and stiff leather bands, so feel free to replace them if you think it's necessary!
Timex Marlin
PROS:
Vintage design
Arabic markers
Domed glass lens
CONS:
The watch is smaller due to 60s design
Specifications
Review
Timex Marlin is a reissue of the famous 60s. The original 60s watches had pin and plate movements. However, reissues use the Seagull ST6 movement.
This was a bold move for Timex. In terms of watch brands, Timex is an ancient company from 1854. They have a fantastic horological history like no other. There is even a Timex Museum in the United States. The hype was incredible when it was released a few years back, and they sold out immediately. You don't usually see such hype for 38 millimeters watches.
It has a classic champagne sunburst dial and very sixties markers at twelve, two, four, six, eight, and ten. The design of the watch is simple, no dates, acrylic crystal, 30 meters water-resistant, and only 10.5 millimeters thin. It is great to see that Timex is making mechanical watches again. It was long overdue. The modern Marlin is almost indistinguishable at first glance from its ancestors, and the vibe it gives is so evocative of that entire era. Timex did exceptionally well at this reissue.
Bulova 96B104 Men's Dress Watch
PROS:
Thin dial
Comfortable leather strap
Bang for the buck
CONS:
Specifications
Review
The Bulova 96B104 embodies the essence of minimalist elegance in a men's dress watch. With a rich watchmaking history dating back to 1875, Bulova has established itself as a renowned American watch company, celebrated for its exceptional craftsmanship, precision, and enduring durability.
Featuring a pristine dial adorned with a discreet date window at 3 o'clock, the Bulova 96B104 exudes refined sophistication, surpassing expectations with its luxury appearance far beyond its price point. Boasting a diameter of 37 millimeters, this timepiece showcases a stainless steel case and a mineral dial window and houses a reliable Japanese quartz movement.
The inclusion of a croc-textured calfskin band ensures not only a stylish aesthetic but also unparalleled comfort for the wearer. If you seek a dress watch that effortlessly combines simplicity and affordability, the Bulova 96B104 will undoubtedly captivate your discerning taste.
Seiko Men's SUP880 Japanese Quartz Dress Watch
PROS:
Classic design
Inspired by Cartier Tank
Solar powered
12 months of power reserve on full charge
CONS:
Specifications
Review
The Seiko SUP880 pays homage to the iconic Cartier Tank with absolute perfection. Seamlessly capturing the essence of the Tank's timeless appeal, Seiko adorns the SUP880 with elegant Roman numerals and a stunning gemstone gracing the crown.
Radiating a distinctively classic aesthetic, this timepiece surprises with its remarkably slim and lightweight design, effortlessly combining sophistication with comfort. The watchband, meticulously crafted to be exceptionally soft, further enhances the delightful wearability of the SUP880.
Embracing the latest in sustainable technology, this remarkable watch is powered by solar energy, eliminating the need for battery replacements and providing peace of mind.
For those searching for an affordable yet undeniably stylish square-shaped dress watch, the Seiko SUP880 is the epitome of perfection, beckoning with its allure to adorn your wrist.
Bulova 96B269 Classic Men's Dress Watch
PROS:
Classy and Elegant design
Rectangular case
Roman numeral markers
Polished hands
CONS:
Too big for a tank style watch
Specifications
Review
For avid enthusiasts of the iconic Cartier Tank, the Bulova 96B269 is an absolute must-have timepiece. Proudly standing as an exceptional alternative to the revered Tank, this watch showcases a captivating and distinctive design that will undoubtedly captivate your discerning taste.
Hailing from Bulova's prestigious classic collection range, the 96B269 boasts a striking rectangular Stainless Steel Case elegantly adorned with Roman numeral markers and polished hands. A testament to its attention to detail, the original black embossed crocodile-grain leather strap harmoniously complements the watch's black dial, creating a visually stunning ensemble.
With the thoughtful inclusion of a date window gracefully positioned above the 6 o'clock marker and water resistance of up to 30 meters, this timepiece effortlessly combines style and practicality.
Indulge in the allure of the Bulova 96B269, where unique design serves as a splendid testament to your sophisticated taste, offering an extraordinary experience that rivals even the most esteemed timepieces in the market.
Stührling 3997Z Quartz
PROS:
Minimalist design
Thin case
Lightweight
Multiple color options
CONS:
Low quality leather strap
Specifications
Review
Embodying the timeless principle of "less is more," the Stührling 3997Z Quartz is a masterclass in minimalist sophistication. This remarkable timepiece effortlessly accentuates your style without succumbing to unnecessary complexities.
Crafted with meticulous attention to detail, this lightweight and low-profile watch strikes the perfect balance between sleekness and visual impact, sparing no expense in delivering a luxurious experience without burdening your wrist or finances.
The alligator-embossed genuine leather strap gracefully embraces the slender casing, infusing an additional layer of refined elegance into the already stunning design. A push/pull onion-style crown and quick-set date window further enhance the watch's appeal, allowing it to command attention and make a bold statement without relying on bulky cases or overly intricate dials commonly found in other dress watches.
With the Stührling 3997Z Quartz, prepare to witness a timepiece that effortlessly transcends the ordinary, elevating your wrist with its understated yet compelling aesthetic.
Reef Tiger Classic Heritor Luxury Dress Watch
PROS:
Solid stainless steel plated with rose gold
Anti-reflective sapphire crystal
Screw down crown
Attractive exhibition case back
CONS:
Pricey compare to Orient/Seiko mechanical watches
Specifications
Review
Reef Tiger's illustrious history traces centuries steeped in a legacy of passion and obsession for watchmaking. In 1898, visionary designer Stephane Reef from Geneva joined forces with his lifelong companion, the esteemed British nobleman Leandro Tiger, driven by their shared mission to democratize wristwatches and make them accessible to all. Through Stephane Reef's masterful watchmaking skills and the unwavering financial support from Leandro Tiger, the renowned brand Reef Tiger was officially born.
However, the ravages of World War II cast a shadow over Reef Tiger, plunging the brand into a period of decline for many years. Undeterred, the descendants of these two families, fueled by their unwavering commitment, made the momentous decision in 1995 to revive this revered watch brand that had stood the test of time. Their relentless efforts culminated in 2011, when Reef Tiger triumphantly entered the Chinese market, introducing a new range of exceptional timepieces.
At the heart of Reef Tiger's collection lies the extraordinary Reef Tiger Classic Heritor RGA8238, a timepiece that epitomizes sophistication in every sense. Meticulously crafted, this 40mm dress watch is a testament to simplicity and elegance, eschewing superfluous functions for an uncluttered aesthetic. The bezel, gracefully double-arched yet exquisitely slim, effortlessly graces slender wrists. In contrast, the rose gold bezel, pristine white dial, sleek stick markers, and radiant rose gold hands combine harmoniously to create an enchanting visual tableau.
Powering the RGA8238 is the revered Reef Tiger RT7800 Automatic movement, a testament to the brand's commitment to excellence in horology. Enhancing the watch's allure is a genuine leather strap secured with a deployment buckle, ensuring comfort and style.
The Reef Tiger Classic Heritor RGA8238 stands as a true masterpiece, a testament to the brand's rich heritage and unwavering dedication to craftsmanship. Embrace this remarkable timepiece and embark on a journey that seamlessly merges tradition and contemporary elegance.
Citizen Eco-Drive Corso
PROS:
Clean design
Powered by light
Perfect for all wrist sizes
CONS:
Specifications
Review
The epitome of lightweight elegance, the watch in question effortlessly marries simplicity with captivating style. Its remarkably slender profile exudes an understated charm that is visually stunning and unobtrusive. The watch's balanced proportions ensure that it sits comfortably on your wrist throughout the day, neither overwhelming nor burdensome. The watch band is a testament to meticulous craftsmanship, delivering unparalleled comfort with every wear.
One exceptional feature that sets this timepiece apart is its revolutionary Eco-Drive technology. Harnessing the boundless power of light from any natural or artificial source, this ingenious mechanism seamlessly converts light into energy. As a result, the need for battery replacements becomes a distant memory, granting you a lifetime of uninterrupted timekeeping. This remarkable innovation further elevates the watch's allure, lending it an air of sophistication and environmental consciousness.
With its refined simplicity, this watch exudes a discerning luxury, instantly elevating any ensemble. Its versatility knows no bounds, effortlessly complementing a range of outfits, be it formal or casual.
Indulge in the exquisite finesse of this exceptional timepiece, where lightweight sophistication and effortless style converge in truly timeless harmony.
Orient Esteem Open Heart
PROS:
Unique and intriguing dial design that resembles an open heart
Practical yet classy design
High level of wearing comfort
Orient automatic in-house movement
CONS:
Glossy and stiff leather bands
The automatic wind can make some mild noise
Orient Esteem Open Heart Specifications
Review
The Orient Esteem Open Heart is a timepiece that seamlessly combines casual elegance with captivating individuality, catering to those who yearn to make a distinct impression. Its design strikes the perfect balance between simplicity and practicality. At the same time, its crowning glory lies in the dial's captivating open-heart view, providing a glimpse into the mesmerizing mechanical system beneath.
Enveloped by a subtly domed crystal, the dial's beauty is enhanced, while its durable shield safeguards against unsightly scratches. Encased within a 41-millimeter frame of timeless proportions, the watch stands at a sleek 12 millimeters in thickness, exuding an aura of refined sophistication.
Equipped with a 21-jewel Orient automatic movement, precisely the esteemed caliber 46A40, the Orient Esteem Open Heart boasts a great 40-hour power reserve, ensuring continuous and reliable operation. With an accuracy of +/- 20 seconds per day, this timepiece exemplifies precision in its every tick. While the automatic winding mechanism may produce a subtle murmur, it remains virtually imperceptible to the wearer's discerning ear.
Versatility is a defining trait of this exceptional watch, seamlessly transitioning from formal suits to relaxed jeans and a plain T-shirt with effortless grace. Orient dedicated meticulous attention to the design, crafting an easy-to-wear timepiece that embraces simplicity while captivating attention with its intriguing allure.
Embrace the Orient Esteem Open Heart, an exceptional companion that effortlessly merges minimalism with a captivating twist, beckoning admirers to gaze upon its understated magnificence.
Stuhrling Original Men's Legacy Anatol 371
PROS:
Bold skeleton style
Luxurious design
Comfortable and high-quality leather bands
CONS:
The size may be too big for certain customers
Sturhling Original Men's Legacy Anatol 371 Specifications
Review
The Stuhrling Anatol 371 is an extraordinary timepiece that effortlessly captures attention with its bold and intricate skeleton dial, granting a mesmerizing glimpse into the intricate inner workings of the watch. Enhanced by the elegance of dauphine-style hands, a transparent back, and a captivating color combination, this watch is tailor-made for individuals with a larger-than-life personal style seeking to make a resounding fashion statement.
At the heart of this remarkable timepiece beats an automatic self-winding movement, the esteemed caliber ST-91011. Harnessing the natural motion of your arm, it ingeniously powers itself without relying on external energy sources. This eco-friendly and self-sufficient feature will resonate with customers who appreciate sustainable and innovative products.
Additionally, should you desire, manual winding is also possible, providing you with versatility and control.
While considering your purchase, it's worth noting that the Stuhrling Anatol 371 boasts a generous case size of 47 millimeters, exuding a commanding presence on the wrist. Its case thickness of 15 millimeters further emphasizes its substantial appeal. This timepiece embraces its larger dimensions, catering to individuals who appreciate a bold and statement-making aesthetic.
Embrace the Stuhrling Anatol 371, an exceptional watch that seamlessly combines striking design, technical excellence, and eco-conscious features. Allow it to become an extension of your unique style as you confidently seize the spotlight with this extraordinary timepiece.
Graf Zeppelin Hindenburg Moon Phase Watch
PROS:
Classic design
Moon phase
Great functionalities
German precision
CONS:
Mineral crystal
Setting up the moon phase can be a bit tricky
Specifications
Review
Immerse yourself in the world of fine Swiss craftsmanship with the extraordinary Graf Zeppelin Hindenburg dress watch. Renowned for its impeccable quality, this timepiece garnered recognition in my review of the top 10 best moon phase watches. Crafted from premium stainless steel, it exudes sophistication, and for those seeking an opulent touch, it also comes in a captivating gold-tone variant with a silver and blue dial.
Capturing the essence of the classic 1920s era, the watch showcases a meticulously designed v-shaped layout for its subdials, adorned with elegant numerals. The retro-style moon phase complication lends an exquisite touch, epitomizing a recurring theme among the watches featured in our esteemed top 25 list—they all possess a striking allure that far exceeds their price tag. The Graf Zeppelin Hindenburg stands as a testament to timeless refinement and tasteful craftsmanship. It is worth noting that Zeppelin, owned by Point TEC and a sister brand to Junkers, adds another layer of distinction to this exceptional timepiece.
With a water resistance of 30 meters, the moon phase indicator gracefully resides at six o'clock, while the hesalite domed crystal adds a touch of vintage charm. Boasting a 40-millimeter diameter and a slim profile of only ten millimeters, it effortlessly slides under the cuff, making it an ideal companion for any dress occasion. Its complications-laden design serves as a captivating conversation piece, and the pusher at four o'clock allows for convenient adjustment of its various features.
Though crafted in Germany, the Graf Zeppelin Hindenburg utilizes a Swiss Ronda movement, showcasing an impressive blend of precision and quality. Complementing its exceptional performance is a meticulously handcrafted leather strap, exuding a level of refinement that mirrors the watch itself.
Prepare to be captivated by the sheer handsomeness, elegance, class, and classic appeal of the Graf Zeppelin Hindenburg moon phase watch. Its inclusion of additional complications, including a day-to-day feature and an extra hand indicating the day of the week, is a rarity within this price range, further solidifying its position as a superb choice for the discerning dress watch connoisseur.
Orient 2nd Gen Bambino Version 3
PROS:
Versatile
Minimalist style
Automatic movement
Great value
CONS:
Cheap strap
Mineral glass
Specifications
Review
The Orient Bambino Version 3 is a revered icon among watch enthusiasts worldwide, captivating their hearts with its undeniable charm. Its unwavering popularity can be attributed to a multitude of compelling reasons, making it a coveted timepiece in its own right. The Orient Bambino collection boasts a rich lineage of generations and versions, currently thriving in its illustrious fifth generation. Notably, the second generation Version 3 has been elevated by introducing the remarkable F6724 movement—an in-house automatic caliber that boasts exceptional hacking and manual winding features.
In its early iterations, the Bambino showcased a subtle movement devoid of the hacking and manual winding capabilities that are now celebrated hallmarks of the timepiece. Subsequently, Orient embraced the captivating Bauhaus style with their third generation while retaining a captivating influence from the timeless design aesthetics of the 1960s within the second-generation Bambinos.
With a diameter of 40 millimeters, these watches strike the perfect balance between presence and wearability. Adorned with a slim profile of approximately 12 millimeters, they possess subtle robustness, including a rotor inside and a domed crystal. Orient watches have garnered acclaim since the 1950s, and their excellence continues to shine under the esteemed ownership of the Seiko group. When it comes to the realm of affordability, few timepieces can rival the exceptional value that Orient watches offer.
Indulge in the captivating allure of the Orient Bambino Version 3, a watch that effortlessly weaves together timeless design, remarkable craftsmanship, and unparalleled value. Embrace the legacy of this revered timepiece, as it stands as a testament to Orient's unwavering dedication to excellence since its inception in the 1950s.
Best dress watches under $500
Junghans Max Bill Quartz Dress Watch
PROS:
Bauhaus design
Domed dial
Case is very thin
Luminous hands
CONS:
Does not have many complications
Specifications
Review
The Junghans Max Bill stands tall as the epitome of iconic dress watches, securing its position as a true standout among its peers. Founded in 1861, Junghans has solidified its status as one of Germany's largest and most revered watchmakers. Notably, the Max Bill timepiece bears the legendary Swiss artist Max Bill's visionary touch.
While the manual wind and automatic versions may not be within reach, fear not, for the quartz iteration of this remarkable timepiece awaits. The Junghans Max Bill exudes an air of refined elegance with a diameter of 38 millimeters and water resistance of 30 meters. Personally, I find the black dial paired with the beige strap to be a captivating combination. Still, you'll be delighted to discover various strap options available to suit your style. Luminous markers grace this watch, ensuring clear legibility in any lighting condition.
The Junghans Max Bill garners its fame not solely from the inner workings of its movement but rather from its status as a revered design icon. Although it proudly houses the beloved ETA 955112 movement, the captivating aesthetics truly captivate its admirers. Individuals are drawn to this timepiece not for its mechanical prowess but for its timeless design and artistry.
The allure of Bauhaus design lends itself perfectly to dress watches, and the Junghans Max Bill exemplifies this union flawlessly. Its understated elegance adds an undeniable touch of class, encapsulating the essence of what a dress watch should embody. Despite its domed acrylic glass, the Max Bill measures a mere eight millimeters in height, allowing it to adorn your wrist during formal occasions effortlessly. Embodying the spirit of Bauhaus with its ultra-modern minimalism, this timepiece is a true strap monster, seamlessly adapting to any style or dress code. Its remarkable versatility ensures that the Junghans Max Bill effortlessly complements and elevates any ensemble it accompanies.
Prepare to be captivated by the enduring beauty and timeless appeal of the Junghans Max Bill. Immerse yourself in the legacy of Junghans, a renowned watchmaker, and embrace the quintessential blend of artistry and functionality that this extraordinary timepiece represents.
Junkers Bauhaus Automatic Dress Watch
PROS:
24 hours sub dial
40 hours of power reserve
Power reserve indicator
Fluorescent hands
German precision
CONS:
Hesalite glass can get scratched easily
Specifications
Review
Allow me to reintroduce the remarkable sibling brand of Graf Zeppelin that I mentioned in this article—Junkers. Named in honor of the iconic and immensely influential German aircraft maker Hugo Junkers, this brand is a testament to the enduring spirit of innovation. Enter the Junkers Bauhaus Automatic, a timepiece that seamlessly blends form and function to deliver an unparalleled horological experience.
The Junkers Bauhaus Automatic presents a harmonious fusion of practicality and aesthetics, featuring a power reserve indicator at 12 o'clock and a 24-hour sub-dial at 6 o'clock. Available in both black and cream dial options, its design exudes an air of refined simplicity. The elegantly minimal baton hands, adorned with luminescent accents, ensure optimal legibility in any lighting condition.
Beneath the surface, this remarkable timepiece boasts an impressive array of features. Powered by a precise and reliable Citizen Miyota 9132 movement, adorned with 26 jewels, it operates at a frequency of 28,800 vibrations per hour, delivering a remarkably smooth performance. With a generous power reserve of 40 hours, this watch ensures uninterrupted elegance throughout your day.
The Junkers Bauhaus Automatic strikes the perfect balance between presence and wearability, measuring 40 millimeters in diameter and a mere 11 millimeters in thickness. With a water resistance of up to 30 meters, it easily withstands the demands of daily life. Offering exceptional value for your investment, this timepiece boasts impressive quality and practicality with its added complications.
Delight in the craftsmanship and attention to detail showcased by the display back-case provides a glimpse into this exceptional timepiece's intricate inner workings. While the Miyota movement may not be a visual spectacle, it serves as a testament to the marvels of automatic watches, inviting you to immerse yourself in the captivating world of horological magic.
Indulge in the allure of the Junkers Bauhaus Automatic, a timepiece that seamlessly marries iconic design with unparalleled functionality. Elevate your style and embrace the legacy of Junkers. This brand pays homage to the pioneering spirit of Hugo Junkers and captures the essence of innovation in every meticulously crafted detail.
Hamilton Valiant H39515754 Automatic Dress Watch
PROS:
80 hours of power reserve
Roman numerals indexes
Sapphire crystal
Reliable movement
CONS:
Leather strap might feel stiff when brand new
Specifications
Review
Discover the hidden gem, the Hamilton Valiant, a watch that exudes a distinctive style unmistakably Hamilton. With its beautiful design cues and timeless elegance, this timepiece often goes unnoticed, making it an exclusive choice for those in the know.
The Hamilton Valiant showcases the brand's iconic characteristics, from its graceful and curvaceous lugs to its lance-style hands that glide effortlessly across the exquisite sunburst silver dial. The inclusion of Roman numerals adds a touch of classic sophistication, while the minimalist design ensures a refined and understated aesthetic, making it the ideal companion for any dress occasion.
Boasting a water resistance of up to 50 meters, the Hamilton Valiant is built to withstand the rigors of everyday life. At the same time, the scratch-resistant sapphire crystal ensures enduring clarity and protection. Inside, the watch houses the remarkable caliber H-10 movement, an enhanced iteration of the esteemed ETA 2824. Hamilton has thoughtfully modified this movement, slowing its frequency to 2600 vibrations per hour, optimizing the power reserve for improved and prolonged performance.
Measuring 40 millimeters in diameter and with a thin thickness of 12 millimeters, the Hamilton Valiant strikes a perfect balance between presence and comfort. While it may not feature a display back, it pays homage to the classic watches of the mid-century with a delightful engraved coat of arms. This rare and cherished detail showcases Hamilton's commitment to heritage.
Embrace the versatility of the Hamilton Valiant, a watch that effortlessly pairs with a wide range of straps, allowing you to express your style confidently. Its restrained and conservative aesthetic complements any ensemble, whether a tailored suit or casual clothes, making it a true strap monster that adapts to your taste.
Tissot Le Locle Powermatic 80 Automatic Dress Watch
PROS:
80 hours of power reserve
See-through case-back
Elegant guilloché decoration on the dial
CONS:
Specifications
Review
Indulge in the timeless elegance of the Tissot Le Locle, a true classic showcasing its commitment to advancing affordable watchmaking with its revolutionary Powermatic 80 movement. Prepare to embark on a silent revolution that will transform your perception of timepieces.
Drawing on the heritage of Tissot, a legendary Swiss watch brand established in 1853, the Tissot Le Locle pays homage to its pioneering spirit as the world's first mass producer of Swiss-made pocket watches. With a rich history behind it, this timepiece encapsulates the essence of Swiss precision and craftsmanship.
At the heart of the Tissot Le Locle lies the remarkable Powermatic 80 movement, a marvel of engineering that represents a new era in watchmaking. Tissot infused an old ETA movement with renewed power by incorporating a revolutionary spring barrel, extending its impressive power reserve to an astounding 80 hours. Tissot implemented a state-of-the-art escapement, meticulously crafted using cutting-edge laser technology to enhance its precision further, resulting in a mechanism that requires no additional regulation. Moreover, the watch is fortified with a new anti-magnetic alloy, ensuring exceptional performance and longevity.
Crafted with the utmost taste and attention to detail, the Tissot Le Locle exhibits a timeless aesthetic that transcends fleeting trends. With a modest diameter of 39 millimeters and an astonishingly slim profile of 9.75 millimeters, this timepiece effortlessly slides under the cuff, complementing your attire with its understated elegance. The graceful leaf hands add a touch of sophistication, elevating its allure and making it an emblem of enduring style.
As a delightful bonus, the Tissot Le Locle lets you admire its exquisite movement through a display case-back. Immerse yourself in the mesmerizing mechanics that propel this masterpiece, further deepening your appreciation for the artistry and precision that lies within.
Seiko Cocktail Time SARB065 Dress Watch for Men
PROS:
Great price for a minimalistic & gorgeous watch
Magnificent sunburst dial
Domed Hardlex crystal
Exhibition back for you to see the movement inside
Lower beat rate for longer service interval and longer power reserve (up to 50-hour)
Can be used for both formal and casual settings
CONS:
Shiny leather bands
The lack of color contrast on the dial may make it hard to tell time
Seiko Cocktail Time SARB065 Specifications
Review
A collaboration between Seiko and Shinobu Ishigaki – a top bartender in Japan, the Seiko Cocktail Time SARB065 is simply a perfect mix of style, engineering, and functionality.
The case size is 40 millimeters, and the case thickness is 13 millimeters. The watch is minimalistic and classy, with the stunning sunburst dial as the focal point.
The dial is filled with extremely fine silver lines starting from the center to the edge of the watch, making it highly light-reflective. However, according to some customers, the lack of color contrast on the dial makes it difficult to tell time.
The Seiko Cocktail Time SARB065 is equipped with a 23-jewel automatic self-winding movement, caliber 6R15. Hand-winding and hacking are also available. The caliber 6R15 has six beats per second, allowing the watch to achieve an incredible 50-hour power reserve.
The accuracy is advertised as +25/-15s a day. According to general reviews, customers are very satisfied with the watch's automatic movement, durability, and accuracy.
Overall, the Seiko Cocktail Time SARB065 is universally praised for its beautiful design, high quality, and reasonable price tag. The tremendous attention paid to every detail of the watch and Seiko's exquisite craftsmanship for under $500 is a bargain no one can say no to.
Tissot Heritage Visodate Automatic Dress Watch
PROS:
Sleek design
See-through case back
Sapphire crystal
38 hours or power reserve
Day and date functionality
CONS:
Specification
Review
Tissot is a great entry-level Swiss brand. You can never go wrong with a Tissot. What makes Tissot incredible is their lineage in watchmaking. They were the first company to introduce pocket watches and one of the first companies to add two time zones in a pocket watch. Despite their prestigious history, Tissot is a very underrated Swiss watch brand. The quality watches they produce for the money are phenomenal.
Tissot Visodate comes in a variety of colors. The black dial can be very reflective as it doesn't have an anti-reflecting coating on the crystal. This watch has a retro nostalgic look. Tissot used their old logo and retro font for the date and days.
This is a 40mm dress watch with day and date complications. If you are new to the watch game, this is an excellent entry-level timepiece to add to your collection.
Seiko SARB033
PROS:
Affordable price for such luxurious design
Silver tone on a black dial surface, a classic combo for the gentlemen
Sapphire crystal
Exhibition back for you to see the movement inside
Remarkable automatic movement, caliber 6R15
CONS:
Limited stock since the model has been discontinued
Lack of micro-adjustment on the metal straps
Seiko SARB033 Specifications
Review
At first glance, the Seiko SARB033 seems very simple and traditional in design. However, this kind of watch slowly captivates you when you take the time to look at it and appreciate its beauty.
The case finishing is exceptionally well-made, while the indices, hands & window cut-out are highly polished. The silver tone on the black dial surface acts as a cherry on top, helping the watch exudes a solid and luxurious feel that makes you think this must cost way more than $500.
Some may find the watch small since the case size is only 38 millimeters and the case thickness is 11.2 millimeters.
The Seiko SARB033 is equipped with a 23-jewel automatic self-winding movement, caliber 6R15, with an accuracy of +25/-15s a day and a remarkable 50-hour power reserve. Hand-winding and hacking are also available.
The Seiko SARB033 is a classic watch that will survive the test of time thanks to its sleek and polished design. On top of that, the watch can compare to other high-end, expensive options in terms of quality and durability.
Sadly, the model was discontinued by Seiko in early 2018, so it can be difficult to get your hands on this fantastic watch. So take your chance now if it's available!
Orient Polaris GMT
PROS:
GMT capability, ideal for travelling
Classy and sharp design with polished surface and smooth edges
Scratch-resistant sapphire crystal
Orient automatic movement with hand-winding and hacking
Power reserve indicator
CONS:
Bands are stiff and too long for many customers
Orient Polaris GMT Specifications
Review
The Orient Polaris GMT has the design of a luxurious and classic timepiece from the past. The center of the dial is filled with elegant diamond patterns, while the power reserve indicator at 12 o'clock is decorated with a wave pattern, creating a stunning contrast.
A scratch-resistant sapphire crystal protects the beautiful dial. Every single detail was planned and polished carefully to deliver an overall opulent feel that makes the watch seem much more expensive than it is. The watch size is 42 millimeters without the crown, and the case thickness is 11.98 millimeters.
Many customers chose to replace the straps because they found the leather straps too stiff and too long for their liking.
Orient's in-house automatic movement powers the Orient Polaris GMT, caliber 40P51, with a 40-hour power reserve. The watch can be hand-wound as well. It also allows hacking for better time settings. The fourth GMT hand is a great feature for those traveling.
This model is a fine example of what Orient does best: creating a seemingly simple & modest watch that is filled with exquisite features and intricate details. You must look closer at the Orient Polaris GMT to fully appreciate its beauty.
Best dress watches under $1000
Hamilton American Classic Intra-Matic Auto
PROS:
50 hours of power reserve
American classic design
Display case-back
Lightweight
Comfortable to wear
CONS:
Specifications
Review
Embark on a captivating journey through time with Hamilton, a horological powerhouse established in 1892 and now a distinguished member of the Swatch group since 1984. While their roots trace back to American soil, their influence extends far beyond borders, with an impressive repertoire of over 400 appearances in iconic films. When crafting quality timepieces that offer exceptional value, Hamilton stands at the forefront of the industry.
A true gem in their collection, the Hamilton Intra-Matic made its dazzling debut at the prestigious Baselworld in 2012, capturing the hearts of watch enthusiasts worldwide with its impeccable vintage allure. This exquisite timepiece pays homage to a 1960s Hamilton model, effortlessly merging the charm of yesteryear with modern craftsmanship. Available in 38mm and 42mm case sizes, the Intra-Matic strikes a perfect balance, exuding timeless elegance on the wrist. With a slim profile of only 10mm, it epitomizes understated sophistication.
Gaze upon the dial of the Intra-Matic, and you'll be captivated by its clean and uncluttered aesthetic. The sunburst silver dial radiates with a mesmerizing allure, while the thoughtfully designed indexes and a discreet date window at six o'clock seamlessly maintain the symmetrical harmony of the dial. Beyond its visual appeal, the Intra-Matic is a versatile companion for everyday wear, blending casual comfort with a touch of refinement.
Hamilton's commitment to delivering exceptional timepieces at an accessible price point is evident in every aspect of the Intra-Matic. With its exquisite design and captivating presence, this remarkable watch is a testament to Hamilton's unwavering dedication to the art of horology.
Frederique Constant Classic Index Automatic Watch
PROS:
Elegant design
38 hours of power reserve
Sapphire crystal
E-strap included
CONS:
Specifications
Review
Step into Swiss horology with Frederique Constant, a relatively young brand hailing from the prestigious watchmaking hub of Geneva. In a testament to their exceptional growth and achievements, Citizen acquired them, solidifying their position in the industry. Despite their relatively short existence, Frederique Constant has achieved remarkable feats that garnered widespread acclaim and admiration.
While this model may not feature their outstanding in-house calibers, it proudly houses the esteemed caliber FC-303, which stems from the reputable ETA 2824 lineage. This speaks to the brand's commitment to delivering reliable and accurate timekeeping, ensuring that every moment is met with unwavering precision.
Prepare to be captivated by the extraordinary aesthetics of the timepiece. Its conservative design evokes fond memories of Patek Philippe's iconic Calatrava collection. Encased within a 40-millimeter diameter, a perfect balance between presence and refinement, it gracefully adorns the wrist with a mere 10-millimeter thickness, making it an ideal companion for formal occasions that demand sophistication.
Behold the dial, which boasts the strength and clarity of sapphire crystal and offers a water resistance of up to 50 meters. Positioned at 3 o'clock, the discreet date window adds practicality without disrupting the harmonious balance of the dial's composition. Notably, Frederique Constant goes the extra mile by including an innovative e-strap, seamlessly integrating modern connectivity into the traditional art of watchmaking, and effortlessly merging style and functionality.
Beyond their impeccable craftsmanship, Frederique Constant timepieces possess an uncanny ability to transcend their price point, projecting an aura of luxury that belies their accessible nature. Enhance the luxury experience by adorning the watch with an excellent crocodile strap, and you will be transported to a realm of refined elegance, where you will feel like a true connoisseur of horological excellence.
Seiko Alpinist SARB017
PROS:
Stunning & timeless design with luxurious color scheme (green & gold)
Scratch-resistant sapphire crystal and inner rotating compass ring
Beautiful crocodile-grained leather straps to emphasize the classic vibe
Seiko automatic in-house movement with hand-winding and hacking
Up to 50-hour power reserve
Can be paired with both formal and casual look
Water resistance up to 200m
Diashock absorber for more protection
CONS:
The size maybe too small for certain customers
Simple buckle instead of the anticipated deployment clasp
Seiko SARB017 Specifications
Review
The Seiko SARB017 was created to honor the Yamaotoko – the Japanese mountain explorers who devoted their time and effort to conquering the famous Japanese Alps.
It was designed with the sole purpose of timekeeping and manually locating points of the compass. The stunning combination of a sunburst green dial and golden details delivers a unique classical and luxurious feel. The hour hand's design resembles the Mercedes logo, while the minute hand is shaped like a sword.
Remember that the watch may be a little small for some customers since the case size is only 39.5 millimeters.
Powered by the premium 23-jewel automatic self-winding movement caliber 6R15, the Seiko SARB017 has a generous 50-hour power reserve and an accuracy of +25/-15s a day which will get much better when worn regularly. The watch also allows manual winding.
As a watch created for mountain climbers, this model also includes a Diashock absorber to protect the watch from damage caused by drops, falls, or impacts if used in rough environments.
Overall, the Seiko SARB017 is a durable and beautiful watch that feels luxurious and timeless but not overwhelming and unnecessarily flashy.
If you enjoy outdoor activities and hardcore sports, this watch is a fine choice considering it was created to survive the harsh environment in the mountains.
Citizen Signature Grand Classic NB3010-52A
PROS:
Eye-catching color scheme with silver textured dial and blue hands
Sharp design with metallic accents
Exhibition case back to see the movement inside
Scratch-resistant and anti-reflective sapphire crystal
Citizen automatic movement, caliber 9184
CONS:
The lume can be too overwhelming for certain customers
Citizen Signature Grand Classic NB3010-52A Specifications
Review
The Citizen Grand Classic NB3010-52A has a sleek and polished design with a stunning off-white/silver textured dial, enhanced by the luminous markers and hands. The blue hands contrast the silver tone, making the watch look more stylish and luxurious.
It also has a power reserve indicator, date, and 12/24-hour time display, improving the functional aspect of the watch. The case size is 43 millimeters, and the case thickness is 13 millimeters.
The 26-jewel automatic movement, caliber 9184, powers the Citizen Grand Classic NB3010-52A. This model has a 40-hour power reserve. The watch is highly praised for its accuracy and durability.
Many have dubbed the Citizen Grand Classic NB3010-52A one of the best dress watches under $1000. The only drawback, according to some customers, is that the luminosity of the hands can be overwhelming, lowering the overall value of the watch.
Frequently Asked Questions (FAQs)
What is a formal or dress watch?
A watch, an embodiment of style and sophistication, can convey a wealth of information about its wearer. With this in mind, selecting the perfect timepiece for each social occasion becomes a delicate dance of precision and discernment. When it comes to formal events and social encounters, the significance of choosing a dress watch cannot be overstated.
In bygone eras, men abstained from adorning their formal attire with a wristwatch, mindful of the perceived impropriety of incessantly checking the time. However, in this new age, we find ourselves in a paradigm shift where wearing a watch is accepted and often deemed a fundamental sartorial imperative. Yet, the key lies in understanding that not all watches harmonize effortlessly with the refined elegance of a tuxedo or formal attire.
Enter the indispensable realm of formal watches, designed explicitly to augment the wearer's poise and refinement. These horological masterpieces serve as the perfect complement to your formal ensemble, imbuing it with an extra touch of allure and sophistication.
Notably, formal watches embrace a philosophy of simplicity, with minimalist features and understated shapes that graciously yield the spotlight to the ensemble as a whole. Precision timekeeping takes a backseat in formality as the focus shifts towards seamlessly integrating the watch into the overall aesthetic.
Indeed, many formal watches eschew the presence of a second hand, recognizing that the measure of time is a secondary concern to the innate elegance they bestow upon their wearers. Equally crucial is proportion, with a formal watch impeccably tailored to the wearer's wrist, ensuring effortless donning and removal. In this pursuit of perfection, one must also attend to the harmonious coordination of shoes, belt, and watch, adhering to the meticulous rules of matching that elevate one's ensemble to symphonic heights.
In the realm of formal timepieces, the adage "less is more" reigns supreme as each watch surrenders itself to the enchanting tapestry of elegance, leaving an indelible impression on discerning eyes. Selecting the ideal formal watch is an art, an intimate reflection of one's style and refined taste, poised to accompany you through the captivating world of social grace and sophistication.
How big should a dress watch be?
A dress watch shouldn't be an oversized model. The last thing you want is to draw people's attention to your watch rather than your elegance. So, your dress watch shouldn't be too big.
There are several elements to determine the correct size of a dress watch.
Case size
The case size is the most significant element you should look for when it comes to a dress watch. The typical case size ranges from 38mm to 46mm for men. Anything under 38mm is generally used for women's watches.
However, you can always find vintage watches with a 34 or 36-mm case size. I would not recommend choosing a watch with a case size of over 46mm as a dress watch since it is inappropriate for formal wear.
The thickness
The typical thickness of a watch largely depends on its case size. A watch with a small case size will likely adopt a 7mm thickness, and a watch with a larger case size will have a 9mm diameter. You can find lots of ultra-thin watches as well.
Watch band width
Last but not least, the watch bandwidth is essential too. Typically it will be half the case diameter.
A formal watch should have case sizes ranging from 38 to 42mm to stay proportional with your wrist and matches harmoniously with your outfit.
Does a black watch match everything?
The answer is no. A black watch seems a comfortable choice for many people due to the popular belief that black goes well with everything.
It is true that black color can be complimented in most cases. However, there is a better choice of colors to match with different outfits. For example, if you wear a black or navy suit, you should wear a gold or silver watch.
The only exception here is the black strap. It certainly matches most watch colors and outfits.
Can you wear a dress watch with cuff-links?
With formal wear, cufflinks are often an essential part. With a suitable dress watch, you can nail your outfit. The key is to look for a thin, simple dress watch so it doesn't outshine our formal outfit.
Also, it is the standard rule not to bring a watch after 18:00 because it is a sign that you want to keep track of time and leave early. If you wear a dinner jacket or white tie, some people advise you shouldn't wear a watch.
How loose should a watch fit?
I assumed this question was too easy; however, everything regarding dress watches needs to be answered well. Of course, regardless of dress watches or casual ones, you need to wear the most comfortable for you.
Technically, you shouldn't wear the watch too loose; it can easily slide down your wrist. A watch should be tight enough not to leave any imprint afterward.
If you wear steel bracelets, you can easily adjust the fit via pins in the clasp. Otherwise, a striped strap would allow you to choose a suitable size whenever you wear it.
Verdict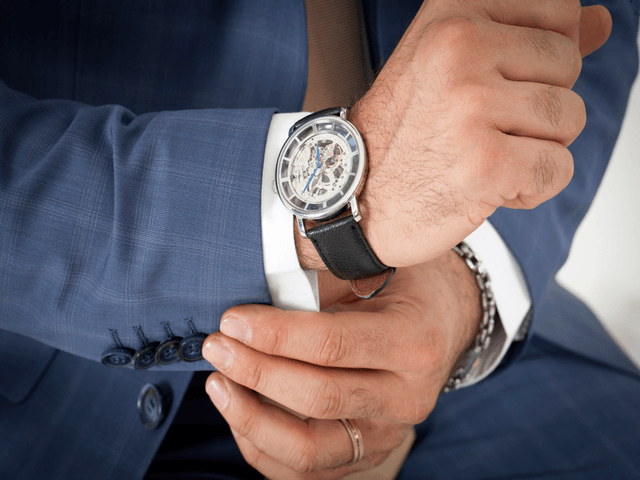 Above is our complete list of the best affordable dress watches for men based on our research and personal experience. We included watches from different price points to ensure you find the one that best fits your budget.
We mentioned watches with different styles and different target customers to ensure you find the one for you no matter who you are and what you like. However, remember that there is no such thing as a perfect watch. What works for you may not work for others.
The watches we recommended may have some flaws, but at the end of the day, they are still some of the finest options you can find with a tight budget.
Related Articles:
High Quality Watch Winders For Rolex
Best Affordable Skeleton Watches
Best Automatic Watches Under $500