Based on hundreds of customer feedbacks, and my own experiences, I've come up with a list of the best Seiko dive watches that are worth your hard-earned money. They are both functional as a scuba dive watch and stylish as a fashion accessory.
Hope that my unbiased reviews will save you some time in your searching for a good dive watch. Here we go!
Firstly, are Seiko dive watches any good?
Well, yeah!
Seiko dive watches are dominating the market today, and this is for a good reason. Their dive watches have been around and developing since the 1960s, and many technologies have been developed since then!
For this post, I'll focus on the most popular classic automatic series, such as the SKXs, Turtle, Sumo, and new Seiko dive watches, which fall into the category of solar & kinetic.
So what make them a good choice?
Excellent craftsmanship with a great price
If there's something you should know about Seiko, they take their craftsmanship very seriously. Japan even has a museum dedicated to promoting the history and craft of Seiko timepieces.
Backed by 50 years of dive watch innovation with continuous research and development, they have become a giant in the craft of diving pieces.
Seiko Diver's watch models are even more desirable because although the brand is synonymous with high quality, they are budget-friendly and within reach for most watch enthusiasts.
Reliable movements & Special technologies
Seiko has made its name a strong contender for watch brands. It features very reliable movements for all kinds of timepieces. From auto, skeleton, solar-powered, and Kinetic watches, they have their movements made in-house, by Seiko, not by third parties. It shows a complete sync for the body and heart of a timepiece, achieving integration and devotion to quality, which Seiko represents.
LumiBrite technology is one of Seiko's most notable innovations. It is an eco-friendly, safe, and longer-lasting luminescent paint devoid of the previous radioactive paints used in watch lume. Read more here!
Hardlex glass is also widely used in most Seiko products. This provides the resistance of their timepiece to scratches and knocks, making most Seiko dive watches highly adaptive to outdoor adventures and dives. It's mineral glass but with extreme toughness.
Reputable with ISO 6425 certification
Seiko's 130 years of providing quality and functional timepieces have provided a solid foundation as a reputable brand. Their diving watches are backed with ISO 6425 certification as proof of that innovation and quality.
This certification is an international standard for a series of strict and complicated tests to test each timepiece's diving capabilities, making sure that they are qualified.
Best Seiko Automatic Dive Watches
Seiko SKX007 Automatic Dive Watch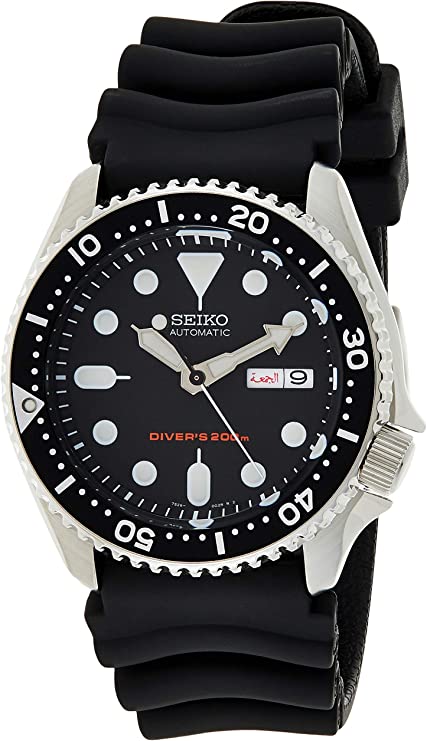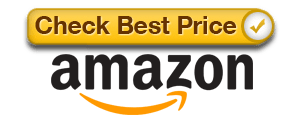 Review
The SKX007 is one of the most budget-friendly but high-quality dive watches available, and knowing that it comes from Seiko makes it much more reliable.
This timepiece has a 200m (660 feet) water resistance, making it suitable for most water sports or adventures that you may have.
It is also the most popular and bestselling dive watch from Seiko for its quality and budget-friendly price. It dominates most entry-level diver's watches.
A word of advice, though, is that supplies may not meet the massive demand for this watch, so take it at first sight of a reasonable price, or it balloons up to 1.5 times or double the original.
The case diameter is 40mm, leaning near the larger side but not too big; it fits just right for the average person. The case is moderately thicker than quartz watches but is still very comfortable.
The unidirectional bezel is made of stainless steel and is relatively easy to turn. Its contrasting black background and white numbers make it easier to read underwater & blend in well with the overall look of the timepiece.
The bezel isn't sloped like the Orient Mako, making this watch look thicker and increasing protection for the dial. This design makes the watch look more solid, rugged, and sporty, reducing elegance and dressiness.
Seiko SKX007 is sporty but still elegant at the same time. The Seiko SKX007 is a versatile timepiece that can easily dress up or down. It can go with many outfits, including formal apparel, except for highly formal ones.
The combination of matte black dial & white numerals makes it easy to read at a glance from any angle!
Featuring dots for the numbers and a triangle for the 12 o'clock sign, it gives off a playful look for the timepiece. The combination of matte black dial & white numerals makes it easy to read at a glance from any angle!
For its internal works, Seiko SKX007 features Seiko 7S26 automatic movement. The timepiece relies on your arm movements and swings to function correctly. Do note that it can last up to 48 hours without being used before the watch stops moving altogether.
The 7S26 caliber is an entry-level yet capable automatic caliber from Seiko. It is non-hackable and has only 21 jewels, having an offset of about 10 – 15 seconds per day. It's a simple but reliable movement. It has also appeared in many other successful models of Seiko.
SKX007 features the LumiBrite technology of Seiko, promoting a safer use of luminescence and a faster exposure time for the timepiece to gather sunlight. This makes it an excellent companion, especially when traveling at night, because the lume is so bright & long-lasting!
Simple but eye-catching design, superb reliability & an affordable price tag make the SKX007 a legendary dive watch & even one of the best Seiko watches of all time.
Pros
Budget-friendly
Sporty look makes it outdoor-friendly
LumiBrite technology ensures strong and safe lume
Comfortable and light
Cons
The resin band is just acceptable compared to having an outstanding watch
Not everyone likes the crown placed at the 4 o'clock position
Specifications
| | |
| --- | --- |
| Case Diameter | 40mm |
| Case Thickness | 13.3mm |
| Band Width | 22 mm |
| Movement | Seiko 7S26 21-jewel Automatic Caliber |
| Water Resistance | 200 meters (660 feet) |
Seiko SRP777 Prospex Turtle Automatic Dive Watch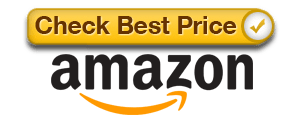 Review
Seiko SRP777 Prospex Turtle is a distinguishable timepiece with a bulky appearance thanks to its lugs.
The SRP777 Turtle has a simple yet eye-catching design that is easy to see and has an air of overall ruggedness and sportiness.
The Turtle is a remake of the vintage dive watch 6309-7040, a trendy dive watch from the 70s to the 80s. It was manufactured for over ten years and has become quite a rare find nowadays. Seiko wanted to create a timepiece honoring the classics yet mixing it with recent technologies. With this, the SRP777 was born!
A noticeable improvement over the original is the inclusion of drilled lugs in this series. Its use of Hardlex crystal for the dial makes it a robust timepiece for most outdoor activities. It also includes the LumiBrite technology, which significantly improves from recent lume paints.
The case diameter for the Prospex Turtle SRP777 is 44mm. It is a bit large but fits right in, especially when you go diving. (The trend for men's watches is 40 – 44mm, so it's not too large for the average wrist size).
I wouldn't recommend this for people with smaller-sized wrists since the bulkiness of the lug might be too large. However, it generally is a good fit for most people.
The bezel is made out of stainless steel. The black color perfectly matches its overall look and is emphasized by the bulky brushed metal lug of the timepiece.
The overall design of the SRP777 Prospex Turtle is bulky and sporty. The color combination of white and black fits perfectly and makes the entire timepiece easier to read, essential for a reliable scuba dive watch.
The Seiko Turtle looks similar to the SKX007, except it is a bit bulkier for its larger case and the lug extension covering the timepiece.
For its accuracy, the timepiece features the 4R36 caliber with 24 jewels. A more complicated caliber than the 7S26, it is hackable and can be hand wound. It has an offset of about 10 – 15 seconds per day.
The SRP777 Turtle is one the best Seiko automatic watches thanks to its reliable 4R36 caliber & vintage design from the 1980s.
Pros
Unique look and design of the timepiece and its strap
Very sporty design, making it excellent for diving
LumiBrite technology provides a great lume
Rides comfortably on the wrist
Cons
Might be too bulky for some users
The resin band is not so good for the timepiece
Specifications
| | |
| --- | --- |
| Case Diameter | 44mm |
| Case Thickness | 13mm |
| Band Width | 22 mm |
| Movement | Seiko 4R36 24-jewel Automatic Caliber |
| Water Resistance | 200 meters (660 feet) |
Seiko SBDC031 Prospex Sumo Automatic Dive Watch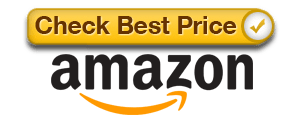 Review
The Seiko Prospex SBDC031 Sumo is metallic and exudes a semi-formal look while being made for diving adventures. These seemingly negative traits fit fantastically together, making the watch a classy companion on your wrist.
The case diameter is 44mm, with a thickness of 13mm. It's still a relatively average-sized timepiece that can fit most people.
The bezel of the Seiko Sumo is very eye-catching. It adds ruggedness to the watch. It features large-sized numbers for an easy glance underwater.
The dial is black, a classic color for men's diving watches to provide easy reading. It's surrounded by white dots for the numbers, a calendar at the 3 o'clock mark, and triangles for the 12, 6, and 9 marks.
The timepiece's design exudes class and fits most semi-formal and even formal gatherings. The beauty and charm of this watch is that you can wear it on various occasions. May it be an outdoor trip, swimming, or even a formal gathering.
As for its interior accuracy, the timepiece is equipped with caliber 6R15, running on 23 jewels. This has an offset of about 10 seconds per day. Here we see the excellent craftsmanship of Seiko! What else can you ask for from a sub $1000 automatic watch?
The caliber 6R15 is different from the 4R36. It has better specs regarding its power reserve (up to 50 hours)and offset per day. It is self-winding and can be hand wound if you prefer. The 6R15 caliber is the heart of many high-end Seiko dive watches now.
Pros
Overall feel of the watch is classy and attractive
Good design and contrast for the colors, making it match most outfits
Cons
Band may be too thin for its case
Bracelet may be a bit uncomfortable when worn too long
Specifications
| | |
| --- | --- |
| Case Diameter | 44mm |
| Case Thickness | 13mm |
| Band Width | 20 mm |
| Movement | Seiko 6R15 23-jewel Automatic Self-wind |
| Water Resistance | 200 meters (660 feet) |
Best Solar Powered Seiko Dive Watches
Seiko SSC017 Prospex Solar Powered Dive Watch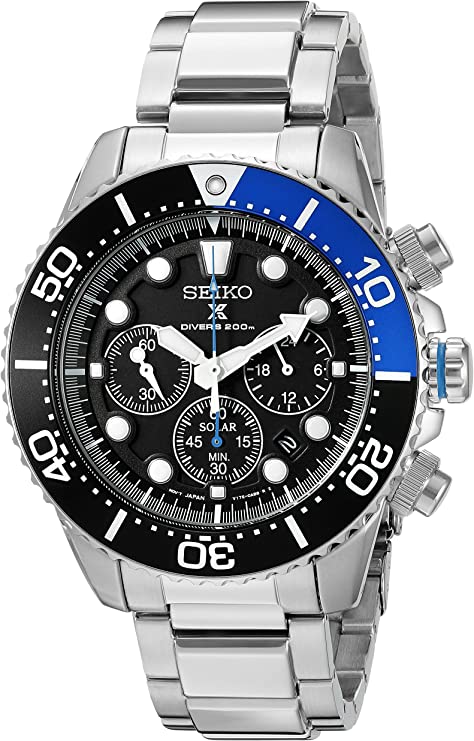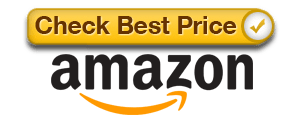 Review
Seiko Prospex SSC017 is a beautiful and elegant diving watch. Featuring a stainless steel case and bracelet, it simultaneously gives an air of formality and sportiness. As a solar-powered timepiece, it recharges with just enough sunlight and stores enough energy for up to six months of continuous use.
With a case diameter of 44mm, it is also moderately sized and can fit most people. The case thickness is 14mm thicker than the typical quartz watch. It may be too thick for some, but it still fits when worn.
The bezel has an attractive color scheme. Its tone is black with a bit blue on the 12 to 3 mark. While black is a classic color for men's dive watches, a portion of blue doesn't change this overall feel but adds a modern and sporty style to the watch. You can find this type of combination in many Seiko bestselling dive watches!
The dial is black and well protected by a durable Hardlex crystal resistant against shocks and scratches. Circles represent the numbers on the dial, with a trapezoid at 12 o'clock.
There are also three subdials on the timepiece, each serving its purpose. These subdials are for chronograph functions and the primary design cues that make the watch look more aesthetically unique. Subdials are not new, but Seiko knows how to combine them & make them more eye-catching.
The design of the Seiko Prospex SSC017 is classy and sporty at the same time. The stainless steel gives it elegance, while the build of the case and the dial gives it a sporty look, fitting both semi-formal events and outdoor adventures.
Seiko's timepieces offer quality in their innovations. The V175 solar-powered quartz caliber determines the interior accuracy of the watch. It is comparable to quartz movements and has an offset of about 15 seconds per month, a reliable and accurate movement for the timepiece.
It also features a screw-down crown to prevent water from getting in when diving. Many quartz dive watches have push-pull crowns, which could be a better design.
The watch has an energy depletion warning manifested by moving in 2-second intervals and an overcharging prevention function, helping it remain safely charged.
As a solar-powered watch, Seiko SSC017 doesn't require you to wear it daily like the auto timepieces above. Mechanical watches like Seiko SKXs or Turtle have the value of a piece of art, but solar-powered watches like the SSC017 focus more on reliability & convenience. You cannot compare them to each other!
Pros
A very attractive timepiece with a stainless steel design
Matches a lot of outfits and perfect for any occasion
Solar-powered timepiece ensures lasting power especially on day trips
Flexible for any use besides outdoor sport activities
Cons
Bezel movement may not be preferred by some users
Specifications
| | |
| --- | --- |
| Case Diameter | 44mm |
| Case Thickness | 14mm |
| Band Width | 20 mm |
| Movement | Seiko V175 Solar Powered Quartz Caliber |
| Water Resistance | 200 meters (660 feet) |
Seiko SNE107P2 Solar Powered Dive Watch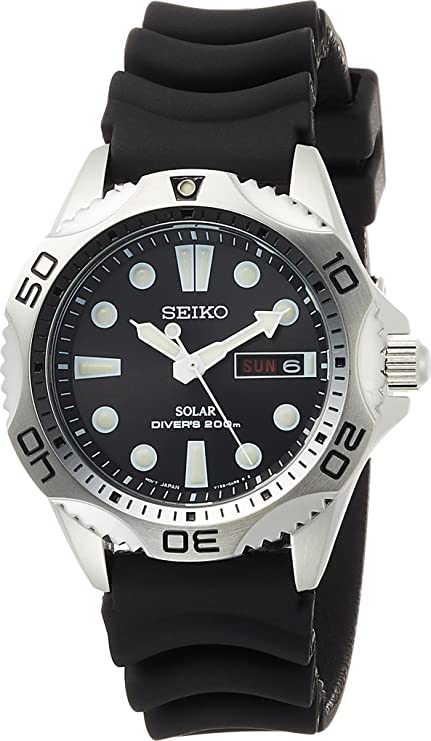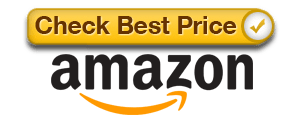 Review
The Seiko SNE107 gives a strong impression at first glance due to its silver case and bezel with the black dial. The rubber band is also a good combination as it gives the timepiece an outdoor look.
The case diameter is 42mm, perfect for people with small and moderate-sized wrists. For the case thickness, it's also thinner than typical quartz diver's watches. This makes the Seiko SNE107 an excellent find for those who dislike bulky and oversized timepieces.
Its bezel is very eye-catching & unique-looking. You can only find a few dive watches with the same bezel design as the SNE107. Its all-silver tone blends well with the case and the lug, with its edges defining its look.
The dial is then a contrasting black against the stainless steel bezel and case. The hour markers are very easy to read as they are large. The hours are marked with dots, with the 6, 9, and 12 markers being trapezoids and the 3 o'clock window showing the day and date.
The Seiko SNE107 has a sporty but still elegant design. The silver tone of the case adds dressiness to the watch, and the rubber band makes it look rugged and fitting for outdoor adventures. It is an attractive contrast of black and silver.
The V158 caliber guides the interior accuracy of the Seiko SNE107. It has an average monthly loss/gain of around 15 seconds, acceptable for a quartz timepiece. The solar-powered battery can store energy for up to 6 months after being fully charged. The energy depletion forewarning helps alert you to its low power.
Pros
Budget-friendly diver's watch
Fits most users due to its average size
Attractive look fit for sports
Informal look makes it easy to bring on any outdoor trip
Cons
Rubber band may not be favoured by other users
Specifications
| | |
| --- | --- |
| Case Diameter | 42mm |
| Case Thickness | 12mm |
| Band Width | 20 mm |
| Movement | Seiko V158 Solar Powered Quartz Caliber |
| Water Resistance | 200 meters (660 feet) |
Best Seiko Kinetic Dive Watches
Seiko SKA371 Kinetic Dive Watch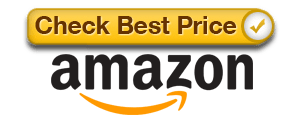 Review
The charm of Seiko SKA371 lies in its sleek stainless steel look that makes it an eye-catching timepiece. Its simple metallic design and black dial give it a classic look while beating inside is a Kinetic caliber that uses Seiko's latest technologies.
The case diameter is just 42mm, making it a good fit for most people. But the watch looks more prominent than its actual size thanks to the big lugs. The Kinetic movement also adds bulk, so its thickness at 14.8mm may be uncomfortable. It may be a bit heavy, but this watch is a good choice if you want a solid feel!
The dial may be small due to the bulkiness of the stainless steel bezel and its small case size. But it's not so small that you can't read easily. It also doesn't look busy, just three hands and hour markers, a good choice for minimalists.
Because the entire timepiece shines in stainless steel, the bezel fittingly dons a black color with white dot markers and numbers at the 10, 20, 30, 40, and 50 minutes. A luminous dot rests embedded in the 12 o'clock marker.
Beating inside is the Seiko 5M62 Kinetic caliber, with a monthly loss/gain of about 15 seconds. It relies on your arms like auto watches but in a different way. It takes in your swings and converts them to energy by storing them on a quartz crystal.
The Seiko SKA371 is a charming stainless steel timepiece that attracts attention with its classic feel. It fits most wrist sizes but may be a bit thick. This Seiko 42mm diver's watch is for those who love a solid feeling on their wrist.
Pros
Solid look and feel for its stainless steel bracelet
Can be brought to any occasion formal or informal
LumiBrite technology provides a safe and strong lume
Easy to read display
Cons
Dial may be considered small for some users
A bit heavy for some
Specifications
| | |
| --- | --- |
| Case Diameter | 42mm |
| Case Thickness | 14.8mm |
| Band Width | 24 mm |
| Movement | Seiko 5M62 Kinetic |
| Water Resistance | 200 meters (660 feet) |
Seiko Prospex SUN019 Kinetic Dive Watch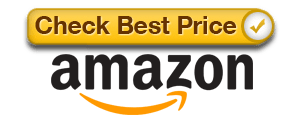 Review
The Seiko Prospex SUN019 is a seemingly monolithic-looking diver's watch. Its almost all-stainless steel appearance gives off a feeling of ruggedness despite being a classy-looking metallic timepiece.
The case diameter for the Seiko Prospex SUN019 is massive at first sight. At 47mm, it is the largest on our list. However, be aware of this as it may come off appearing smaller than it is. The thickness is 15mm, quite thick but measures up to its size. It may be large, but this is best for people with medium to large-sized wrists.
As for the bezel, it is made of stainless steel and painted black. The 10, 20, 30, 40, and 50-minute areas are shown with numbers and are painted white for visibility. Most users are OK with the bezel and praise its ease of use, which is also hard to move accidentally.
The dial is matte black. It is protected by a synthetic sapphire crystal, not Seiko Hardlex glass. Sapphire is more scratch-resistant but also more brittle. The look of the dial complements the black bezel to contrast the silver case and band.
The design of the Seiko Prospex SUN019 can be seen as monolithic or bulky for its size, design, and weight. The charm of this, however, is that as it is classy as a silver timepiece, it also exudes the ruggedness and sportiness fitting for most outdoor activities.
The Prospex SUN019 runs on the 5M85 hybrid Quartz automatic movement. It combines the movement of the arms for kinetic energy and then utilizes this energy for storing in a quartz crystal. This type of movement won't use batteries and is also very reliable!
With an average offset of about 15 seconds per month, this 5M85 Kinetic caliber is a good and reliable movement well within the sustainable losses/gains for the timepiece.
This big Seiko dive watch is suitable for those who want the emphasize their style on masculinity & ruggedness.
Need more from this Seiko diver's watch comparison list? OK, please check out my new list of top Seiko watches for every budget (under $200, $500, and $1000 here!)
Pros
Unique, monolithic design
A steel look that is classy yet sporty at the same time
Fits most outfits with its color and can be brought on semi-formal to informal events
Sturdy, durable, and reliable
Cons
On the higher price range
Heavy for some users
Specifications
| | |
| --- | --- |
| Case Diameter | 47mm |
| Case Thickness | 15mm |
| Dial | Synthetic Sapphire |
| Band Width | 24 mm |
| Movement | Seiko 5M85 Kinetic |
| Water Resistance | 200 meters (660 feet) |
Why did Seiko dive watches become one of the best choices out there? To clarify, we should look at this company's timeline to know about their achievements & where their admirable craftsmanship comes from!
A Brief History of Seiko – The No.1 Watchmaker In Japan
Overview
Seiko began its journey in 1881 when a young entrepreneur named Kintaro Hattori started the watch and jewelry shop K. Hattori in Ginza at the center of Tokyo. Since then, three generations of the Hattori family have dedicated themselves to perfection, which Kintaro always aimed for.
After eleven years since the shop was established, Kintaro started a factory and produced clocks named Seiko-sha, which meant "House of exquisite workmanship." According to Seiko's official website, Seiko is a Japanese word that means "exquisite" or "success."
The 1890s saw the success of this new company in the line of wall clocks, so Kintaro decided to expand his product range. In 1895, he created the first pocket watch, which marked a milestone in the history of this brand and the entire Japanese wristwatch industry.
SEIKOSHA'S FIRST WATCH (1913)
Produced in 1913, Laurel resulted from Kintaro's determination and hard work. It is also Japan's first wristwatch, which paved the way for a new era of watchmaking in this country. This particular timepiece had a silver case with a diameter of 2.6 mm and a porcelain enamel dial.
FIRST WATCH UNDER THE NAME SEIKO (1924)
Many believe the first watch under the official name Seiko was made in 1924. With this Japanese name, you can see Kintaro's ambition, hope, and confidence in his watch because, at that time, people strongly believed that Western products were of superior quality.
FIRST GRAND SEIKO (1960)
Seiko launched this watch as its signature piece, making it the world's most accurate and precise watch. It is a mechanical watch with the Caliber 3180, measured 12 lignes (1 ligne = 2.2558mm), and had 25 jewels with a frequency of 18,000 vph. Each grand Seiko watch was certified with an original standard from Seiko. It is notable that today, this standard is even stricter than the Swiss agency COSC's standard for certifying chronometers.
1964
They created the first portable quartz chronometer in the world, QC- 951.
1968
Awarded the "best mechanical wrist chronometer" in the Geneva competition
1969
On Christmas, Seiko introduced the world's first quartz watch, Seiko Astron. It is considered one of the watches that changed the industry's history. Although there had been a quartz wristwatch prototype in Switzerland, Astron is the manifestation of the new trend of manufacturing quartz wristwatches.
1973
Seiko released the world's first six-digit LCD quartz watch, the Seiko Quartz LC V.F.A. 06LC
1975
Seiko introduced the world's first digital quartz watch with a chronograph, the 0634. This year, the timepiece maker also launched the world's first dive watch with a titanium case. This dive watch was inspired by a professional diver's letter from Hiroshima Prefecture in 1968. The letter told the engineers about the stress and strains a watch faces underwater. After seven years of thorough research, they released the Professional Diver's 600m.
FIRST STEPS IN MAKING A HIGH-TECH WATCH
It is quite surprising that neither Apple nor Samsung made the first steps in creating high-tech watches but Seiko. In 1983, they made the world's first TV watch, T001, and then the world's first watch recorder, the M516, and after one year, the first watch with computer functions, the UC 2000.
1990
Seiko succeeded in making the first computerized dive watch, the ScubaMaster M726.
FAQs
Why did my Seiko solar watch stop?
Seiko solar watches are powered by direct or indirect light from any source, making them the least energy-consuming models in the market. However, your Seiko solar watch can sometimes stop dead after a while. So what is the reason?
A Seiko solar watch needs to expose to either natural or artificial light from time to time to keep it up and running. Seiko recommends users have their solar watches charged by sunlight for at least 5 to 6 hours per month.
In autumn and winter, when the sunlight weakens, it is likely for the watch to run out of energy. Even when you wear your watch and try to expose it to artificial light, it is hard for the watch to get power under long sleeves.
So, don't be surprised if your watch suddenly stops working. It is better to let your watch rest somewhere under the light during the dark days in autumn or winter.
Are Seiko automatic watches any good?
Seiko is famous for three things: Japanese Quartz, Spring Drive, and Kinetic movement. Kinetics, also known as automatic movement, is renowned for its affordability and environmental-friendliness.
Regarding function, Seiko automatic watches are excellent. The watches produce energy through wearers' wrist movements. Seiko's automatic line of products is a quick response to the eco-friendly trend.
In terms of quality, Seiko watches offer elegant, classic styles within your budget and taste.
From around $200, you could find a Seiko watch that is either high-quality or wallet-friendly too. Seiko has built its prestige and loyal fan base with its superior quality.
What does Seiko 5 stand for?
When it comes to Seiko automatic watches, you probably have heard of Seiko 5. This is the first line of automatic items. Seiko 5 is also the oldest sub-brand compared to other lines of production.
The number 5 represents five primary attributes of the watch:
Diaflex (strong mainspring)
Diashock (shock-resistant feature)
Automatic movement
Water-resistant
Day/date indication
Seiko introduced quartz models in early 1980 with the five logos; however, they didn't apply the same standard. Modern Seiko 5 adopts 7s calibers for energy storage.
What does Seiko mean?
Seiko was initially a small watch and jewelry shop in central Tokyo, owned by Kintaro Hattori when he was only 22 years old. After seven years in business, Kintaro established the "Seikosha" in 1982.
Seikosha has a beautiful meaning in Japanese. "Seiko" means exquisite and a success, while "sha" means house. The name has set the principle for every watch Seiko has ever produced: elegance and quality.
Is Seiko better than a citizen?
Both Seiko and Citizen are known as affordable, high-quality watch markers in the field. Regarding comparison, it is hard to say whether Seiko is better than Citizen.
Seiko's lines of production focus on quartz, solar, automatic, and mechanical models. The great thing is you can find a suitable watch within your budget. Recently, Seiko introduced Grand Seiko, which is a high-end luxury brand.
Established in 1982, Seiko watches stay true to their core values and principles. Seiko has been the pioneer in the quartz movement as early as the 1960s. They also created the first-ever chronograph that could be used as a stopwatch or display.
Citizen isn't less impressive. Founded in 1918, it took only six months for their pocket watch to be widely accepted. Unlike Seiko, Citizen sticks with innovation and uniqueness.
What's Citizen famous for? Eco-drive watches absorb both natural and artificial light. Other than that, Citizen also offers a chronograph feature, moon phase, and other exclusive functions.
When standing between Seiko and Citizen, please ask yourself, "Which watch model do I prefer?" No question about the quality of both Seiko and Citizen; however, Seiko is a bit more luxurious, while Citizen is generally more affordable.
How long will a Seiko solar watch last?
Seiko solar watches require around 3 hours to be fully charged, either under sunlight or artificial light. After that, Seiko solar watches can reserve power for up to 6 or 12 months, depending on each model.
That means the watch can still function in darkness within the reserve power period.
Verdict
In this list, we discussed the best Seiko dive watches currently available. These are all top-rated timepieces assembled from customer feedback regarding each product's specifications and performance. It is also true that these watches are not just the best from Seiko, as they can even be labeled as among the best affordable dive watches.
More reviews:
Best Watch Winders For Your Money