Kinetic watches are some of the most significant innovations from Seiko. They combine the power of both mechanical and quartz watches. In this article, we'll list the best Seiko kinetic watches in different types of timepieces. It highlights the flexibility and uniqueness of this new platform that Seiko offers.
Best Seiko Kinetic Dive Watches
Seiko SKA371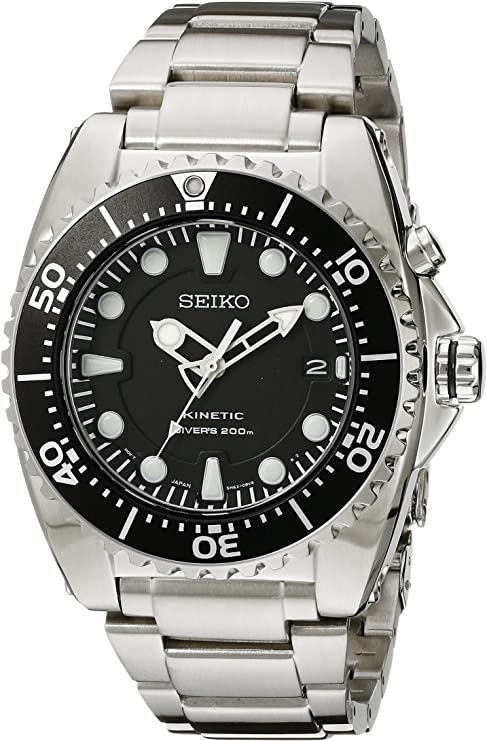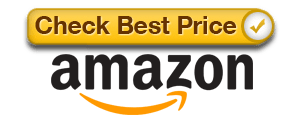 Pros
Solid feel being made from stainless steel
Can be brought to any informal outdoor trips
Water resistance makes it capable of withstanding light dives
LumiBrite technology makes the lume safer and easier to read
Cons
The size of the dial may be small compared to the total case size
Thick case + heavy weight makes people either love it or hate it
Review:
Analyzing the watch's overall design, the SKA371 exudes a sleek and cool design fit for an outdoor timepiece. It is entirely made out of stainless steel, with a few touches of black to complement the watch's appearance. Its bezel is black, highlighting the white numbers for its minute marks. Its white hour markers also fit the black dial design.
It's worth noting that the case is thicker than quarts or other regular automatic watches since the kinetic mechanism inside takes more space. Don't be fooled. It looks bigger than its actual size.
Key features of the Seiko SKA371 include its 5M62 caliber, which helps keep good time, and the LumiBrite technology allowing a safe, clear, and radiant lume for the timepiece. It is an excellent companion for outdoor adventures, especially for water sports.
Being a dive watch, the SKA371 features 200m water resistance, ISO 6425 certified. When underwater, the lume shines brightly and clearly for hours using the timepiece's LumiBrite technology. This makes it easier to read the time underwater and even at night.
Features:
Seiko Men's SKA371 Kinetic Dive Watch
Case Size
42 mm
Case Thickness
14.8 mm
Dial
Hardlex
Bezel Material
Stainless Steel
Band Material
Stainless Steel
Movement
Japanese Quartz
Bezel
Uni-directional
Water Resistance
200 meters
Overall the SKA371 is an excellent kinetic timepiece from Seiko. Being a diver's watch opens up a lot of potential to where and when you can bring it. The design makes it more dress-worthy, giving its entire appearance a cool and sleek feel. As a dive watch, its bright lume and 200m water resistance make it great for scuba diving and other water sports.
Seiko SUN023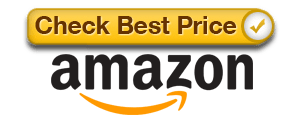 Pros
Bezel and dial design makes it very easy to see and identify
LumiBrite technology brings a bright lume for the recognizable dial
Its large size and weight is a welcome preference for its functions
Cons
Rubber strap may not be to everyone's preference
Review:
The design for the Prospex SUN023 is fun and sporty, showing quite detailed work. It features large and legible hands, markers, and symbols to help people read the watch underwater or at night. It has orange and white bezel markers, and the dial is equally playful with its color scheme. The white hour markers, orange minute hand, and blue and white hour markers, symbolizing local and set hours.
For the internal machinations of the Prospex SUN023, it is powered with the 5M85 caliber, offering more charge retention than its predecessors. The 200m water resistance makes this dive watch excellent for water sports and dives. Utilizing LumiBrite technology, it provides a beautiful and long-lasting sight for the watch when diving, something that avid enthusiasts will appreciate.
Features:
Seiko Prospex SUN023 Kinetic Watch
Case Size
48 mm
Case Thickness
15 mm
Dial
Hardlex
Bezel Material
Stainless Steel
Band Material
Polyurethane
Movement
Japanese Quartz
Bezel
Uni-directional
Water Resistance
200 meters
The Prospex SUN023 features a cool and fun take on this kinetic diver's watch. Rated at 200m, it is excellent for scuba diving and other water sports. It has a unique dial color-coded to its different hands, making it easier to use on dives or at night. Adding its LumiBrite features makes it much easier to read. It is fit for everyday and outdoor adventures.
Best Seiko Kinetic Dress Watches
Seiko SKA366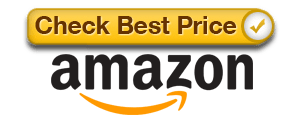 Pros
Two-toned timepiece that is very attractive yet subtle
Very classy and can be brought on formal to casual trips
As a dress watch, the 100m water resistance is high compared to others with just 50m
Cons
Lume may not be as bright as other watches
The black tone may not be suitable users with darker skin
Review:
As a dress watch, the Seiko SKA366 features an eye-catching design. The two tones create a subtle yet obvious aesthetic that may not be obvious at first sight, but a second look at its black steel façade and gold strips will turn you around when noticed.
It is a kinetic timepiece powered by Seiko's 5M62 caliber and has a 39.5mm case diameter that fits just right. It is a fully stainless steel watch whose colors define its character. A calendar is placed on the 4 o'clock mark, a subtle move from the usual 3 o'clock placement. The gold accents are found along the stripes, crown, bezel, hour markers, and hands.
Features:
Seiko Men's SKA366 Stainless Steel Two-Tone Kinetic Dress Watch
Case Size
39.5 mm
Case Thickness
11.2 mm
Dial
Hardlex
Bezel Material
Stainless Steel
Band Material
Stainless Steel
Movement
Japanese Quartz
Bezel
Stationary
Water Resistance
100 meters
The Seiko SKA366 is a dress watch that bares its charm subtly. It is a two-toned timepiece that features gold on black for its colors, an excellent combination for special occasions. Its water resistance is a great addition, giving it resistance when accidentally spilled with water. It's also noteworthy that Seiko's water-resistant technology is one of the most reliable in the market, so you're assured of quality.
Seiko Coutura SRN064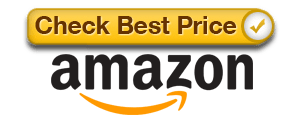 Pros
A bold timepiece utilizing the tones of white and gold
Commands attention through its dial along with its stainless steel band
Light water resistance gives basic protection against water
Cons
May feel heavy compared to how it looks
Review:
The design of the Coutura Retrograde leans to the clean and simple side of watch aesthetics. It has a silver band with gold accents that appear on the dial, bezel, and the middle row of the band. Unlike everyday triple-row bracelets, this middle row is unique because of its sharpness. A gold lining at the outer edge envelops the bezel.
The dial is a unique wonder on its own. Although it has a simple white background, it has gold hands and hour markers. The day-of-the-week indicator adds flair along with a date window at 3 o'clock.
The Coutura Retrograde plays along the features of a kinetic timepiece. It is a dress watch powered by the caliber 5M84, offering reliable movement and kinetic properties. It is a practical offering from Seiko, playing with the idea of arm swings powering the luxurious piece. The 100m water resistance rating is also a tremendous waterproofing addition that prevents unnecessary trouble with water.
Features:
Seiko Men's Coutura Kinetic Retrograde Watch
Case Size
44 mm
Case Thickness
11.8 mm
Dial
Synthetic Sapphire
Bezel Material
Stainless Steel
Band Material
Stainless Steel
Movement
Japanese Quartz
Bezel
Stationary
Water Resistance
100 meters
The Seiko Men's Coutura Retrograde is a bold timepiece that draws attention to it immediately. It features a stainless steel embellished with gold. The dial is also unique through its day-of-the-week calendar and a day feature. This is your timepiece if you opt for a dress watch that will capture attention. Brave, bold, and unique describe the watch.
Best Seiko Kinetic Field Watches
Seiko SKA723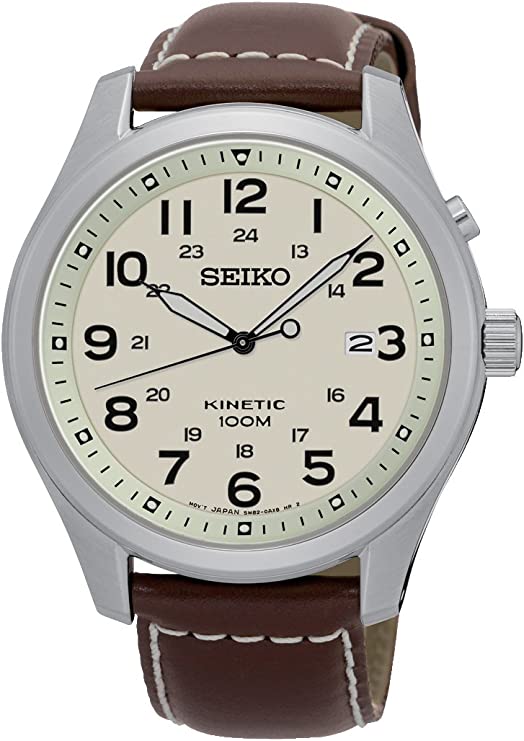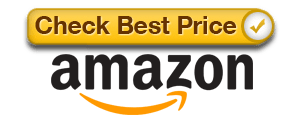 Pros
The simplicity and casual feel of the watch makes it easy to wear anywhere
Its design makes it very easy to pair up with any style of clothing
100m water resistance give it some protection against accidental dips
Large dial numerals make it easy to glance at
Cons
Some may think the leather strap lacks design
Review:
The look of the Seiko SKA723 is straight to the point. The watch features a stainless steel case, a brown leather strap, and simple markers at the dial. It creates the overall character of the timepiece. It is casual and sturdy, fitting a lot of outfits, and can be brought from informal outings, outdoor adventures, and even formal gatherings.
Seiko's 5M82 caliber powers the SKA723 field watch. Compared to other calibers, a recent version is aligned to help with the watch's sturdiness while remaining efficient. As a kinetic timepiece, it still relies on your movements to keep ticking. This makes its large demographic fitting as it can be brought anywhere, helping it remain wound up every time.
Features:
Seiko Kinetic SKA723 Beige Dial Brown Leather Band Men's Watch
Case Size
42 mm
Case Thickness
12 mm
Dial
Synthetic Sapphire
Bezel Material
Stainless Steel
Band Material
Calf skin
Movement
Japanese Quartz
Bezel
Stationary
Water Resistance
100 meters
The Seiko SKA723 offers a simple casual field watch and easy matching up. This is for you if you opt for a timepiece with its essential functions, set, and extremely easy to style. The large dial makes it easy to look at, and its design makes it dress-worthy for almost any occasion.
Seiko SKA727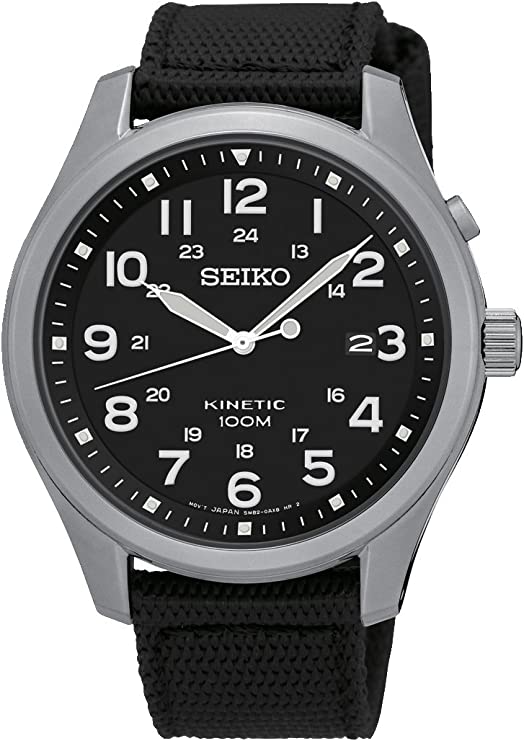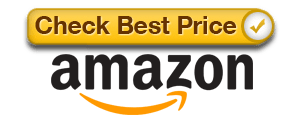 Pros
A simple and bold timepiece that is easy to get used to
The design makes it easy to dress up with casually
Large dial markers make it easy to read time immediately
Added protection of 100m water resistance
Cons
The strap design may feel cheap for some users as they swap it for others
Review:
For its design, the SKA727 features a stainless steel case emphasized by its black nylon strap and eye-catching black dial. These characteristics make the watch bold yet simple through the lack of design additions. It can match many outfits for most outdoor and casual activities but may need more consideration when brought to formal events, though it is still possible.
The timepiece is also powered by the 5M82 caliber, producing good movement along with its kinetic properties. It offers the essential functions of a classic wristwatch without the modern complications added by today's innovations.
Features:
Seiko Kinetic SKA727 Black Dial Black Canvas Band Men's Watch
Case Size
42 m
Case Thickness
12 mm
Dial
Synthetic Sapphire
Bezel Material
Stainless Steel
Band Material
Nylon
Movement
Japanese Quartz
Bezel
Stationary
Water Resistance
100 meters
The Seiko SKA727 field watch is a good option for a unique kinetic timepiece. It perfectly matches its casual and simple style with informal or outdoor gatherings. If you opt for a timepiece that can be brought almost anywhere aside from formal events, this timepiece is a good choice. It matches many outfits and is easy to use with its large dial markers.
What is so special about the Kinetic movement?
Kinetic watches are a hybrid of mechanical and quartz mechanisms. It combines the two platforms and creates a unique type of movement for the timepiece. It absorbs the swing-powered quality of the mechanical with the battery-powered property of the quartz.
Released by Seiko in the 1980s, the kinetic movement was powered by charging up an internal capacitor through the arm's swings and movements and is discharged as it continues to be used by the wearer. It is a rechargeable battery powered by the continuous swinging of the arms as it is used in daily life.
Regarded by Seiko as the watch movement of the future, there is a lot of potential in kinetic timepieces. The brand is still developing the platform to store more power and lose the least amount while not being used. It is an excellent choice for people who like unique timepieces.
Seiko Highlights and their Achievements in Technology
Seiko has contributed significantly to the advancement and growth of timekeeping since its establishment in 1881. Undeniably, the company has already set a firm and stable foundation in the growing watchmaking industry. Its several achievements make it a trusted and reliable company that offers innovative and sturdy timepieces that are well-loved globally.
Some of its most notable achievements include:
1969 – Seiko introduced the Astron, the world's first quartz watch
1973 – The world's first LCD quartz watch with six digits debuted
1982 – The company created the world's first TV watch
1988 – Kinetic watches are introduced to the world
1999 – Seiko introduced the world's first Spring Drive watch
2008 – The world's first timepiece dedicated to spacewalking was made
2012 – The new Seiko Astron is the world's first GPS solar watch
Through all of these innovations in the watchmaking industry, it is no wonder that Seiko is still celebrated as one of the world's most successful and trusted watchmaking companies. Their thirst for innovation and reliability has made them a staple in most topics when it comes to choosing the most valuable watch for its price.
Kinetic watches, Seiko, and the Future
Seiko believed and still believes in the potential of kinetic timepieces. It integrates the best of both worlds with mechanical and quartz platforms. The article highlights the best Seiko kinetic watches, showcasing reliable features that fit the kinetic platform.
The movement is relatively young but shows a lot of potential. It proves the strength and prowess of Seiko when it comes to creating innovative timepieces. With their array of technological achievements, the future is bright for the watchmaking company.
Related Articles:
Good Affordable Skeleton Watches
High-Quality Winders For Rolex Watches
Good Seiko Watches under $1000
References: