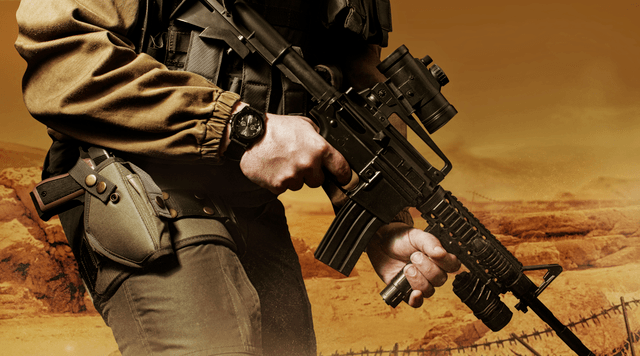 With an underlying style little-altered by modern time, a fascinating history, and a title to capture the imagination, field watches make for a piece of men's jewelry with an element of time travel. I love these little time-telling machines. They tell the world about what kind of guy you are. But my passion for military watches isn't limited to big and luxurious brands.
So, I have collected several watches and ran thrown countless reviews on the Internet to come up with this list. I'm sure with you, these top 5 best military field watches under $200 are the kind that can satisfy your champagne taste without breaking the bank.
Image
Product
Details

My Favorite Choice

Seiko 5 SNZG09K1

CLassic Military Style
Excellent craftsmanship for the price

View on Amazon

Best Solar Field Watch

Citizen Eco-Drive BU2055-08X

Attractive rugged look
Citizen's Eco-Drive Solar Movement

View on Amazon

Dressy Field Watch

Orient Defender FET0N003Y0

Can dress up or dress down easily
Elegant sharp look

View on Amazon

Aesthetically unique with square case

Bulova 96B231

A mix of antique & modern
Super accurate quart movement with chronograph

View on Amazon

Best Swiss Made Field Watch under $200

Victorinox 249087 Original

Practical Swiss made infantry watch
Cool all-black body

View on Amazon
Seiko 5 SNZG09K1
[imgb trackingid="donatwald-20″ asin="B005NYLO08″ imgid="810NMatnFSL" altimg="
Seiko 5 SNZG09K1
"]
Pros
Ideal vintage style
Good lume to read in the dark
Holes on the strap are protected by a strip of leather to prevent fraying
The second hand has a smoother movement
Cons
The crown does not screw down so it may be pulled out unintentionally under water
| | |
| --- | --- |
| Case Diameter | 45 mm |
| Bandwidth | 22 mm |
| Glass | Scratch Resistant Hardlex Crystal |
| Movement | Automatic Caliber 7S36B |
| Water Resistance | 328 feet |
About the brand
Seiko was founded in 1881, when Kintarō Hattori opened a watch and jewelry shop in Tokyo, Japan. In 1924, the first watches produced by Seiko appeared. In the 1890's, the success of Seiko's wall clock business blossomed. In 1929, Japan's National Railways appointed Seiko watches as its official supplier.
From then on, Seiko has developed to a well-known brand catering to a wide range of tastes. I love their technical expertise and fine movements and the fact that Seiko has something to offer to all customers.
Why choose Seiko 5 SNZG09K1?
You would be forgiven for thinking that this watch belongs to World War I military kind. But that what makes this watch special, it offers a vintage vibe for the modern gentlemen.
In the world of mainstream black and white, Seiko 5 Men's SNZG09K1 stands out for its green color. The use of green is thoughtfully executed, with two slightly different hues lending visual accents to the watch. The well-crafted aesthetic fulfills two purposes: ruggedness and legibility.
The simple layout with crisply detailed white Arabic numerals stands out against the dial makes the watch appears simple and easy to read. These hour numerals and markers have a nice luminescence make it easy to make out time in the dark. The watch ticks 6 times per second, which gives the second hand a smoother movement than other watches that tick once per second.
On a watch that has several nice details, there is one small drawback. The crown doesn't screw down which may increase the risk of it being pulled out unintentionally while underwater.
The canvas strap is similar in color to the dial, which helps compliment and emphasizes the military aspect of the watch. The strap is dual-layered and thick. The holes are protected by a strip of leather. This prevents the holes from getting frayed over time.
Citizen Eco-Drive BU2055-08X 
[imgb trackingid="donatwald-20″ asin="B01KVVUYHQ" imgid="913to1RDA5L" altimg="
Citizen Eco-Drive BU2055-08X
"]
Pros
Rugged, military look
Eco-Drive solar movement (no battery replacement needed)
Durable strap
Cons
Strap lacks comfortableness
| | |
| --- | --- |
| Case Diameter | 43 mm |
| Bandwidth | 20 mm |
| Glass | Mineral glass |
| Movement | Eco-Drive |
| Water Resistance | 328 feet |
I have always had a soft spot for anything comes under the name Citizen. Whether you want to perfect the boldly daring image, find a dedicated companion for your next adventure, or simply in search of a sporty timepiece, Citizen has a particular product to fit the bill.
About the brand
The brand is built on the "fusion of technology and beauty" and a deep respect for craftsmanship, which is visible in every single detail of the watches they make. The company was founded in 1930 by Japanese and Swiss investors.
Eiichi Yamada, one of Citizen's presidents, understood that Citizen's future relies on overseas expansion. He created the Citizen Trading Company, which brings the brand around the world.
Why choose Citizen Eco-Drive BU2055-08X?
Citizen has meticulously designed this watch to facilitate outdoor activities. It features three modest subdials that show an analog day and date and 12/24-hour time.
The great legibility of the hands and the striking contrast between the oversized black numbers and the khaki-hued case ensure that you know the time after just one glance.
The Citizen Eco-Drive BU2055-08X is water-resistant to 328 feet, which makes it a perfect companion for swimming and snorkeling, but not for deep scuba diving.
Citizen Eco-Drive comes with a Cordura strap. Another feature that I love about it is Citizen boasts the reputation of making highly durable straps and that is evident in its every product.
This timepiece's strap is supported by another layer and features a stitched pattern, providing better endurance around the holes. On the plus side, it can handle extreme weather with ease, but as with other military-influenced straps, it lacks comfortableness.
Orient Defender FET0N003Y0
[imgb trackingid="donatwald-20″ asin="B00F2DI6EW" imgid="81WMOF9UBBL" altimg="
Orient Defender FET0N003Y0
"]
Pros
Rugged, military look
Orient's In-house made movement
Another ring on the perimeter for easier time-reading
Cons
You have to set the day manually if you plan to switch watches regularly
| | |
| --- | --- |
| Case Diameter | 42 mm |
| Bandwidth | 22 mm |
| Glass | Mineral crystal |
| Movement | Caliber 46B40 Automatic by Orient |
| Water Resistance | 328 feet |
I owned a couple of Orient watches and wore them with much pleasure. However, being a watch collector, I traded them up for other brands to enrich my collection. I don't own this particular watch now, but if I have to recommend top 5 best military field watches under $200, Orient Defender FET0N003Y0 will never fail to make it into my list.
About the brand
The history of Orient Watch Company dates all the way back to 1901. Shogoro Yoshida opened a wholesale shop called "Yoshida Watch Shop" in Japan. The shop was a success. In 1912, Yoshida's business was expanded, and he began producing gold wristwatch cases.
In 2003, the Orient Technical Center (OTC) was founded, and the assembly of luxury watches began. Throughout the years, Orient has won the hearts and minds of watch enthusiasts all over the globe.
Why choose Orient Defender FET0N003Y0 Multi-Eye Function Watch?
Orient Defender FET0N003Y0 has the robustness, strength, and style of a military-inspired timepiece. The case is matte finish instead of a polished stainless steel one, which makes me think of a bead blasted case, a nice reminiscence of those that came out from war. To even further perfect the look, the dial is also has a matte finish to match with the case.
The main index isn't Arabic numerals but large molded lumed shapes in a slightly off-black color featuring a large white stripe on each. The rectangles and split triangle at 12 look rather aggressive, creating good legibility and a contemporary style.
The markers are quite thick, which adds a feeling of depth and some texture to the dial. I prefer Arabic numerals since I can make out the time after just a quick glance, but Orient has added some more details to compensate for that.
Between the markers are small white lines for minutes/seconds. On the perimeter of the dial is another ring featuring a minutes/seconds index to a precision of 1/5th a second and numerals at intervals of 5. This index doesn't only make time-reading easier but also adds a technical feeling of military aesthetic to the watch.
The Defender is powered by an Orient in-house made automatic movement, the 46B40 caliber. The "in-house" part is one of the things I love about Orient, giving a sense of responsibility and innovation of Orient. This is a cool feature given the reasonable price of the watch.
As a field watch with leather strap, Orient Defender has the formal-looking advantage that the strap gives it to accompany you from day-to-day business to business casual. The contrast-colored stitches give the watch a rugged and sporty look, while the leather makes the watch go well with same color and material belts and shoes.
Bulova 96B231
[imgb trackingid="donatwald-20″ asin="B00U1LX77G" imgid="81SD4b9aivL" altimg="
Bulova 96B231
"]
Pros
Details are of great quality
Vintage styling
Modern sizing
Cons
No luminous markings on the dial
The back scratched easily
| | |
| --- | --- |
| Case Diameter | 42 mm |
| Bandwidth | 19 mm |
| Glass | Scratch Resistant Mineral |
| Movement | Quartz |
| Water Resistance | 328 feet |
About the brand
Like many watch enthusiasts, Bulova has long held a soft spot in my heart. For over 135 years, Bulova has been a pioneering force in the industry. In 1919, Bulova launched its first complete range of male watches and soon became popular with the American public.
Recent decades have seen Bulova wins the hearts, minds, and wallets of customers in search of timepieces that encompass classic and contemporary styling, and technology, yet priced at moderate levels.
Why choose Bulova 96B231?
Unmistakably inspired by the styling of Bulova archives developed for the U.S. military during World War II, the Bulova 96B231 is a modern reinterpretation of that classic model from the '40s.
At first, this watch preserves the styling of its iconic predecessor. On the other hand, this new model features some modern touches which makes it more versatile and can be worn for different occasions.
The crowns located at the 2 and 4 o'clock positions are the most recognizable contemporary detail that sets this new model apart. Its elegance is further enhanced by the narrow and steeply sloping coin bezel. It allows a little distortion from the side and reduces reflection. A field watch should minimize its flares as much as possible!
Bulova 96B231 is handsomely appropriate for many occasions partly because of its no-flashy black leather strap and its simplistic cream dial, which never fail to make it into a gentleman's versatile base collection.
No matter how elegant, Bulova 96B231, at its essence, is still a field watch which puts a heavy emphasis on functionality. Its dial embodies minimalist arrangement with black Arabic numerals and black-lined hands to ensure legibility.
As with other field watches, the hour and minute hands are lumed, but if you expect a watch that you can easily make out time in the dark, you should recalibrate your expectation. There are no luminous markings on the dial, so you may have to put on more effort than just a mere glance if you need to read the time when the light is low.
Victorinox 249087 Original
[imgb trackingid="donatwald-20″ asin="B00PFX23W0″ imgid="91A88FDxgNL" altimg="
Victorinox 249087 Original
"]
Pros
Accuracy and precision
Durable
Vintage look
Cons
The strap looks a bit cheap
| | |
| --- | --- |
| Case Diameter | 43 mm |
| Bandwidth | 21 mm |
| Glass | Hardened Mineral |
| Movement | Swiss Quartz |
| Water Resistance | 328 feet |
If I have to sum up all my experience with Victorinox's watches into just one sentence, it'll be this: Victorinox is built to last. In fact, with hundreds of quality control tests, which one wouldn't be?
Despite its humble start, Swiss Army watches over the years have branched into a more diverse array of watches' styles and types from specialty dive watches to diamond accented dress watches. Among the inexpensive ones,
Victorinox 249087 Original is the most storied of them all.
About the brand
In 1989, Swiss Army released their very first timepiece, the Original and it has made an icon ever since. This timepiece is still made and sold today, making it somewhat like the VW Beetle of a wristwatch. I don't know about you but the Victorinox 249087 Original never fails to evoke my nostalgia for the 1990s.
Different people will have different judgment for the brand, but most of them will agree on one thing: Victorinox watches are accurate. In fact, it manufactures its own movements – they can measure time within a few seconds per year.
Why choose Victorinox 249087 Original XL?
This watch is adorned in black and red, which makes the overall appearance of the watch leans toward the masculine side, but then the round edges and circular shape come into play to restore the balance.
With another manufacturer, this watch may bear the black and white color to perfect its simplicity but this is Swiss Army and they aren't who they are anymore without the deep crimson that is iconic to their classic knife.
The name Victorinox may conjure up images of the state-of-the-art pieces with lots of complications. But this particular timepiece's case is made out of plastic, which may come as a surprise for some.
Before you think of anything further, let me remind you that this is a field watch, the one that will accompany you in day-to-day business or some outdoor trip into the wild. The dial is just normal mineral glass so don't expect much scratch-resistance or anti-reflectiveness.
However, with a plastic body and mineral glass, Victorinox's Original is surprisingly durable. Not so tough to come out of being whacked against the wall intact but strong enough to endure the beating of weather. This is why Victorinox 249087 Original still makes it into the list of top 5 best military field watches under $200.
This is an unpretentious and uncomplicated watch. No subdial, no movement window, the crown has only one function is to adjust the time and date, but you can always count on its movement. The Swiss quartz caliber may not be the top-notch one available but it does what it has to do well, to ensure the accuracy and precision of the watch.
The strap comes in form of a 21 mm black nylon one, which blends gracefully with the case. The strap's end is made out of a supple rubber compound to prevent the holes from stretching and deforming.
VERDICT
The overall impression of a watch, in general, speaks volume about the personality of the bearers, and our Top 5 Best Military Field Watches Under $200 above are good examples. They have the rugged and adventurous look in each of them, a kind of call that urges you to put on your hiking boots and head to the wild.
Frankly, they are watches that I couldn't quite place. They have the tactical style, but their appearance and functionality put them in somewhere in between a pilot a sports watch. This means whenever you wear them; you are sure to get the best of both worlds.
Related Articles:
Reliable Suunto Watches For Outdoor & Military Use
Classic Style German Military Watches