When it comes to watches, there are no rules, but there are some guidelines to follow. It is totally up to you if you want to follow these guidelines or break them. There is an unlimited amount of watches that you can wear to match your outfits. But when it comes to fashion, watches are like shoes. There isn't one style that fits all. Like, you won't wear sneakers to a funeral. In the same manner, you are not going to wear a chunky G Shock watch to a board meeting with an expensive custom-made suit. Just like any jewelry, a watch enhances your outfit if you wear the right watch with the right outfit.
If you are not a suit person or wearing them for the first time and wondering what watch to wear with a suit, then you have come to the right place. In this article, we will talk all about Dress watches that you can wear with suits for occasions like weddings, job interviews, etc.
Without a doubt, the suit is the one item in a man's wardrobe that reflects a man's style. A matching watch can increase the personality of the wearer. Always remember that the watch should complement your suit. Since the watch is probably the last thing that you would put on, it has to be the one that finishes the look, complements your outfit without taking over the look. With the suit, the watch needs to be a dress watch, simple, thin, probably precious metal, sophisticated and classic.
In this article, we will break down how you can choose a perfect watch for your suits that will match your outfits and the occasions.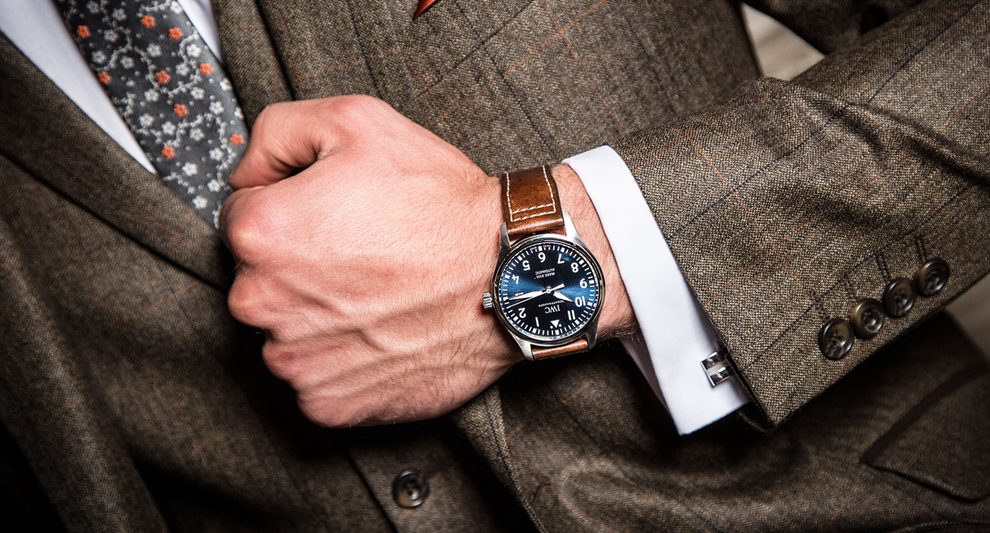 Simplicity is the Ultimate Sophistication
A simple, high-quality wristwatch works well with most suits. Avoid complications, if possible. A plain black and white dial is ideal. It can have time and date windows, but more than that would be too much.
Avoid combining a Suit with a Sports watch
Suits are dressy. So, for a formal outfit like a suit, you will need a dress watch. Everyone loves a good sports watch, but there's nothing quite like a smart timepiece to spruce up a suit and tie. The purpose of a sports watch is entirely different.
Match the Watch with the Formality of Your Outfit
How you choose a watch also depends on the occasion and how formal you have to be.
Business Formal – The standard dress code for Business formal is a full matching darker suit. The most common colors for formal business suits are black, navy blue, and dark grey. With a formal business suit, you can wear a classic style of gold or silver watch with a thin dial and fewer complications. A classic dress watch goes really well with a dark conservative suit. You can probably also get away with a dive watch if it is not too chunky (Thanks to James Bond 007!).
Business Casual – The line between Business formal and Business casual typically hinges on tie-or-no-tie. A light-colored business casual suit with no tie looks good with a high-end Chrono, a pilot, or even a smart field watch.
Casual Suit – Casual suits are trendy these days. The beauty of the casual suit look is its simplicity. You can wear pretty much any watches to pull off the look.
Sports Jacket – Sports jackets are incredibly versatile and come in a large variety of colors and patterns. You can wear different color trousers with a sports jacket. These jackets, along with full suits, were strictly used for sporting activities. Sports jackets are not considered appropriate formal wear. So a dress watch wouldn't be the right choice for sports jackets for the same reason a sports watch not for formal wear. Other than a dress watch you can pretty much wear any watches with a sports jacket.
Color Scheme to Match Your Suit
It is essential that the color of the watch (dial, case, and strap) also matches your outfit. The "rules" about matching your watch to your suits are like a lot of menswear rules. They're outdated and pretty flexible. It is important to understand these guidelines but then also to know that you can bend and break them to fit your preferences and your personality. You can also follow the guidelines below to choose a watch that will complement your suit.
| | | |
| --- | --- | --- |
| Suit Color | Leather Strap | Metal Case/Band |
| Beige / Cream Suit | Black or Brown | Silver or Gold |
| Grey Suit | Black, Brown or Reddish-brown | Silver |
| Black Suit | Black | Silver |
| Blue Suit | Brown, Tan | Gold, Rose Gold |
Leather Complements Leather
You will also need to consider the color of your leather shoes and belts when you are wearing a watch with a leather strap. If you wear three different colors of leather, then it will look kind of mismatch. So, always try to match your leathers. Watches with rubber or nylon straps won't look good with leather belts and shoes. If you decided to wear a Chrono or a dive watch with your suit, then attach a leather strap. Rough, worn-in leather straps work better with jeans but won't be appropriate with a suit at a fine-dining event. A nice leather strap is a classic choice for a dress watch, but gold or silver bands are suitable when they complement the rest of your outfit.
Let's look at some examples.
Let's say you're wearing black shoes like black cap toe Oxford and a watch with a silver jubilee bracelet. In that case, your best bet is a black leather belt with a silver buckle to match the jubilee bracelet.
On the other hand, if you're wearing brown leather shoes paired with a watch that has a brown leather strap and a silver case, then you might want to wear a brown leather belt that has a silver buckle.
With a casual suit, you might want to wear dark blue suede shoes, and let's say your watch is a gunmetal case with a Navy leather strap. In that case, a dark grey canvas belt with a gunmetal buckle would look pretty awesome.
The key here isn't to match perfectly. The key is to coordinate with colors that look good together.
Metal Complements Metal
The metal case of the watch or the metal bands should complement the metals of your accessories. The case of the watch can be square, rectangular, round, and polygonal. The finish on the case can be matte, shiny, patterned, or inlaid with crystals or other jewels.
Let's look at some examples.
Let's say you're wearing brown leather shoes, a brown belt with a silver buckle, and a brown leather watch that has a gold case. Then you might want to swap that silver buckle out for a gold buckle.
So, you get the idea here. Always match your leathers and match your metals. Also, remember that these are only guidelines, not hard and fast rules. To understand these guidelines, play around with them, and then feel free to break them.
Heirloom Watches
When it comes to Heirloom watches, they are beyond the rules and guidelines of matching the suit. Heirloom watches are usually worn as a good-luck charm or as a memory of the original owner. They are great conversation pieces, and they make you memorable. Heirlooms allow you to bend and even break the rules mentioned here. Heirloom watches are not worn based on the latest fashion trends. It is a reminder of family history and culture.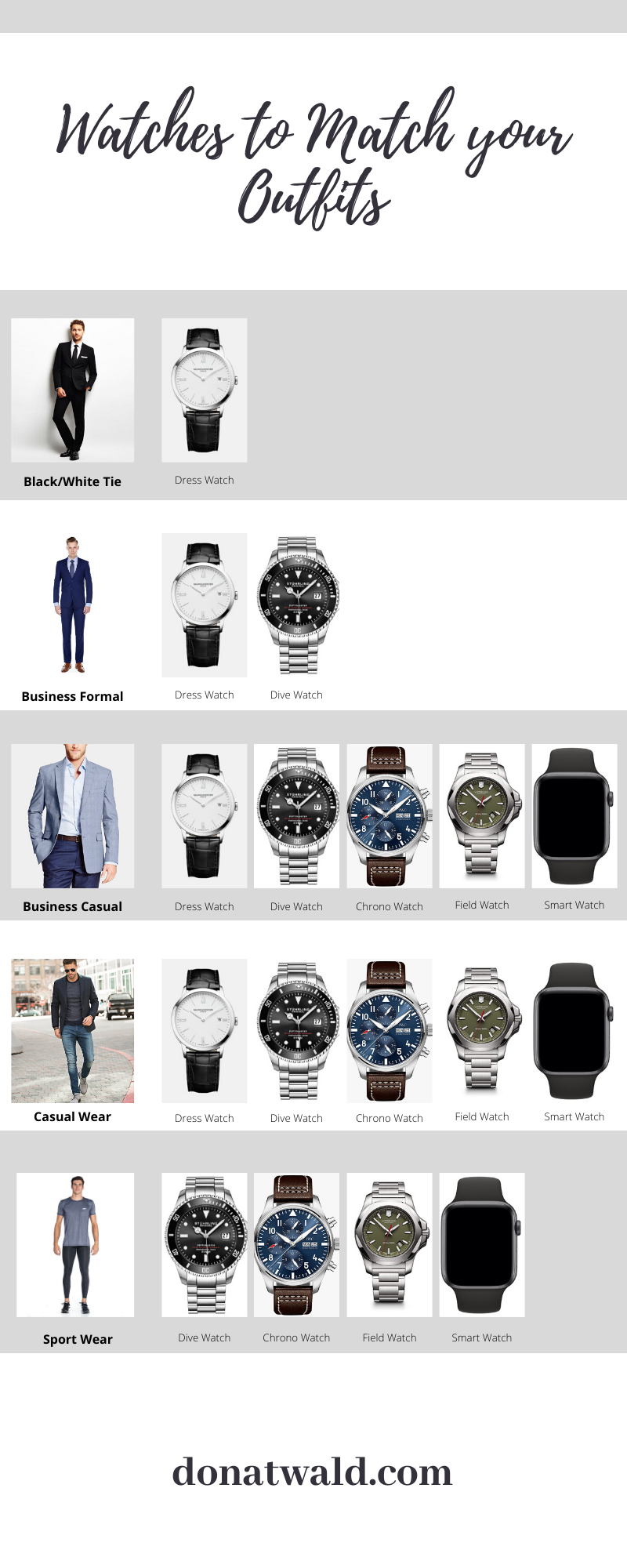 FAQs
Can you wear a metal band watch with a business suit?
Yes, you can wear a metal band watch with a suit. It also depends on the formality of the occasion. Most people in the corporate environment do wear metal band watches with their suits in business meetings. But if you are going to a formal event, then a dress watch with a leather strap looks more sophisticated than a metal band watch.
Can you wear a navy suit with a black watch?
Black is not the preferred color for a navy suit, but you can certainly wear a black watch with a navy suit if it matches with your other accessories like shoes and belt.
Can you wear a digital watch with a suit?
I would not personally recommend wearing a digital watch with a suit. But if a digital watch reflects you are your personality, then, by all means, wear it. You can also switch it for a smartwatch.
Can you wear an apple watch with a suit?
Apple watches actually goes well with most suits. They look good with Business casual and Casual suits. If the occasion is not too formal, then you might pull it off with a Business professional suit also.
What type of watches do you wear with a suit?
| | |
| --- | --- |
| Suit | Watch Type |
| Black/White Tie | Dress Watches |
| Business Formal | Dress/Dive Watches |
| Business Casual | Dress/Dive/Chrono/Field/Smart Watches |
| Casual | Dress/Dive/Chrono/Field/Smart Watches |