Real gold watches are something that shows prestige and indicates the success of the man who is wearing it. If you have watched The Sopranos, then you must have noticed a lot of gold watches. Even the stainless-steel watches are more durable, but it's still worth it to go for a real gold watch if you can afford one.
A real gold watch must be at least 36 millimeters in dimension or bigger with mechanical movement, and either the case or bracelet are made out of pure gold (no plating).
A solid gold watch can enhance your personality incredibly as it boosts your position in society. Although some say that gold watches are tacky, but real gold watches have been evolved as well just like everything else. These days the pure gold watches do not look like a chunky yellow gold bracelet anymore. For your gold watch, you can now choose from white, pink, or rose gold. The designs of these modern gold watches are very classy and elegant that breaks the concept of traditional gold watches.
Here in this article, we are going to show you the best real Gold watches on the market that are a mixture of technology, class, and elegance.
10 Best Real Gold Watches
Patek Philippe Nautilus 5711/1R (Rose Gold)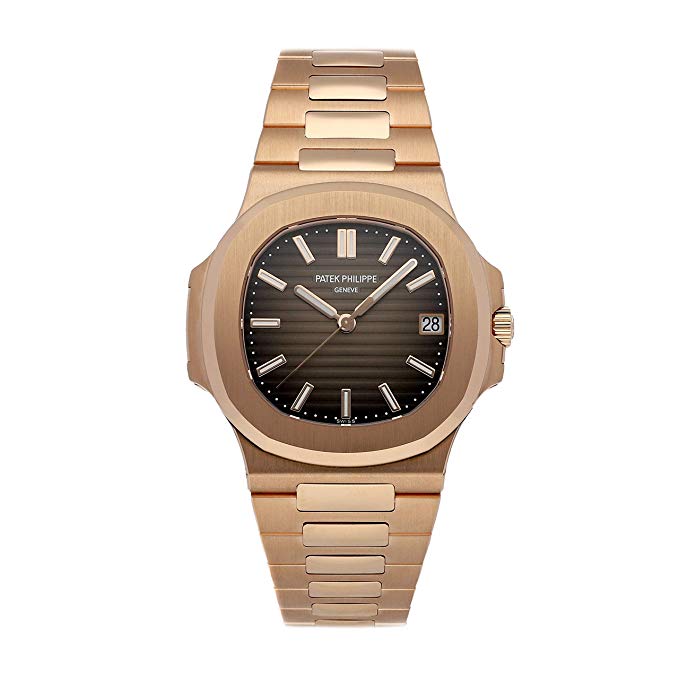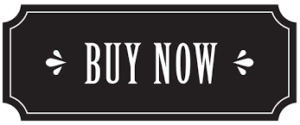 With the rounded octagonal shape of its bezel, the ingenious porthole construction of its case, and its horizontally embossed dial, the Nautilus has epitomized the elegant sports watch since 1976. Forty years later, it comprises a splendid collection of models for men and women. In steel, rose gold, white gold or two-tone combinations they accompany the most active lifestyles with incomparable class.
Specifications
| | |
| --- | --- |
| Size | 40 mm |
| Movement | Automatic |
| Crystal | Sapphire |
| Case | Rose gold |
| Bracelet | Rose gold |
| Water Resistant | 120 m |
Features
Self-winding mechanical movement. Caliber 26‑330 S C
Light/dark brown gradated dial
Gold applied hour markers with luminescent coating
Screw-down crown
Rolex Day-Date 40 Yellow Gold President Watch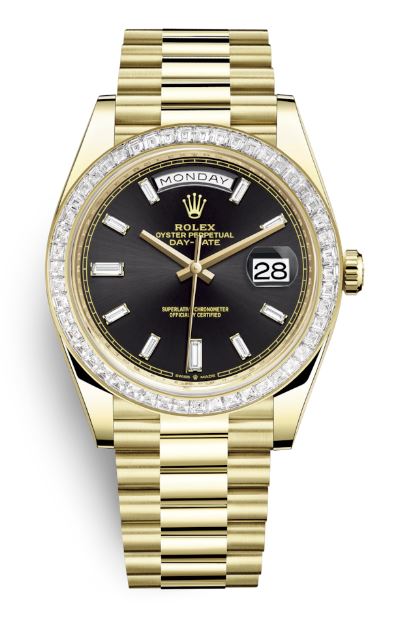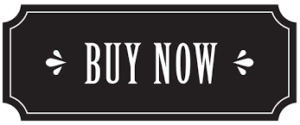 Launched in 1956, the Day-Date made its debut as the first waterproof and self-winding chronometer wristwatch to offer a modern calendar with an instantaneous day display, spelt out in full in a window on the dial, in addition to the date. The exceptional precision, reliability, legibility and presence of this prestigious model has made it the ultimate status watch.
Specifications
| | |
| --- | --- |
| Size | 40 mm |
| Movement | Automatic |
| Crystal | Sapphire |
| Case | 18 ct yellow gold |
| Bracelet | 18 ct yellow gold |
| Water Resistant | 100 m |
Features
Fixed 18kt yellow gold diamond-set bezel
Black dial with gold-tone hands and baguette diamond hour markers
Approximately 70 hours power reserve
Semi-circular three-piece links
Omega Speedmaster 57 Co-Axial Chronograph Gold Watch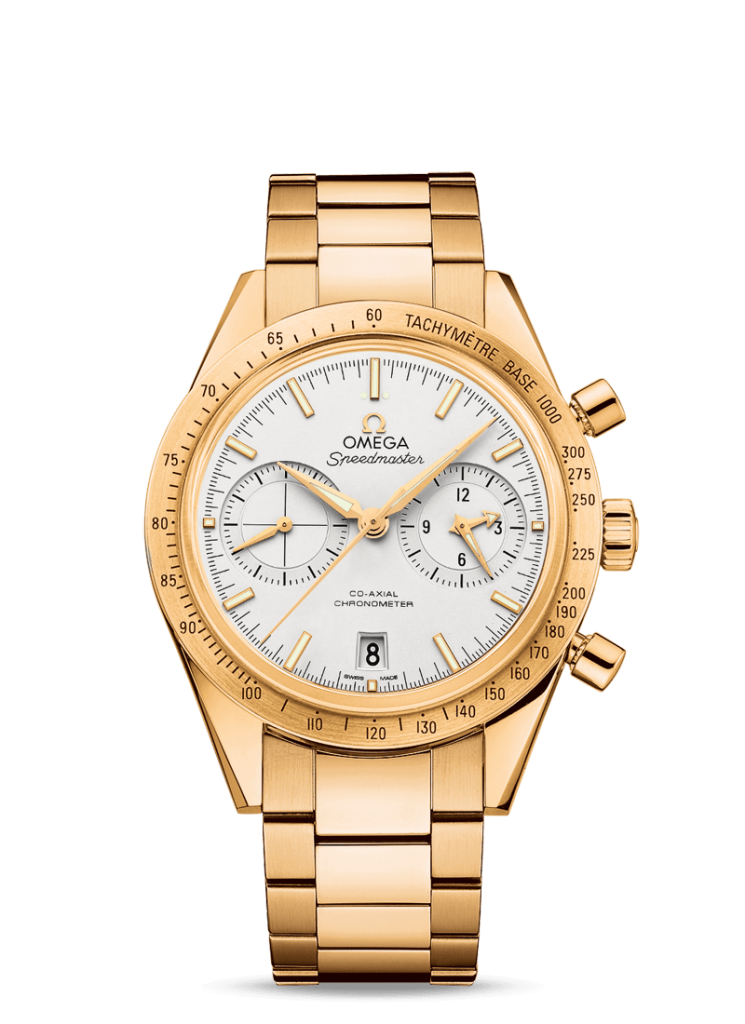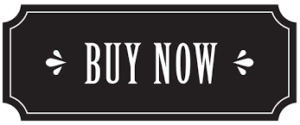 The OMEGA Speedmaster is one of OMEGA's most iconic timepieces. Having been a part of all six lunar missions, the legendary Speedmaster is an impressive representation of the brand's adventurous pioneering spirit.
This model is inspired by the design of OMEGA's original Speedmaster from 1957 and features a silvery dial with a seconds sub-dial at 9 o'clock and a 12-hour and 60-minute chronograph recorder on the sub-dial at 3 o'clock. There is a central chronograph seconds hand and a date window at the 6 o'clock position. A scratch-resistant sapphire crystal protects this bold dial. The brushed bezel, with its tachymeter scale, is mounted on a 41.50 mm 18K yellow gold case and presented on a matching bracelet.
Specifications
| | |
| --- | --- |
| Size | 41.5 mm |
| Movement | Automatic |
| Crystal | Sapphire |
| Case | Yellow gold |
| Bracelet | Yellow gold |
| Water Resistant | 100 m |
Features
Chronograph
Chronometer
Tachymeter
Transparent case back
Audemars Piguet Royal Oak Frosted Gold Watch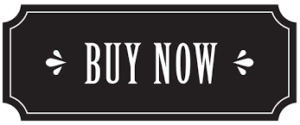 Following the launch in November 2016 of the Royal Oak Frosted Gold pieces, the watch is also available in white gold and pink gold. Audemars Piguet presents in 2018 a brand-new edition in yellow gold. This limited edition is dedicated to the famous jewelry designer, Carolina Bucci for her contribution in hammering technique, also called the Florentine technique.
Specifications
| | |
| --- | --- |
| Size | 37 mm |
| Movement | Automatic |
| Crystal | Sapphire |
| Case | Yellow gold |
| Bracelet | Yellow gold |
| Water Resistant | 50 m |
Features
Screw-locked crown
Silver-toned mirror dial
Glare proofed sapphire crystal and caseback
60-hour power reserve self-winding
Vacheron Constantin Quai de l'ile day-date (Pink Gold)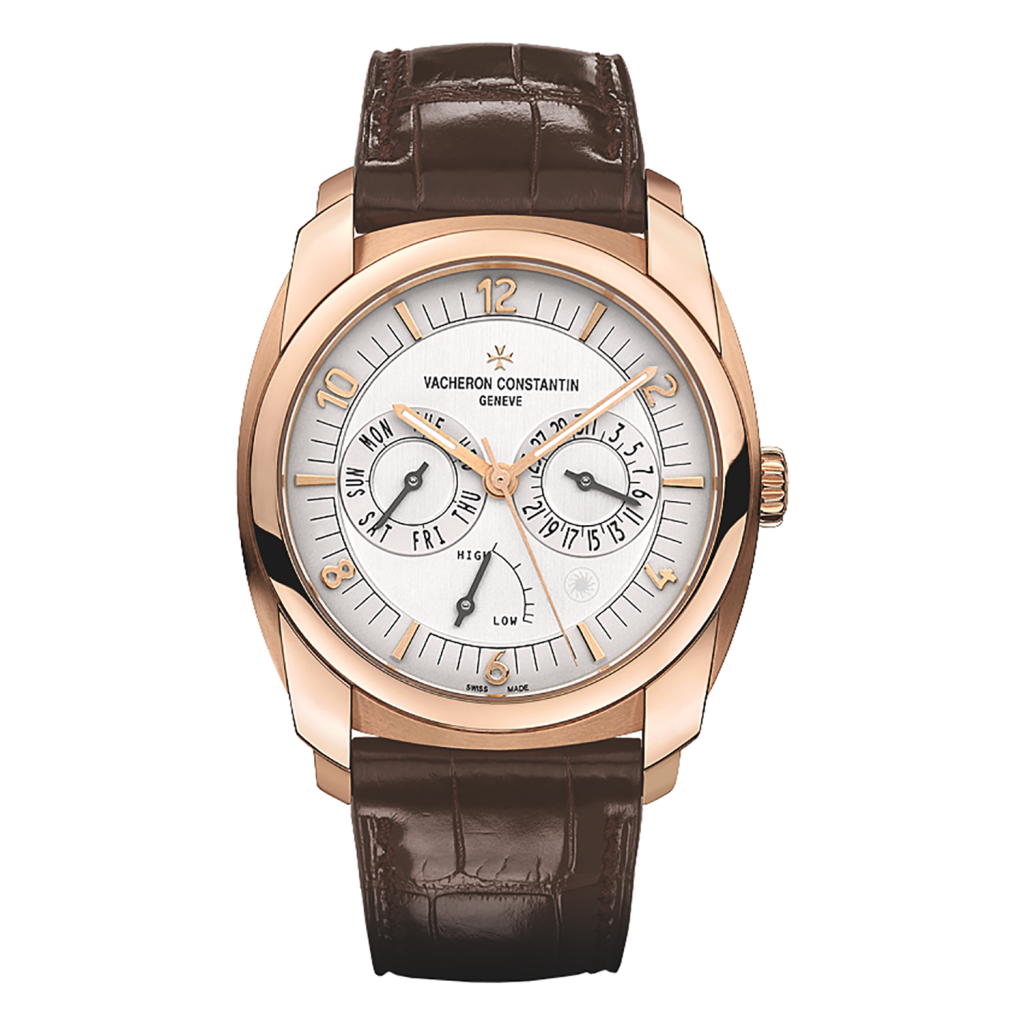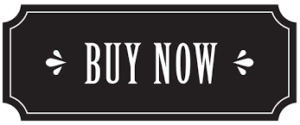 Founded in 1755, Vacheron Constantin is the oldest watchmaking manufacture in the world. At no time in its 260-year history has it ever stopped creating, enhancing and reinventing itself. Backed by a strong heritage of passing watchmaking excellence and stylistic ingenuity down generations of master craftsmen, the company's creations embody the exacting standards of Fine Watchmaking. A technical signature and distinctive look.
Over the centuries, Vacheron Constantin has shrewdly intertwined tradition with innovation to acquire the technical, aesthetic, artistic and human capital that shapes its vision of time. From setting out to conquer the skies to tracking great explorers, passion for fine craftsmanship and human hands are behind every feat it accomplishes.
Specifications
| | |
| --- | --- |
| Size | 41.5 mm |
| Movement | Automatic |
| Crystal | Sapphire |
| Case | 18K 5N pink gold |
| Bracelet | Mississippi alligator |
| Water Resistant | 30 m |
Features
Transparent sapphire glass back
Plain dial
Automatic 2475 SC-1 movement
40 hours of power reserve
IWC Schaffhausen Big Pilot's Watch Spitfire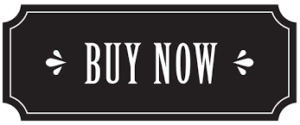 For decades, IWC Schaffhausen has been taking the dream of flying as inspiration for the exquisite timepieces that make up the Pilot's Watch collection. Over the years, the luxury watch manufacturer has taken design cues from various sources within the world of aviation, for example in 2003, when the first Pilot's Watch Spitfire was launched. The model was named after the Supermarine Spitfire, the English fighter plane that featured exceptional aerodynamics and outstanding flying characteristics for its time. IWC's Spitfire models combine technical brilliance with exceptional elegance. These watches come with the signature slate-coloured dial, which is exclusive to the Pilot's Watch family and gives each timepiece a truly unique look. They also feature the finest case materials, such as mirror-polished stainless steel and solid 5N gold.
Specifications
| | |
| --- | --- |
| Size | 46.2 mm |
| Movement | Automatic |
| Crystal | Sapphire |
| Case | 18 ct 5N gold |
| Bracelet | Brown calfskin strap |
| Water Resistant | 60 m |
Features
Slate-coloured dial with luminescence
7 days power reserve
Power reserve display
Central hacking seconds
Panerai LUMINOR 1950 RATTRAPANTE 8 DAYS ORO ROSA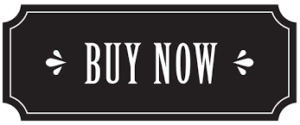 Founded in 1860 in Florence Italy, today Panerai's headquarter is located in Milan Italy. With an international clientele, the Italian watch company is known for its bold styles and simplistic numeral and design elements.
Specifications
| | |
| --- | --- |
| Size | 47 mm |
| Movement | Automatic |
| Crystal | Sapphire |
| Case | 18 ct Pink Gold |
| Bracelet | Alligator Dark brown |
| Water Resistant | 100 m |
Features
Unique edition of 300 units
Polished Pink Gold bezel
See – through sapphire crystal caseback
Brown dial with luminous Arabic numerals and hour markers
Girard-Perregaux XXL Large Date and Moon Phases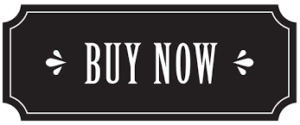 The sober lines of the Vintage 1945 evoke the aesthetic heritage of the early 20th century that Girard-Perregaux has so consistently espoused. In a vibrant tribute to Art Deco, the straight lines melt into curves and back again in perfect balance. The rectangular case places the Art Deco notion of geometry at the heart of its design.
The case and sapphire crystal are curved from top to bottom and from left to right ; a convex profile more difficult to shape than a case with straight lines. The mechanical heart and its unique large date mechanism are revealed under a transparent dial. In a deft combination of technology and style, this model is enhanced by its Art Deco-inspired aesthetic code and its uncompromisingly contemporary mechanical structure.
Specifications
| | |
| --- | --- |
| Size | 36 mm |
| Movement | Automatic |
| Crystal | Sapphire |
| Case | 18 ct Pink Gold |
| Bracelet | Alligator black |
| Water Resistant | 30 m |
Features
Complex Art deco design
32 Jewels Self-winding mechanical movement
46-hour power reserve
Rolex Men's Submariner Automatic Blue Dial Oyster 18k Solid Gold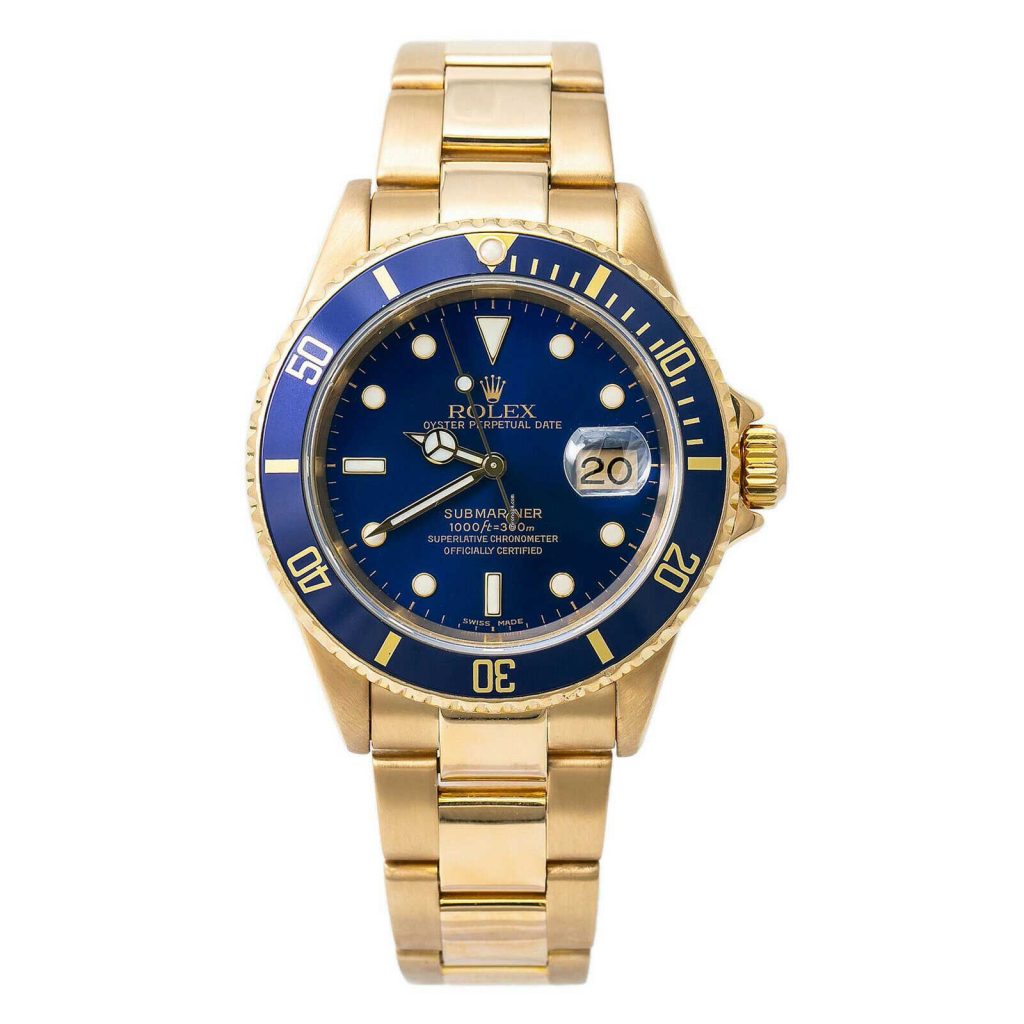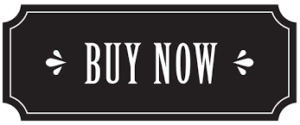 The Oyster Perpetual Submariner is a reference among divers' watches; it is the watch that unlocked the deep. Launched in 1953, the Submariner was the first divers' wristwatch waterproof to a depth of 100 metres (330 feet). This was the second great breakthrough in the technical mastery of waterproofness, following the invention of the Oyster, the world's first waterproof wristwatch, in 1926. In watchmaking, the Submariner represented a historic turning point; it set the standard for divers' watches.
Specifications
| | |
| --- | --- |
| Size | 40 mm |
| Movement | Automatic |
| Crystal | Sapphire |
| Case | 18 ct yellow gold |
| Bracelet | 18 ct yellow gold |
| Water Resistant | 300 m |
Features
48 hours power reserve
Unidirectional rotatable bezel
3135 Movement
Screw-down case back and winding crown
Hublot Big bang Gold Diamond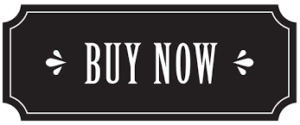 Hublot may be significantly younger than a lot of other luxury watch labels, but the brand is by no means less impressive. Since the beginning of 1980, Hublot has risen to become one of the most prestigious names in the watch industry. With award-winning collections already under its belt, the label looks set to continue with its success with their Swiss luxury watches.
Specifications
| | |
| --- | --- |
| Size | 44 mm |
| Movement | Automatic |
| Crystal | Sapphire |
| Case | 18K Gold 5N |
| Bracelet | Rubber Straps |
| Water Resistant | 100 m |
Features
Gold Set with 114 Diamonds for 1.70cts bezel
Sapphire with Anti-reflective Treatment
42 Hours power reserve
HUB4100 Self-winding Chronograph Movement
Real Gold Watches – Pros and Cons
As far as the material goes, steel is probably the closest competition for gold. They are two very different types of metal at two different price points. Let's talk about the pros and cons of real gold watches.
Pros
Prestige – a lot of people might not care about prestige, but I think we'd all be lying to ourselves if we're spending this much money on a gold watch, and we didn't care a little bit about perception and prestige. Gold is a more prestigious and noble metal. It is more expensive, and everybody is going to know that when you wear a gold watch.
Looks – some people also like the look of gold. You can do it in plating, but it never looks the same. Gold has a specific look, hue, and warmth that isn't easy to fake.
Exclusivity – Gold is also exclusive. Now exclusivity is not the same as prestige. What I mean is while you see a lot of regular subs, you see fewer gold subs out there. So, you've got a more exclusive look with a gold watch.
Cons
Gold is a soft metal. When it comes to watch cases, you don't want a gold sports watch. It can get easily scratched if you partake in sports. Some gold watches, especially white gold is rhodium plated. Unfortunately, you can't polish out white gold because of the rhodium coating, which gives it the shine. So, if you scratch it, then you will have to polish out all of the rhodium and then re-plate the rhodium again.
Gold watches can be too flashy.
Finally, gold watches are expensive.
FAQs
Which gold watch should I buy?
It all depends on your budget and affordability and also your expectations from that particular watch.
What is the difference between a "Gold plated" watch and a "Gold filled" watch?
Gold fill is a thick layer of gold bonded to a jeweler's brass. So it's very dense in content in comparison to gold plating. That is why it wears much longer. Gold plating in laymen terms, if you take your jeweler's brass and you dip it into gold, it's electronically or chemically bonded to the brass. Both processes use real gold, but the difference is that gold-filled is fifty to a hundred thousand times thicker than gold plating is due to the way they apply it onto the base metal.
What is the typical thickness of gold on a high-quality plated watch?
Generally, it has a layer of 7-10 micrometers on a watch.
How long should the gold-finish last on a re-plated watch?
There is no rule for this estimation. But as a rule of electroplating
process, if adequately plated, it should last at least five years or more. We have seen many Watches lasting for 50 years too.
Will plating my watch with a new layer of gold conceal the existing scratches and dents?
No, the electroplating process does not hide surface imperfections.
How scratch resistant will a newly plated watch be?
Gold plated watches can be highly resistant to scratch and dent than 14k or 18k gold watch cases. The hardness of the surface can be modified by changing the plating formula of the gold or by changing the waveform of the electrical current during the plating process.
Will the new plating of gold on my vintage watch match the original "color"?
Yes, if done correctly, it will match the color as there was earlier.
How do I clean my gold-plated watch?
Dampen a toothbrush in soapy water and lightly scrub the band toy clear the dust between gaps. You can also use a washcloth to clean the bands.
Do pawn shops buy gold watches?
Pawn shops usually buy scrap gold or jewelry. So, you should be able to sell or pawn your gold watch at a pawn shop. The value will be determined on the quality of the watch. Make sure to research the value of your watch and price before going to a pawn shop.
How to detect if a watch is gold or gold plated?
Choose a spot on the watch that is not noticeable if possible and make a tiny scratch with a nail file. Use a dropper to apply a small drop of nitric acid to the scratch. If there is no reaction, then the piece is probably made from real gold. If it turns green, then you are most likely dealing with another metal or even a gold-plated item.
Does vinegar hurt gold?
People use vinegar to clean their gold jewelry, but If the gold on your watch is not real or plated, then using vinegar will discolor it. Best to avoid vinegar to clean up gold watches.
How can you tell if a watch is gold-filled?
Gold-filled jewelry should also have markings indicating its karat number. However, such pieces usually have additional letters and numbers stamped that suggest that they are not solid gold. The most common identifier of gold-filled items is the sign "GF" after the karat number.