Compass watches are excellent companions on outdoor trips, telling time and keeping people from getting lost. If you're looking for different reliable models for this unique timepiece, you're in luck! Here, we'll discuss the best compass watches that would match your need and style.
What is a Compass Watch?
A watch with a compass, or a compass watch, is a timepiece with a built-in compass feature. It combines the functionality of a watch with the convenience of having a compass readily available on your wrist.
A compass is a navigational instrument that uses the Earth's magnetic field to determine direction. It typically consists of a magnetized needle aligning with the Earth's magnetic field lines, pointing towards the Earth's magnetic north. Using the compass needle's alignment, you can determine the cardinal directions (north, south, east, and west) and navigate accordingly.
The compass function is integrated into the watch's design in a compass watch. It may include a small compass dial or display on the watch face, which shows the cardinal directions or degrees. Some compass watches also have additional features, such as an adjustable declination setting or a rotating bezel for more precise navigation.
Compass watches are popular among outdoor enthusiasts, hikers, campers, and adventurers who rely on accurate direction-finding while on the move. They provide a convenient and accessible way to check directions without carrying a separate compass.
What to consider when buying a Compass Watch?
There are a lot of considerations when buying a good-quality compass watch. This particular timepiece is essential in both time-keeping and orientation, so it should provide accurate information to avoid unnecessary situations.
Types of Compasses
Conventional Magnetic – Analog Compass
This is the most basic type of compass. If your taste runs into something classical, this is a good choice. Besides, you don't have to worry about the power source. A magnetic compass is similar to an automatic watch in many ways: classic style, no need for a battery, and uses the technologies of old.
Electronic – Digital compass
There's no needle, abbreviations present your direction, and you must translate them yourself.:
N: North ; E: East ; S: South; W: West
NNE: North – northeast ; ESE: East – southeast ; SSW: South – southwest ; WNW: West – northwest
NE: Northeast ; SE: Southeast ; SW: Southwest ; NW: Northwest
ENE: East – northeast ; SSE: South – southeast ; WSW: West – southwest ; NNW: North –northwest
It might be a little more complicated and less accurate than an analog compass, but it doesn't take up much space on your watch's dial.
Electronic – Analog compass
This type of compass uses modern electronic technology but still maintains the traditional analog display. You can find many analog compasses watches nowadays.
Both magnetic & electronic compasses are reliable if you use them for everyday outdoor activities. For other particular uses, you might have to consider more factors.
Types of Dials
As mentioned above, those are the three main types of compass available to be featured on a watch. And there are three types of watch dial displays:
Digital
Analog
Ana – Digi
You probably got the picture already. We have a lot of combinations between a watch & a compass. Which combination best suits your need & style? It's not easy to decide, right? Check out my review of the best watches with compass below!
Durability
Because of their nature as an outdoor companion, compass watches are known for their sturdiness and capability against rough and rugged terrain. Compass watches are designed for trekking, backpacking, and outdoor traveling. You can rest assured that quality compass watches can withstand traveling.
Opt to choose a watch that is rugged enough to withstand the intensity of where you'll be using it for. Each compass watch has its levels of sturdiness per model that you should know and utilize.
Features
The standard features of analog compass watches are limited. It includes:
The compass itself
A strong lume for night use
Water resistance that varies per brand
Solar power also depends on timepieces.
A few more, depending on the models
Features that you can usually expect on digital compass watches are more diverse. The most common include:
The Compass
LED light
Water resistance
Shock resistance
Solar power depending on the timepiece
Thermometer
Chronograph
A lot more depending on the models
Be sure to know what features you think are necessary for your outdoor travels to ensure that you are fully equipped for your adventure, whether camping or trekking. Thermometers, barometers, and other special features may be helpful on unique outdoor adventures.
Size & Design
The size of the timepiece is an essential factor that you should prioritize. If it is too big, moving and colliding on surfaces may be uneasy, causing scratches and cracks. If it is too small, it will have limited features and may be more difficult to read.
Also, though it may be obvious, find the exact fit that sits comfortably on your wrist without being too loose or tight.
Find one with a strong lume or LED light if you need directions in the dark, especially if you get lost after sunset.
Also, make sure that your compass watch is checked up on beforehand. It can affect your travels significantly as traveling outdoors almost always require you to navigate during both day and night.
Best Digital Compass Watches
Casio PRW-2500T-7CR Pro Trek Tough Solar Digital Sport Watch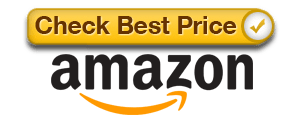 Overview
Casio continues to impress with the PRW-2500T-7CR Pro Trek Tough. The series features several timepieces developed under the supervision of meteorologists to provide accurate, multiple, and valuable features that measure different aspects of the environment on your travels.
The design goes for the rugged outdoor look with a classy silver tone. Its appearance fits a traveler's ideal timepiece that looks great and is sturdy for your next adventure.
This digital watch model displays different information depending on what you need to know about your surroundings. It is durable, efficient, has multiple features, and is budget-friendly, packed in one watch.
Pros
Multiple features that let you travel with information on high altitudes with the altimeter and barometer at hand
Knowledgeable at land travel with thermometer and compass
Provides information for watery travels through tide graph and moon date with 200m water resistance
Power saving feature maximizes battery life of watch
Solar powered and rechargeable
Water resistance lets you travel along terrain with rivers and streams
Cons
Buttons may be hard to locate during night time
Plastic case that may be scratched after long periods of travel
May have issues with the band and its pins
Size of the watch may be too large for some users
Specifications
Casio PRW-2500T-7CR Pro Trek
Considerations
Features
Case Dimensions
50mm wide – 15mm thick
Case Material
Stainless Steel
Band Material
Titanium Band lighter than Steel
Crystal
Mineral
Bezel
Aluminum (bi-directional)
Lume
Full Auto EL Backlight with Afterglow
Movement
Japanese Quartz
Resistance Features
Water Resistance for 200 meters
Features
Has rechargeable solar power besides having batteries
Has an altimeter for measuring altitude
Has a barometer that measures atmospheric pressure
Has thermometer for the temperature
Has 1/100 second stopwatch, countdown timer
Full auto-calendar until 2099
5 independent daily alarms
Saves energy with power saving function and battery level indicator
Provides a tide graph and moon date
Is it for you?
This timepiece is tailored for individuals who engage in light to moderate travel and appreciate larger watches. Its robust construction ensures durability, while its features keep you well-informed about your surroundings. It excels particularly in short treks or outdoor camping scenarios, making it an ideal companion for such adventures.
While continuous intense outdoor travels may strain the watch, it remains a sturdy timepiece you can take with you on trekking activities. Its valuable features provide critical information for various aspects of these journeys.
Casio GA1000-9G G-Shock Gravitymaster Black/Gold Watch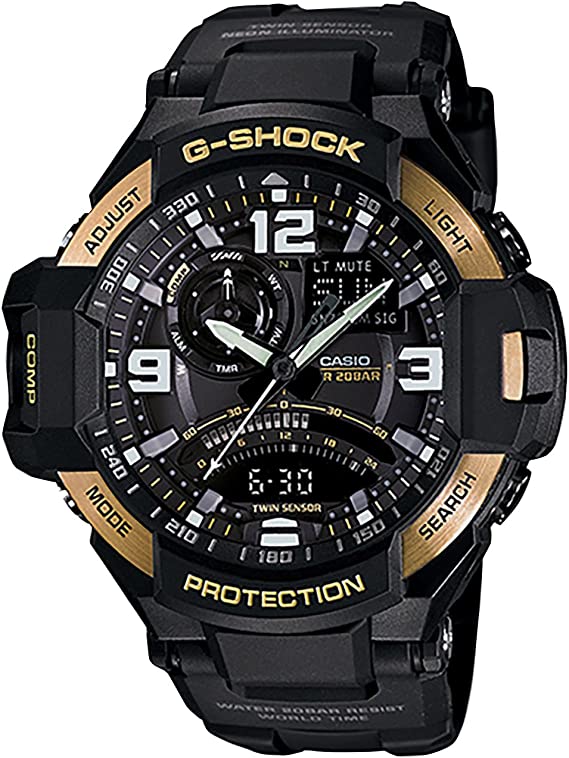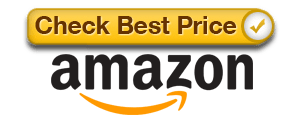 Overview
Casio's G-Shock presents the Gravitymaster lineup, specifically designed for modern aviators. The GA1000-9G is the inaugural timepiece in this series, offering numerous features for outdoor navigation. It is an excellent companion for outdoor adventures and particularly useful when one finds oneself in unfamiliar territory.
The design boasts a predominantly black appearance, with a subtle touch of gold on the bezel. This color scheme accommodates various style preferences and enhances its rugged aesthetic.
In addition to its navigation-focused features, the GA1000-9G is an affordable timepiece that anyone can easily purchase and utilize. Its design allows for versatility, offering numerous style options. It seamlessly combines flexibility, elegance, and functionality.
However, there are a few drawbacks to consider. The watch's large size may limit its appeal to a specific market segment. Furthermore, the brightness of the lume is less potent than some other models, and it only illuminates certain areas. Additionally, the dial may appear excessively detailed to those who prefer a more simplistic design.
Pros
LED light lets you see the time brightly
Design and color fits most styles for flexible use
Shock resistance lets you travel in rugged terrain
Land travel or air travel temperatures can be measures with thermometer
Bearing memory lets you store data and use it for reference
An inexpensive watch that still offers a lot of features
Watch band is secure and durable
Cons
LED light only works in limited areas of the dial and not the entirely
Compass may be difficult to use in low light
Watch band is unique and may be hard to replace
Size may be too big for people
Specifications
Casio GA1000-9G G-Shock Gravitymaster
Considerations
Features
Case Dimensions
50mm wide – 16.7mm thick
Case Material
Resin
Band Material
Resin
Crystal
Mineral
Bezel
Stainless steel
Lume
Auto neon illuminator (black light LED) with Afterglow
Movement
Quartz
Resistance Features
Water Resistance for 200 meters
Shock Resistance
Features
Has large numbers and hands for ease of reading
Anti-magnetic structure
Bearing memory lets you store direction reading for reference
Has thermometer for the temperature
Has 1/100 second stopwatch
Full auto-calendar until 2099
4 daily alarm and 1 snooze alarm
Is it for you?
If you enjoy light and intense traveling and seek a watch that combines essential features with affordability, style, and larger size, this timepiece is an excellent choice. It boasts a sleek analog-digital design and includes an analog compass, adding to its appeal. The watch offers a wide range of features, such as a thermometer, compass, alarm, stopwatch, calendars, and a bearing memory feature that allows you to store crucial information for future reference.
With its shock and water resistance capabilities, this watch is a reliable companion for any outdoor adventure. It can withstand the impacts and challenges of different environments and activities. Not only does it offer style and functionality, but it is also an affordable option that appeals not only to modern aviators but also to outdoor enthusiasts.
Timex T49612 Expedition Trail Series Shock Digital Compass Watch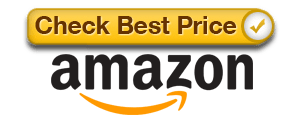 Overview
The T49612 Expedition Shock by Timex is a modest yet reliable digital watch that is an ideal companion for the average traveler. It is designed to endure shocks during outdoor excursions and treks and provides both timekeeping and orientation functionalities. Despite its affordable price, it offers the basic features of a digital compass watch.
The timepiece sports a simple design with a neutral gray color, making it versatile enough to complement most styles. It suits individuals with an active lifestyle and is an attractive travel watch. However, it may not be suitable for formal occasions.
The T49612 Expedition Shock is specifically crafted to withstand the harsh and rugged terrains encountered during challenging treks and outdoor adventures. Its straightforward and durable design makes it an excellent choice for any outdoor activity. It's important to note that the band is made of resin, which may cause fatigue after extended periods of use.
Additionally, the watch size might be too large for some individuals. The dial numbers may be difficult to read when exposed to direct light and can be difficult to discern in dark conditions.
Pros
Indiglo dial lets you see the dial during night time
Shock resistance lets you travel on any rugged terrain
Water resistance allows trekking through rivers or currents
Very inexpensive for a digital compass watch
Watch band is durable for outdoor travels
Useful watch for marathons and outdoor sports
Cons
Band may be too stiff and gets tiring after long use
Numbers on dial may be a bit difficult to read on exposure to sun and night time
May be too big and bulky for some users
Specifications
Timex Men's T49612 Expedition
Considerations
Features
Case Dimensions
48mm wide – 16mm thick
Case Material
Double Resin
Band Material
Resin
Crystal
Mineral
Bezel
Resin
Lume
Indiglo Light-Up Watch Dial
Movement
Quartz
Resistance Features
Water Resistance for 200 meters
Shock Resistance
Features
Designed for outdoor torture tests
1-hour chronograph with lap and split times
24-hour countdown timer
Shows day, date, and month
3 daily, weekend, or weekday alarms
Has 99-lap counter
Is it for you?
This watch is purely for the outdoors – sports, traveling, and camping. If you want a watch that lets you travel through light to intense trekking or traveling and prefer the rugged design of the watch, then this is for you.
At a meager price, this timepiece only offers the essential functions of a digital compass watch. However, it is made to be worn outdoors and durable for any activity you want. Its rugged appearance lets it operate on any preferred terrain.
Best Analog Compass Watches
Timex T2N720 Intelligent Quartz Tide Temp Compass Watch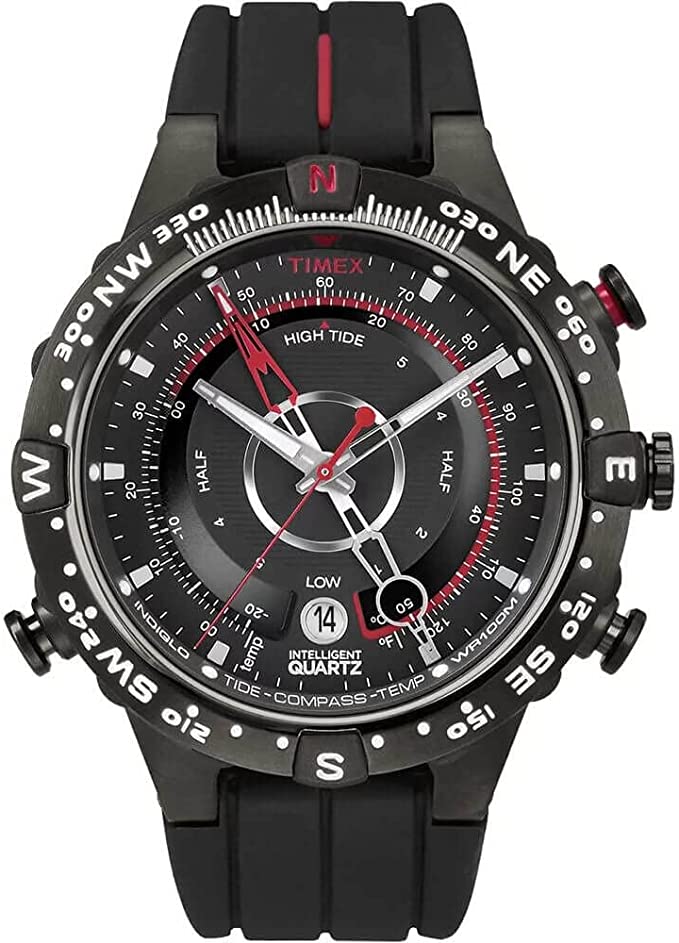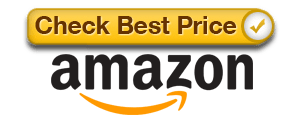 Overview
Analog watches are popular despite the surge in digital timepieces, primarily due to their appeal. Mixing function and appeal, Timex offers the Tide Temp Compass Watch, an elegant timepiece for the tech-savvy adventurer.
This timepiece features a very classy and sporty look with its black color tone with red features. The dial has a unique appeal that makes the overall look of the timepiece a perfect match for being brought on outdoor adventures.
There are multiple features that let you know what's up with your surroundings, as it provides information on orientation, tide, and temperature. A sporty and elegant watch, the Tide Temp Compass Watch combines design and function with a very budget-friendly price tag.
Despite its looks, it may be too big and tiring for some after prolonged use. It is also a fundamental compass watch that lacks the special features of modern digital timepieces.
Pros
Design is elegant and sporty at the same time that suits any style
Indiglo night light enables use at dark places
Very inexpensive compass watch equipped with the basic features
Sturdy and can endure travels
Cons
Size is large and may be too bulky
Although the watch is big, dial text may be small for most users
Strap may be uncomfortable after long periods of use
Specifications
Timex Men's T2N720 Intelligent Quartz
Considerations
Features
Case Dimensions
45mm wide – 13mm thick
Case Material
Stainless Steel
Band Material
Silicon
Crystal
Mineral
Bezel
Resin (bi-directional)
Lume
Indiglo Night Light with night mode feature
Movement
Quartz
Resistance Features
Water Resistance for 100 meters
Features
Has air/water thermometer
High tide and low tide tracking function
Quick date feature
Adjustable declination angle for accuracy of compass
Is it for you?
The Timex Tide Temp Compass Watch is suitable for individuals who engage in light to moderate outdoor travels and prefer larger watches with an elegant and sporty appearance. This timepiece encompasses the fundamental features of analog compass watches, making it a reliable companion for outdoor trekking adventures.
While it may not be the typical choice for everyday wear due to its size and specific functions, the watch is a modest and affordable accessory. Its primary purpose is accompanying you on outdoor trips, including crossing rivers or streams, as it offers water resistance capabilities.
Luminox A.8832.MI Recon Analog Display Quartz Black Watch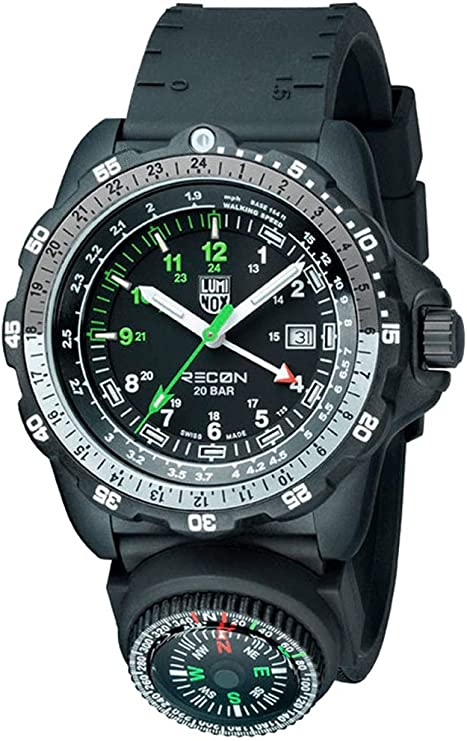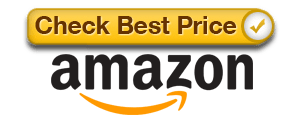 Overview
Built for intense outdoor adventures, the Luminox A.8832.MI Recon is a highly-requested timepiece by elite military forces worldwide, such as the US Navy Seals, US Coast Guard, Royal Dutch Armed Forces, and many other law enforcement groups. It is considered an excellent military-style dive watch and has proven to be a great outdoor companion. Whether trekking, traversing forests, or camping outdoors, the timepiece is proven to be a durable and recognized compass watch.
The look and design of the timepiece are fitting for outdoor adventures or work. It is a great compass watch that exudes a rugged yet straightforward appearance with its black color tone with some variations at the dial and the hands. These variations make it stand out at night and easier to look at.
The Luminox A.8832.MI Recon is a durable timepiece that lets you travel freely without worrying about breaking it. It is a sturdy watch with multiple basic features for your next journey.
A downside for the timepiece is that it may become uncomfortable after long periods of use. Also, its size may be too big for some people.
Pros
Made of quality materials making it durable for the outdoors
Night vision tubes provide ample light
Scratch resistance keeps watch from getting damaged
Water resistance helps against strong water currents
Good design and color
Cons
Large watch at 46mm case diameter may be too big
For a big watch, numbers are a bit small
May be uncomfortable after wearing for long periods
Specifications
Luminox A.8832.MI Recon
Considerations
Features
Case Dimensions
46mm wide – 13mm thick
Case Material
Carbon reinforced polycarbonate
Band Material
Silicon
Crystal
Sapphire with anti-reflective coating
Bezel
Stainless Steel (uni-directional)
Lume
Night Vision Tubes
Movement
Quartz
Resistance Features
Water Resistance for 200 meters
Scratch Resistance
Features
Double security gasket crown
Shows day, date, and month
24-hour function
Walk speed scale around watch rim
Is it for you?
The Luminox A.8832.MI Recon is the perfect watch for individuals who enjoy light to intense outdoor adventures and prefer larger timepieces. Its outstanding strength and durability are the key selling points, ensuring it can withstand any outdoor destination. Additionally, its popularity as a military-style dive watch further attests to its excellent quality.
The watch is crafted using high-quality materials, offering exceptional durability at a reasonable price point for a compass watch. This price is an investment in a timepiece that will serve you well for an extended period.
If you desire a dive watch with a separate compass, allowing for easy removal and embedding, then the Luminox A.8832.MI Recon is the ideal choice for you!
The Compass Watch For You
The first thing you would want to decide on is the type of compass watch you prefer. Is it analog, where an arrow moves on the watch, or digital, where a numerical value is shown?
Next, you can decide on your budget for the type of compass watch you want, as you have to pay for some other equipment before your outdoor trip. Opt for high-end outdoor watches if you need highly advanced features (like 1000m water resistance). The timepieces reviewed above are more than enough for most outdoor trips.
The features go next. You can use the basic features for a more straightforward watch or a more complex timepiece that can measure air pressure and temperature depending on your trips. The design and style will be your personal choice that ultimately decides whether you'll buy it or not.
Choose what you think fits best to your needs, would be perfect for where it would most likely be used, and if it suits your personal opinions on its style and design. This ensures you'll find the best compass watch on your next adventure
Related Reviews: