"Robust, practical and reliable" is perhaps my best description of the Seiko Black Monster SRP307. This Japanese watch brand always offers outstanding pieces at affordable price points. But what I find the most interesting is that Seiko often remakes their already bestselling models with a lot of technical improvements and just a little push in price.The SRP307 is indeed an upgraded version of the Black Monster Generation 1 – SKX779. What makes it even better than its famous predecessor? Let's find out in this Seiko Black Monster SRP307 Review!
[su_product_review_summary name="Seiko Black Monster SRP307″ asin="B00AJK9CW8″ factors="Quality@5"`Design@3.5"`Price@3″ score="4″ summary='
This watch is really high-quality thanks to Seiko's admirable craftsmanship, they care about customers' experience more than their own profit. If you want a solid dive watch, you can't go wrong with the Monster.
But you have to make your using purpose clear first, before making the purchase. This is a downright tool watch, so don't judge it by the standards of dress watches!
']
[su_pros_cons pros="
Robust, tank-like build
The new 24-jewel 4R36 automatic caliber
Superior lume
ISO 6425 – certification
" cons="
Not so dressy
The notched bezel accumulates dirt very quickly
"]
Design – No love at first glance!
There're few people who like the Black Monster at first sight, because its design is so unique and prone to a downright tool watch. But this watch is the kind of thing that will gain your love with time. Trust me, I used to hate it a lot, too!
A solid feel is the No.1 factor that makes this watch so popular with diving-watch lovers. The Monster's extremely cool armored body makes it look much more expensive than what it actually costs.
Its heavy weight combined with the robust metal body could help greatly increase your confidence, it'll make you feel unstoppable when clinging on your wrist. You'll hardly find another watch in its price range that can give you such a solid feel like that!
Sized at 43mm (not included the stem), this watch doesn't look so boisterous as in pictures, it's not too big to fit average wrists. But the case is rather thick due to the concave bezel.
The hardlex glass (more scratch-resistant than ordinary mineral glass) is slightly domed in order to sustain higher external force, it's also placed a little lower than the surrounding bezel for better protection against sudden hits and bumps (the bezel will act as a shield in these cases). While this type of bezel steals the dressy appearance from the Monster, it helps increase the practical-use value in return. When you're diving, even a tiny crack on the glass can make open for water to get inside and damage the whole watch. Seiko has chosen safety over dressiness for their diving pieces.
The Black Monster's 120-click bezel is very smooth in operation. As it is designed for scuba diving, it can only be counterclockwise rotated because of safety reason (for explanation, read here!). The diving scale is engraved deeply on the bezel and painted in black for easy read. The lumed pip lines up pretty well with the 12 o'clock hour mark. What's not to love about this bezel is that its notches accumulate dirt very quickly, and cleaning them is not easy at all!
The new Black Monster SRP307 is also called by a lovely name "Vampire" thanks to its tooth-shaped hour marks. This is also its biggest difference with the old Monster SKX779 which features rectangle markers. These stark white hour marks contrast very well with the jet black, making for an extremely legible dial.
The red-tipped sweep hand emerges from the black-and-white watch face as a floating focal point. The old Monster SKX779, on the contrary, has all 3 hands in white, which is quite monotonous and uninteresting.
Occupying the 3 o'clock position is a day/date aperture which blends in very well with other details on the dial. The knurled 2-level stem is placed at the 4 o'clock position, it's used for day/date, time setting as well as hand winding the automatic movement inside. The ridged stem on the old Monster SKX779 doesn't have the hand-winding feature because the 7S26 caliber is self-winding.
The 20mm metal bracelet is rather small compared to the 43mm watch case. Normally, an over-42mm watch fits in best with a 22mm band. But for the Seiko Monster, the case is too rugged itself, so a 20mm band is more suitable as it helps reduce the watch's ruggedness a little bit.
The double fold-over clasp with push-buttons is very secure & reliable, I have no problem with it. Next to the clasp is the diver-extension which is specially designed for scuba diving with wetsuit. As the band might become too tight when you wear the watch over your wetsuit sleeve, the extension is there to help instantly broaden it without adding link. Please notice that the band might get a little loose with this extension opened, because it's non-adjustable. If you want a watch which can comfortably mold around your wrist underwater, you have to pay much more, the Seiko Monster is just an affordable diving piece, thus imperfections are inevitable!
In case you don't like the stainless steel bracelet, the Black Monster is also available on high-quality rubber strap. Lighter, softer, more comfortable, but the solid feel is much reduced, too. I'm personally in favor of metal and leather bands, but it's just a matter of taste, this watch looks extremely good on a rubber strap!
Movement – Seiko 4R36 automatic caliber, an ideal replacement of the 7S26
The greatest difference between the Monster Gen.1 and Monster Gen.2 cannot be seen externally. Their designs are almost identical, but the insides are total dissimilar. Beating inside the old Monster SKX779 is the well-known 7S26 caliber, which is also used for many other entry-level dive watches of Seiko (including the prestigious SKX007). It's a reliable auto movement, but it's non-hacking & self-winding only. While many users don't see that as a problem, others find it's inconvenient.
In 2011, Seiko decided to replace the 7S26 with the new 4R36 caliber in all of their Monster dive watches, then detaching them from the already-famous SKX series, and added them into a total new product line – SRPxxx, we now call them "Vampire Monsters"or "Seiko Monsters Generations 2". Since that day, the SKXs and SRPs have begun to follow two completely different concepts. The SRPs are more of fully featured tool watches with extremely solid finish, while the SKXs are standard entry-level diving pieces with a dressier-appearance.
These 2 calibers are not much different in terms of accuracy, about -10/+10 seconds off per day is more than acceptable in the budget price range. But the 4R36 can be hand-winded, so you don't have to wear your watch at least every other day just to keep it running. Besides, the hacking function is surely of some use to precisionists.
The increase in the number of jewels (21 to 24) also indirectly indicates that the 4R36 is more complex-structured than the old 7S26.
200m Diver's, ISO 6425-certified
Seiko claimed that all their "Diver's" watches are ISO 6425-certified (for those who don't know what is ISO 6425, click here!). That means each of their dive watches has been put through a test to make sure they meet all the requirements for a "real" diver's piece. While this process help guarantee the products' quality, it also cause increase in producing cost, and who have to pay for this lux? Customers!
When it comes to scuba diving, the Black Monster is a dependable friend in your underwater adventure. It's well-protected against water, and the LumiBrite technology allows the watch to glow much brighter and longer, thus offering excellent legibility in total darkness.
Although Seiko might exaggerated a little bit when they said that their LumiBrite technology is 10 times better than radioactive luminous & conventional fluorescent paints, we have to admit the fact that the LumiBrite is superior in both intensity & longevity.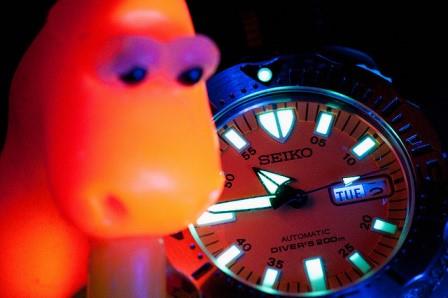 The lume can live up to over 3 hours after fully charged (only 10 minutes)!
Verdict
Most of shortcomings come from the watch's distinctive design, but as I said above, this diving piece can make you love it with time. Give it a try, and I bet you won't regret! The Seiko Black Monster is one of the best dive watches in the budget price range.

This watch is really high-quality thanks to Seiko's admirable craftsmanship, they care about customers' experience more than their own profit. If you want a solid dive watch, you can't go wrong with the Monster. But you have to make your using purpose clear first, before making the purchase. This is a downright tool watch, so don't judge it by the standards of dress watches!
For more customer reviews, check out at Amazon!
>>> CHECK OUT MORE SEIKO DIVE WATCHES AT AMAZON.COM <<<
Related reviews: