"What are the differences between Casio Protrek & G-Shock?" – This is one of the most common questions on watch forums and Q&A websites now!
As Casio introduced many product lines to the market at the same time, and each of them is desirable, buyers find it confusing to choose the watch that best fits their needs, because all choices from the brand seem to be equally good!
Casio Protrek & G-Shock are the two separate most popular series when it comes to digital watches. It's not hard to distinguish between them, but you must have some understanding of each series to make the right buying decision!
Using purposes – Protrek is more versatile, G-Shock is more durable
In theory, each product line serves a different purpose. The G-Shocks are made to be extremely tough watches which can survive the most intense physical abuse. The "Triple 10" concept applied to them is the clearest proof:
10-meter free-fall endurance
10-bar water resistance (100m – 330ft) – but most G-Shocks nowadays have 200m water resistance rating
10-year battery life
The G-Shocks are built to last for at least a decade!
Because of their extreme durability & reliability, different G-Shock models are now widely used in military forces & polices!
The Protreks, on the other hand, focus more on advanced features, each of them has a Triple Sensor:
Digital compass
Altimeter & Barometer
Thermometer
And other functions such as sunrise/sunset times, low-temperature resistance, tide graph, moon data…
The Protreks is meant to be a reliable companion (along with other tools like handheld GPS or tactical flashlight) in your outdoor adventures to different places. They're favorite choices of "trekking warriors" & explorers!
As you can see, G-Shock & Protrek are produced to serve different tasks. But there's an interesting thing here!
With the advances in technology, most of new Protrek watches are very rugged, too. They might not be on par with the G-Shock cousins, but they're tough enough for hard use.
Not all Protreks are 200m water resistant (100m for most models), but how many times do you have to dive that deep?
The G-Shock watches are well-known for their invincible toughness, what they lack are the advanced features like those of the Protreks.
But some high-end G-Shocks models now also have Triple Sensor and sunrise/sunset times, etc…
What I mean here? The difference between G-Shock & Protrek are not huge anymore; we can use them interchangeably without any problems, as long as the watch has the functions you need!
Price – G-Shock has a wider price range
Most Protreks are available with the price of over $100, while the G-Shock's prices vary from $40 to hundreds.
The Protreks must have lots of advanced features, so Casio can't cut corners. But with G-Shock, durability alone doesn't cost too much. That's why cheap G-Shock models with basic functions are sold for a few bucks, only higher-end models like Rangeman or Mudman are in the same price range with Protreks.
Design – G-Shock looks simpler & more rugged, Protrek looks more "hi-tech"
This is the clearest difference between the two series!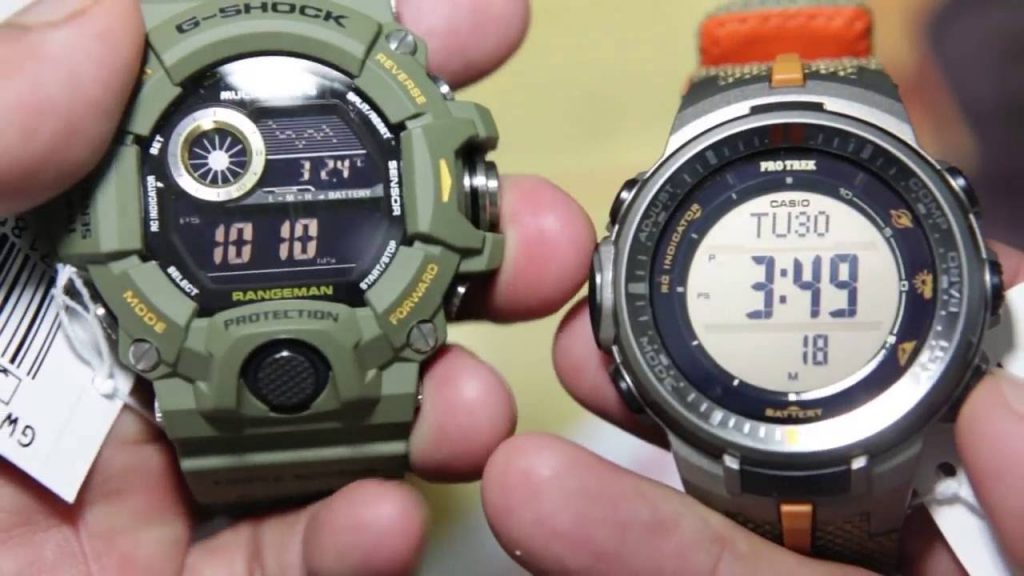 The design of Protrek series is very stable; each model has a round case with round dial and a bezel which is just not there to protect the watch face but to serve some purpose.
G-Shocks models, on the other hand, are available in round, square (the G-Shock Classic) or nearly hexagonal (the Rangeman) shapes. You can opt for an outright analog G-Shock or an ana-digi one; there're lots of choices.
Besides, G-Shock watches tend to have multiple subdials instead of one big dial like the Protreks. Some Protrek watches have analog display and subdials, too, but they're just a few exceptions!
The overall appearance of the Protrek is more "hi-tech," but the G-Shock tends to look simpler and more rugged!
Verdict
G-shock or Protrek? It's hard to go wrong with either of them! As I said, there're few differences between high-end models of both series, but with cheaper models, you have to decide based on your priority. You need toughness or advanced functions more? Remember, toughness costs less, features cost more!
Although Protrek & G-Shock have different design concepts, both look good in their own ways, just make sure the watch fits you style!
Related Articles: