Casio is known for manufacturing timepieces that display the date and time in a flash without having to squint and focus on where the hour and minute hands are. And the G-Shock series by the watch brand is known for its ruggedness, durability, strength, and toughness.
In short, it is a series of watch that 'never break'. So let's look at some of the best G Shock military watches for men and see what they have to offer you!
Image
Product
Details

My Favorite Choice

G-SHOCK G100-1BV

Analog + digital display for easy reading
Excellent quality for the price

View on Amazon

G-SHOCK DW9052-1V

Extremely budget-friendly
Rugged & Reliable

View on Amazon

G-SHOCK DW5600E-1V

Ageless classic design of Casio
Perfect for those who don't like big watches

View on Amazon

G-SHOCK GA100-1A1

Designed for sports & military use
Has a lot of color options

View on Amazon

Premium Choice

G-SHOCK GW9400-3CR

Extreme ruggedness + hi-end features
It's a tank on your wrist

View on Amazon
G-Shock G100-1BV
[imgb trackingid="donatwald-20″ asin="B000AR7S3A" imgid="91EBxuBzqQL" altimg="G-Shock G100-1BV – one of the best g shock military watches"]
Pros:
Rugged Finish

Cheap

Analog + Digital Display

Anti-Magnetic
Cons:
The light is just enough for you to see the digital display in the dark

The minute hand sometimes obscures the digital display
As per user reviews, there's a variety of other tough and fancy watches that cannot hold a candle to the G-Shock G100-1BV.
This watch is exceptionally well-built and durable with thick and tough black resin straps that are actually very soft and comfortable on the skin. Although the watch has an armor-like appearance, it's very lightweight and won't weigh down your wrist.
The entire body of the watch is black except the words "G-SHOCK" and "SHOCK-RESIST" in striking red on the case.
With a 48 mm round case structure, the G100-1BV does not have an oversized dial. It has the goodness of both analog and digital display, giving it a sporty and formal look simultaneously.
The hour hand is red and the minute hand is silver to match the silver numerals at 3, 9, and 12. Since the face of the watch is set back from the bezel, it keeps it from accumulating scratches even if lying face down.
Apart from being highly shock-resistant and anti-magnetic, the watch is also water-resistant to 200 meters. With so many pros at such a reasonable price come a few cons, like only the digital display LCD screen has an auto backlight to tell you the time in the dark.

G-Shock DW9052-1V
[imgb trackingid="donatwald-20″ asin="B000GAYQLI" imgid="91bqO-MFoXL" altimg="G-Shock DW9052-1V"]
Pros:
Durable (Of course, it's a G-shock)

Cheap

Easy-to-read positive display
Cons:
The backlight consumes a lot of energy

The digital display is quite small compare to the watch's size
This watch has been worn by everybody in a battalion on a tour to Iraq and it survived! So if you're looking for a digital watch around $50 that will bear all use and abuse, the DW9052-1V is a great choice. It's among the best G-shocks under $100.
With an impressive rugged look characteristic to high quality sports watches, combined with an easy-to-read display, accurate time function, and comfortable band, the DW9052-1V is a winner.
It has been subject to a series of tests, including 4-hour freezing temperatures, 10 minutes in boiling water, and several others. The result? It passed all tests with flying colors! And that is exactly why it won the title of the toughest sports watch in the world.
The watch has black resin straps and bezel, with a grey dial that is covered by mineral crystal. There are 2 separate rectangular windows for time and day/date, with a small round window for timer and stopwatch use.
In lowlight environments, time viewing is made easier by the afterglow backlight.
The only downside of the watch is that some buyers  have complained of the numbers on the digital display being too small – but that's a matter of personal choice I believe.

G-Shock DW5600E-1V
[imgb trackingid="donatwald-20″ asin="B000GAYQKY" imgid="91RxdL1efiL" altimg="G-Shock DW5600E-1V"]
Pros:
Simple but eye-catching classic design of Casio

Thin & modest size, focus on convenience & practical use

The watch face looks not crowded
Cons:
Some users don't like a small watch, it's just a trend, you don't have to follow if big watches are not your taste. 
The G-Shock DW5600E-1V is one of the few timepieces approved by NASA for use in space, so you should guess that it's out of this world. The watch is simplicity at its best, packed with functionality and durability.
Unlike the above mentioned DW9052-1V which has 2 separate windows for date/day and time, the DW5600E-1V has one rectangular display window. This means that the display is larger, so when you're engrossed in an activity that only lets you glance at your watch, the DW5600E-1V tells you the time instantaneously.
The entire watch is black and the words "G-SHOCK" and "PROTECTION" are etched in grey, so the watch has an overall monochromatic appearance. The resin straps offer unparalleled shock-resistance and the mineral crystal window embedded in  bezel stays protected from scratches. It is water resistant to 200 meters.
The top left button on the DW5600E-1V is designed to be pushed in further to prevent accidental adjustment of settings.
With a case diameter of 45 mm, this watch might be the smallest G-shock watch discussed here. But don't forget that good things come in small packages, and this one comes at a great price with the technical specifications you need in a digital watch.

G-Shock GA100-1A1
[imgb trackingid="donatwald-20″ asin="B003WPUU0U" imgid="61mCGjZ3N9L" altimg="G-Shock GA100-1A1″]
Pros:
There're so many colors for you to choose from

Ana-digi display

Cool & stylish design with rugged resin finish

Affordable price

1/1000 stopwatch function
Cons:
The LED light is not enough for you to read the digital display in the dark, as opposed to the G-Shock G100-1BV above
This one definitely looks like it came out of a Transformers movie. It's big, it's black, it's bad – in a good way! The GA100-1A1 is a military inspired timepiece that will make you feel like a secret member of the elite forces.
This extra large sized watch has the patent Casio analog-digital display like the G100-1BV mentioned above. However, Casio has gone above and beyond in infusing this watch with amazing features, like the 1/1000 of a second stopwatch function which lets you measure even the minutest difference in time, say when you are comparing the time taken for 2 lapses. Combining that with the tachymeter to travel speed gives the GA100-1A1 a unique edge.
The black resin body of the watch is 100% shock-proof, water resistant to 200 meters, and anti-magnetic. The 51 mm case exuberates nothing but strength and masculinity, but it's still light to wear.
Talking about the looks, the watch boasts the infamous 3-eyed monster appearance, getting its name from the 3 round dials on the upper side. The bottom left window is for the digital time and bottom right for day/date. It comes with additional features like full auto-calendar, world-time function, daylight saving on/off, and more.
The most common complain made by users is about the LED light which only illuminates the analog hands but not the displays, making it slightly inconvenient to read the time in dark.
G-Shock Rangeman (Green)
[imgb trackingid="donatwald-20″ asin="B00H4M0VCO" imgid="71KFlYZfIXL" altimg="G-Shock Rangeman (Green)"]
Pros:
Very appealing classic green, remind me of the green of US Marine Corps in WWII

Tank-like body. In my opinion, this watch has the coolest design in G-Shock series

Solar powered. No battery change is needed
Cons:
Negative display. Sometimes, it's difficult to read,but lots of G-shock users love negative display!
The price of this one might raise eyebrows, but once you learn of its features, it will be worth every penny. Whether its durability, style, or functionality, this one is hard to beat. The Rangeman is a favorite among adventurers, divers, shooting enthusiasts, and military personnel, so it is evident that the watch is capable of enduring all elements, I can say that it's the most durable G-shock in this list.
The ruggedly stylish watch has been particularly engineered to withstand the most grueling conditions with its Shock Resistant Triple Sensor, which enable it to keep altitude, temperature, direction readings, and barometric pressure at your fingertips.
Although it must seem complicated to look at, the Rangeman is surprisingly easy to use. Its cylindrical buttons provide remarkable operation and enhanced resistance to impact. The case and all the buttons are sealed to keep out any dirt or dust from entering the watch.
Other technical specifications which make the Rangeman a survival watch are multi-band 6 atomic timekeeping, solar powered rechargeable battery, and 40-record memory capacity. There's another vey distinct feature – the auto backlight which comes one just by tilting your wrist.
>>> CHECK OUT MORE CASIO G SHOCK WATCHES ON AMAZON <<<
What makes Casio G Shock one of the best military watch series?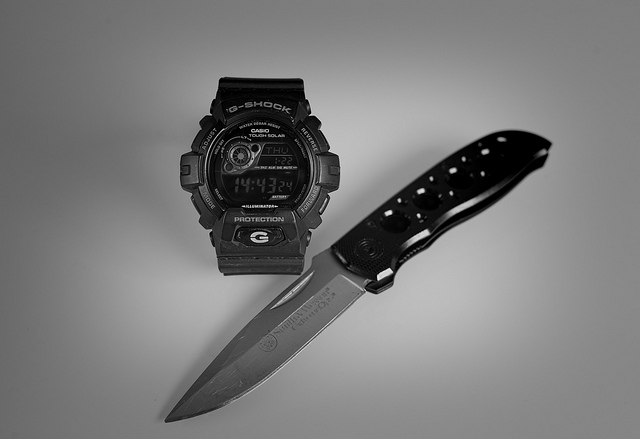 According to all the watch savvy people, Casio G-Shock is a timepiece digital that is worthy to strap at wrist. Casio entered the digital watch industry in 1970's and came up with an idea to produce a shock proof watch in 1980, G-Shock is the result of that idea.
The first G-Shock series was developed by an engineer named Kikuo Ibe from Casio in 1983. He used the triple ten concept in a watch that will have a 10 year battery life, water resistant to 10 bar and can sustain 10m fall on a very hard surface.
This idea came into his mind from an incident. One day he was walking in the halfway of Casio and slammed on the wrist of a colleague and unfortunately it broke his watch. Since that day, Kikuo Ibe was determined to produce a shockproof watch. So what he used to do to test the hardness of the watch is dropping the watch from a bathroom windows every day till he could produce a shell strong enough to survive the fall from a three storied building.
So, you can imagine how durable this G-Shock series is. This rough and durable feature is the primary reason why G-Shock is being called as the most popular military watch series. Another reason why this was best for military people is the accuracy of time. G-Shock was digital and it made the military people choose this watch over other models. Also the rubber strap and case in the G-Shock series makes it highly popular among the military people as it is just perfect for long trekking.
G-Shocks has become one of the most popular watch series across the world and you must have noticed them on the wrist of skaters, IT guys, military men and hip-hop stars. Even if your job requires you to spend most of the time in water or in mud, G-Shock can be your best companion in every situation.
You must have heard about some news that Swiss watch brand is affiliated with US Navy or Army but when it comes to pick up the roughest and most durable watch for them, most will definitely end up picking the G-Shock series. Casio military watches earn lots of respect from Armed Forces.
Apart from durability, G-Shock series contain a microprocessor, calculator, compasses, thermometer and a GPS system, making it suitable for most outdoor activities like hiking & trekking. The innovative and creative functionality made it industry leaders for years and this series is still loved by most of the tech geeks throughout the world. The traditional G-Shock series is available in carbon fiber as well that is a requirement of many watch savants, scientist and military forces.
Although most G-Shock watches are very affordable, Casio also makes some high-end models for the true fans of this series. They may not be the most popular G-shock watches, but they are the demonstration of what Casio is capable of.
Verdict
Just reviewing these watches makes me want to get one – and there's such a variety in price range that I'm sure I, and even you can find something that will fit your budget and technical requirements. If you're an adventure aficionado looking for a watch that will stay by your side and never give up, the G-Shock series will not disappoint you, they are among the best military watches out there now!