Watch winders are considered luxury items that were taken interest by a few watch lovers. How to find the best single-watch winders for your money? Here are the answers!
#1- WOLF 270002 Heritage Single Watch Winder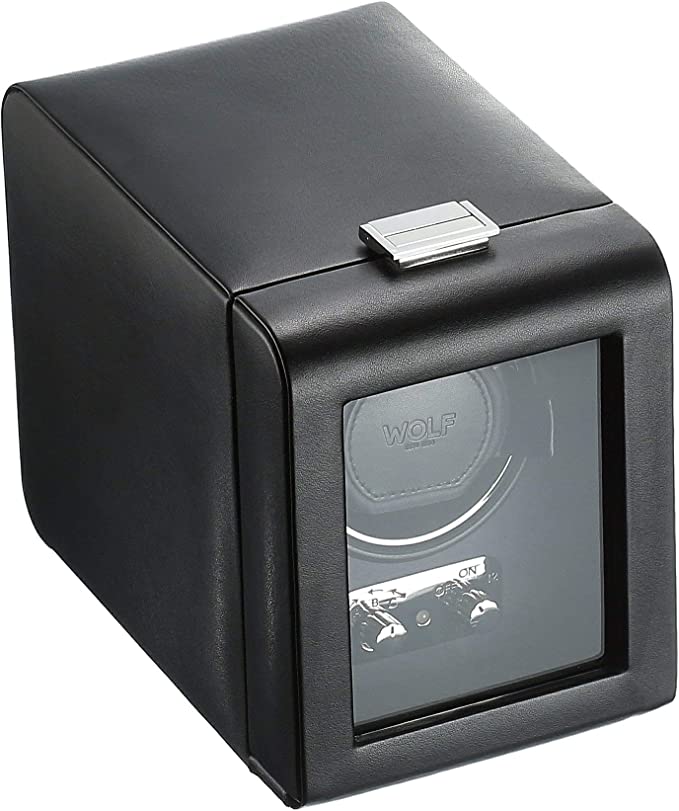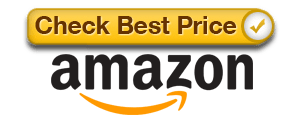 WOLF Heritage 270002 single watch winder is famous for its high-quality material, quiet operation, and reliable performance.
The Heritage collection features a stylish design, and this item isn't an exception. This 270002 model adopts a rectangular shape. It is an aesthetic piece suitable for home decor as well.
What I like about this item is the watch cuff. It is designed to deal with different kinds of watches. It can house watches with wristbands as large as 10 inches. The rotation program is stunning. It includes intermittent rotation, pause phases, and so on.
Buying the WOLF Heritage single watch winder, you have three winding directions, control knobs, and a classic faux leather cover. What's more? You have two power choices, either from a battery or an AC adapter.
Some people complain that the box is a bit big.
Overall, the WOLF Heritage single-watch winder is worth every penny you invest. Its classic design and silent and dependable operation are terrific.
Product Specifications
| | |
| --- | --- |
| Motor | Mabuchi |
| Watch Cuff | Wrist size of up to 10 inches |
| Rotation Options | Clockwise, Anticlockwise and Bi-directional |
| Power | 3.3V AC adapter/ D-cell alkaline or lithium batteries |
| Measure | 8.9 x 5.4 x 6.8 inches |
| Weight | 4.6 lbs |
| Warranty | 2 years |
Pros
The finish is hi-quality faux leather
Motor is quiet
Run on dual power
Cons
#2- Orbita Sparta Bold Single Watch Winder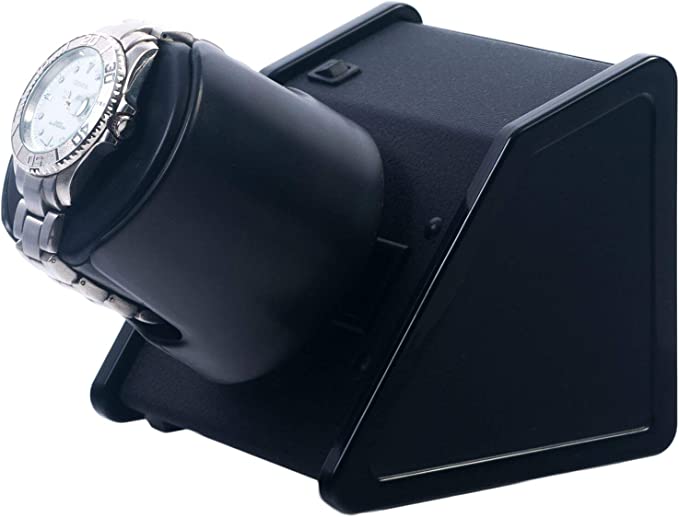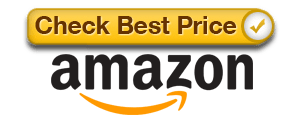 Like WOLF, Orbita is a go-to brand for reliable performance and unique design.
Unlike WOLF Heritage single watch winder, the Orbita Sparta features utterly different designs and functions. This winder adopts a simple design, suitable for minimalists.
This model, instead of rotating watches, swings them. There are two winding programs.
The standard one will swing your watch for 10 minutes, and the extended program will work for 15 minutes.
Sparta comes with a built-in microprocessor. It allows the watch winder to self-regulate, swinging the watch back and forth according to the set-up program.
Orbita fans love the trendy design. The Sparta Bold features a powder-coated aluminum frame. The black finish blends in well with different watches. This model offers a watch cuff that fits any watch size.
The drawback of Orbita Sparta Bold is its power option. It comes with only batteries.
The Orbita Sparta Bold Single Watch Winder is undoubtedly a product of value. Its design and function are as expected. It is such a luxurious watch winder you should have at home.
Product Specifications
| | |
| --- | --- |
| Motor | Sparta Bold winding action |
| Watch Cuff | Suitable with many wrist size watches |
| Winding Options | two winding cycles: 10 minute (standard program) or 15 minute (extended program) |
| Power | (4) lithium D batteries |
| Measure | 5.8 x 9.5 x 4.2 inches |
| Weight | 2.6 lbs |
| Warranty | 2 years |
Pros
Unique swinging motion
The winder is self-regulated
Powder-coated with aluminum frame
Cons
#3- CHIYODA Single Watch Winder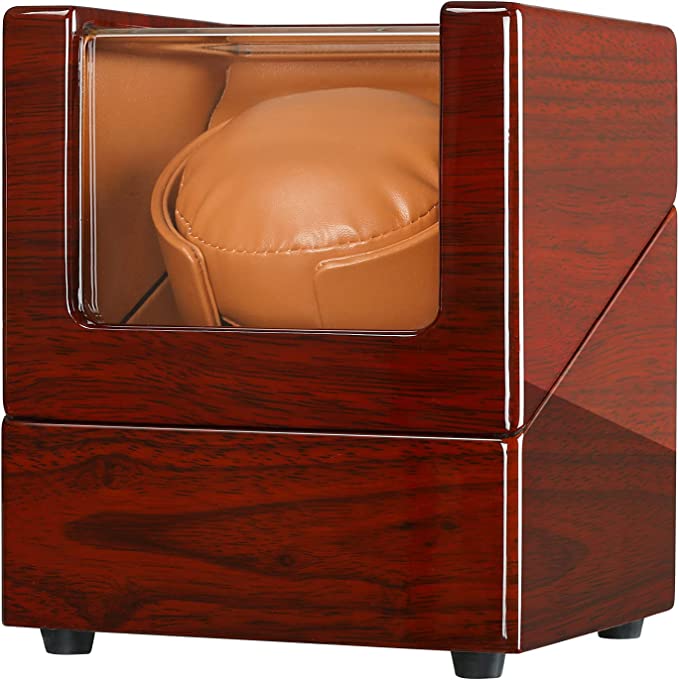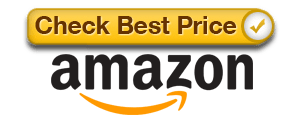 The new version of the CHIYODA single watch winder immediately responds to users' longing. CHIYODA's design and products are more wallet-friendly than the two brands above.
This model is handsomely made. The wooden case with acrylic glass display is indeed on point. I particularly like the glass because it is transparent and scratch-resistant.
The Piano baking finish elevates the design, making it one of the most desirable watch winders.
What's more, this watch winder guarantees no-noise operation. Featuring the Mabuchi motor from Japan, it works quietly. The motor is also famous for being durable. Regarding the rotational setting, you have 4 TPDs and three directions.
The box is suitable for home décor.
The foam cushion inside provides a soft and secure space for your watch to rest.
There is a small problem. The pillow to hold the watch is slightly small. This could be a drawback for those who have a big watch wristband.
Despite its shortcoming with the pillow, the CHIYODA single watch winder is just one of the best. For both price and function, it deserves 8 out of 10 at least.
Product Specifications
| | |
| --- | --- |
| Motor | Japan MABUCHI motor |
| Rotation Options | Clockwise, Anticlockwise and Bi-directional |
| Power | AC & DC Power Source |
| Measure | 5.9 × 5.12 × 5.12 inches |
| Weight | 2.9 pounds |
| Warranty | 1 years |
Pros
Run quietly
Small footprint
Sleek design
A wallet-friendly option
Cons
This model isn't compatible with large watches
#4- Versa Automatic Single Watch Winder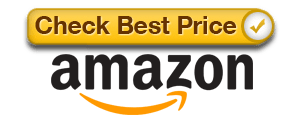 The last item on the list is the upgraded version of the Versa Automatic Single Watch Winder.
There are a few things impressive about this watch winder. The first thing is undoubtedly its price. As you can see, the Versa Automatic offers the most affordable price on the list. It suits those who don't want to overspend for a winder.
Of course, the plastic case has helped reduce the cost significantly. However, plastic doesn't make this model look cheap. Quite the contrary, I am fond of its modern appearance. The black finish with silver accents is a highlight for this winder.
This watch winder delivers four different TPD settings and three directions, similar to many winders. The design also allows the winder to accommodate different watch sizes. The pillow fits watches from 6 up to 8.25 inches.
I also recommend this watch winder for those who are frequently on the move. The compact size and light weight are ideal for bringing it together on your trip.
If you want a watch winder that guarantees the most affordable price and reliable performance, I recommend Versa Automatic Single Watch Winder.
Product Specifications
| | |
| --- | --- |
| Motor | Japan MABUCHI motor |
| Watch Cuff | Suitable with many wrist size watches |
| Rotation Options | Clockwise, Anticlockwise and Bi-directional |
| Power | Power adapter |
| Measure | 7 x 5.25 x 6 inches |
| Weight | 2 lbs |
| Warranty | 1 year |
Pros
Reasonably priced
Black finish with silver accents look good
Accommodate big sized watches
Cons
Not many people are in favor of the plastic case
FAQs
How to choose a suitable watch winder for your timepiece?
When shopping for a watch winder, there are a few things you need to keep in mind if you don't want to waste your money on an unusable box.
Here are the deals:
Turns Per Day (TPD)
So, your automatic watch is specialized regarding the turns per day (TPD). That means you need to wind it with a particular number of TPD. TDP refers to the winding motor that can run clockwise, anti-clockwise, or the like.
Typically, you can ask the jeweler for the TPD rate of your watch. However, if you forget, you can always find the information in the user's guide. You can also find it online, from many forums, and watch blogs.
When you buy a winder, you need to see whether the product is compatible with your watch's TPD requirement.
Periods of latency
Watch manufacturers recommend that users keep regular latency periods within the revolutions cycles. The latency periods greatly influence the resting period of your watch, especially when you wear it.
The task of a watch winder is to ensure the watches' revolutions are 100% rewound and stopped for a couple of hours. It would help if you noted this when shopping for a watch winder.
Size of the trap
A good watch wider must offer flexibility when it comes to the size of the trap. It should be compatible with your watch size. This is important because you don't want your watch to fall out or unfit the trap, do you?
Practicality
Automatic watches need to be wound even when traveling on a long trip. Not so many buyers think about that. Bringing the watch winder along will take much work if you buy a bulky and space-consuming one.
So yes, if you decide on a watch winder, consider its practicality. Does it weigh well? Does it require lots of space? Can you pack it together when you are on a trip? Things like this are often neglected but highly essential.
Design
Watch winders are not just boxes; they are jewelry cases. Some watch winders cost several hundred dollars. You pay money not only for the function but also for the design.
Some people carefully find a watch winder for decoration as well. To them, the refinement and elegance of the jewelry case are the two most significant values; therefore, it should be treated as a crafted piece for decoration.
Of course, some people don't pay much attention to the design. And you could probably be one of them. So don't worry if you prefer function overlook.
Best watch winder brands?
WOLF
WOLF doesn't make watch winders; they make "sophisticated jewelry cases." They know how things work. That's why they create watch winders that go well with almost any watch.
Their watch winders are made of faux leather, wood, or any premium materials. What's more, their products feature numerous technologies, such as LusterLock. This advanced technology prevents hostile gases from tarnishing your watch.
Orbita
The founder of Orbita, Chuck Agnoff, set sail in 1996 in Wilmington, North Carolina. After decades of experience, this young company has earned its prestige through premium watch winders. Nowadays, Orbita is one of the most eminent suppliers of reliable, high-quality products.
Orbita emphasizes refinement and savoir-faire. They integrate experience and knowledge of dedicated craftsmanship and elevate their products to the next level.
Versa
Versa may be the youngest brand on the list, but it is also the most popular choice regarding practicality and versatility. Without the advantages of experience, Versa focuses on its practical design. As a result, you can find compact watch winders from this brand.
What's more, most watch winders from Versa are within an affordable price range. This is perfect for those who want to emphasize functionality rather than appearance.
CHIYODA
What CHIYODA has to offer is reasonably priced watch winders with styles. Products from CHIYODA often come with a handsome design and quiet function.
Do I need a watch winder?
Often mechanical watch owners are in a quandary when looking at an order catalog full of appealing watch winders. Do I need a watch winder? Have you ever asked yourself that question? I have. And here is my answer.
Watch winders are a box powered by either battery or AC. The case, the mechanism, and the overall quality are three factors that inflate the cost of one-watch winders.
The price and its practicality make me hinder. However, after a while, I pay not only for the functions of the winder but also for its use & beauty as well.
Winder manufacturers tend to use premium materials for the cover, such as wood or leather. These expensive materials turn watch winders into a house decorations.
If you own a mechanical watch, you should get yourself a watch winder. If you want your watch to function well with the time and date, it is a must to have a winder.
How do you wind a Rolex?
Winding your Rolex is a must if you want your watch to function as it is just bought.
So how do you wind a Rolex? The instruction is right below.
Rolex DATEJUST, SUBMARINERS and OYSTER models
If you want to wind these models manually, you must unscrew the crown. When it comes naturally into the position, then you know it works. Never pull the crown.
Notice that if the dial is facing your direction, you turn the crown away, not toward you. The watch can wind itself in a clockwise direction.
Male President Models
For these models, turn the crown clockwise. The watch will do the rest.
GMT-MASTER II AND EXPLORER II
The crown is unscrewed for these two models, so all you need to do is turn it clockwise. The watch will manually wind itself.
THE ROLEX PERPETUAL SELF-WINDING MOVEMENT
If you have bought Rolex's self-winding watches, you no longer have to worry about hand winding daily. The Rolex can wind itself by the movement of your wrist.
If the watch is untouched for 48 hours, it will stop self-wind. You need to lay it flat, unscrew the crown until you can feel it, and then release it.
Then, use your index fingers and thumb to rotate the watch clockwise.
It will take 30 to 40 times until the watch fully functions again. Finally, you can screw the crown back.
How long can an automatic watch run without being worn?
Automatic watches are powered by the constant motion of users' wrists. Therefore, it will stop if you don't wear it long enough. A mechanical watch stops its function after 24 to 48 hours unworn.
To revitalize your watch, shake or rotate it. Some only require a few rotations. Others need at least 30 rounds.
Rolex premiered in 1902 and has become a symbol of wealth and elegance. These high-quality automatic Swiss watches need great companions when it comes to wind.
There are two brands of my recommendation: WOLF and Orbita.
Now, WOLF produces good watch winders. The company has been around for 180 years with its craftsmanship spirit and strong work ethic; its products match your Rolex.
Orbita though joined the game later, can create robust and innovative watch winders. They focus on details and design, perfect for dedicated watches like Rolex.
What are the differences between WOLF & Orbita watch winders?
WOFL and Orbita watch winders are generally different in their design and motor. Both have each benefits and drawbacks equally. From the two examples above, you can see that quite clearly.
WOFL adopts rotating action, while Orbita loves swinging. The design of WOLF winders emphasizes glamor and elegance. Orbita focuses on durability with a trendy look. The cushion design and watch cuff from both brands are also distinctive.
The bottom line
Whether you choose WOLF, Orbita, Versa, or CHIYODA, I can guarantee you they are the best single-watch winders for your money. You will find much helpful information in this article, not only the four best watch winder brands.