Ever wonder why some men grab people's attention instantly while others wait to be noticed? The secret lies behind what they wear. A ton-sur-ton outfit brings you more than just self-confident, gentlemen.
If you ever think the combination of shoes, belt, and watch doesn't matter, think again.
Find out why you should mix-match your outfit accordingly and learn my exclusive tips to dress for different occasions below.
Should you watch match your shoes and belt?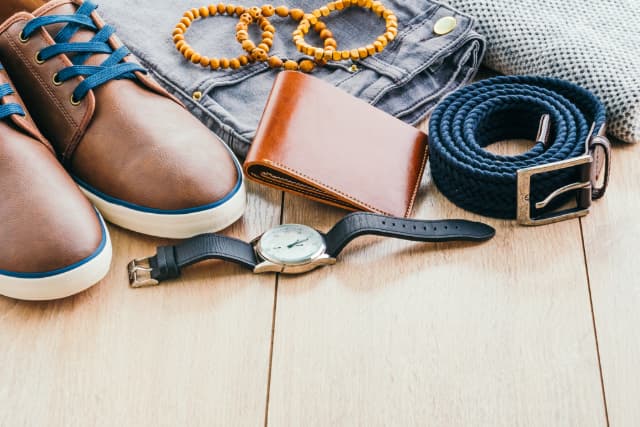 Men wear less jewelry than women. Whether it is a curse or a blessing, we still need to figure out how to make the best out of our limited choices.
A wristwatch naturally becomes men's best companion in either formal events or casual parties.
However, not every man knows the secret of wearing a wristwatch if they fail to acknowledge the importance of belts and shoes as well.
Here is the thing.
You must match your watch, shoes, and belt. There is no should or perhaps.
Understanding how to dress with the three most essential elements (watch, shoes, belt) opens the gate for you to nail every first impression.
How to choose shoes, belts, and watches for different occasions?
General dress codes with watches
When it comes to watching, the level of formality matters. Traditionally, when you wear a suit with either a black or white tie, you shouldn't wear a watch at all. Even if you do, checking it publicly is considered impolite.
That being said, choosing a suitable watch that matches with your dress code is crucial. With a black and white tie, go for a dress watch. As for formal business types, both dress and dive watches are acceptable.
If you decide to go out with friends at the weekend, stay away from the dress watch. Instead, dive, aviator, and filed watches should be a better choice.
How about button-down shirts, dark denim, and leather shoes? These fine casual clothes need a watch with complications. Though they could go well with any kinds of watch, try to look for one with a large face.
Straps
Choosing the right type of watches isn't the end. In fact, it is when straps – the next important thing comes into play.
There are three general rules to follow:
Leather straps look more formal than a metal one.
Black color looks more conventional than the brown one.
Leather compliments leather.
Depending on your level of formality, you should choose your watch bands accordingly.
You will soon notice that gold mental watch bands will never compliment on your suit. However, for dressy occasions, these metal straps will certainly draw people's attention to your wrist.
Now, the rule doesn't apply for field watches with rough, rugged leather straps. In this case, a field watch and suits will be a huge mistake.
Rugged leather watch bands only match with casual wear, such as jeans and shirts.
You should also pay attention to the color of your shoes, belt, and watch straps as well.
For me, and many people, it would look ridiculous to wear a black belt with brown shoes. Adding a watch with metal strap into the collection, you will have a perfect example of how not to dress for any occasion!
So, gentlemen, the key point here is to make sure you wear the right strap, with the right color of your shoes and belt.
How about metal watch bands?
The same as leather, metal straps should be aligned with other metal elements on your outfit, such as rings, shoe, and belt buckles.
What does that mean?
If you wear a gold watch band, make sure that it matches with your shoe and belt buckles as well. They will complement each other and eventually brighten your outfit.
Below are some tips to match shoes, belt, and metal bands:
Choose clothes and shoes with blue and black shades with silver metal bands
Brown, beige, and tans will go well with gold watches.
Brown and black shoes go perfect with any tones of metal.
The bottom line
Wearing a wristwatch could be a make-or-break deal if you don't factor in your shoes and belt. Follow my tips, and you will never have to worry about our outfit ever again!