If you are stuck in the middle of nowhere or find yourself stranded on a desert island, the only best tool you can have to survive is a big machete. But if you are lucky enough to find yourself stranded with a said machete in your possession and a month supply of MRE (Meal Ready to Eat) in your backpack, then a good quality watch is going to come in handy.
Hunting trips don't have to be that extreme, but it is possible to get lost in the wilderness while you are chasing games. That is why GPS watches are becoming very popular among people who enjoy outdoor activities such as hunting, fishing, trekking, etc. For outdoors, it is also essential to have a watch with a decent power supply or a good quality automatic movement because a USB power plug is going to be hard to find.
In this article, we will talk about 15 best Survival watches that are great for hunting. We will also talk about other features and qualities of these watches that will help you survive the wilderness and hopefully get you back home to your comfy bed.
Without further ado, let's check out the Survival watches for hunting.
Best Survival Watches for Hunting
SEIKO SKZ211
At number fifteen, we have Seiko SKZ 211, also known as the Seiko Atlas. The reason for this is that this watch has a built-in compass, and that means it qualifies as a survival watch. A compass is one of the most valuable survival tools you can have if you're in unfamiliar surroundings. Having the combination of a watch and the compass means that you can get back to the safety of your base or car before sunset as temperatures can drastically reduce when the sun goes down. This watch also boasts a 23 jewel automatic movement, which means that your body's movements power it, so there's no reliance on external power sources.
Specifications
| | |
| --- | --- |
| Size | 45 mm |
| Movement | Automatic |
| Crystal | Hardlex |
| Water resistant | 200 m |
Features
Functions without a battery
Luminous yellow hands
Day and date display
Compass dial ring
TIMEX EXPEDITION SCOUT
The Timex Scout is part of Timex's expedition range that draws inspiration from vintage military watches. It is considered to be amongst the first survival watches. This watch will hold up in extreme conditions because it comes encased in a brass case which houses the ultra-reliable quartz mechanism with a battery life of up to 10 years. It is also water-resistant up to 100 meters and uses Timex's proprietary Indiglo for lighting that makes the whole dial light up for reading the time in the dark.
The Scout also has a chronograph function, which can be useful in emergencies. The chronograph or stopwatch function can be used to time the distance between thunder and lightning to see if a storm is abating. If there is an injured person in your party needs resuscitation, then a chronograph can be used to time the strokes when performing CPR.
Specifications
| | |
| --- | --- |
| Size | 42 mm |
| Movement | Quartz |
| Crystal | Mineral |
| Water resistant | 100 m |
Features
Indiglo backlight
Chronograph functionality
5 year battery life
Scratch-resistant mineral glass
CITIZEN AT4008-51E
A number thirteen, it's the citizen AT4008-51E, otherwise known as the Citizen Perpetual Chrono AT. The one thing you don't have to worry about this watch is it is running out of power. It is a solar-powered watch and can make use of either natural or artificial light to charge up its lithium cells. This watch will keep on ticking for up to seven years in complete darkness when fully charged. The sapphire crystal covering the dial is one of the toughest materials around, so you can be sure that the glass will stay in pristine condition when you're crawling through bushes and rough terrain. If you're taking it diving, it is water-resistant for up to 200 meters.
Another unique feature of this watch is that it automatically adjusts itself when it is in the range of an atomic time signal, which means that you never have to change the time when you're crossing time zones. The calendar on it is also perpetual, meaning that it automatically adjusts itself for the correct number of days in the month and leap years. So no matter how prolonged your stay in the wild, you will always know the exact date and time.
Specifications
| | |
| --- | --- |
| Size | 42 mm |
| Movement | Quartz |
| Crystal | Sapphire |
| Water resistant | 200 m |
Features
Solar powered
Super titanium
Atomic timekeeping
Perpetual calendar
CASIO G-Shock Mudmaster GG-1000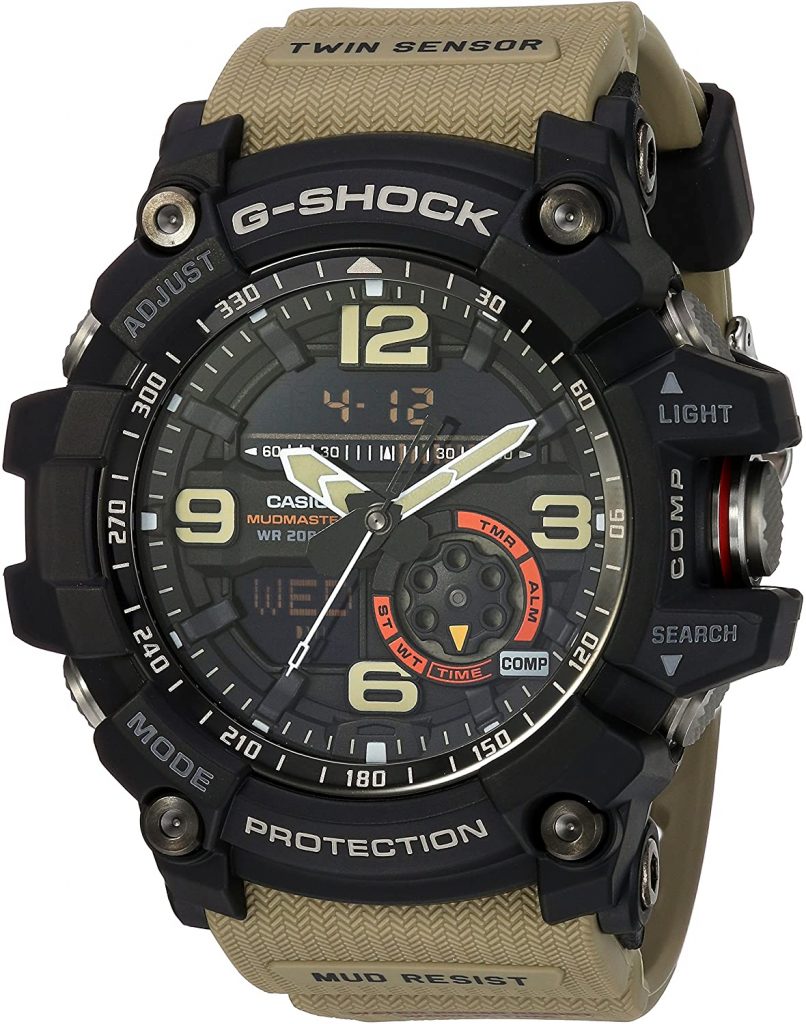 You may have to travel over tough terrain when you're chasing a game, so you will need an equally tough watch that will hold up. This is where the Casio G-shock Mudmaster range comes in. All the watches in this range can survive a fall of up to 10 meters. The Mudmaster, as the name suggests, is resistant to water and mud just in case you have to wade through a muddy swamp to reach your destination.
The unique survival feature is an onboard twin sensor. This twin sensor connects as a compass, which we already know the benefits of, and it can also act as a thermometer to tell you the temperature of your surroundings. When you're involved in strenuous physical activities, it is easy to lose track of your body temperature because you may feel hot from the exertion. However, temperatures can quickly drop once the sun goes down, and a thermometer is a useful tool to have to prevent hypothermia.
Specifications
| | |
| --- | --- |
| Size | 52 mm |
| Movement | Quartz |
| Crystal | Mineral |
| Water resistant | 200 m |
Features
Shock & Mud resistant
LED backlight
Digital compass
Thermometer
Omega Speedmaster Professional
Most people know that the Omega Speedmaster is a watch that was worn on the moon when Buzz Aldrin wore it over his spacesuit on the Apollo 11 mission. However, it's more than just a space watch. It is also a survival watch and used on subsequent moon missions. That includes the ill-fated Apollo 13 mission in 1970, which was due to be the third manned mission to the moon. During the mission, one of the oxygen canisters onboard had exploded. This put the spacecraft's computers and navigational equipment out of action.
In the beginning, we defined a survival watch is one that will help you get back home when you're stuck in the wilderness, and there's no wilderness greater than space. With the onboard computers being out of action, the only scientific instrument the crew had left to help them get back home was the one they were wearing on their wrist. Which was, of course, the Omega Speedmaster professional. Jack Swigert, one of the astronauts on board, used the chronograph function on his Omega Speedmaster to manually time the four-minute and 24 seconds burn intervals of the crafts landing engine to get them back home safely. That makes it a very reliable watch for hunting.
Specifications
| | |
| --- | --- |
| Size | 42 mm |
| Movement | Automatic |
| Crystal | Sapphire |
| Water Resistant | 50 m |
Features
Chronograph
Mechanical-hand-wind Movement
Swiss made
Luminox 3051 Evo Navy SEAL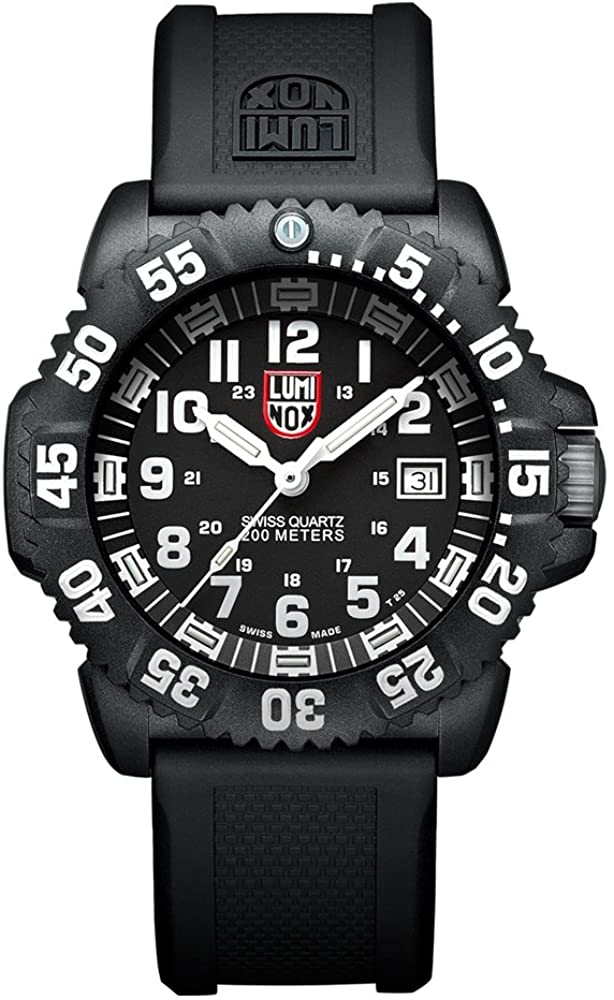 Luminox 3051 Evo Navy SEAL is part of the Luminox's Sea series and was developed in conjunction with the Navy SEALs and has been authorized for naval use. The Navy SEALs are an elite troop of the united states and some of the world's toughest soldiers. So if a watch is good enough for them, you can be sure that it's good enough for you to wear out in the wilderness. It is water-resistant up to 660 feet and features a unidirectional bezel. Its polyurethane case can also stand up to the toughest of knocks. The unique feature that this watch has over other analog watches is that it has a self illuminate markers on the dial that is up to 100 times brighter than traditional watch lumes and will continue to shine under its power for up to 25 years.
Specifications
| | |
| --- | --- |
| Size | 44 mm |
| Movement | Quartz |
| Crystal | Mineral |
| Water resistant | 200 m |
Features
Durable
Uni-directional bezel
Luminox Self-Powered Illumination (Always Visible: Constant glow for up to 25 years)
Breitling Emergency
The Breitling Emergency has been around for over 20 years and is one of those watches that can genuinely claim to have saved lives. Breitling has a long history of making pilots watches.
What happens if you are alone in the woods, with no phone reception and injured? Well, you're going to need rescuing. That is what happened to Quentin Smith and his friend. Their helicopter crashed into the sea near the Antarctic back in 2003. Luckily they were each wearing a Breitling Emergency watch, which is equipped with an emergency locator beacon. When activated, this watch sent up an instantly recognized distress signal. So thanks to the Breitling Emergency, Quentin Smith and his friend were rescued within two hours.
The Emergency is now in its second generation, and the updated model transmits on two different frequencies. If you want to buy one, then you must first sign a waiver saying that you'll only activate the beacon in a real emergency. It features a titanium case with a super quartz mechanism and water-resistant up to 50 meters.
Specifications
| | |
| --- | --- |
| Size | 51 mm |
| Movement | Swiss quartz |
| Crystal | Cambered sapphire |
| Water resistant | 50 m |
Features
12/24 hr LCD digital display
EOL indicator
1/100th second chronograph timer
Dual frequency distress beacon
Rolex Explorer
Earlier on, we saw that the Omega Speedmaster helped astronauts get safely back to earth from a damaged spacecraft. Now we have another iconic watch that helps explorers reach the summit and get back safely from the world's highest mountain, Mount Everest.
The Rolex Explorer has been around since 1953 and was made especially for explorers by Rolex. It features a clear and readable dial design. Rolex's patented oyster design case is carved from a solid block of high-grade steel, making it water-resistant to a depth of 330 feet. The automatic movement also uses special lubricants so that the watch can operate in temperatures ranging from extreme cold to extreme heat.
The Explorer was one of the first models in the Rolex range to be fitted with an automatic movement. It helps enormously on the expedition because it meant that the Explorers did not have to take their hands out of their gloves to wind the crown, which would not have been easy in sub-zero conditions. This watch's certified accuracy also meant that the crews were able to determine the safe climbing window during daylight hours.
Specifications
| | |
| --- | --- |
| Size | 39 mm |
| Movement | Automatic |
| Crystal | Sapphire |
| Water resistant | 100 m |
Features
Luminescent hands
Highly legible hour markers
Extremely resistant Oystersteel
Casio G-shock Rangeman GW-9400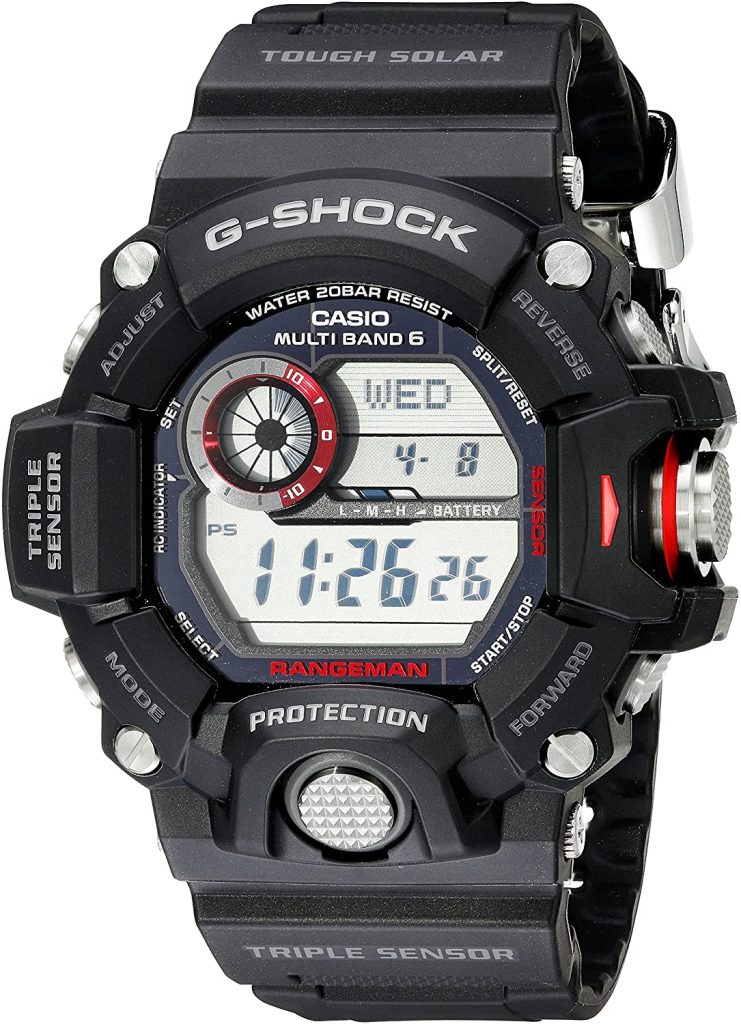 When considering several factors, such as quality features and price, this is the best overall survival watch you can get right now. G Shock watches are known for being insanely tough and reliable, and this one is no exception.
G-shock GW 9400 is super accurate because it synchronizes with atomic time signals when available. It will not run out of power because the solar cells built into the watch's dial will keep the battery topped up when either natural or artificial light is available. The triple sensor technology built into the watch is also surprisingly accurate. The altimeter barometer and temperature sensors act as a mini weather station on your wrist. You will be able to ascertain ahead of time if bad weather is approaching. Sunrise and sunset times will give you information about when it will get dark. Because in some seasons, daylight can disappear within a matter of minutes.
Lastly, it also has a built-in compass to aid navigation.
Specifications
| | |
| --- | --- |
| Size | 53 mm |
| Movement | Quartz |
| Crystal | Mineral |
| Water resistant | 200 m |
Features
Solar-powered
Digital compass
Built in Altimeter, barometer & thermometer
Mud resistant
Casio Pro Trek PRG 270
Casio is one of the oldest watch manufacturers in the world. It offers a wide range of digital and analog watches along with other electronic items. Introducing the solar-powered Pro Trek PRG 270 incorporates Casio's new triple sensor version made for tactical and survival purposes.
It can measure altitude in one mirror increment and display compass ratings with 60 seconds of continuous measurement. Apart from that, the watch barometer incorporates a unique barometric pressure tendency alarm that alerts the wearer to sudden changes in pressure ratings. It includes the case designed for outdoor gear performance. With its large side buttons, it is easy to use the digital compass, and access information such as barometric pressure, altitude, and temperature readings. Other features include tough solar, 100-meter water resistance, and more.
This particular model is designed and engineered to make it an essential piece for outdoor survival.
Specifications
| | |
| --- | --- |
| Size | 52 mm |
| Movement | Quartz |
| Crystal | Mineral |
| Water resistant | 100 m |
Features
Triple sensor
Tough solar power
LED backlight with afterglow
Digital compass
Suunto Traverse Alpha
Suunto manufacturers world-renowned sports watches. The Suunto Traverse Alpha combines a sturdy quality build with a full set of outdoor features. It can guide you in the wild, keep you on track with GPS/GLONASS navigation. Its specific hunting and fishing features provide useful tools for your activity, including automatic shot detection, moon phase calendar, sunrise alert, weather trend alert, and red backlight for nighttime use.
Features for Hunting And Fishing
Suunto's automatic shot detection technology keeps track of when and where you shoot, mapping the GPS coordinates of your location for later viewing.
Use hunting and fishing-specific point of interest types to mark trails and locations.
Sunrise and sunset alerts help plan your day.
The location-based moon phase calendar with moonrise and moonset times helps you determine the best hunting and fishing times.
Barometric pressure graph and storm alarms allow you to follow the weather changes carefully.
This watch has been tested to military standards, especially for those who are constantly exposed to harsh conditions.
Specifications
| | |
| --- | --- |
| Size | 50 mm |
| Movement | – |
| Crystal | Sapphire |
| Water resistant | 100 m |
Features
Hiking, Fishing and Hunting modes
Sunrise-sunset times and alerts
Automatic Shot detection
Weather trend and storm alarm
Luminox Mens LM8822.MI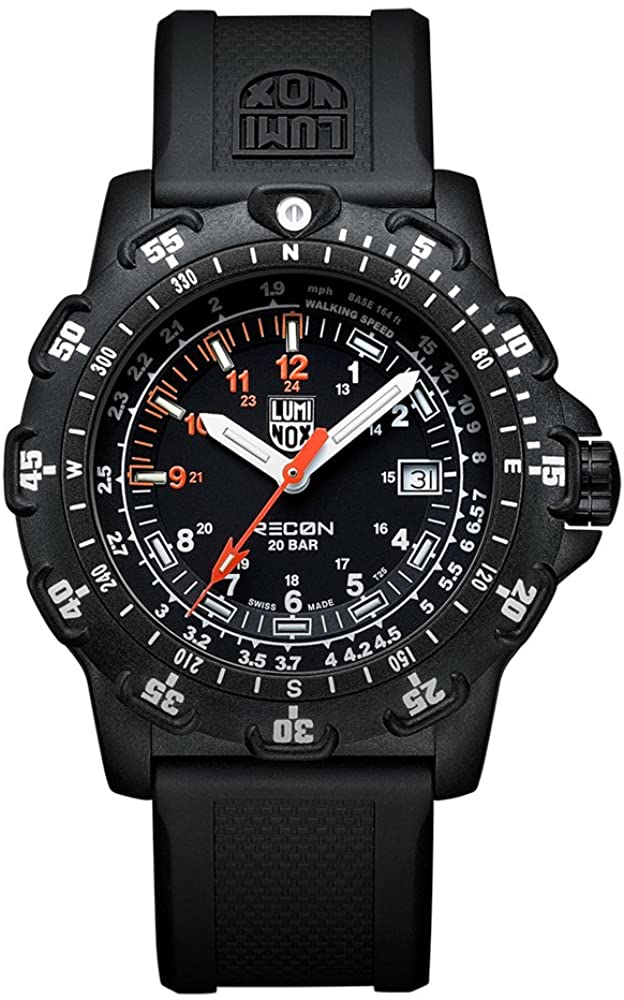 Luminox has been the watch of choice for professionals like Navy SEALs and special ops teams. This watch is one of the toughest of its range. The watch features a unidirectional rotating bezel with compass markings. It comes with a black dial with silver-tone hands and Arabic numeral hour makers. Its 45-millimeter polycarbonate case has an anti-reflective sapphire dial window.
Specifications
| | |
| --- | --- |
| Size | 50 mm |
| Movement | Quartz |
| Crystal | Sapphire |
| Water resistant | 200 m |
Features
Rotating bezel with compass markings
Anti-reflective sapphire crystal
Polycarbonate case
Casio G-SHOCK Mudmaster GG-B100-1A3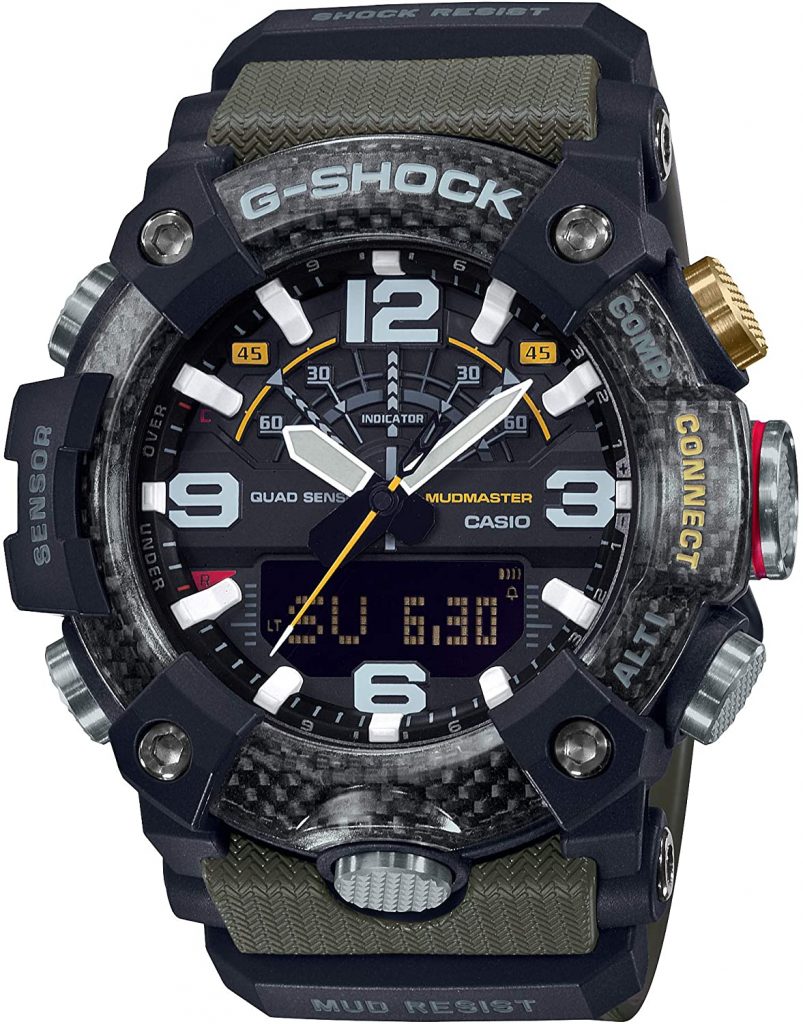 G-shock always features state-of-the-art technology to make their watches stand out and withstand rough land environments. GG-B100-1A3 is probably the most rugged-looking watch from the G-Shock Mudmaster Series. It features mud resistant construction with quad sensors (Thermometer, Altimeter/Barometer, Digital Compass, Step Counter). When you are hunting in the wilderness, these sensors allow you to keep track of the surroundings.
The watch can be connected to a unique G-SHOCK app, which simplifies the configuration of watch settings and includes a new Mission Function. The app can automatically record altitude data measured by the watch and route information acquired by a smartphone's GPS.
You can record your current location through the app. The watch then points you to the registered location by using its second hand and shows you the distance. So, you can chase your game without the fear of getting lost.
Specifications
| | |
| --- | --- |
| Size | 53 mm |
| Movement | Quartz |
| Crystal | Mineral |
| Water resistant | 200 m |
Features
Double LED light
Digital compass
Shock & Mud Resistant
Thermometer, Altimeter/Barometer
Garmin Instinct
Garmin has an excellent reputation for delivering an innovative array of watches for various segments. It is a rugged watch built to the U.S. military standard 810G for thermal, shock, and water resistance (rated to 100 meters).
It Features a built-in 3-axis compass, barometric altimeter, and multiple global navigation satellite systems (GPS, GLONASS, and Galileo) that support tracking in more challenging environments than GPS alone. You can use a trackback feature to navigate the same route back to your starting point.
The battery life lasts up to 14 days in smartwatch mode, 16 hours in GPS mode, and 40 hours in UltraTrac battery-saver mode.
Specifications
| | |
| --- | --- |
| Size | 45 mm |
| Movement | – |
| Crystal | Chemically strengthened glass |
| Water resistant | 100 m |
Features
Military Standard 810
Purpose-built bands
Multi-GNSS support
Trackback routing
Summary
Hopefully, this blog post has shown you how having the right watch on your wrist can help you when you're in a survival situation. That's why a survival watch is almost a necessity for any hunting trip. Do you feel that there are any other features that a survival watch should have that would be useful for hunting? Let us know in the comments.