Watches have long been more than a timepiece for women. In fact, nowadays, watches are regarded as must-have items besides smartphones and bags. One reason is watches are highly fashionable. On top of that, watches help highlight the wrist area, drawing attention to this delicate and feminine part of our bodies.
There is no excuse for not owning a watch. However, I know how hard it is to choose a suitable one. Given all the factors that could influence your decision on a watch, it is clear that buying a proper watch is a daunting task. Just like almost everything else, there were so many options to choose from, and there was little factual knowledge I knew to expect my eagerness to have a watch. As I was dwelling on the world of watches, I ran into Michael Kors' watches and their collection of watches for ladies. It was the eureka moment for me as I finally found my "soulmate" watch.
I decide that I should not keep this understanding to myself, so I draw up a list of best Michael Kors watches for ladies. In this list, I provide you with the most prominent Michael Kors watches, their features as well as pros and cons so you can weigh them up before arriving at your final decision. I also enclose frequent inquiries about Michael Kors watches, so that you can find more information about their watches.
Traditional Analog Watches
Small Face Watches
The advent of big-face watches does seem to pose a threat to the existence of small-face varieties. However, up until now, many people still prefer a small-face watches over their big-face counterparts. There are many reasons to explain why. However, the most obvious one is that small-face watches bring us a sense of feminism. Oftentimes, having a small, simple watch around the wrist draw people attention to this particular area, and at the same time, makes us women feel sweet and beautiful.
Michael Kors Mini Slim Runway MK3514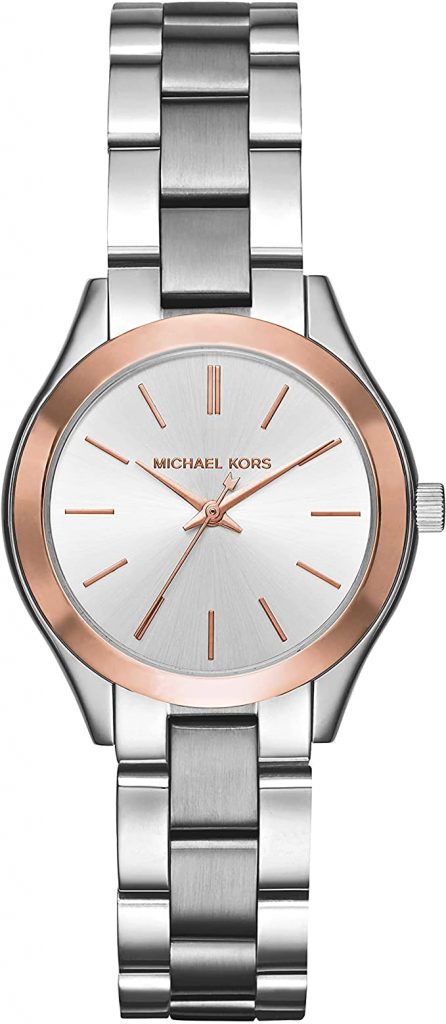 Pros
The simple design is suitable for many social events, where you can dress up dress down as you wish.
The tone-sur-tone color plus the sunburst effect will light up the watch under the sun
Cons
Triple row band lacks highlight.
Not suitable for big wrists.
Review
You are looking at a simple yet sophisticatedly made watch. Michael Kors Watches Mini Slim Runway offers nothing but one button with slashes in the place of numerals, no extra features except basic functions for a time-teller. Especially, if you buy the silver-colour watch, you will get extra golden-coated bezel, numerals and hands. The silver-tone watch is suitable for almost all kinds of clothes, from modest to the most fashionable ones.
The downside of this watch model is due to its size. As you can see, the case size of 33 mm is not the best choice for those who have big wrist. If you fall into this category, you should stick with case size of 37mm. What's more, the triple row band, which is quite simple and lacks acme, could be a drawback for this item.
Features
| | |
| --- | --- |
| Case Material | Stainless Steel |
| Band size | 16 mm |
| Case size | 33 mm |
| Water Resistance | 165 ft |
| Movement | Analog-quartz |
Michael Kors Portia MK3640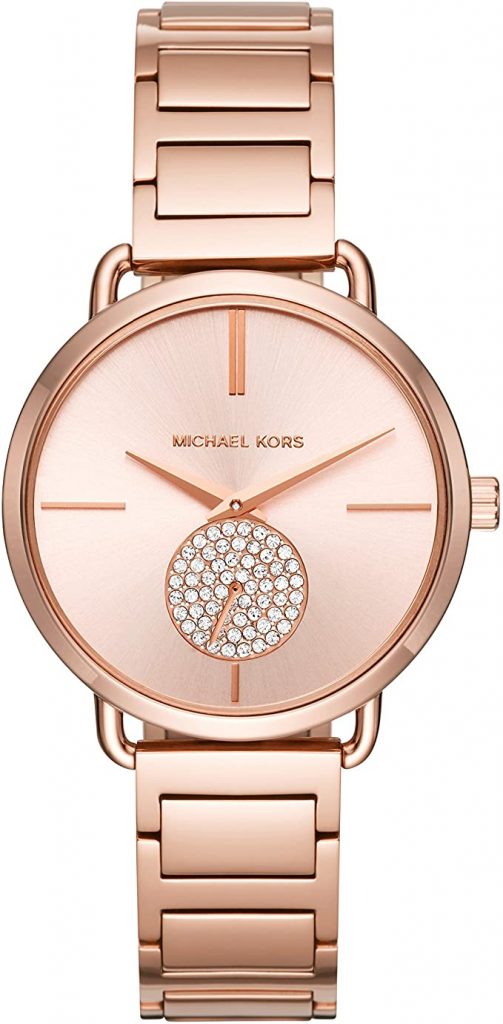 Pros
Glamorous design with gemstones dial, unique lug and rose-gold tone.
Suitable for many social events.
Cons
Some people don't like lightweight watches.
Subdail's too bright, sometimes you can't see the hand.
Review
If you think only big-face watches could make you look elegant and stylish, Michael Kors Watches Portia will make you reconsider. This gorgeous and delicate watch will undoubtedly constitute a great gift for your wife or girlfriend. The numerals and hands are intendedly minimized to the most uncomplicated design. The second gemstones dial lights up the whole face of the watch, making it the most suitable candidate for parties or formal event wear.
Rose-gold color is the hottest tone in the watch world for ladies currently. As can be perceived, the lug design is unique and trendy. The dial, though simple, is extremely well-made. The downsides are trivial. For some women, wearing a lightweight watch is not necessary an advantage since the watch could make them feel a bit weird on the wrist. Remember the feeling when you wear something and then forget that you wear it? That's exactly what some people detest.
Features
| | |
| --- | --- |
| Case Material | Stainless Steel |
| Band size | 16 mm |
| Case size | 37 mm |
| Water Resistance | 165 ft |
| Movement | Analog-quartz |
Michael Kors Darci Pavé Rose Gold-Tone Watch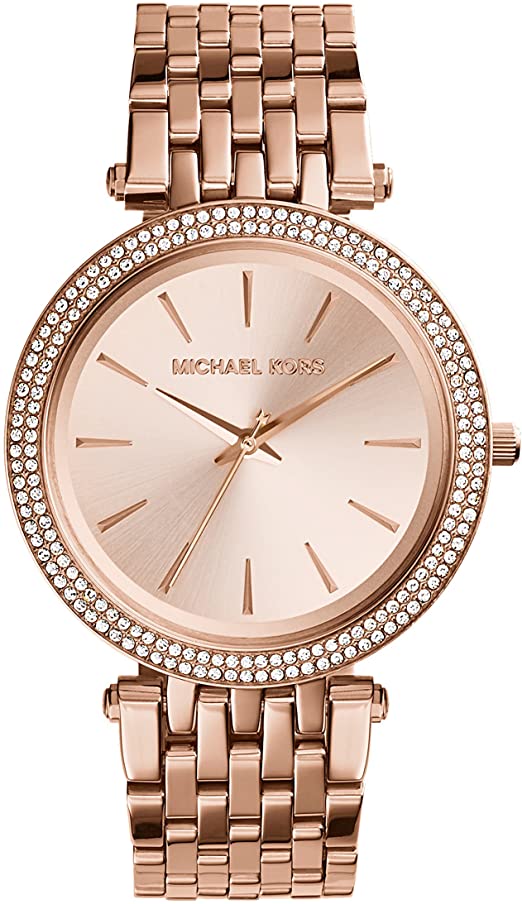 Pros
Push Clasp
Scratch-resistant mineral crystal
Water-Resistant
2-Year Warranty
Cons
The band fits tight on bigger wrists
Review
A little glam, a little girl next door, the Darci watch stands out without going over the top. It is a stunning watch, and the quality is beyond compare. A pavé-embellished bezel lends this timepiece a touch of shimmer, while the radiant rose-tone bracelet strap makes it exceptionally elegant.
The size of the watch face is perfect. It looks fantastic on small wrists. Since the face is moderately big, it keeps the watch from rotating around the wrist and ending up sitting backward.
The links are small, and the flat case makes it sit on your wrist nicely. Compared to this watch, other bulky watches look too clumsy.
It looks great with a white tee, blazer, skinny jeans, and pumps.
Features
| | |
| --- | --- |
| Case Material | Stainless Steel |
| Band size | 13 mm |
| Case size | 39 mm |
| Water Resistance | 165 ft |
| Movement | Quartz |
Michael Kors Pyper Three-Hand Stainless Steel Watch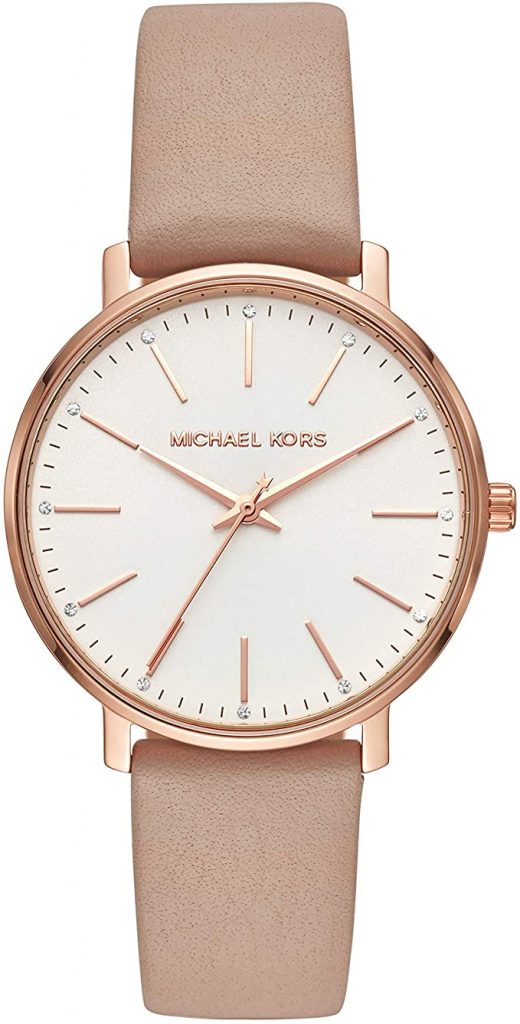 Pros
Scratch-resistant mineral crystal
Adjustable buckle closure
Gold-tone hands and hour markers
Review
If you are looking for a watch that looks elegant, sleek, professional but not bulky, then the Michael Kors Pyper watch is the right watch for you. You can wear it with any outfit, and it has a clean-cut, professional vibe with a tiny bit of sparkles on edge.
It features a minimalist watch face. It looks great solo, or you can wear it with gleaming bangles for the glamorous effect.
The watch is lightweight and very comfortable for all-day wear.
It comes with a nice, sleek genuine leather strap with adjustable buckle closure to fit a large wrist. The large round dial makes it easy to read the time.
Features
| | |
| --- | --- |
| Case Material | Stainless Steel |
| Band size | 18 mm |
| Case size | 38 mm |
| Water Resistance | 165 ft |
| Movement | Quartz |
Michael Kors Women's Ritz Watch with Crystal Top ring
Pros
Scratch-resistant mineral crystal
Bracelet with deployant clasp
Water-resistant
Sleek design
Cons
Feels very light
Small watch band
Review
There are many reasons to love this oversized rendition of the Michael Kors Ritz watch. This watch combines a rose gold stainless steel dial with a menswear-inspired bracelet strap and chronograph display for a chic and timeless look.
It is a pretty large and heavy watch. The case thickness is 11mm, while the diameter is 37mm.
With crystals all around the bezel and crystals at every hour mark, this watch is quite blingy.
The watch is water-resistant up to 165 feet. Suitable for bathing, recreational swimming, or snorkeling, but not scuba diving.
Not a watch to get if you have small wrists or do not like a large, heavy watch because this is certainly that.
Features
| | |
| --- | --- |
| Case Material | Stainless Steel |
| Band size | 18 mm |
| Case size | 37 mm |
| Water Resistance | 165 ft |
| Movement | Quartz/Chronograph movement |
Big Face Watches
If you are looking for a trendy-look watch, Michael Kors offers various of big-face watches. It's quite hard to determine which is big or small watches. However, in Michael Kors, you will find out that 39mm to 44mm in dimension is considered big. The big-size phenomenon appears when people start to look at the traditional size of watches and realize big-size watches breathes a new contemporary sense to watch wearers.
Michael Kors Parker MK5896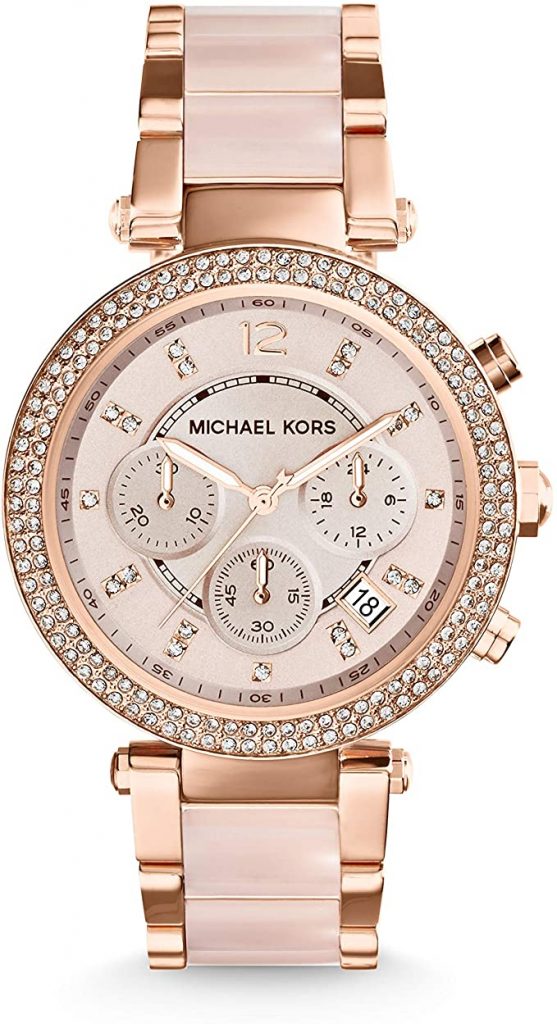 Pros
High level of water resistance
Affordable price
Elegant design which is suitable for formal events
Cons
Stainless steel is less resist to scratch and dust
Review
This MK5896 and MK5774 models enchant watch lovers with their glamorous gemstone bezel. The watch face, which is decorated with gems coupled with the Swarovski crystal markers, brings a fresh look to your wrist. The double-push clasp ensures the safety when you wear your watch. These two items can be perfectly teamed with feminine dresses such as long dresses or tailored ones. Furthermore, both watch models have a high level of water resistance, which means if you can wear your watch during swimming and bathing.
The price could be a push-off for many people since it is way cheaper than their looks. People who aim for luxury style may want to buy more expensive watches. Nevertheless, if you are seeking something that will light up your outfits informal events or just want to look gorgeous on regular occasions with an affordable price, this is the best option for you.
Features
| | |
| --- | --- |
| Case Material | Stainless Steel |
| Band size | 18 mm |
| Case size | 39 mm |
| Water Resistance | 330 ft |
| Movement | Analog-quartz |
Michael Kors Slim Runway MK4294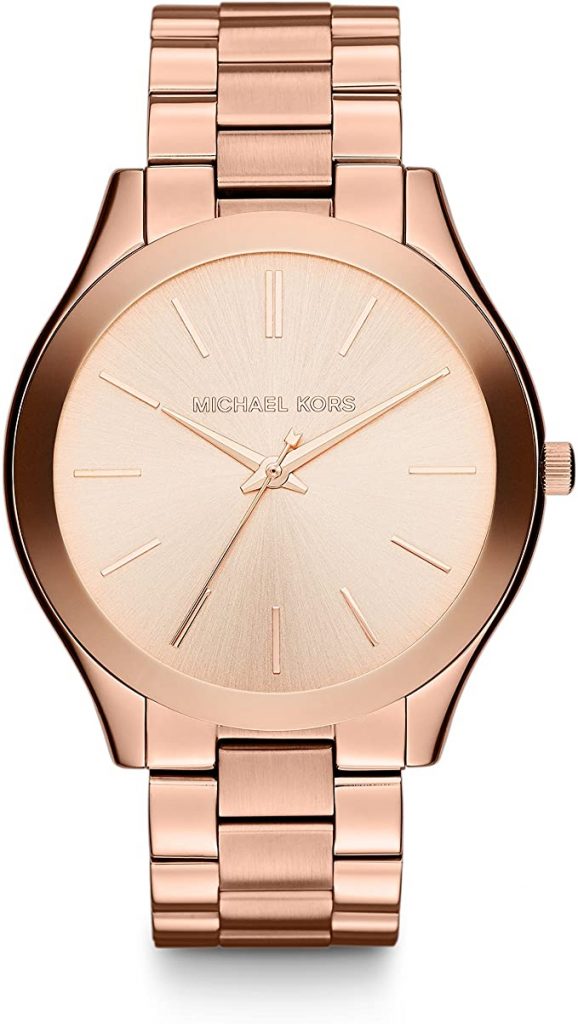 Pros
Suitable with many fashion items
Affordable price
Simple but attractive design
Cons
Water resistance level is not impressive
Review
Michael Kors always brings watch-wearers a sense of confidence while wearing their design. Among their ready-to-wear watch models, the Slim Runway is probably the most simple and fashionable design. First of all, this model offers some of the easy-going styles. The numerals are replaced with long dashes. No extra dials or buttons. Surprisingly, this simple watch is well-matched with most of the clothing items, from vests to girly dresses. Furthermore, women who prefer a watch that shows less obvious implication of their strong personality would love the rose-gold color, which acts as a neutral factor to its design.
The price is another thing that draws people attention to it. Surely everybody wants an affordable watch with the aesthetic and active design. This model is undoubtedly suitable for girls who are sporty and outgoing, who also happens to be a minimalist.
Features
| | |
| --- | --- |
| Case Material | Stainless Steel |
| Band size | 18 mm |
| Case size | 42 mm |
| Water Resistance | 165 ft |
| Movement | Analog-quartz |
Michael Kors Women's Bradshaw Stainless Steel Chronograph Watch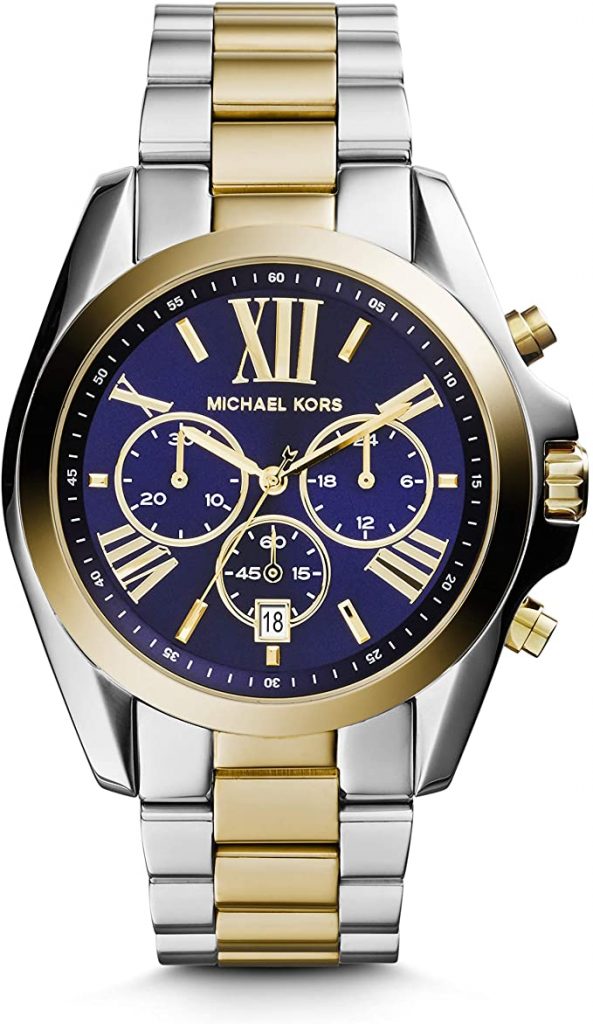 Pros
Scratch Resistant Mineral
Push clasp
Water Resistant Up to 10 ATM
2-Year Warranty
Review
If you like big chunky watches, then it is a must-have! At first, I was shocked at how big it looks, but then I realized how beautiful it looks when you put it on. It is a women's watch and a little larger than traditional women's watches.
The watch is tastefully designed in a two-tone finish with a contrasting navy dial with roman numerals indices, date window. Chronograph detailing and Roman numeral time-stops lend classic appeal to this piece for the perfect mix of sophisticated and eye-catching.
It is an elegant and stunning watch. Whether you wear it solo or with a stack of bangles, the result is timeless.
Features
| | |
| --- | --- |
| Case Material | Stainless Steel |
| Band size | 20 mm |
| Case size | 43 mm |
| Water Resistance | 330 ft |
| Movement | Quartz |
Michael Kors Dylan Stainless Steel Chronograph Watch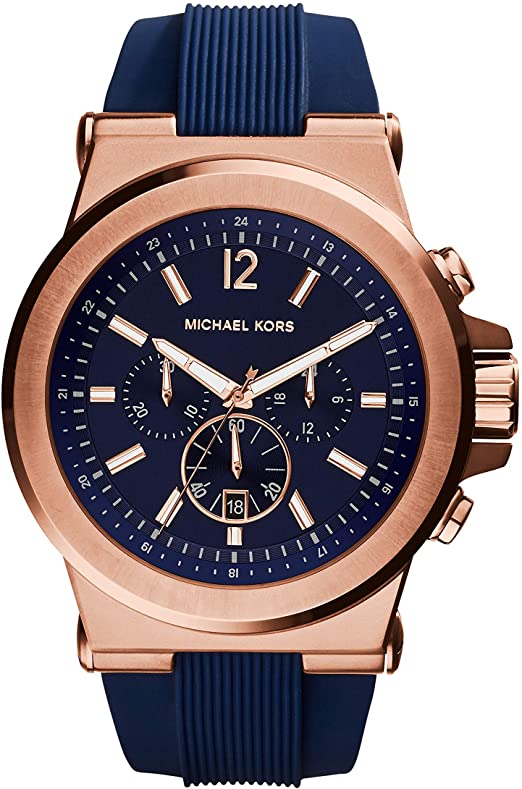 Pros
Scratch-resistant mineral crystal
Adjustable silicone strap
Comfortable to wear
Luminous hands
Chronograph functionality
Review
Three words for the Michael Kors Dylan watch Big, bold, and impossibly cool. The design of this watch will never go out of style. The watch features a navy chronograph dial with rose-gold-tone luminous markers, numerals, three hands, three sub dials, and a date window.
Luxury meets versatility! If you want plenty of compliments on your watch, then you must have this watch in your collection.
The soft silicone band with a clasp closure gives it a sport-luxe finish. The strap is comfortable and large enough for most wrists. Luminous hands help you read the time in the dark. That aside, the rose gold on this piece is subtle & makes it pop because of the rich navy face of the bezel. Captivating easy to read dials and even easier to set up time & date.
It is a great watch at this price. It has a quality finish and looks good with everything in your wardrobe. Add this to your collection, and you won't regret it.
Features
| | |
| --- | --- |
| Case Material | Stainless Steel |
| Band size | 28 mm |
| Case size | 48 mm |
| Water Resistance | 330 ft |
| Movement | Quartz/Chronograph |
Michael Kors Women's Runway Gold-Tone Watch MK5473
Pros
Gold-tone stainless steel case
Fold-over clasp with double push-button safety
Water-resistant to 100 m (330 ft)
Review
This stunning Michael Kors timepiece is a powerful statement made by this very successful designer. The case is oversized and superbly crafted from a brush and polished yellow gold ion-plated stainless steel.
For those not familiar with ion plating, it's a process where the two metals are bonded together at a molecular level. It helps the watch maintain its original color and also strengthens the steel.
The central crown is moderately prominent with fine ridges and easy adjustment for the time.
The classic three-link bracelet is also made from yellow gold ion-plated stainless steel, which ends in a secure fold-over clasp with a push-button release.
This Michael Kors fashion watch is water-resistant up to 100 meters making this piece perfect for daily wear and the occasional dip in the pool.
Michael Kors is written along the flange at the sixth position. Although there are no hour markers on this model, reading the time on the beige dial is very easy.
There is a large M K monogram in unique yellow-tinted gunmetal on the dial and relief.
It is a must-have Michael Kors watch for all modern-day fashionistas. It's a timepiece that will work with just about any outfit.
Features
| | |
| --- | --- |
| Case Material | Stainless Steel |
| Band size | 24 mm |
| Case size | 45 mm |
| Water Resistance | 330 ft |
| Movement | Quartz |
Hybrid Smart Watch
Michael Kors Access Slim Runway MKT4005
Pros
Standard functions
No requirement for battery charging
High level of water resistance
Cons
Bulky look but again it's a matter of taste
Review
The design might not be the highlight of this model. The three buttons on edge might make the watch a little bit bulky for women. However, you might have to appreciate the second dial in the watch face which is made for second time zone tracking, notifications and alarms. This is an indication that this watch is neither a casual-wear watch nor a smartwatch. In fact, it enables users to enjoy the best of both worlds.
This hybrid model offers a stunning level of water resistance compared to smartwatches, which is over 160 ft. So if you accidentally wear it during a shower, it will be fine. The bright side of this model is quite astonishing. This watch allows you to track your activity, deliver your smartphone notifications, even take photos and store music via your phones. You can easily navigate these functions through the 3-functional buttons. All in all, this watch is quite a good investment since it displays several necessary "smart" functions with modern design
Features
| | |
| --- | --- |
| Case Material | Stainless Steel |
| Band size | 22 mm |
| Case size | 41 mm |
| Water Resistance | 165 ft |
| Movement | Analog-quartz |
Smart Watches
Michael Kors Access Bradshaw MKT5012
Pros
Unisex design
Easy to operate
Long battery life
Cons
Android Wear limits users' experience
The app list is not various
Review
The Bradshaw Access mostly aims at women with style and unisex look. The design doesn't go too far from the classic MK watch whose elegant bezel and shiny stainless steel stand out. This version offers IP67 water resistance and can also prevent dust from covering your watch. As for the size, the 45mm Bradshaw is the most exceptional in its kind, even compared to the Oversized Bradshaw, which is only 43 mm in dimension. At this moment, it all comes down to personal preferences to find this model agreeable to your wrist, or it is way too big.
If there is anything more to praise about this specific Bradshaw Access, it is the highly customized feature. Basically, you can set everything based on your preference such as the dial color to hand color. The Access app provides a wide range of apps which could help you do things like robotically switching from day and night.
The Android Wear feature enables you to access both Android and iOS phones. That means any notifications from your phones could be instantly transmitted to your watches such as messages, calls, and emails. What I don't like about this model is also from its "smart" features. There are many limitations from Android Wear that sometimes iOS users would prefer not to connect their phones to the watch at all. The app list still needs a serious upgrade. However, all in all, this is a modish watch for women with enough necessary smart features. Plus, the price is brilliant.
Features
| | |
| --- | --- |
| Case Material | Stainless Steel |
| Band size | 22 mm |
| Case size | 45 mm |
| Water Resistance | IP67 |
| Compatible system | Android OS 4.4+ and iOS 9.3+ |
Michael Kors Sofie Access MKT5022
Pros
Stylish design
Extremely lightweight
Perfect display
Cons
Battery life is low
Limited use for iOS users
Review
First thing first, the Sofie is a smartwatch. Therefore, you would be more beneficial from its unique features than just for time-checking or fashion purpose. This Android smartwatch offers 512MB of Ram with Qualcomm's Snapdragon Wear 2100 operator. Furthermore, you now have extra 4GB storage so you can stuff inside some music files and stream them via Bluetooth. Sounds great, doesn't it?
Unlike the Bradshaw Access which aims at unisex style, the newest Sofie's design offers a more elegant look. The flashy aesthetic gemstones certainly do the trick. For those who are not appealed by the pave look, you can easily trade it off with a leather band. Another plus for this model is its lightweight capacity. The watch nests stylishly around your wrist. The only disadvantage in terms of design is the fact that it single button which limits you from operating the interface like its counterpart for men.
This model features Android Wear 2.0, which enables users to access their Android and iOS phones to alert calls, messages and many more. However, iOS phone users may not find Android Wear compatible with their system, giving users limited app choices and features. This, however, doesn't stop the Sofie become the most favorite item for many women who pursuit sophistication and modernity.
Features
| | |
| --- | --- |
| Case Material | Stainless Steel |
| Band size | 22 mm |
| Case size | 44 mm |
| Water Resistance | IP67 |
| Special feature | Android Wear 2.0 |
Michael Kors Access Gen 5 Lexington Smartwatch
Pros
Compatible with iPhone and Android phones
Swim proof
Google Pay
Untethered GPS
Custom watch faces and straps
Smartphone notifications
Cons
The touchscreen often lags or unresponsive
Review
Michael Kors' Access Gen 5 Lexington smartwatch combines an iconic design with advanced technology. This smartwatch is powered by Wear OS by Google and features an updated speaker, heart-rate tracking, payment methods, swim-proof functionality, and more for your daily needs. With interchangeable straps and multiple display faces, you can easily customize your watch to suit your style.
You can make and receive Blue-tooth-enabled calls directly for your watch. It also features a microphone, built-in fitness Tracker, music storage and controls, custom goal and Alarm settings, calendar Alerts, Multiple Time Zones, weather, LED Flashlight, wireless syncing.
The touchscreen functionality makes it easy to navigate through your smartphone notifications and app Alerts, manage your calendar, control your music.
The battery life is great when fully charged. After the first few initial charges, the phone battery was able to go almost 24 hours before needing to be charged again. In low-power mode battery lasts for 3 days. The watch is well made and heavy.
It has a classy look. It is casual enough to wear daily but also dressy enough for a special occasion.
Features
| | |
| --- | --- |
| Case Material | Stainless Steel |
| Band size | 20 mm |
| Case size | 44 mm |
| Water Resistance | 100 ft |
| Special feature | Android Wear 2.0 |
Michael Kors Access Gen 4 MKGO Smartwatch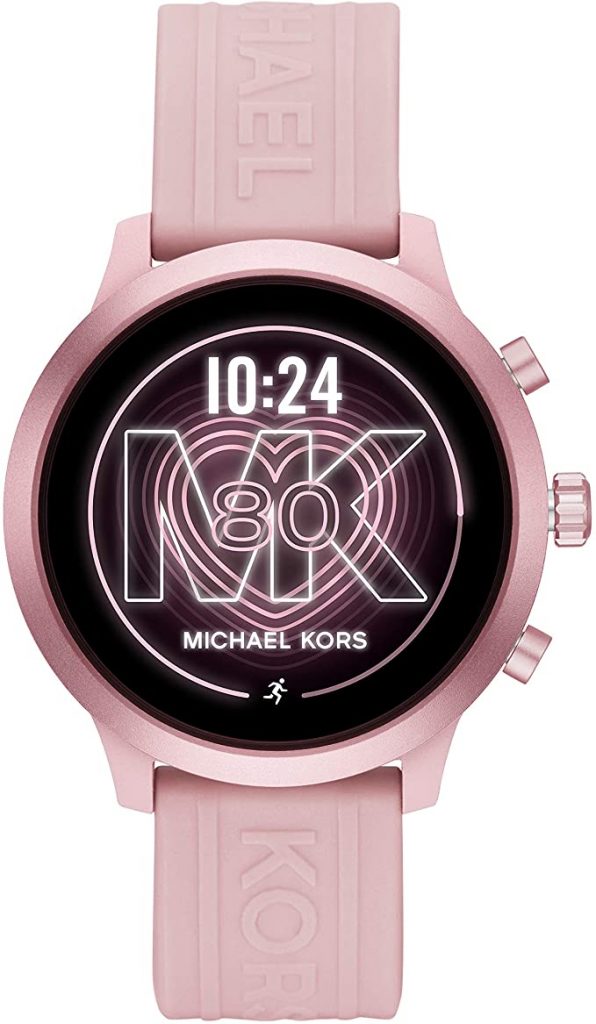 Pros
Beautiful watch and stylish.
Soft and comfortable band
Easy to set up.
It has lots of useful features
Cons
The touchscreen often lags or unresponsive
Review
I want to start by saying this watch is beautiful! If you're looking for less smart tech functions and mostly style, this watch is for you.
The notifications will show up on your watch, so you'll know if it's worth digging your phone out of your purse or pocket.
This watch works with a free app that you need to download to your cellphone called Wear OS. It installs quickly and doesn't take up too much space on the phone. After installing the app, you can pair your watch with your phone, link your email, enable location services, etc.
You can answer phone calls but cannot talk on the watch. It answers on your phone. This feature can come in handy if you cannot take your phone out of your bag before it stops ringing.
You can track your steps, monitor your heart rate, and see how many calories you've burned with the Google Fit app that comes with it. You can use it to set fitness goals.
The watch comes with a magnetic charging base that plugs into a USB charger. The estimated battery life is 24-hours, based on usage plus two additional days in low power mode.
The watch is water-resistant up to 30 meters. You can wear it while swimming in shallow water.
The watch has a flashlight app, which can be very handy. There is also an alarm app and a timer app which are helpful in the kitchen.
You can choose from a variety of watch faces and customize them.
Features
| | |
| --- | --- |
| Case Material | Aluminum |
| Band size | 20 mm |
| Case size | 43 mm |
| Water Resistance | 165 ft |
| Special feature | Android Wear 2.0 |
Frequently Asked Questions
Is the Michael Kors smart watch waterproof?
All Michael Kors watches in this list are water/dustproof. As you can see the level of water resistance depends on different models. For example, Michael Kors Access Sofie MKT5022 and Michael Kors Access Unisex Bradshaw both adopt IP67 as their water-resistance standard. IP67 is a standardized rating provided by International Electrotechnical Commission. 6 means that this product is highly resistant to harmful dust. S7 means this product is protected under the water with a depth of no more than 3.3 feet. Therefore, if you buy smartwatches from Michael Kors, it is advisable to keep them away from water.
Other quartz analogue watches offer a higher level of water resistance. Michael Kors Women's Parker Rose Gold-Tone Watch MK5774, for example, can endure a large amount of water pressure up to 330 ft. This means you can go swimming or snorkeling with the watch. Most of the watches will offer a level of water resistance up to 165 ft, which is only suitable for occasional swimming and bathing. However, it's best not to be exposed too frequent to water.
How do I set the date & time on my Michael Kors watch?
This may sound weird, but many people struggle with setting the date and time on their Michael Kors watch. In this section, you will find useful instruction on how to set the date and time for analogue watches.
To set the time, you first need to yank the button or the crown. There are two positions: number 1 is the closest position to the case, and number 2 is the furthest. Pull it until you reach the number 2 position. Now, turn the button to set your time. Finally, gently bring it back to the number 1 position.
Other watch models can support both date and time setting. With these types of watches, there are three positions: number 1 is the closest position to the case, number 2 is the position for date setting, and number 3 is the position for time setting. If you want to set date, yank the button until it reaches number 2 position. Turn the button to set the proper date. How to turn the button depends largely on the watch model. Next, pull it further to the number 3 position to set the time. Finally, put the button back to the first position.
How do I reset my Michael Kors access watch?
Many things could happen with your Michael Kors access. Sometimes the only option left is to bring it back to its initial stage, which is the factory settings. When you reset your Michael Kors access watch, bear in mind that all your data in your watch will be deleted and unable to be restored. Any data is counted for that matter, such as notifications, apps, system settings, activity tracking data, music, files and many more. The good news is this setting will not affect your Google account, which means any confidential data you keep there will be safe.
Resetting Michael Kors requires more than a power button like your smartphone. You need to follow this instruction carefully
Touch the middle pusher button and hold it for a while until your display lights up.
You need to enter the app menu to change the setting, therefore press the middle pusher button again
Scroll down the list of option and choose Settings
Choose the option named System
Choose the option named Disconnect and Reset
You need to confirm this step so the watch can reset itself.
Pair your watch with your phone again after the resetting is finished.
Verdict
After reading through my list, you might have a glimpse of why I fancy Michael Kors watches. They have so many things to offer, from small-face watches with classy design to the hybrid watch which features functions of both types of watches, and most importantly the smartwatches which are specifically designed for women.
I hope that you would find a lot of useful information about Michael Kors watches in general as well as specific models. Finally, I know when you look at this list, it means you really want to have a suitable watch. However, don't rush to make the decision. After all, you need to give yourself something to process the information and decide which model is the best investment for you.