Watches do more than tell time. They can also amplify your style in any particular situation. It is very much valid for dress watches. As there are timepieces made for daily use, dress watches are designed for more formal events, requiring elegance, style, and attractiveness.
This purpose usually gives the watch a reputation for being expensive and often used for special occasions. But that doesn't have to be the case. This article will discuss the best dress watches under $500 for men, proving that style and elegance can also be inexpensive and affordable without sacrificing aesthetics.
Best Dress Watches Under $500 – Review
Tissot 03101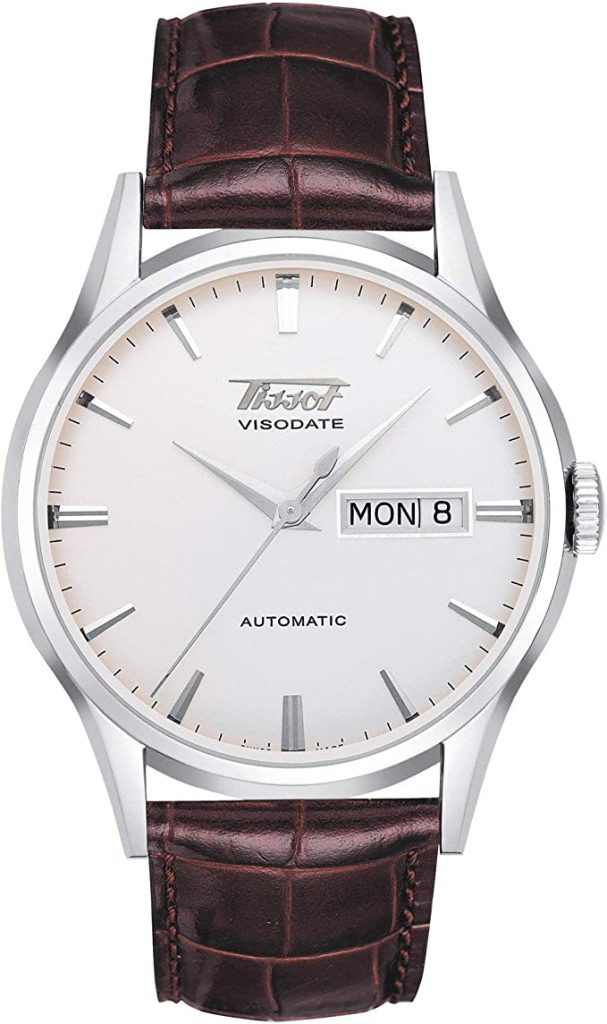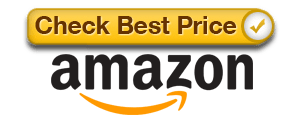 Specification
Tissot 03101
Case Diameter
40mm
Band Width
20mm
Band material
Embossed cow leather
Glass
Domed Sapphire crystal
Movement
Swiss movement (ETA 2836-2)
Water Resistance
30m/ 99ft
Case Thickness
11.6mm
Pros
Anti-reflective sapphire crystal provides a strong and functional casing
ETA 2836-2 is reliable
Is a great mixture of a vintage and modern feel
Cons
Low water resistance compared to other models
Review
The Tissot 03101 is a refreshing take on the Visodate model released in the 1950s. It merges the vintage watch into today's generation by tweaking the dial design, making it more prominent for the current size trends of watches. It is an elegant dress watch that will surely attract the keen eye of most watch enthusiasts for its homage to the classic look.
If you've got an eye for classy dress watches that are simple yet perfect for formal occasions, then the Tissot 03101 is a timepiece to consider. The simplistic steel case and the white dial design make a good combination. An italic logo adds to the vintage and classic look. With alligator-like embossed cow leather, you have a balanced brown and steel grey timepiece that shows itself off, especially at formal and semi-formal gatherings.
Tissot 03101 features the ETA 28362-2 movement for accurate timekeeping with 25 jewels. The higher jewel count attests to its durability for more prolonged use. It has a balance wheel that oscillates at 28,800 times per hour, and the high frequencies create a seamless continuous motion for the hands of the watch instead of the usual ticking.
A tough, domed sapphire crystal dial case and a see-through case back emphasize the strength and beauty of the timepiece face and interiors, letting its users appreciate the design of the watch.
Is it for you?
If you want a timepiece that is as simple as it is classy and a dress watch that you could wear formally and dress down casually, then this is for you. A medium-sized timepiece, the 40mm is suitable for average-sized wrists. The domed sapphire crystal adds an extra level of protection for the watch.
Its simplicity makes it better suited for formal use as the white emphasizes class. However, you can pair it up with more casual clothing, depending on the style and combination you plan on pairing it up with.
Seiko Cocktail Time SARB065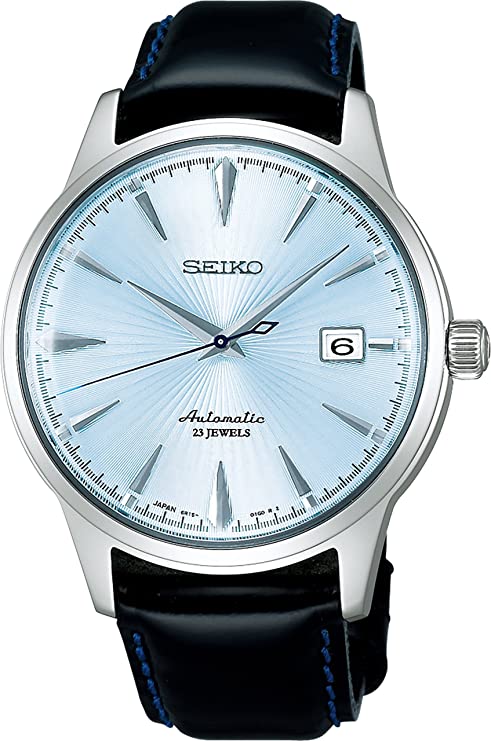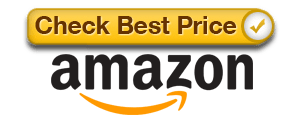 Specifications
Seiko Cocktail Time
Case Diameter
40mm
Band Width
20mm
Band Material
Leather Calfskin
Glass
Domed Hardlex crystal
Movement
6R15 Automatic
Water Resistance
50m/ 165 ft
Case Thickness
11.6mm
Pros
Unique design from collaboration
6R15 movement is a reliable Seiko staple
Relatively good water resistance
Cons
It can be hard to tell time because of the dial and hands color
The strap appears bulky and is not as elegant as the dial
Review
The Seiko Cocktail Time is a unique timepiece that differs from a typically-designed watch. It was created with the collaboration of native bartender Shinobu Ishigaki. This particular domestic version of Seiko is considerably famous for its craftsmanship and quality.
Echoing a sleek and polished look, the Seiko Cocktail Time is an excellent dress watch to wear at formal gatherings. The timepiece features its sharp, metallic radial sunburst dial design and sword-shaped indexes. It utilizes a domed hardlex crystal, used by Seiko, to balance cost and quality and its impressive shatter resistance.
Cocktail Time has a transparent case, highlighting the dial and the interiors behind it. The gray case and dial are greatly contrasted by the thick yet lightweight black calfskin band, a further emphasis on its prestige for the calfskin's soft and refined feel.
For the movement, Cocktail Time features the exceptional Seiko 6R15 caliber self-winding movement that you can also maneuver manually with its hacking function. This movement is used with the equally famous Seiko Prospex timepiece models. Its 23 jewels boost its longevity as it lessens friction inside the timepiece. It boasts an immense 50-hour power reserve, with an accuracy of +25/-15 seconds daily.
Is it for you?
If you want a uniquely made, formal gathering timepiece that exudes an air of prestige through its design, then the Seiko Cocktail Time may be for you. This watch is made for such occasions and will always look in the right place. It is meant for special events and is definitely made with such exclusivity through its collaborative creation.
With the dial design highlighting uniqueness and prestige, there may be better choices to bring it for informal trips as its design is not meant for highly casual wear. Intense outdoor activities may also harm the watch, as it is not designed for such events.
Orient Sun & Moon Version 2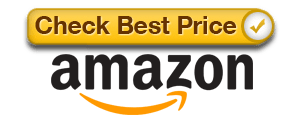 Specifications
Orient Sun and Moon Version 2
Case Diameter
42.5mm
Band Width
20mm
Band Material
Leather Calfskin
Glass
Synthetic Sapphire
Movement
46B40 Automatic
Water Resistance
50m/ 165 ft
Case Thickness
14.1mm
Pros
Unique and fun dial design
Design makes it a good everyday watch
Relatively good water resistance
Cons
Not easy to read at a glance
The dial is rather bulky as it can be quite thick for users
Review
A functional yet aesthetically quirky timepiece, the Orient Sun and Moon is designed to show you the transition from day to night and vice-versa, aside from time. Aside from this unique feature, the watch is a classy timepiece with its simple design, making it an excellent choice for daily wear.
True to its name, the Orient Sun and Moon is meant to show you the transition from day to night. An interesting movement, the transition goes as a typical day, with the sun slowly moving up and down to be replaced by the moon, as it transitions back towards morning. This aesthetic is manifested clearly in its dial design, showing the function as a prominent feature in the timepiece. Aside from the simple and beautiful guilloche dial design, this makes a uniquely playful design. The leather calfskin goes well with its simplistic look, making it a great overall watch.
The Orient Sun and Moon utilizes the Orient 46B40 caliber automatic movement. It is a simple movement but is still a reliable offer from Orient. With 21 jewels, it also helps against internal friction inside the watch, prolonging its use.
The power reserve for the timepiece is an impressive 40 hours. An exhibition back is added as a welcome design that lets you appreciate the interior machinations of the timepiece. Synthetic sapphire glass protects the watch, much similar to the actual strength of natural sapphire.
Is it for you?
The Orient Sun and Moon is a quirky timepiece that lets you see the change from day and night. It features a beautifully-designed dial and is meant to be showcased along with its sun and moon shifts. It may not be the most formal of timepieces with this design feature, but it ultimately depends on the user on how they match the watch.
The overall look makes it a versatile timepiece, adaptable to many styles. It is fun to look at and functional at the same time. It is also great at formal events. Just pair up the watch properly to highlight its day and night feature. However, it isn't meant for outdoor sports events, with its features not matching exposure to intense activities.
Frederique Constant FC245M4S6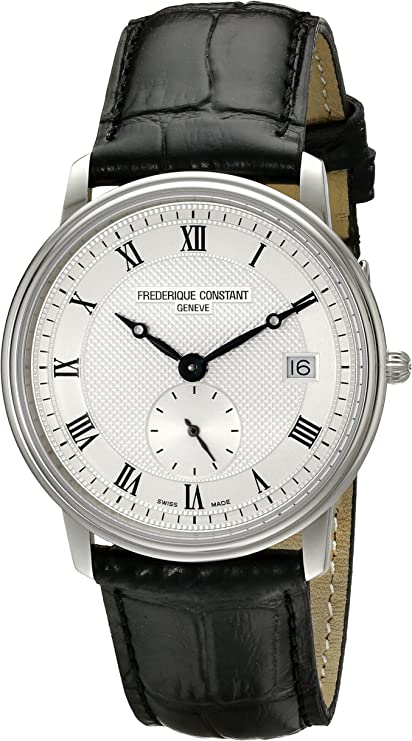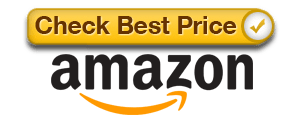 Specifications
Frederique Constant FC245M4S6
Case Diameter
37mm
Band Width
20mm
Band Material
Alligator-embossed leather
Glass
Anti-reflective Sapphire
Movement
FC-245 Quartz
Water Resistance
30m/ 99ft
Case Thickness
5mm
Pros
Has an elegant minimalistic design
Easy to read time in a glimpse
Slim case makes it light on the wrist
Utilizes quality materials such as anti-reflective sapphire and alligator leather
Cons
Relatively low water resistance compared to other models
Has a simple quartz movement with no special features
Review
Something that will fit most styles is the elegance of the Frederique Constant. The brand boasts its quality watches, singularity, and craftsmanship, exemplified in the beautiful and minimalistic design of the FC245M4S6 dress watch. It will complement any look you want, fitting perfectly into any occasion.
The design of the Frederique Constant FC245M4S6 delves heavily into a minimalistic and intricately ornate dial design. Your eyes won't tire by looking at the pleasing dial and will quickly focus on the beautiful craftsmanship of the interlocking diamond design of its central part. Alligator-embossed leather perfectly encapsulates the overall design of the timepiece.
The movement utilized for this timepiece is the FC-245 quartz movement. It could be more exceptional in performance but provides a reliable timepiece movement base. It has ten jewels to help against wear and tear for the interiors of the timepiece. An anti-reflective sapphire crystal adds a level of protection against scratches.
Is it for you?
An elegant and minimalistic timepiece, the Frederique Constant FC245M4S6 is not a boastful timepiece but holds itself up when looked at closely. It utilizes some of the finest quality materials for its overall look. The use of anti-reflective sapphire glass and alligator leather straps are testaments to its quality.
The interlocking design of the dial is enough detail for the watch, but adding in the complementary hour markers and hands emphasizes the well-blended features of the dial. It can be dressed down for select casual wear but shines during formal gatherings, as its minimalistic beauty will amplify your overall get-up.
Hamilton Jazzmaster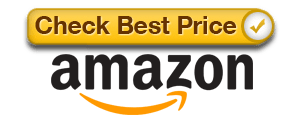 Specifications
Hamilton Jazzmaster
Case Diameter
42mm
Band Width
22mm
Band Material
Alligator leather
Glass
Anti-reflective Sapphire
Movement
ETA 955.112 Quartz
Water Resistance
50m/ 165ft
Case Thickness
7mm
Pros
Simple and elegant timepiece
Easy to read time in a glimpse
Cons
Simple quartz movement with no other special features
The design might be a boring for some users
Review
Bringing minimalistic beauty into the list, Hamilton's Jazzmaster will surely provide exceptionally in that category. Highlighting functionality and simplistic beauty for a watch, the dial is very easy to glance at and will match many varying colors and styles that you opt to pair it up with.
The Jazzmaster proves that simplicity is a different category of beauty and something well-loved by many. It features a simple, elegant dial design that emphasizes the hour markers and hands, making reading time easy. It also has a date window positioned on top of the 6-hour marker, a welcome change from the usual format of replacing the 3 o'clock marker. Matching this simple case with alligator leather completes the complementing look of the watch.
For its movement, a reliable ETA 955.112 powers up the timepiece. This movement is known for its time-tested quality and quartz creations, which are reliable and durable. Notably, this specific quartz caliber of the Jazzmaster has played an essential role in making the timepiece as thin as it is.
It is also protected with seven jewels, enough to give ample protection for the interior of the timepiece. Aside from that, an anti-reflective sapphire crystal protects the case from bumps and scratches.
Is it for you?
Highlighting the beauty of minimalism, the Hamilton Jazzmaster proves that beauty can also be found in the lack of ornamentation. If you opt for a straightforward yet beautiful timepiece, this is a great choice. The complementing silver tone of the case and the dial blends perfectly into a timepiece that is easy to look at. The watch also offers basic movements and functions, which makes it great for everyday use. However, it isn't one of the best in that regard.
Hamilton Khaki Field Watch HML-H70455533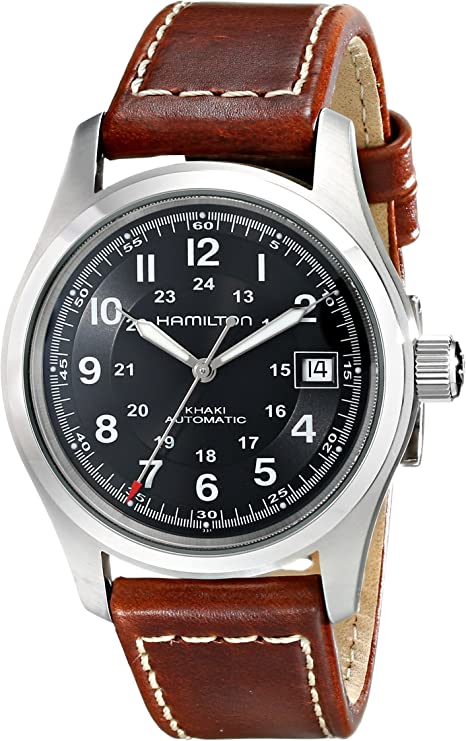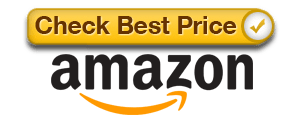 Specifications
Hamilton Khaki Field Watch HML-H70455533 
Case Diameter
38mm
Band Width
20mm
Band Material
Leather calfskin
Glass
Sapphire crystal
Movement
H-10 automatic caliber
Water Resistance
100m/ 328 ft
Case Thickness
11mm
Pros
Sleek and vintage-looking timepiece
Versatile timepiece.
100m water resistance is a great feature.
Long power-reserve
Cons
Lack of anti-reflective coating may be off for some users
A little rugged for a dress watch
Review
As there are a lot of variations for watch design, the black dial of the Hamilton Khaki brings in a lot of familiar faces for its color choice. Its visible and attractive dial highlights the basic time-keeping features and 24-hour markers. An easy-to-look-at watch, it provides a classy, well-designed form well-suited to many different styles.
The design of the Hamilton Khaki exudes a vintage and sleek look. It features a black dial with contrasting luminous white hour markers and hands, effectively highlighting them for better reading. An exhibition back lets users appreciate the movement of the watch. It is accompanied by a matching brown leather calfskin that completes its overall look.
For its movement, the Hamilton Khaki utilizes the caliber H-10. The brand's version of the ETA C07.111 has a mono-block rotor and aviation-inspired cut-outs to express its individuality. It is a self-winding watch with a significant amount of power reserve with 80 hours, protected by 25 jewels. An oscillation of 21600 times per hour helps it balance out the movement of the watch to its interiors.
Is it for you?
Hamilton Khaki Field is a beautiful vintage watch that shines through any use. Despite being a dress watch, it is not designed as formally and can be used on many different occasions. The contrast inside the dial is a beautiful and highlighted design. If you want such a timepiece, then this is for you. It provides a reliable caliber with a large amount of power reserve for longevity.
You may use the watch casually, but it shines as a formal wear timepiece. Its added 100m water resistance is a very welcome feature of the watch. You can bring it to many environments without worrying about getting it wet, as it can withstand such exposure.
Citizen AW1490-50E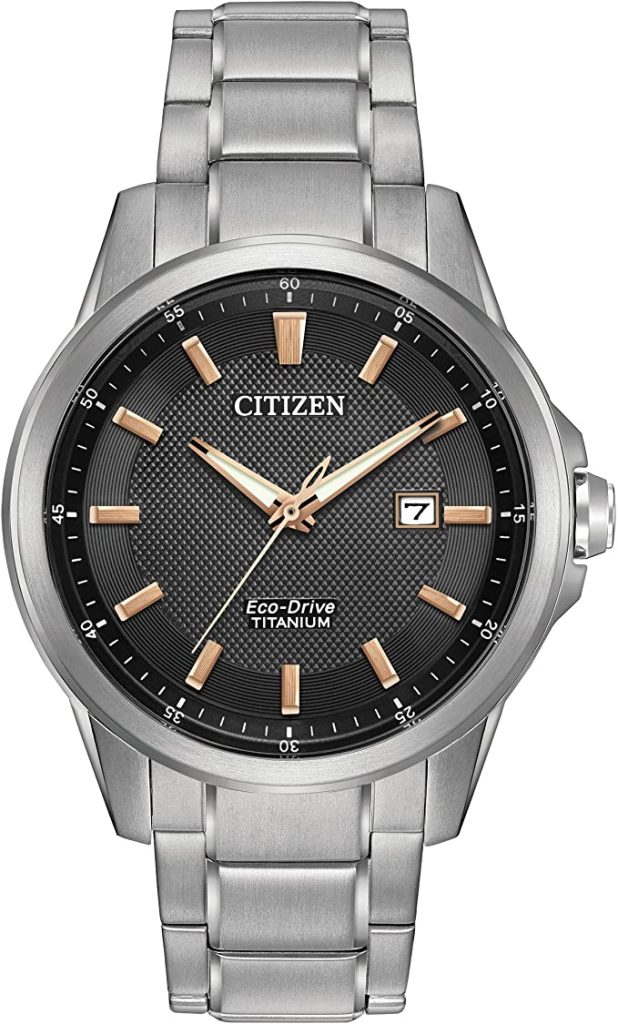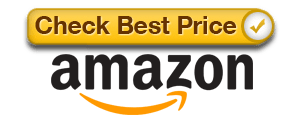 Specifications
Citizen AW1490-50E
Case Diameter
42mm
Band Width
20mm
Band Material
Titanium
Glass
Synthetic Sapphire
Movement
Eco-drive J810
Water Resistance
330 ft/ 100m
Case Thickness
11.5mm
Pros
Very sleek and elegantly modern design
100m water resistance is a great addition
Eco-drive movement effectively removes the need for batteries
The bold design makes it an interesting dress watch
Cons
May be big for some users
Some users dislike its lightweight design, preferring bulkiness for its design
Review
Citizen's AW1490-50E is beautiful and functional at the same time. Being of the Eco-Drive Series, it is powered by light and boasts efficient power usage. The design is also sleek, achieved by the steel case and band, along with the metallic dial design that makes it excellent for formal occasions. Notably, it is a dress watch that doesn't utilize a leather strap.
Armed to be sleek and modern, the Citizen AW1490-50E is nothing less of such. The stylish silver tone of the titanium case and band boasts its extreme strength, durability, and resistance to rust and corrosion. However, its highlight is its black textured dial. The excellent contrast between the silver polish of the case and the black texture of the dial is complemented by rose gold hour markers and hands, all of which complete the watch's overall look.
For its internal works, the Citizen AW1490-50E is powered by the Eco-drive J810, providing a reliable and eco-friendly movement. This technology has eliminated the need for changing batteries, being more sustainable, and providing accurate movement compared to other common ones. A synthetic sapphire adds a level of protection to its dial.
Is it for you?
If you want a modern, contrasting, and sleek timepiece that can be used on almost all occasions, this is a great choice. Citizen's AW1490-50E is already beautiful enough but is also highlighted by its light-powered feature, capable of gaining power from any natural or artificial light source. This specific feature makes it sustainable for extended use. It is lightweight and larger than usual, so it might not fit everyone's wrist size.
The movement is also a reliable timepiece feature, making it great for many outdoor trips. The lume is also highly regarded for its brightness and sustainability, making any small glimpses of the watch easy and hassle-free. Despite the large case, it is lightweight and easy to carry due to the titanium.
The Best Dress Watch for you
This article offers several unique timepieces, each with its own specialties and weaknesses. Dress watches are meant to be perfect for special occasions and, sometimes, as everyday watches, but these differ according to the timepiece's specialty and your preferences.
Choose the best watch that suits your taste and matches your lifestyle and environment perfectly. Doing so will ensure you have a reliable time-keeping companion that complements your overall look.